"I only want one thing. Everything else doesn't matter."
Name:
Gender:
Riley "Black"
Female
Age:
Species:
205 Years old *Appears mid 20s-early 30s*
Vampire
Face Claim:
Ethnicity:
Julia Voth
Caucasian
Sexuality:
Religious View:
Pansexual
Wiccan
Hair Color:
Eye Color:
Black
Light blue
Height:
Weight:
5ft 8in
125lbs
General Appearance:
***Paragraph to be written here***
Likes:
Dislikes:
◑Sunrises◑
◑Blood◑
◑Animals◑
◑Cruelty◑
◑Children◑
◑Hunters◑
◑Books◑
◑The city◑
◑Open spaces◑
◑Fighting◑
◑Coffee◑
◑Spiders◑
◑Scarves◑
◑Loud music◑
Quirks:
Fears:
◑Her hands twitch when she is lying◑
◑Blood◑
◑She forgets names easily and
◑Tight/small spaces◑
so usually uses pet names◑
◑Werewolves◑
◑Her head tilts to the side and
◑Magic◑
she wears a lopsided smile
◑Spiders◑
when she doesn't understand something◑
◑Likes to sit on the arms of chairs/couches◑
◑Refuses to swear *except 'Blood' personality*◑
◑Is very ticklish *good luck tickling though*◑
Normal Personality:
Normally Riley is very quiet and calm, she keeps her conversations short and to the point. Being around people makes her very nervous. She stays alone, refusing to work with anyone and refusing to even remember anyone's names. She tends to only use pet names when talking to people. Riley cannot stand when someone is unnecessarily cruel, especially to children and animals. She also tends to get annoyed easily and her patience is next to non-existent, when her patience runs out then Riley will leave, no longer interested in whatever it was that was keeping her there. Riley absolutely refuses to feel her emotions too strongly, she has developed a technique of pushing them down and forgetting they exist. They tend to make her overemotional when her 'Blood' Personality comes out. ***More to be added/edited***
'Blood' Personality:
***Paragraph to be written here***
Other:
Riley's personality is somewhat split brought on by her hemophobia. She becomes more ruthless and rude when around blood and more likely to kill. This is what caused her phobia to develop. Riley unintentionally comes off at cold and condescending to strangers. She also has claustrophobia.
Strengths:
Weaknesses
◑Speed◑
◑Upper body strength◑
◑Lower body strength◑
◑Thirst◑
◑Stealth◑
◑Hemophobia◑
◑Intelligence◑
◑Sunlight weakens her◑
◑Ranged weapons◑
◑Silver is like poison◑
◑Martial arts is terrible◑
Weapons
Other Items
◑Handgun*pic to be added*◑
◑Necklace from deceased husband◑
◑***to be added***◑
◑***To be added***◑
Special Skills
Illusion
By concentrating on an individual Riley can make them think they are seeing whatever she wishes. Generally this ability is used to sneak into a place or to get away from a confrontation. The illusion doesn't last long and if Rileys concentration is broken then the person longer affected. In order to place someone under an illusion Riley must look into the persons eyes. Once the illusion has been cemented she no longer needs to look them in the eyes but she must still concentrate. Riley discovered this power by accident and has been training it for years. She is still attempting to improve the duration, and how many people it can affect.
For one person - these illusions can typically last up to a half hour if necessary, and take some concentration. Normal humans that have not been trained to combat this technique are usually the ones affected.
For two or more - Riley has only been able to do this once and it was during a moment when her emotions were wildly out of control. She has no idea how to make her illusions affect more than one person at this point in time.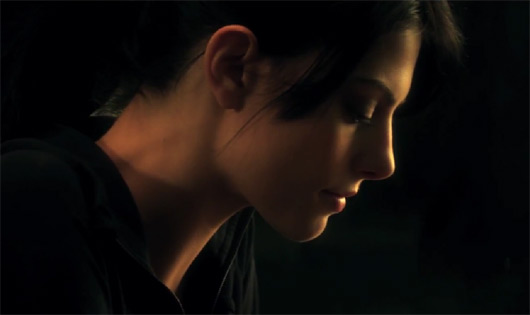 Rileys' life growing up was fairly uneventful. Her parents had died when she was young and she had no siblings. She grew up with neighbourhood boys and girls, running around the streets, climbing fences and getting into mischief. When she was in her early teens she started pick-pocketing and at 14 caught the attention of a hunter. He was impressed that she had managed to swipe his money and offered to train her to do something other than running from the local patrol officers. Riley agreed without much thought, anything was better than the boring little town she lived in. This was the beginning of her hunter life, everything before this time became a blur in her memories.
The hunter who had picked her up was name Tucker. He was known to the other teams as "Wild Tuck" and preferred to use his marital arts skills to take down his targets, rather than wasting time and energy finding and maintaining weapons. He also gave Riley her name, as he believed that her old name linked her to her old life, and she wasn't a part of that anymore. He had a total of 5 recruits that he trained alongside Riley, with Riley being the last one to be recruited. 2 of the recruits died when they took their first mission, a pair of twins who were arrogant and reckless. Riley can no longer remember anything about them, not even their names. Of the two remaining recruits one was a young man named Peter, and one was a girl named Hayley. Hayley was excellent at gathering information and specialised in creating poisons for carious Supernatural creatures. Peter was a bit of a wild card. Some times he was great in combat and other times he excelled at strategy. It was working with these two that Riley took up kick-boxing and firearms. The three of them trained under Tucker for 5 years before they graduated and the time came to be placed on a team.
With their graduation Tucker decided that he was done training recruits and instead became the leader of his own team. The team consisted of Riley, Peter, and Hayley. After a year the team gained a new member, a woman named Valerie who had gotten through her training and graduation very quickly. Riley and Valerie became fast friends and eventually Valerie played matchmaker, resulting in Riley and Peter dating. When Riley and Peter got married (against Tuckers advice) Riley asked Valerie to be the maid of honor. The team worked near perfectly for several years, taking on many missions all over America and Europe.
Riley, Peter and Valerie accepted a mission in Oregon, USA. The mission was fairly straightforward, there had been reports of werewolves on the outskirts of a city and the three hunters were asked to investigate and determine whether the werewolves posed a threat to the citizens. It was during this mission that Riley caught Valerie feeding on a human. Conflicted as to how she should act, and shocked to discover her best friend was a vampire, Riley discussed it with Peter. They both decided that the best course of action would be to take Valerie back to Tucker. Valerie became suspicious when the mission was cut short and when she found out her teammates plans she reacted in fury. Peter and Riley were knocked out in the fight and when they awoke they were in a large warehouse had no idea where they were. For the next several months Valerie torture the both of them, apparently massively upset that her two best friends would betray her in such a way.
No longer able to stand watching his wife being tortured, Peter begged Valerie to let Riley go. Valerie agreed on one condition, and before either of them were able to ask what the condition was she bit Riley to start the transition into a vampire. The transition took a full week and when it was complete Valerie killed Peter. Riley was unable to do anything to save her husband and stayed watching him bleed out on the floor. After he had been dead for a few hours Valerie drugged Riley, and then transported her back to the teams base. When Riley woke she once again unable to do anything but watch as the vampire slaughtered the remaining members of their team.
"Sometimes it's the people you care about the most that slow you down or hold you back. And sometimes it's the person you trust with the gun that pulls the trigger on you."
Tucker "Wild Tuck" Black


Bit of a strange personality but highly skilled in martial arts. He recruited Riley when she pick pocketed him and trained her for several years. He was killed by Valerie.

Face Claim: Ian Bohen
Hayley


A member of Rileys team of hunters when she was human. Hayley was excellent at gathering information and making poisons. She was bright and always friendly to her team, and had a brilliant poker face when it came time for work. Hayley was killed by Valerie.

Face Claim: Pauley Perrette
Peter


Peter was Rileys husband and teammate when she was human. Peter was very loyal to his family and friends, and was distraught when he and Riley discovered Valerie was a vampire. He was killed by Valerie after months of torture and watching Riley being turned into a vampire. Peter was described as being a jack-of-all-trades by his mentor Tucker.

Face claim: Gideon Emery
Valerie


Valerie was a previous hunter who was discovered to be a vampire by her teammates Riley and Peter. Once she was discovered to be a vampire she kidnapped Riley and Peter, torturing them for months. Peter was killed after watching his wife turn into a vampire. Once Peter was dead and Riley turned, Valerie killed the other two member of the team before vanishing. Previous to being discovered Valerie was Rileys best friend and the maid of honor at her and Peters wedding.

Face Claim: Jessica Parker Kennedy