---
---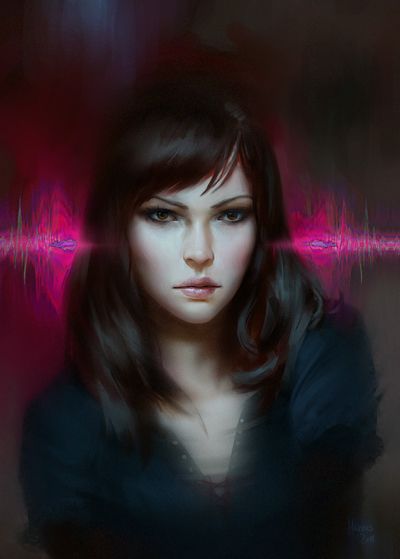 Name:
Jennifer Live
Dragon's Name and Color:
None
Appearance:
Like her lithe form suggests, Jennifer is highly dexterous, possessing supple long limbs and a flexible build resembling that off a feline. She looks like she was constructed to be an acrobat. Unusually appealing, Jennifer sports sharp features and since the events of Barthomel's rise, has grown her hair past her shoulders. Long, black and beautifully slick, it contrasts well with her enticingly silky white complexion. Her appearance can be rather insidious if need be, but more subtle and refined rather than brutish. More often than not she appears like a noble woman until she begins to use her magic. Jennifer stands at an average height of 5'7" (170cm), but oddly, doesn't look like the type of person who is easily intimidated. Her aptitude for illusion magic in combination with her keen sense of fashion also ensures she's capable of wearing a giddying variety of clothes at the click of a finger. Typically however, or for the sake of travelling comfortably, she wears dark boots, a form fitting white blouse underneath a crisp brown jacket, and tight gray trousers attached to her waist by a black leather belt. Underneath the clothes are numerous faded scars from her childhood. Most long and drawn out across her back, but some criss-cross in painful fashions across her legs and arms, all of which bear the hall marks of frantic healing magic. Since drinking the dragon blood forty years ago, Jennifer has yet to show signs of aging past her twenty year-old self.
Age:
63
Race:
Human/Warlock
Strengths/Abilities:
Illusionary Magic – World Fracture
Jennifer is likely one of the most capable illusionists of her era still actively practicing, but she's perhaps more (in)famously known for her reality bending ability, 'World Fracture'. Her abilities, much like her personality, are fickle. Yet such is the absurdity of her power that Jennifer's illusions can transcend reality. This enables her to craft a dizzying array of attacks where none can truly verify their existence until the moment they've experienced it. Although powerful, Jennifer's illusions tend to be restricted to a small area of affect and such magic is generally focused around herself. This leads many to believe her magic is restricted to being small in scale. Though this maybe, her attacks are no less lethal. Able to seamlessly switch between fireballs to millions of tiny insects to suffocate her enemies and even fake her own death, the only limits are her imagination. As a result, Jennifer is an incredibly illusive opponent to grasp. Using World Fracture is highly taxing when it comes to creating objects which will persist in the real world, such as a sword or jacket. Medium and even small sized persistent objects consume high proportions of her energy, which is why she mainly relegates her power to temporary elements.
Weaknesses:
Reliance on Magic
Jennifer relies entirely on her monstrous powers and makes use of it whenever possible for its convenience. She knows no other way of life and is potentially crippled by it. Eventually there may come a time where she has to rely on her own abilities, and though she's able to hold her own in most situations, she's hardly an expert in terms of hand-to-hand combat.
Air Sickness
For some people, flying on dragon back can cause sickness. Jennifer never had the chance to acclimatize herself with flying after the death of her dragon, a missed opportunity. Her experiences with Talon haven't improved her particular outlook either. Since meeting him, she's been dropped from the sky on more than one occasion, and in the forty years that have elapsed, her air sickness largely remains the same, debilitating. So she avoids flying like the plague.
Personality:
Since her time with Talon, his influence has mellowed the mage considerably compared to their first encounter, more than she likes to admit. Where she was once psychotic, these days she's tempered and unusually reasonable so long as Talon's around to rein her in. Although time has done nothing to affect her extraordinary confidence or selfishness. Never above reminding others their place, Jennifer's a top illusionist and she knows few others can contend with her prowess. Prior to meeting Talon, nobody had bothered to treat her with a shred of humanity, so her care for him is near obsessive. She persists in ensuring his safety in all matters and seeks to ease his losses, especially after the death of his dragon. In recent years however, Jennifer has steadily grown to despise the assassin's perilous occupation and takes every opportunity to remind him that he should retire.
Her heavy, rural accent, obnoxious insensitivity and outspokenness tends to belly her tender sides as a sophisticated reader. Despite developing maturely (arguably), it's definitely prudent to maintain a certain caution around her. Jennifer has committed numerous crimes, from theft to murder, and has does so almost always in cold blood. She's never hesitant to kill or torture in order to protect or avenge. Even to this day, fighting her sadistic past can be a losing battle, leading her to be prone to volatile explosions of cruelty. On the other hand she can be foolishly fearless at times, unyielding and frustratingly stubborn. Her leverage to this is her humour. Well known for her persistent smile and general nonchalance, she has the uncanny ability to seek the humour in all things, a habit she practiced in order to cope with her childhood.
Equipment:
Necklace
History:
Jennifer's history is stained with cruelty. From the moment she could use magic, Jennifer was relentlessly worked to harness and abuse the powers of her magi birthright. Jennifer's family was an aspiring group of mages seeking to outdo the top families within Ro'ell, so from an early age they tirelessly forced her to practice her powers. Shouldering her manic father's hopes and dreams, she was taught to be a weapon of mass destruction first and a human last. There was no love lost or even there begin with, just endless tomes of magical theory and the torturous whips of her goaders. As a child she'd spend hours slaving away over incantations, learning spells and controlling her magic until such things were as second nature to her as the air she breathed into her lungs. Regardless of the barbarity, the results where impressive. Jennifer had become the family's strongest mage. Possessing a unique mindset which enabled her illusionary powers to become reality, she had limitless potential. Jennifer's father was impatient though. Foolishly, he challenged one of the top mage families, the Romaines, before her powers could fully develop. Both families would nominate their representatives for a duel and the obvious candidate for Jennifer's family was herself. Entrusted with their ambitions, Jennifer entered the duel with high hopes, only to be crushed utterly by an older boy. To punish and humiliate her, and by extension her family, the Romaine family captured her dragon in the aftermath and tortured it to death as an example. Still connected to her bond, Jennifer screamed as her dragon's pain ravaged her body in its death rows.
Despite her protests, nobody helped her, not even her own parents who'd fled in concern for their own safety now that they'd openly challenged the Romaines. Jennifer grew jaded and began detesting the world, cursing her family with a seething hatred as she felt utterly helpless in that moment to change anything. She learnt then the extent of society's cruelty and utter corruption. The powerful dictated the poor remorselessly and only misery reigned supreme. Jennifer had all but lost faith in the races of Dragoon until she met Talon. Overtime, his unbending principles and compassion eventually won her over, though they acted as a double edged sword. On one hand she could trust him entirely, knowing he'd never betray her intentionally. On the other those exact same principles often required him to risk his life in order to stand up for them. The events of Barthomel's rise have tied her fate with his regardless. In order to balance the power of the old god's brace, her presence is required to absorb the jewel's excess power lest it build up and kill him.