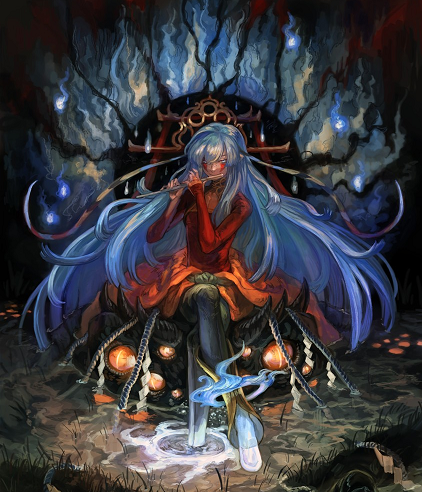 Name Kaya Lillia Xenlyiun
Age "A lady never reveals her age, what a silly notion." [Though she appears to be in her mid-twenties, it can be safe to assume she is older than her physical looks.]
Appearance Possessing nearly unblemished caramel skin, the dark elf is a mysterious beauty upon the eyes. Long locks of azure hair tumble around her body, trailing to the backs of her legs, possibly near her ankles. Her hair is always rippling due to the power she is constantly emanating so it always looks as if there is a gentle breeze sifting through her hair. She has alluring silver eyes that seem to glow from beneath full bangs. Coating her nose are faint freckles, upside-down triangular marks of a reddish hue directly underneath her eyes. Her pointed ears are partially hidden by some stray tufts of hair. The corset resembling top she wears is combined with a half-jacket of sorts which extends up to her neck in a choker-effect. Around her waist is a ruffled skirt, tied in a messily, elegant fashion with an opening in the front. She wears tight, leather pants which show off the curves of her thighs nicely.
Dragon There was a point in her life Kaya did indeed have one such companion, but whether this companion is deceased or she is separated from it remains something of a mystery.
Other Her flute is fashioned out of wood that came from homelands and unlike most other musical instruments, was created with a bit of magic. It can adopt an array of different sounds and she is rarely parted from its company. Only she can play it properly, anyone else that attempts it will end up burning their lips among other side effects.