Loki Belphegor
Full Name:
Loki Belphegor
Age:
"Trust me, ya don't want to know"
Gender:
Male
Nicknames/Codenames:
The Prince of Darkness, Loki
Occupation:
"Do you REALLY want to know?"
Role:
Demon
Basic Description:
[WIP]
---
Abilities!:
"Like I would tell you something like that"
Major Abilities:
Z Human - Demon form: Unlike other weaker demons, Loki has two forms: His human form and his Demon form. In his Human Form, he looks exactly like a normal teenager human except for the occasional flickers of red in his eyes whenever he's excited about something. It's hard to make him excited and so, it is also rare to see his red eyes. However, the drawback of this form is that he will only have the power of a normal human so he CAN be killed in this form. The other form, however, is not so easily killed. He will grow two horns, a tail and a pair of bat wings. He barely dresses in this form and his clothes only cover his 'key areas' so to speak.

Z Summoning: One of Loki's major abilities is his summoning. He's extremely good in summoning any demons with minimum effort, especially the Hell Hounds. He can summon a hundred of those things with little effort and he can even summon Satan if he wants to. But of course, he isn't that stupid or retarded and therefore, he only summons Hell Hounds for fighting purpose and rarely summons any other Demon with higher ranks than them. His Hounds are very loyal to him.

Z [WIP]
Minor Abilities:
Z Lie Detection: Loki can tell if a person is peaking the truth or not. It is a very useful ability and to some small extend, he can even aware of the truth based on the lies he has been told. However, he can only apply this ability to someone who knows the truth directly and tells lies. If that person doesn't know the truth then he simply knows it's a lie but doesn't know the truth from it.

Z Wound Transferal: Loki can transfer all kinds of wounds from fatal to minor, from mental to physical wounds from one person to another. Currently, he uses it to transfer the wounds from himself to his enemies but if he applies it correctly, he can even cure one person from a disease (but in turn, makes another person has that disease). He needs physical contacts in order to make it work and it is usually very draining. Besides, he views this act as an unhonorable act so he rarely uses it.
Special Ability:
Z
War Desire: [WIP]
Natural Talents:
Z Seduction: [WIP]

Z Cooking: [WIP]

Z Singing: [WIP]
Weapon(s):
Assisted knife
---
Personality:
Loki has the appearance and expression of one who is extremely crafty and confident, an appearance which he lives up to. He claims to love humanity, and greatly enjoys putting people in miserable or chaotic situations in order to observe their reactions. With a thorough understanding of human behavior and tendencies, he is able to determine people's thoughts and predict their reactions with high accuracy. Loki is cunning and charming, but he's not very interested in romantic relationships. He has a very jolly and mocking personality, speaking informally with most people as if they are close friends and often using nicknames when he talks. He plays on both sides, so that whoever wins, he will have an advantage.
Although Loki
'loves'
all humans, he has no interest in loving individuals, even his own family or friends. Also, Loki always keeps a thick wall around his heart. Although Loki enjoys conflict, often showing up wherever there is potential for one, he usually stays out of it, preferring to observe the fight instead of directly taking part in it. However, when provoked, he quickly puts his opponent in his place, simply proving his superiority without actually beating the other person. Therefore he is usually seen as the one starting fights, but hiding in the shadows instead of directly taking part. He uses an assisted knife (the blade he uses must be slightly opened before the mechanics of it springs the blade open - a switchblade will open on its own after the user presses a switch) and is skilled in parkour.
It is also noted that Loki's loyalty is unknown. On one hand, he never disobeys a direct order from the Devil but on the other hand, he has been seen helping some exorcists now and then. He denies or tries to stir the conversation to another direction whenever he's asked and therefore, he's one of the wild cards that cannot be determined yet. He disgusts with the way some of the demons kill their honors by doing lowly things. He considers himself to be honorable and he has his own pride and code of behaviours. Till this day, no one, not even his friends, knows what his code of behaviours includes and he doesn't desire for others to find out about it. To him, life is a game which he should enjoy.
Another thing that should be noted is that Loki is very ambitious and is secretly planning some grand evil schemes in the background, hiding it from everyone else. He often expresses that there should be a new Hell - a better Hell and it
might
be his plan to create a different world. He has tight bonds with quite a lot of Devils in Hell and he's proud to say that he has managed to make some really good
'friends'
.
Likes:
✓

Manipulating people



✓

Having fun



✓

Killing



✓

Turning people dark
Dislikes:
✘

Exorcists



✘

Losing



✘

Disobedience



✘

Disrespect



✘

Sunlight
Hobbies:
☺

Sleeping



☺

Playing



☺

Doing missions



☺

Watching fun stuffs happen



☺

Killing
---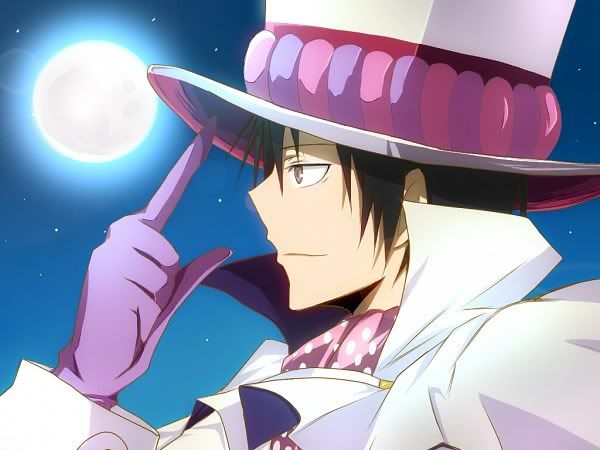 History:
"Hoh? So, you desire to know about my history, dear? Sorry but that's classified information...maybe later, huh?"
---
Theme Song:
[WIP]
Other:
[WIP]