---
---
- Name -
+ "My name is Arthur Lucius Evangelion."
- Age -
+ "I am 46 years of age."
- Gender -
+ "I am a male."
- Race -
+ "I am a full-blooded human."
- Major Abilities -
+
Light of the Heavens
- Arthur holds Excalibur close, and both he and the blade begin to glow. Once his body becomes bright enough, Arthur sends out a massive shockwave capable of leveling even buildings- just after that comes the even more massive wave of destructive Holy Light, purging anything in its path.
+
Holy Rain
- Arthur raises Excalibur, and the Heavens open up. Rain hammers the area Arthur designates, before lightning begins to strike. The area becomes a storm zone, with Arthur the only being safe. A massive whirlwind of lightning, rain and wind ravages the area. However, the storm only serves to distract Arthur's enemies- up above them, thousands, maybe millions of arrows fire down upon the area, piercing anything nearby and destroying everything in the region. Once all the arrows hit, they all connect to form one large area of spell circles, all of them exploding with Holy Light to cleanse the Earth of anything caught in the range of the arrows.
+
Holy Eruption
- Arthur raises Excalibur, a large spell circle appearing around him. The longer he raises Excalibur, the more its blade grows, and the larger the circle becomes. The ground begins to rumble when the ability is at full power. When Arthur slashes downwards with Excalibur, the spell circle explodes vertically with Holy Light that comes from the ground, incinerating any Demons nearby.
- Minor Abilities -
+
Sword of Justice
- Arthur enchants Excalibur's blade, transforming it into a glowing blade of Holy magic. It grows to triple the length, and sears anything it touches. This lasts for as long as Arthur deems necessary- Excalibur powered by a direct link with the Heavens.
+
Self-Infusing
- Arthur channels both the power of Excalibur and the power of the Heavens through a rune on his chest, granting him insanely improved stats and raising his strength to that of roughly an SS Demon. This is why Arthur is considered the strongest man on Earth. His power is insane, his strength immeasurable- his will of steel is indomitable.
+
Exorcism Arts
- Being the Archknight, Arthur is by far the most skilled person on the planet when it comes to Exorcism Arts. He's capable of doing almost anything- and he's on an even higher level due to his use of Excalibur and his direct link to the Heavens.
- Excalibur Abilities - (Excalibur has its own skillset that it adds onto that of its wielder.)
+
Power Drain
- Considered one of Arthur's Minor abilities due to it really being Excalibur's, this creates a field that drains the magical power and lifeforce of anything of evil intent, alongside anything with Demon blood, around it. It's so powerful, in fact, that even an A Rank Demon would be unable to fight after 30 seconds.
- Special Ability -
+
Left Eye of Heaven
- "When I remove this eyepatch, you face the sight of God himself."
- Likes -
+ "No."
- Dislikes -
+ "No."
- Biography/History -
+ "No."
- Other -
+ "No."
---
---
Name: This individual had always been known as

Z

.
Nicknames: With a one letter name, there's no need to shorten it.
Aliases and Titles: People spoke of Z, as

Sweet Lips

or

Riddle

.
Physical Age: Described as someone in the age of

early 20's

.
True Age: It was never recorded, never heard, and never said.
Gender: Defined as being

Male

, but mistaken as Female sometimes.
Race: No one knows exactly what, but Z is surely not human.
Subspecies: If anyone would reveal what race Z is, then maybe.

Major Abilities: Z has indeed incredible powers and that would go without saying, but to know is to force the hand of Riddle.

Minor Abilities: Well, Z won't mind to showcase. But, no one has really made this person exude that effort to have it manifest. There is that one time that a supposedly irrevocable power was shattered by him with just a flick of a finger.

Special Ability: Like anyone else, Z has indeed a uniqueness reserved for him. No one has ever seen it though.

Likes: Payment | Deals | Information | Debt

Dislikes: Too much effort

Biography: Now, this information is a roller coaster ride. Nothing is exact. Nothing is proven. All are speculations of fantasy. The only thing is certain. Z is someone that knows what others want to know. Z is someone that is not to be trifled with and quite known among the circle of demons, non-humans, and human linked to the supernatural.

Faction: Absolutely Neutral, Z's Side.

Rank: S | Though, many had noted he could possibly be above it.
---
---
001 - Reaper
---
---
002 - Knight
---
---
003 - Berserker
---
---
Not sure but she'll pop up.
---
---
Name: Sasha
Physical Age: 16
True Age: Unknown
Gender: Female
Race: Nekomata
Major Abilities:
+Ventriloquism: Sasha can speak freely without opening her mouth. Someone unfamiliar with this ability might suspect that it's some kind of telepathy, but it's closer to audio projection. She also happens to be pretty good at mimicking voices.
+Vertigo: By snapping her fingers, she can make someone suddenly see upside down.
+Hide: Sasha turns an object invisible. If she turns her clothes invisible, it will make her invisible as well.
Minor Abilities:
-Street Magician: Sasha conjures one of the following things (and maybe some others):
A cloud of edible rainbow confetti that comes in twelve different flavors, including maple and red bean | Candy | Playing cards | Smoke | A helium balloon | A coin
-Clear: Sasha makes something that's dirty into something that's clean. By extension, she can dry things that are wet, erase faint scars, clear up blemishes, etc.
-Recolor: Sasha changes the color of an object to something else.
Special Ability:
>Nine Lives: Sasha can revive from being killed up to nine times. She can choose to revive someone else, but it will use up all of her remaining lives.
Skills:
[Arcane Affinity] Sasha is peculiarly skilled at detecting the presence of anything magical - holy, demonic, you name it. She seems to have no trouble handling and identifying such items as well, allowing her to deal with even cursed objects.
[Cat] Her senses are fairly sharp and she knows how to always land on her feet.
Faction: N/A
Rank: D
---
---
~ Physical Profile ~
Name: Geppetto.
Physical Age: N/A.
True Age: 10.
Gender: Nope.
Race: Demon.
Subspecies: Puppet.
Description:
Standing at only three feet tall this small terror looks a great deal like what he is: An evil puppet. His features tend to be rather menacing though this can often change depending on the body. Often he'll have junk stuck in in place of missing parts, making do with what he's got. Overall he's a jittery maniac, often fixed with a devilish grin, especially when he's scheming. What he wears is extremely variable as he goes from disguise to disguise with great rapidity
Any differences from your provided image/s: No matter what he wears he'll always have a set of pockets on his clothing of choice.
~ Psychological Profile ~
Personality:
An easily excitable demon with big dreams and a lot to prove.
He's easily characterized by his lust for glory and his love for human pop culture. He'll go above and beyond to gain any measure of fame or recognition. He tries to think outside the box, trying things which either fail or succeed spectacularly. No matter what he does though he is no subtle fellow. His excitement and desire for recognition well exceeds his ability to manipulate others.
In truth he's rather child like in his manner. Unrefined and more concerned with spectacle opposed to effectiveness. He does harm not really out of malice but with a zeal for approval combined with an eagerness to play with power.
That's not to say he isn't aware of some hard truths. Living in hell as one of his strength means knowing his own mortality well. He's kept well to the shadows and he is quite sneaky when he needs to be. He doesn't much care for hiding himself however, preferring to be the center of attention when he can seize it.
Likes:
- Guns.
- Explosives.
- Action Movies.
- Horror Movies.
- FPS's.
- Praise.
- Crazy Schemes.
- Winning.
Dislikes:
- Being Bossed Around.
- Bullies.
- Being Scolded.
- Being Laughed At.
- Romantic Movies.
- Getting Bored.
- Failing.
Strengths:
- Mixing Chemicals.
- Sneaking Around.
- Stealing Things.
- Hotwiring Cars.
- Acrobatics.
- Picking Locks.
- Mixing Drinks.
Fears:
- Demon Lords and any demon significantly stronger than him.
Hobbies:
- Brainstorming new schemes.
- Stealing things.
- Watching movies.
- Making bombs.
Secrets?:
Outlook on life:
Some day he'll become the greatest demon to have ever lived and then all the people who bullied him and said he couldn't make will come and lick his boots and all the cool demons will like him and everything great for him will happen always. He's just gotta prove to the higher ups he has the potential.
Affiliation: Hell.
Moral Alignment: Chaotic Neutral.
~ Combat Profile ~
Major Abilities:
+ Spirited Retreat
It's never good to go into a plan without an escape plan and Geppetto's plan is particularly slippery. At any time he can eject his soul from his current body and escape either back into hell or into a nearby inanimate body. His soul cannot escape if it is trapped with magic however.
Minor Abilities:
- Recycled Parts.
He's unique for a puppet as the parts composing his body are largely disposable. If he looses an arm he can reconnect it and it will resume functioning. The more damaged a limb is the less optimally it will perform.
Geppetto can also can make replacement limbs out of any makeshift material. The material will animate no differently than his starting limbs however their durability and weight will play into account. Parts that were previously operational like guns or other devices will continue operating as they did previously instead of serving as the limb it's replacing. He will however have control over the device attached as he would a living limb.
- Master of Disguise.
Okay, perhaps he's not a master of disguises. This ability grants him the power to conjure forth any disguise he wishes. The disguises come with clothing, makeup, fake prosthetics and props. The props only function to mimic their real counterparts in aesthetic. He can don these disguises instantly, spinning in a blur only to appear in his disguise of choice.
- Really Deep Pockets.
Geppetto's pants pockets can be used to hold a wide variety of things, more things than you'd assume pockets could hold.
His pockets can stretch out to the circumference of a sewer manhole cover and can house up to a shipping container's worth of contents. Whatever he wants out of his pockets always come right to his hands when he reaches in.
Equipment: His clothing, a lot of various guns, many types of bombs, knick-knacks and plenty of ammo.
Minor Skills:
- He's fast.
- He's agile.
- He's sneaky.
- That's about it.
~ Faction Profile ~
Faction: Hell.
Rank: E
Class: Handsome Mastermind and Ultimate Warlord (Self assigned)
Title: The Puppet Master (Self awarded, nearly nobody calls him that.)
Loyalty Level: 3/10 He wants somebody to like him. His allies don't seem to like him much back.
~ Miscellaneous ~
Biography/History: There once was a puppeteer, down in the dark depths of hell. He made puppets and held puppet shows for his fellow demons. He had the ability to make his puppets come alive, to act and perform for him on their own right.
He was crafting one particular puppet however it did not come out right. It's eyes seemed to drift to the sides, it's wicked grin was askew. With just a head, a body and an arm made the puppeteer simply decided to discard the half made puppet, leaving it among his pile of other spare puppet parts and other materials.
This puppet, despite it's unfinished state, had been kept in his hands long enough for it to have come to life however. In the darkness of the attic where it was kept this puppet spent it's birth crawling with it's one arm through the darkness. It learned to move in the state was at however, making due as it was. Then it saw the crack.
An ever so slight crack in the floor boards led the puppet to see the shows that went on below. Brothers and sisters to him were all dancing and acting out plays while demons all laughed and applauded along. Seeing the puppets who were whole made this puppet realise that he was incomplete. He'd need more than just an arm if he were to join them.
With determination he put together the rest of his limbs, attaching them to himself with a great deal of patchwork. A hand with only three fingers and a thumb, a glove with a patch sewn over the hole on it's back, one wooden leg which was longer than the other and a pair of brown cobbled shoes with uneven shoe laces. His efforts paled in comparison to even the discarded works of the puppeteer but he wasn't going to be daunted in his ambition.
One day as the other puppets were acting out on stage the puppet managed to jimmy open the lock on the attic door, slipping out from the dark recesses above and rushing out into the theater, his wooden heart alight with joy.
None were glad to see him. The audience was confused and annoyed by his interruption, the other puppets were surprised and shocked by his reveal and the puppeteer though surprised was ultimately disappointed. The failure he had hoped to forget was not only alive much to his surprise as he never knowingly gave the puppet that gift but it was now public knowledge. The only answer was to destroy the puppet lest it ruin his reputation.
The puppet stood awaiting applause and cheers yet only received startled gasps and disgruntled grunts. He turned to see his very creator coming towards him, hammer in hand. The glint in the demon's eye was enough warning for him. He started running, the puppeteer giving chase, and fled out through the door into the dark and twisted streets of Ashanty, a small and poor town in the midst of hell.
For many years the streets were what he called home. Geppetto, as he now called himself, lived a hard life, sticking to the dingy corners where other demons weren't already hiding. Anytime a powerful demon would pass through the lesser demons would scatter and he was no exception. He had to steal, beg and take whatever work anyone would give him simply to get by. He had to be sneaky since the tougher of the smaller demons frequently liked to trounce the lesser demons and scour them for belongings. His life was hard but living down the shame of his past was even harder.
Of course the latest war on humanity rolled around so now there's work to be done. Where there's work to be done Geppetto is almost always guaranteed to show, trying his hardest to get the job so he can be given the opportunity to impress others.
---
---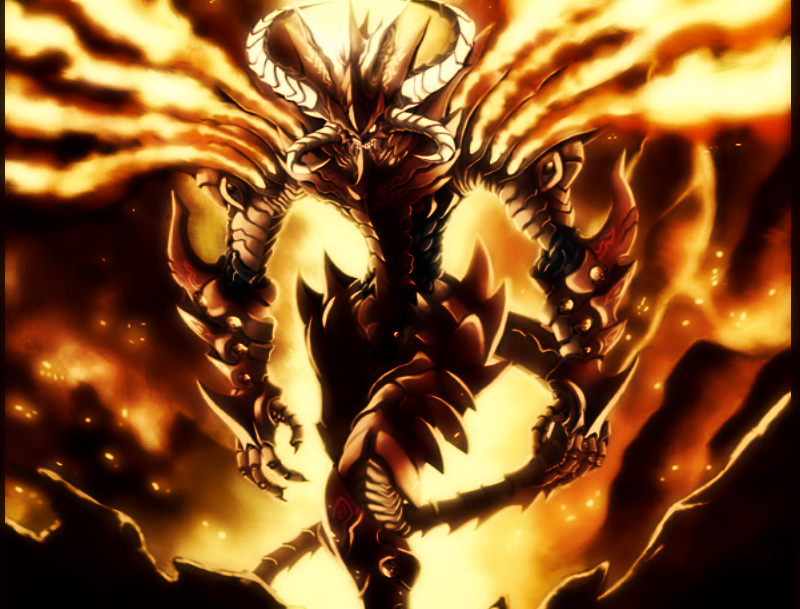 ~ Physical Profile ~
Name: Mitra
Physical Age: N/A
True Age: 683
Gender: Male
Race: Elemental Demon
Subspecies: Fire Demon
~ Psychological Profile ~
Personality: Mitra is a wily creature, perfectly aware of the fact it's nowhere near strong enough to control it's own land nor influential enough with the elder Demons, the cunning beast long ago threw its lot in with a far greater power, namely that of the Demon Lord Brenhin. Such was the creatures initiative, intellect and discretion that he managed to rise quickly in the eyes of the Lord of Deceit, eventually becoming the trusty aide of the mighty Lord and standing as his steward and vizier whilst the ancient Demon Lord is otherwise unavailable.
Likes: Surviving. Power. Recognition.
Dislikes: Being spurned. Needless action. Bluntness.
Strengths: Wit, misdirection.
Fears: Destruction.
Affiliation: Brenhin's Demonic Forces
Moral Alignment: Lawful Evil
~ Combat Profile ~
Major Abilities:
+ The Mirror Flame- Mitra has been blessed with a rare ability, namely that of being able to split himself into two different forms, one comprised of smoke and fire and ash and one of flesh and blood and bone. To defeat one would return it to the other and to defeat the other would return it to one. One would need to destroy Mitra when both of his twin forms are reconnected.
Minor Abilities:
- Silver-tongued- Mitra is at heart a sycophant in order to survive, it is this kowtowing nature that has given the Demon that knowledge to say the right honeyed words to whisper softly in the ears of those greater than he.
Equipment: Mitra was granted centuries ago an ancient blade, great and long and black as pitch, by his master. It soon came about that the gift was as much a binding as it was a tool for the sword called insidiously out in the mind of it's wielder, calling always to drink the blood of Demons and to absorb their essence though for what purpose is not known. Mitra only barely has enough control over the sword to keep it from turning on himself but it is not unknown for it to bite down upon those sworn to Brenhin.
~ Faction Profile ~
Faction: Demons of Brenhin
Rank: C Rank Demon
Class: Steward
Title: Grand Vizier of the Lord of Deceit
Loyalty Level: 7
~ Miscellaneous ~
Other: hexcode colour - #4eb8b0