Name:
Rick-Randy
Gender:
Male
Age:
16
Personality:
He's really active and fun loving when his head isn't off in the clouds. He has the worst habit of not realising when he needs to shut up, and if he isn't careful can be so blunt it's cruel. He does lose his temper very often only when he feels an injustice has been done onto him or his dream has been smeared or soiled with bad words.
Appearance: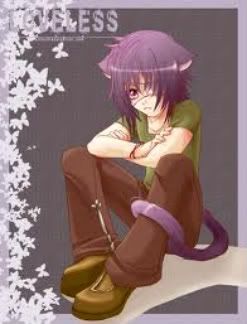 Likes:
Chicken
Open places
Heights
Yarn or String
Dislikes:
Water (Duh)
Fish (What~!? That's un-cat like!)
His tail being touched
Hobbies:
Getting lost
Exploring
Day-Dreaming
Singing as off key as possible (even though he has a nice voice)
Abilities:
His hearing is better than the average cats, to the point it's almost creepy.
He can be a sneaky little dork when he wants, an insanely sneaky little dork, It's almost creepy.
Role:
The Day-Dreamer
Dreams:
To find a nice feline and go to new places... lots of new places.
~~~Nyan!