Revik Howster
---
---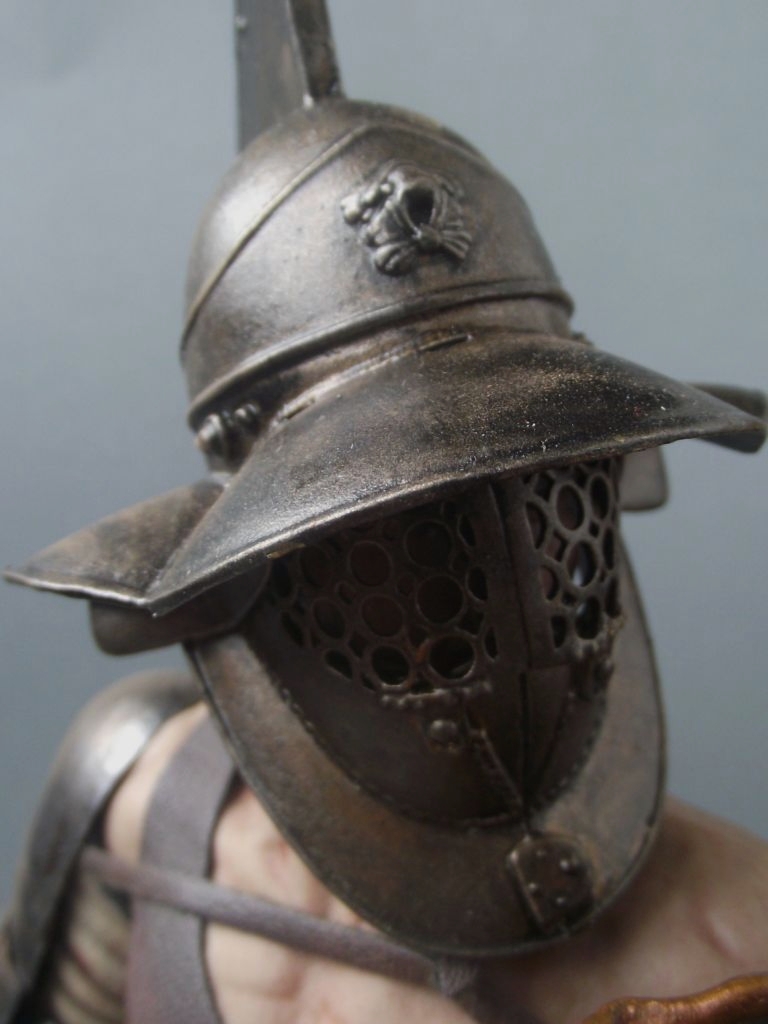 ---
---


Name: Revik Howster

Theme Music: Parov Stelar - Libella Swing

Age: 36

Gender: Male

Orientation: Straight

Race: Human

Class:Weapon Master

Sub-Class or Skills:
Pit Fighter
Pirate
Escaped Slave

Alignment:Neutral


---
---


Height: 180 Centimeters

Weight: 82 Kilograms

Appearance: Revik is a decently tall fellow who's body while not toned like a body builder's body still has some decent definition to his muscles. He rarely dresses higher than a standard sailor's fashion, wearing cheap clothes due to the tolls taken on his attire. His favored helm is the cassis crista, the helm which when combined with his steel cestuses form the image most who know him would associate him by. Underneath the helm he has short straight jet black hair and sapphire blue eyes with a somewhat narrow face. On his face he sports a slaver's brand mark which was burned into his right cheek during his unexpected journeys upon the high seas. As a result of his habit of wearing little to no armor save for his fists and forearms he has numerous scars along his body and limbs, the adventures of which they were received being many.

Oddities:
- He doesn't frequently take his helm off or show his face. Besides eating, helmet maintenance, personal hygiene maintenance and special circumstances he almost never takes it off. He even sleeps in it. Even when he does remove his helmet he makes an effort to conceal his face. The reason for this is because of his slave mark which he understandably wants to keep out of sight.

- He refuses to use any other weapon but his cestuses or his fists. Partly it's because of his history as a weapon master but he's forgotten a major factor behind his disdain for using other weapons due to a sudden loss of his memories which resulted in a number of his developments.

- He's got a surprising number of skills which he isn't too bad at but he simply cannot remember where he learned them all.

Abilities:
He can block projectiles with his enchanted bracers most of the time. It doesn't always work.

Personal Items and Weapons:
His Cestuses
Enchanted bracers of deflection.
-
Twenty feet of rope.
A grappling hook.
Ten Doubloons.
A compass.



---
---


Personality:
He's a tough fellow who's seen a lot in his days of fighting and endured a lot as a result of his reckless determination to become the greatest warrior the land has ever known. Having chosen his path as the Weapon Master of the Cestus he is driven to prove that he wasn't just in over his head when he picked the only mastery that no other Weapon Master had picked. He knows fully well that his field is technically better suited towards monks but he also knows that he possesses neither the patience nor the religious devotion to be accepted under the great eastern masters of unarmed combat.

When he started he was driven solely by the fact he was too stubborn to quit and wanted to spite all the other Weapon Masters since they didn't believe he could make it in the world without abandoning the Weapon Masters Guild altogether to become a monk. After spending so much time honing his technique and learning new fighting tricks from various fighters across the land what began as a petty quest to avoid admitting he was wrong slowly morphed into a legitimate respect for the art. His confidence grew alongside his mastery of the cestus and now he is more motivated than ever to prove his style's worth in the world.

Though life has made him hard and somewhat embittered him he still lives life with a great deal of passion for the things he appreciates. He takes life's pleasures wherever he can find it, drinking his fill and then some. Though he still seeks glory after becoming a criminal in the eyes of the public he finds some difficulty with motivating himself to win the adulation of the people when the law and public perception would make him out to be some lowly vagabond.

He is quick to anger over certain matters. Insulting his fighting style is an almost certain way towards getting punched by him. Though not an idiot he is easily swayed by beautiful women and finds it difficult to no to a lovely lady, even when he should know better. If forced to fight a women, especially one who is not specifically a warrior, he opts for more grappling based techniques, preferring to subdue them without injuring them.

Ultimately his goal is to become the best fist fighter around but with luck having been what it's been towards him he is starting to have doubts about what he does. Just what made him so determined to forge his path like this in the first place? Not even he can recall.

Bio:

In a brief flash he found himself standing out in the woods next to a large pile of wood, an axe in hand. The first thing to come to mind was that he was well overburdened. He was completely adorned in all sorts of items, wearing an oversized backpack which weighed quite a lot. His armor was a mishmash of various pieces taken from different sets of armor and he had at least five different two handed weapons strapped to him. More confused than anything else he dumped the stuff on the ground, discarding everything but his helmet since head protection was always handy. Without a clue as to what he was doing he wandered off until he reached a town.

Over the course of a few days he eventually got a grip of his surroundings and made a life for himself as a mercenary. Using the money he made doing chores for people he bought himself a sword and helped protect caravans from bandits as well as monsters. He eventually got well known for being a good swordsman and with that reputation came more lucrative offers for his service. He wasn't satisfied with just being a sell-sword however. More than money he sought fame. When he eventually overheard people discussing the Weapon Masters Guild, an organization of people famous for being the masters of whatever weapon they chose, he knew he had to pursue this lead to find this group they spoke of. After asking around as he traveled through many towns he soon found his way to the great hall of the Weapon Masters.


At first they declined his request to join their guild. Their reasoning was that he wasn't renown enough for his skill in battle. That made sense since he traveled a long way to a place where fewer people knew of him. After setting out and defeating great monsters and performing impressive feats of swordsmanship he eventually earned enough respect to be allowed to apply to their guild. "So you just gotta sign here and here, officiating your membership with this guild so you're legally recognized by the court as a member as well as indemnifying the guild from any legal recompense resulting from any losses or injury suffered during your membership." He was given the forms and a quill by the nerdy looking teenager with thick circular glasses who served as the guild's clerk.

Once he signed his name down he handed the papers in only to be handed back a list. "All that's left is to pick what weapon you're a master of. Guild rules state you can only officially be a master of one weapon or one style for one weapon." The clerk informed him. He scanned down the list until he found Longsword and was about to check that one off when all of a sudden a large muscular man was driven through the railing of the second floor walkway, falling and smashing into one of the round wooden tables a couple of weapon masters were eating at. The muscular hulk of a man had an ornate long sword driven straight through the center of his rib cage. He was dead before he even hit the floor.

"Let that be a lesson to the rest of you!" A voice called out from above. The voice belonged to an older gentleman with slicked back wood brown hair and pencil thin mustache, dressed in a pure white noble's suit with a delicate golden monocle set over his right eye. The nobleman leapt down from the broken edge of the walkway and landed near the body with cat like grace. Despite everyone's look of relative surprise the nobleman still proudly strode over to the body and pulled his sword straight from the still warm chest of the man he just killed. "You may call yourselves 'Masters' all you want but do not follow this man's folly and think yourselves better swordsmen than I, Ersot Alexanderson the third!"


Revik was no stranger to violence but for someone to straight up announce their name out after murdering someone in cold blood in the middle of the hall of the Weapon Masters no less he was quite surprised. What was more amazing about it all was how everyone around didn't seem to react as strongly to the murder as he thought they would. After wiping down his blade Ersot simply sheathed his blade and walked past him right out the door. Though the mood of the room was much more dour there was little else to it. No one raised neither their weapons nor their voices in objection to this. He was simply speechless.

"Yeah, this place's atmosphere's always been hostile like that. Almost all Weapon Masters can't stand competition within their respective fields." The clerk broke him out of his momentary shock. "Well, you gotta pick a mastery too sadly. After all, you already signed your name so it's a little late to regret." He looked over and nodded before looking back down at the sheet while the clerk went and sat back down at the front desk. He considered her words carefully as he looked again at the list. Given what just happened he started to wonder if it would be wiser for him to pick another style. Every time he brought the end of the quill near a check box a weapon master who used that particular weapon would glare at him. She's right, these people really are hostile. He realized as he saw just how everyone was pretending to be minding their own business but were actually watching him like a committee of vultures.

It was quickly made apparent that there was almost no selection on the list he could make where he wouldn't immediately make enemies within the guild. The key word here was Almost. There was one weapon that was not claimed by even a single Weapon Master. The moment his quill made it's mark in the selection's check box a voice erupted right behind him. "You picked the Cestus!? BWAHAHAHA!" Some guy had been reading over his shoulder without his knowing. The entire hall save for the clerk herself burst out into laughter, mocking Revik for his choice.

"Isn't that a monk weapon?"

"Hey! Go home and play with your monk friends!"

"Quit pretending to be a Weapon Master!"

"Look at this loser, picking boxing gloves of all things!"

"You should leave and go be a monk instead!"

The mockery and laughter rose alongside his anger, their voices fanning his inner fire higher and higher. The guy who was just reading over his shoulder, some weirdo with a dark brown pompadour and a long wiry mustache, lead the crowd in their jeers. "Go home kid. Don't come back until you're serious about being a Weapon Master." That comment was the straw that broke the camel's back. With his hands tightly balled into fists Revik whipped around with a back fist for the slime ball. The greasy fellow with the pompadour didn't even have a moment to reach for the two large throwing axes hanging from his belt as the back of Revik's hand smacked into his jaw. The man's head rocked to the side before coming straight back up. There was a moment of silence as the man stood there, seemingly frozen. Like a tree felled by a lumberjack's axe he collapsed to the ground unconscious.

Nobody was laughing at him now. The whole hall had a really awkward stillness to it as everyone bore witness to his one hit knock out. After a moment or two of calming himself after that burst of adrenaline he was actually rather impressed with himself. "How about you offisate me instead of just staring." He turned to the clerk and addressed her rather brusquely since he was still in a bit of a foul mood. She was surprised enough by his sudden violent outburst that she didn't even bother correcting his misuse of grammar as she stamped his membership card. "H-Here you go." She stuttered as her eyes looked down to the unconscious guy then back up to him. The clerk handed him his membership card and complimentary case of metal polish. Grabbing the two items from her he walked off without so much as a single thank you and just strolled right out the door, leaving behind a night for the Weapon Masters to talk about later at the pub.


After that day Revik purchased a set of metal cestuses and used them exclusively as he went about the land performing great feats and embarking on many adventures. During these years he honed his hand to hand fighting skills, picking up new moves and practicing them in live combat so that he may could bring himself closer to being a true Weapon Master of the cestus. A few years passed as he further tried to propagate his fame and skill which led him to relax at a bar in a port town after a long and harrowing quest for some duchess, something to do with finding her stolen wedding ring or something along those lines. He couldn't be bothered to remember the specifics.

As he drank back some ale the room started to get all blurry. While he stood from his stool and staggered away from the counter everything started spinning and getting dark. The last thing he remembered hearing were a number of gruff voices accompanied by dark silhouettes that were grabbing him roughly. He couldn't tell how long he was out but when he came to he was on a boat, his arms and legs bound in manacles. It would be just his luck that he'd wind up getting drugged and captured by slavers. They had taken everything from him, including his membership card which meant he couldn't legally prove he was a Weapon Master.

As they sailed they went through the process of marking their slaves for sale when they were to reach their port. They dragged him out by his chains and like the others they had the hot branding iron ready to mark him as their property. He fought hard but with multiple men holding him still there was little to be done as the piping hot metal seared into his cheek, branding him as a slave like all the rest. What humiliation, sinking from such a high point in his life down to nothing more than flesh to be bought and sold.


Of course he never made it that far. Midway through the voyage a pirate ship attacked. A fierce battle was fought and the slavers were defeated. The slavers who didn't perish in the combat were given a small rowboat and a week's worth of rations before being sent off while the pirates plundered their ship. Revik and the other slaves were freed by the pirates who welcomed them into their crew. Once free he found his helmet, his cestuses and the rest of his gear but the membership card was not amongst the items the slavers had taken from them. He nearly turned the slaver ship inside out looking for it but there was no sign of it. Reluctantly he was forced to relent his search and with the wind in their sails the set forth to sail the seven seas.

Thus he led new adventures as a pirate, plundering vessels and visiting islands he had never heard of before. Surprisingly he was already a decent sailor so he adapted to this change quite well. Given how most sailors didn't wear much armor since it was harder to swim and the sea air made metal rust a lot. He didn't have much metal to clean so he was still able to keep his stuff working well enough. Amongst these travels he found himself a set of magical bracers which granted him the ability to parry things he shouldn't ordinarily be able to parry such as arrows and other projectiles like so.

Then the rain came. The weather got so unsightly that they forced to dock at the nearest port. None of them had any experience in dealing with storms this harsh since ordinarily the weather was always clear and placid. Stuck at port it seems he won't be going anywhere by sea until the storm passes.


---
---


Likes:

- Women -
- Fighting -
- His helmet -
- Calamari -
- Seeing new sights -
- Certainty -
- Simplicity -

Dislikes:

- People who disrespect his weapon of choice -
- Slavers -
- Politics -
- Poisons & Drugs -
- Being looked down upon -
- Uncertainty -
- Complications -

Fears:

- Being drugged unconscious again -
- Diseases -
- Bees -
- Growing Old -



---
---