Asher Evans
"How can you kill me when I'm already dead?"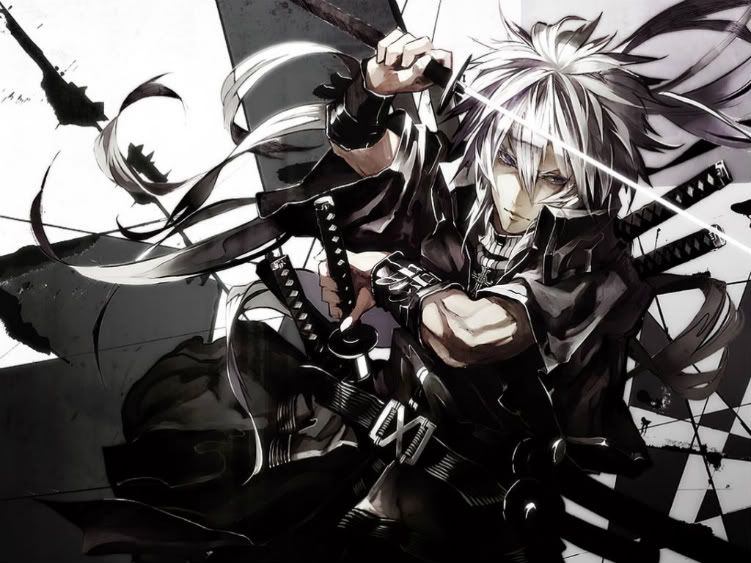 ---
---
Titles
: The Voice of Treason (for taking up the role of going against the tyrant)
Nickname:
n/a
Actual Age
325
Physical Age
18
Gender:
Male
Sexuality
: Heterosexual
Role
: Persuasion, Negotiation, getting jobs, fighting
Written Description:
Asher is 5"8'. He has white skin whth a light tan, and he has a slight muscle build as well. Asher has silver white hair and two icy blue eyes that can penetrate whatever mask you wear. He wears a dark green cloak that reaches from the bottom of the face to his knees and blue jeans. His shirt inside the cloak is orange with an insignia on the heart area and the back. The insignia is pure black, and its shaped like a fire entrapped in ice. It's also shown on the back of his robe. Asher's eyes move about in every single second, taking in the immediate surroundings. They calculate every movement, every reaction, and every gesture that people make.
Depending on who he is with, Asher can look differently to others. On the Phoenix, Asher has more of an indifferent face. He shows his true appearance (as stated above) to the crew members, and speaks often. In town, it's the same, but Asher is slightly embarrassed by his unique silver hair. Thus, Asher changes it to jet black hair. When it comes to battle..... don't even be his enemy.
Weapons, Equipment, and Abilities:

Elemental Manipulation
: Asher has the ability to control certain elements. These elements include fire, ice, lightning, darkness, and light. There are specific aspects to each element listed that Asher would control.
Darkness
: This element is what Asher uses the least. If Asher uses abilities from this element too much, he would black out for a while. The element of darkness is used for creating illusions (that can affect senses other than sight) and to shadow travel in two forms: the first is walking into a shadow and using it as a portal to another place (but there has to be a shadow there), and the second being turning into a shadow and walking on other objects' shadows.
Light
: Asher's second to least used element. Basically, this turns Asher into the healer of a party. He can easily heal flesh wounds in one second, and it would take him a few minutes to heal broken bones. However, Asher can never raise the dead using the healing properties of the light element. Oh, and Asher can blind enemies and reveal the fake from the real.
Fire
: Asher's second most powerful element. With this, Asher is able to raise the temperature, create pillars of flame, and form fireballs. And, if he wanted to, Asher can go Roy Mustang and just flick his fingers to send fire at his opponents.
Lightning
: An element Asher had obtained later on in his lifetime. Basically, Asher can charge electrical equipment and shoot lightning out of his hands. Can anyone say, Cole MacGrath? Only, Asher doesn't need to absorb electricity.
Ice
: Asher's most mastered element out of all six. Using this element, Asher can create shards of ice and throw them at enemies, lower the temperature of the room, and freeze an object.
Air
: Asher's third least used element. He doesn't have any uses for active manipulation, but Asher uses this as an ability. With the ability to control air, Asher gains some sort of a speed boost and an ability to hover in the air.
Elemental Tags:
These tags are used as traps and projectiles, whichever Asher chooses to use them as. They have properties of the six elements that Asher had mastered: light, darkness, lightning, wind, ice, and fire. Fire tags are the simple exploding tags, only they produce a stronger explosion that leaves behind white flames. Ice tags freeze the surrounding areas when activated, lightning tags can create a lightning field, wind tags create a blast that blows away surrounding objects and air. It is also important to note that Asher can throw these tags and suspend them midair, allowing him to fire bolts of lightning at the tags to deflect a bolt into a certain direction.
Chilling Blaze
: Asher's weapon that was used his entire life. It takes the form of a hilt powered by Asher's ability to control the elements, creating the blade. The blade resembles that of a katana, longer than most. The blade is made entirely out of ice, and inside the ice you can see lava flowing within the blade. It shows Asher's mastery of the elements, as well as allowing Asher to intimidate extremely weak opponents. One slash is said to be so cold that it burns. The sheath that Asher uses with the sword is made from the rock you would see from castle walls. Both of these things are unbreakable.
An old battered cloak:
Asher's cloak that was obtained ever since that day he was made into what he is now. Asher wears it all the time, even if it is ripped or torn. It covers most of his body, and has a hood for the head. Asher always thinks of this cloak as "his favorite". Usually, Asher would try to fix the cloak the best he can.
---
---
Asher is very cold and isolated. Nothing seems to bother him, mainly because of his vast amount of patience. Asher prefers to be alone. He doesn't seem to care about petty subjects, such as "My nail broke!" or "I need to go to the bathroom." Asher is usually quiet, unless he feels the need to speak. Other than that, Asher would usually respond with a nod, a shake, or just closing his eyes and sleep. Asher can also do a lot of tasks, so long as it can be easily be done. His mind sometimes has its moments in which it would show Asher all the experiences from the Middle Ages. These moments are in which Asher is vulnerable and when he would actually show the sadness in his heart.
Asher is extremely intelligent and able to adapt to any time of situation. He is always calculating, and Asher is able to read anyone like a book. Technical stuff like the exact speed of the car, Asher doesn't know. But when it comes down to "where should I throw this tag to have it stick onto the car?" Asher is able to do just that. Asher studies everything and everyone. Your reactions, your gestures, body language, where your feet are pointing to, and where you are looking at, Asher takes it all in.
In battle, Asher is one of those types that are calculating, cunning, and honorable. He never tortures the opponent unless required to, and Asher always makes sure that there aren't civilians nearby that the fight might endanger. Asher's ability to study every movement you make is extremely useful in battle as well, since Asher can make out your battle strategies with ease if he stalls the fight long enough.
To anyone close, Asher will show his true emotions. He can and will love girls. Asher is still that young boy from the Medieval Ages, that young boy who loves to joke around and is sometimes laid back. Asher is also prone to… Er, being vulnerable around cute, sexy, practically any type of girl. However, if there is one thing Asher had promised to anyone close, it would be that Asher won't let them die, no matter what. Sacrificing himself is not a problem. Turning that person into one of his race is only if the person is willing to. Asher has a sense of responsibility to make sure that his friends aren't hurt. That, and that he is afraid to lose those that's close to him.
---
---
Skills
+Elemental Manipulation
+Tactics in fighting
+Somewhat of a healer
+Stealth and lying
+Knowledge and expertise of other languages
+Negotiating and persuasion.
Inabilities and Weaknesses
-Can't cook
-Using to much of his powers over darkness causes him to faint
-Don't mention his past. Ever.
-His only use is fighting.... Sadly.
---
---
The Immortali are a race that was erased in history. It was made by God and the devil, in desperation to protect or destroy the human race during the Middle Ages. The whole race is split into 2 sides, God's side and the Devil's side. Both sides are made from those that had died, and swore that they would defend the humans or kill them. They all get the ability to control and manipulate certain aspects of an element. Sometimes it's a passive ability, such as control of Air allows you to run faster. usually it's open control, like using water and light for healing or creating icicles out of nowhere.
Each side is split further into 3 ranks: the normal, the Elder, and the Master. These ranks each have their own max point of how much you can manipulate. The Master can control the most aspects of each element. However, light does not count toward this restriction for God's Immortali, and darkness is the same for Devil's Immortali.
The entire Immortali race can control the age of their own bodies, and are not affected by the sands of time. Their bodies can withstand many death blows before dying, but anything that is supernatural would mean that the Immortali are vulnerable (this also includes anything related to magic). This includes angels, demons, spirits, and themselves. Immortali are the most vulnerable to each other.
---
---
Asher was born under the rule of a tyrant. Needless to say, he had a horrible life, but it was one hidden from the tyrant's view. Asher lived in a small village, which was self-sufficient. However, this somewhat peaceful life ended when a group of soldiers found the village and burned it down. They killed everyone, including Asher. However, Asher had resurrected with the aid of a rebel army leader named Damion Howard. While this did help Asher get a second chance, he wanted revenge. Thus, Asher went with Damion into an army that is beginning to rise against the tyrant,
Asher trained and honed his powers under the training of the rebel leader. However, the leader died from the tyrant's minions, so Asher assumed control over the army as a replacement. Eventually, Asher did try to take down the tyrant, but it all went wrong in the end. Eventually, only a handful of people remained, Asher included. Feeling shameful for his failure, Asher took an airship out of the floating island. He searched for a family, some way to settle down, but he never could manage it. However, all that changed when he was caught on board the
Phoenix.
Learning about what the crew is for, Asher smirked as he said that he wanted in on the adventure. Maybe now he can finally have a family.