---
---
❝

The pain is reflected in my voice!

❞
Theme(s)
Main Theme
Inuyasha's Lullaby | Inuyasha
Logic Time
Road Kamelot's Song | D. Gray-Man
Anger
Faint | Linkin Park
Emotional
Guren | The Gazette
Fighting
The Invisible Wall | The Gazette
---
---
❝

You want to get to know me? Me out of all people? Is this a joke?

❞
---
---
⌈Full Name⌋
Amika Kamelia Jordan
"My name is rather unique. Mixed with certain languages. I love it!"
⌈Nickname⌋
Ami, Kami
"Eh. I'll tolerate nicknames. So, as long as they aren't rude."
⌈Hyeon/Unmei Name⌋
Simmetria Metallo
"Metal Symmetry. Kind of catchy isn't it?"
⌈Age⌋
19
"Well, i'm considered an adult but, that doesn't mean anything."
⌈Gender⌋
Female
"I find that rude for you to ask. Did you expect me to lie?"
⌈Sexuality⌋
Omnisexual
"Romanticism is what it's all about. I would really like to experience some of my own."
⌈Role⌋
Second in Command
"Responsibility. I like it."
⌈Gang⌋
Modernizers
"Well, if you look at it from my point of view it sort of makes sense. But, then again. My point of view is hard to get."
⌈Nationality⌋
50% Japanese || 50% Italian
"I love both languages equally."
⌈Face Claim⌋
Guilty Crown - Inori
"Who did you say that was now?"
---
---
❝

It's so weird to find out how many eyes are deceived by looks.

❞
---
---
⌈Height & Weight⌋
5' 9 & 169
"Isn't the weight thing just being rude?"
⌈Hair color/Length/Quality⌋
Her hair is mostly pink but, has a hint of purple in it. It is an average length, and it's straight from the top and curly at the bottom. Of course, she keeps up with it when she can but, other than that it's just very neat and well done.
"I find my hair precious to me. It is apart of me.."
⌈Eye color⌋
Hot Pink Red
"Abnormal? Who cares.."
⌈Distinguishable Facial Features⌋
Her eyes. They are very full and some people even get lost in them.
"Look into them.. I dare you to."
⌈Birthmarks/Scars/Tattoos/Piercings⌋
Has a few little scars from previous battles.
"Yeah, I tend to get in a lot of fights."
⌈Physical Description⌋
Amika K. Jordan, the only thing that is different about her is her hair, and her eyes. They are both very unnatural colors and there isn't anything behind them. They were natural like that, she was born with it. Her body has mostly smooth curves from her hips, to her chest, all the way to her bust. Amika is yet an average beautiful young woman but, she isn't perfect. And her unnatural features shows it.
"I'm not perfect if that's what you're trying to get at."
---
---
❝

Your mind can easily play tricks on you. It can be your friend. And your enemy.

❞
---
---
⌈Habits/Quirks⌋
✦

Taps Her Fingers||

Whenever she is impatient or whenever she has nothing productive to do, she randomly taps her fingers against anything that makes noise.
✦

Fixes Her Hair||

She has to be symmetrical, there can't be anything that isn't symmetrical. but, nobody is perfect.
✦

Paranoid||

Explanation Here
"I'll admit that they are pretty annoying. But, they here to stay."
⌈Likes⌋
♥ Intelligence
♥ Guns
♥ Symmetry
"Okay so what?"
⌈Talents⌋
✔

Gymnastics||

Explanation Here
✔

Playing Musical Instruments||

Explanation Here
✔

Shooting at Ranges||

Explanation Here
"I don't like to brag.."
---
---
⌈Hobbies⌋
✔

Building||

Explanation Here
✔

Running||

Explanation Here
✔

Reading||

Explanation Here
"It's obvious that I do stuff to let time go by but, damn."
⌈Dislikes⌋
✖ Dumbness
✖ People that doesn't understand her
✖ The word crazy
"Just.. Go away."
---
---
⌈Fears⌋
✘

Her heart failing||

Explanation Here
✘

Her sister getting hurt||

Explanation Here
✘

Of never dying||

Explanation Here
"Don't you ever make fun of these things. These are nothing to play with."
⌈Flaws⌋
✘

Heartless||

Explanation Here
✘

Her Heart||

Explanation Here
✘

Her Mind||

Explanation Here
"This is very serious.."
⌈Secrets⌋
⌛ She wants to die
⌛ She has a serious heart condition
⌛ Has night terrors
"It is, what it is."
---
---
⌈Personality⌋
||

Intelligent

||

Calm

||

Creative

||

Brave

||
||

Cold

||

Allows Imperfections

||

Soft

||

Mysterious

||

Amika K. Jordan has been trying to hide from the monster inside of her for so long. This monster has shaped her and so has she herself, and this is what she has become. Her intelligence hasn't gone anywhere. He logic is just as strong as her strength and it's as high as ever. Vocabulary and grammar is important to her and books are as well. So, she doesn't take advantage of those things, she treats them as if they are the most important things to her. Then again she might be over exaggerating. What comes with intelligence isn't always nice. Because, the demon inside of her has made her cold. But, not cold to the point she'd kill anyone without a care. It just means she won't feel certain emotions other will normally feel. That's just how this monster shaped her.

Out of all the situations that she was put in most of her life, she can't help but be calm through them all. She so calm that at sometimes, whenever she is by herself, she tends to create these images inside of her head -these people. They tell her things she want to hear, they do things she wants to see. But, maybe that's just her mind playing tricks on her. Then again, this might be a thing she naturally received.
"Character Thought"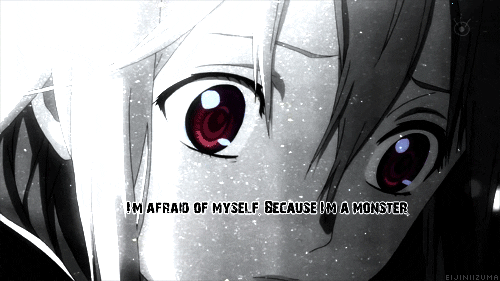 ---
---
❝

I don't want anyone else's blood in my hands..

❞
---
---
⌈Romantic Interest & Relationship History⌋
She has actually never been in a real relationship. Well, she is too scared to try.
"W-what kind of- No never!"
⌈Most Precious Person⌋
Her sister.
"The most precious person, has to be my little sister. She's been there for me when everyone rejected me."
⌈Family⌋
Haru J. Kagoshima || 40 || Father || Alive || "My father stopped being my father the moment he married that woman. I don't hate my father but, I am disappointed in him. If mother was alive still. She would never tolerate this. Oh, father I wish you the best luck with that wench!"
Saya L. Kagoshima || 39 || Step-Mother|| Alive || "I wish she would just die already! I know it's harsh but, after what she has put me through. I cannot forgive her. She is not my mother and she never will be. If only there was a way to make her disappear. Heh, yeah that would be the day I'd finally smile."
Alexis L. Jordan || 34 (Age of Death) || Mother || Deceased || "Ah, every time I try to think about her.. I just can't. It was so sudden, her death. I just wish she was her to comfort me in my hardest of times. Mother, I know you'd be disappointed in me but, I think I might just give up."
Amelia O. Jordan || 17 || Sister || Alive || "I love this girl to death. If someone were to hurt this girl -and it doesn't matter how they did- I will hunt that person down. Now, I wouldn't hurt them but, I would like to get a few things across their head. My sister is a delicate flower, if you let one of her petals die, you will do the same."
Fuu T. Kagoshima || 18 || Step-Brother || Alive || "Oh. He just get on my last nerves. Just because, he is my so called brother now, doesn't mean he could just boss me around. He needs to go away with that woman, so me and the little family I have can live in peace."
"I hated them. I hated them so much. Why wouldn't they just leave me alone. But, it's not her fault for leaving me and my sister."
---
---
⌈History⌋
Answer Here
"Oh goody. This is where I visited hell. But, I just burned in it.."
---
---
❝

I used to believe I was a monster. I don't know who I am anymore..

❞
---
---
⌈Ability⌋
Metal Mimicry ||

Amika can manipulate metal from inside of her somewhat. It features a good electrical conductivity. She can transform some of her body into metal. Sadly if her whole body were to be transformed into metal that would be the last stage of her ability and it will make her heart explode. So, she won't necessarily use that stage unless it's really necessary. But other than that she can form metallic weapons from her arms and back. Maybe even a little shield if the battle is currently very serious.
"I don't know who I am anymore. It's sad that I'm not used to it yeah?"
---
---