---
---
❝Run for the hills whenever you hear my fight theme.❞
---
---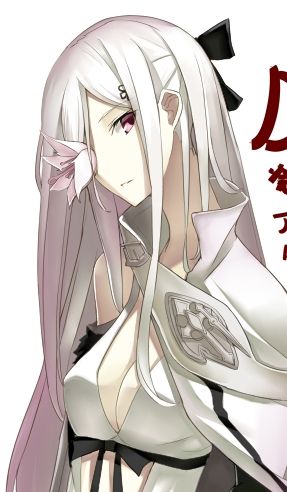 ⌈Full Name⌋
Lucia Borgane
"A pretty name don't you think?"
⌈Nickname⌋
Lucy, Lucchi, Lu-chan, Miss Borgane
"I will also accept Lulu too."
⌈Hyeon/Unmei Name⌋
Parazit
"It's natural to have a name related to my powers."
⌈Age⌋
34
"But I am forever 20!~"
⌈Gender⌋
Female
"Well I do have breasts."
⌈Sexuality⌋
Homosexual
"My body is only for one special someone!"
⌈Role⌋
Gang Mediator || All gang disputes, crimes, and actions are observed by Lucia. Any gang or uncivilized Hyeon wrongdoing would be punished by Lucia as well as her main duty is to protect Hyeon gangs from the government, authorities, Unmeis and humans. Is currently upholding and monitoring the truce.
"I want to be always here to protect my precious Tsubaki-chan"
⌈Gang⌋
No Affiliation
"Well I am still working for the government."
⌈Nationality⌋
Albanian
"Of course I am a Japanese citizen."
⌈Face Claim⌋
Zero from Drakengard 3
"What is a drakengard?"
---
---
❝My hair got dirty... You better be prepared to die bitch.❞
---
---
⌈Height & Weight⌋
Lucia is mostly seen around 6 feet with super high heels and raised insoles. But stand around 5'8 without them. Also, never ask a young lady about her weight and age!
"In order for me to be with my Tsubaki-chan, I need to make sure I am tall."
⌈Hair color/Length/Quality⌋
Lucia's hair colour is a very light shade of blonde, enough to look white but not truly. She also keeps it super long, enough to reach her rear end. She wants to keep it lengthy to match her precious leader. Also the silkiness is easy for her to stylize which she ensures to keep its lustre by taking baths twice daily.
"My abnormal hair colour is normal for all Albanian girls."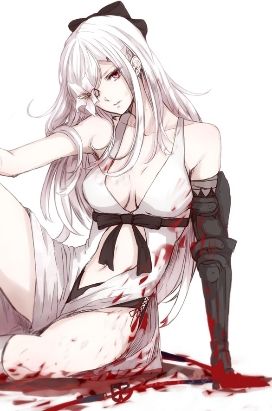 ⌈Eye color⌋
Her one iris is a deep shade of brown. The colour changes to a deep pink when her power is active.
"It's normal."
⌈Distinguishable Facial Features⌋
The flower that covers her right eye is not an accessory but grew out of the empty socket when her Hyeon powers activated. She also wears a big bow behind her head.
"The bow just make me look younger. Doesn't it?"
⌈Birthmarks/Scars/Tattoos/Piercings⌋
Her right arm was dismembered due to an incident in her mid-20s. It was replace with a mechanical one. Also to copy Tsubaki, she got the Scorpio insignia embedded on the arm.
"I bet people would think we're sisters if we got matching tattoos."
⌈Physical Description⌋
Lucia owns two type of closet. The most common of her clothes are skimpy one piece dress which reveals her navel. She adores this one type of dress and wears it everyday to all businesses. When she is not working, she wears a more lolita type dresses.

Her body is very slim. No muscles and a very gorgeous curve and waistline. Men would gladly flaunt towards her just to embed memories of her appeal. But do not underestimate her because that mechanical arm of her can break your jaw with a single uppercut.
"All these dresses are cute. I bet Tsubak-chan would look cuter in lolita too! Kyaaa!"
---
---
❝Well I am still working for the government. If they think I am in a gang, it would be very troubling for me.❞
---
---
⌈Habits/Quirks⌋
✦

Tsubaki Otaku||

Level - Stalker
✦

Bathing Twice a Day||

Not because she always need to stay clean, but it is for ensuring that her is always well kept. If she misses one, she would make up for it by staying twice as long or take multiple baths.
✦

Forever 20||

Despite being older than what she says, she will constantly announce she is 20.
"My room is filled with Tsubaki's pictures."
⌈Likes⌋
♥TSUBAKI!!!
♥Bathing
♥Her Own Hair
♥Marionettes
♥Umbrellas
"I do like stuff other than Tsubaki. Wait! I take that back!"
⌈Talents⌋
✔

Charming||

That is Lucia's charismatic point. Because of her job as a negotiator and does the business to ensure the gang's assets, she needs to use her words to get them to agree to Nuclear Outfit's demands.
✔

Hair Brushing||

Whoever hair she brushes, the person becomes freakishly relaxed
"Ufufuu. I get invited to all these parties, there is no way I won't act fancy."
⌈Hobbies⌋
✔

Marionettes||

She collects string puppets and is very good at manipulating them.
✔

Tea Party||

She hosts some very extravagant tea parties.
"You should out my Tsubaki marionette. It's so cute!"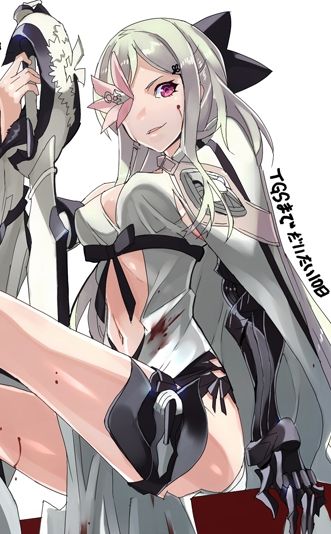 ⌈Dislikes⌋
✖Aging
✖Getting her hair dirty
✖Unmeis
✖Rain
✖Crimes
✖Nuclear Outfit's Second in Command
"Oi you son of a bitch. I will gladly cut your balls off if you get close to my Tsubaki."
⌈Fears⌋
✘

Seeing her Tsubaki Hurt||

Self Explanatory
✘

Being disliked by Tsubaki||

She would kill herself before she hear those words.
"Just thinking about it give me the shivers."
⌈Flaws⌋
✘

The urge to bathe||

She gets pretty ferocious if someone stops her from taking baths.
✘

Realizing her true age||

Avoid making remarks about her age or else you might lose your life.
"Ufufuu, bathing is just really relaxing too."
⌈Secrets⌋
⌛Known the Von Brandt before meeting Tsubaki as Nuclear Outfit leader; Meets Lorenz Von Brandt monthly
⌛Lucia had talked to Shiro once prior to his crime and death
⌛Lucia works for the Tokyo government
"Shhh~"
⌈Personality⌋
||

Charming

||

Sly

||

Love-Crazed

||

Loyal

||
||

Outgoing

||

Just

||

Composed

||

Dark

||

Because of her job and role in life, Lucia keeps a very composed and charming personality. The type where at parties, she would be the centre of attention. She attends to everyone and talks in a kind, quiet manner that makes the life of the event. Of course that is only when she is wearing her business face. Depending on who she is talking to, she becomes very different.

When meeting with other Hyeons, she loosen up on her class and talks in a less refined tone. She talks brutally and poisonous to those she despises and kindly to those she likes. She occasionally make small teasing remarks to those she really likes.

Now when alone with Tsubaki, her personality flips and becomes a total maniac, throwing away the need to act proper. She becomes perverted always lusting for Tsubaki, plays and toy with the girl, and tries everything to open up Tsubaki's hard shell but would always fail. Many time she is pushed and kicked away but Lucia would always jump back, figuring out ways to get Tsubaki to love her. Also when Tsubaki does anything to break her heart, she would go into temporary depression before coming around to capturing Tsubaki's heart again.

Lucia also have a dark side when things do not go her way. When it comes to her age and hair, and Tsubaki's well-being, she becomes somewhat of a Hulk. Going on rampages and fits to get revenge on those who set her awry.
"But in the end I will always be a 20 year old girl."
---
---
❝How old am I? 20 of course!❞
---
---
⌈Romantic Interest & Relationship History⌋
Ever since she met Tsubaki, Lucia is completely focused on ensuring that Tsubaki become hers. Of course her "love" history is not all that pure. She had been with men and women for both business and pleasure. But once Tsubaki came into her life, Lucia's main focus is only on her.
"Well I am only human, and desires need to be satisfied sometimes."
⌈Most Precious Person⌋
TSUBAKI! and Gunji
"Tsubaki-chan~ Tell me that you love me.""
⌈Family⌋
Georgia Borgane || Deceased || Mother|| Died naturally
Elson Borgane || 79 || Father|| United Nations Hyeon Investigator, Lucia doesn't care about his well being or keeps in touch unless called for.
Gunji Hayato || 68 || Best-Friend|| The man who gave Lucia the mechanical arm. Retired doctor turned mechanic.
"Gunji-chan, I told you to stop drinking. It is bad for your age."
⌈History⌋
Childhood


There was only two thing Lucia ever remembered when she was a small child back in Albania. The first is Lucia's mother always combing her hair. No matter how long it gotten or when it did get cut short, her mother had a way to comb hair to a point where Lucia becomes relaxed to a very freaky level. She was able to pick this skill up years later and she would return her mother's hairbrush over time until her death. The second is the first time she laid eyes on a Hyeon with her father. Her father would ask her what is different from the Hyeon and her. The only answer she got from him was "Nothing." A confused little Lucia would never forget what her father told her.


Youth


She was now a young teen and Lucia was living her days out. Playing with friends, having fun with the family, and studying hard for the sake of studying. But one day, she was kidnapped by Hyeon terrorist who was trying to free their allies captured by her father's business. Their demands were high and Lucia's life was held as ransom. Of course the department was stalling and trying to figure out a method to capture them without releasing the detained Hyeon. So for the terrorists who were dead serious on getting the Hyeon free, one of them took her out. In pain both physically and mentally she was about to lose conscious, until a new pain set in. From the empty, bleeding socket bloomed a pink flower. But as the flower was budding the pain was becoming more intense. She had no idea where the pain was coming from. She was screaming, begging them to let her go and return her to her father. Once the pain receded and she faded out, the rest of the incident became a blur. Once Lucia came to, she had been returned to her father and was told about some strange incident of the terrorist returning her to the office. Lucia thought her pain was over but, it was far from it. Lucia realized that her awaken power was signs of Hyeon and the "Father-Daughter" work began.

Some years later, Lucia and her father was invited by a friend of her fathers, Lorenz Von Brandt. While the fathers got to their private meeting, Lucia met a very young girl, not even the age of 10. She knelt down to her and the two talked, she was a bit amazed at how she did not react to her eye. Lucia felt this aura around the young doll and asked her one question, "Do you know what is different between you and me?" The little girl silent shook her head and Lucia gave a cute giggle, answering back with one word. "Nothing."


Adult


Now Lucia is a full grown adult. She had finally been instigated into the Hyeon Investigation Department and was given a major role in the country of Japan. She moved to Japan and was given a prestigious livelihood by the Tokyo government. Lucia had researched on the high population of Hyeons in Japan and their so called "Gang Lifestyle." She was to crack down on these Hyeon gangs and research on them and the new Hyeon predators Unmeis. Her research in Japan was extraordinary, but what she found most extraordinary was her random encounter with the little girl in this far away land. The moment Lucia's eyes met Tsubaki's. She changed into what she is today. She tossed away her life as Hyeon Investigator and government worker to be part of the gang lifestyle. She descended to their lives like it was nothing, proclaiming the role as a mediator amongst them and upholds the justice for their actions. Many uncivilized gangs were taken down by Lucia and it fortified her role as a third party, not interfering with their business but is still there to keep order to the disorganized.

Somewhere in Lucia early gang years, she had encountered an Unmei strong enough to almost taken her down. The insane battle cost her an arm and dying in the slum of Poison Cage territory. An old man by the name of Gunji Hayato took her in and gave her a mechanical arm. The old man took care of her and soon the two became friends. Only took a few alcohol meeting and good eats before the two became best friends.


Current


Lucia still works for the government under false pretenses in order to keep their noses out of the gang life. Most of Lucia's free time is trying to pry her way into Tsubaki's heart and sneaking into her room. Her role as Gang Mediator gives her great authority among the big names, so roaming around Nuclear Outfit HQ is just a simple walk in a park. However, strange stuff are happening on these gang lands, the number of Unmeis are increasing and gangs are being troubled by it. Lucia along with the four biggest gang at the current age are under a truce to figure out this mystery. But is there something more to the Unmeis that Lucia is not telling them?
"What is different between you and me? Nothing."
---
---
❝Oi second-in-command trash, if you decide to get close to Tsubaki, I will cut off your balls.❞
---
---
⌈Ability⌋
Autoriteti Parasite (Parasite Authority)

Do not overlook the flower because when you do, you may have lost control of your body. No one really knows how her powers truly work. Many thought it were strings like her puppets, or that she had to have eye contact, or even touch you to gain control. But the more you think, the less you realize that she have already gotten full control of your body and mind. From the flower, spores hidden from the naked eye have been dispersed and floats in the air of the room. Each little tiny bacterium have a mind of its own, trying to find a way to get themselves onto a host. Every humans and Hyeons have to breath so that is how they get into you. Once they have plopped themselves onto your brain, Lucia would then start using her magic.

When she controls a human, she would fully have complete control of their body and mind. Thus making them the perfect puppet. Every action requires a brain to act and all Lucia have to do is work the spores to do the things she wants them to do. At most she can control five people at a time. Hyeons are different on the other hand because of their more developed brain. She can not control their mind, but with enough spores in a single Hyeons, even they could not resist Lucia's will. At most all she can do is restrict their movements or have them do menial deeds.

Parasite Authority however have a lot of restriction and requirement however before she have full control or proper control. First, she can not have the puppet out-perform what the host body can not do or say what it does not know. Second, people with strong mind can easily break free of the parasites control. Third, she must focus on giving signals to the parasites, her left eye is the trigger as evident by the change in colour from brown to pink. So getting her into a fit is one of her major weakness is losing control of her puppets.

Parasite Authority fatal weakness are the Unmeis. With their lack of need to use their mind, she can barely keep them locked or restricted. She is still trying to figure out what she can do to them and what she can not. But many of her attempts have mostly failed. With enough spores, it is possible to take control of inanimate objects.



Physical Attributes:

Despite her looks, Lucia is strong without using her powers. Not enough to rival an average a toughen male, but strong to take down the average goon. Most of her power comes from her mechanical arm because with the parts, she can smash walls and break bones.
"But I will never use my power on Tsubaki."
---
---