Hungary
Elizabeta Héderváry
Age:
*Pulls out frying pan*
"Never ask a woman her age. But my birthday is June 8th."
Gender:
female (but as a child she believed that she was male)
Chibitalia!
Character Traits:
In her past, Hungary was once a nomadic girl who loved to chase after horses on the plains, and was a rather tomboyish child, to the point where she believed herself to be a boy until hitting puberty. She is described as being both a reliable older sister type and the manliest character in the series, and she also appears to be a fujoshi (literal: "rotten woman," a woman who is a yaoi fan).
She doesn't get along well with Romania, to the point where their relationship is described as being like that of a cat and a dog. It is also said that due to her dislike of Romanians, she would name her dogs after them.
Mongolia is said to have bullied Hungary in her youth, along with the Ottoman Empire.
Appearance[description]:
She has long, dark brown hair and green eyes. Her most common outfit, seen in merchandise and official artwork, is a green military uniform and matching beret. In the actual series, she can usually be seen dressed in a traditional Hungarian folk dress.
Weight: *eye twitches and holds frying pan over head ready to swing* "First my age and now my weight, one more question like that and you'll be needing a good dose of aspirin!"

Height: 160 cm (5' 3")

Hair Color: Brown

Eye Color: Green

Skin Texture: Soft and creamy "Sorry if that sounds like peanut butter"

Skin Color: Slightly tan
Likes[optional]:Dislikes[optional]:Pet:
Closest thing I can think of is her frying pan.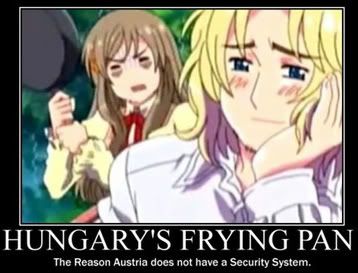 or maybe Italy
Quotes[optional]:Secret:
Prussia and Hungary herself both believed Hungary to be male until Hungary revealed that she had no
*cough*
manly parts, thinking it would grow in later. She continued to believe she was male some time until she reached puberty; it was through a meeting with Prussia that she came to accept herself as female. Shortly after this event she suddenly calmed down, began to wear dresses and hung around Austria, much to Prussia's disliking. Since he made fun of her problems during their younger years, Hungary is seen to now dislike him and often hits him with her frying pan whenever she sees the opportunity to.
Crush:
*blushes*
"Oh my really why do you keep asking these questions"
*begins to daydream about something*
History:
As a child she roamed around the plains chasing after horses, often getting into ruff a tumble fights with Prussia and Austria. As she grew she learned that she was not a boy something that she had thought for years. After a fight with Prussia where he groped her and found out the truth she began to accept the fact that she was a female. Thats when her relationship with Austria changed, and she found him charming and talented, later she became his servant when they were under the rule of the Holy Roman Empire.
About Me: