Age:
16
Gender:
Male
Character Traits:
A mysterious boy with a cool exterior, it is said that he is hot-blooded and passionate deep down
Appearance[description]:
[size=90]
Weight:
Unknown
Height:
around 5'6"
Hair Color:
White
Eye Color:
Purple
Skin Texture:
"I have skin as soft as a baby!"
*blushes*
Skin Color:
Pale
Likes[optional]:
Puffins, Norway, Water, Snow, Sealand, Turkey
Dislikes[optional]:
Warm weather, Britan.
Pet[if any]:
a Puffin named Mr. Puffin. He adores Mr. P alot and takes him everywhere with him.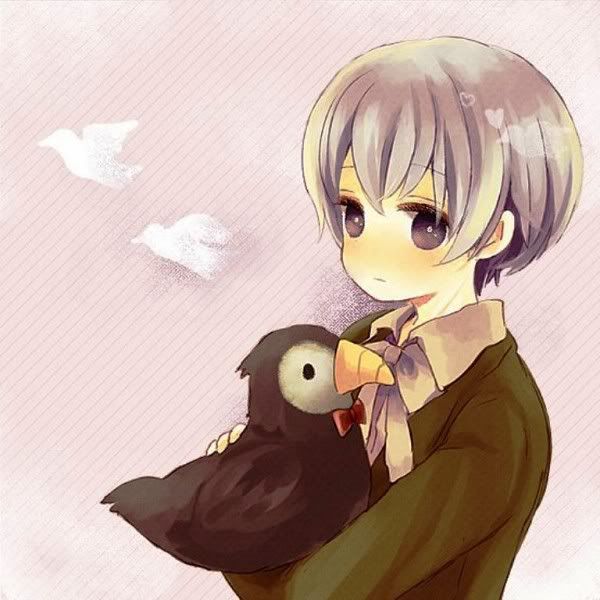 Quotes[optional]:
"What…What where you expecting from me?"" It's the result of the investigation of my body I talked about the other day. Well, whatever."
Secret:
"AH! I..I- I am not telling you!"
Crush:
"Well, I am not telling you! Its a secret!"
History:
Iceland was formed due to active volcanoes erupting on the Mid-Atlantic Ridge,though in geological terms is a quite young country A man, named Ingólfur Arnarson, settled in the now-called city Reykjavik, a modern one at that, in Iceland. The word Reykjavik literally means "Cove of Smoke", because of all the steam rising from the earth in Iceland.
During the first year of World War II, Iceland strictly enforced a position of neutrality, taking action against both British and German forces violating the laws of neutrality. On May 10, 1940, British military forces began an invasion of Iceland when they sailed into Reykjavík harbour in Operation Fork. This is one of the reasons why Iceland holds a small grudge against Britain, though otherwise is a peaceful country.
http://en.wikipedia.org/wiki/History_of_Iceland
About Me:
IceLand is said to be Norway's younger sibling