---
---
---
---
---
---
---
---
---
N A M E
S A G E - E L L I O T T
S T A G E - N A M E
T H E - B L A C K - W I D O W
T A L E N T
C O N T O R T I O N I S T
P H Y S I C A L - A G E
T W E N T Y - S I X
A C T U A L - A G E
O N E - H U N D R E D - T W E N T Y - T H R E E
G E N D E R
F E M A L E
S P E C I E S
G H O S T
S E X U A L I T Y
H E T E R O S E X U A L
S O N G S
G O D S - A N D - M O N S T E R S || L A N A - D E L - R A Y
---
---
---
---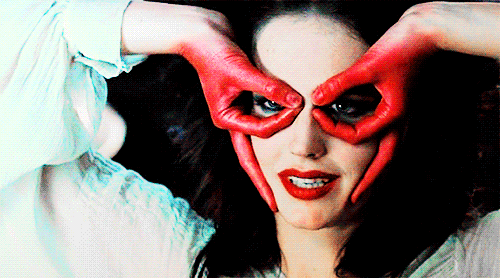 H E I G H T
5 ' 8 "
W E I G H T
1 2 5 l b s
S K I N
P A L E - I V O R Y
E Y E S
I C E - B L U E
H A I R
L O N G - B L A C K
M A R K I N G S
T A T T O O S

Black Widow on her left ribcage
Roman numeral dates for her birth and death on her inner right bicep
S C A R S

Restraint marks on wrists and ankles
Inch wide collar mark around neck
N O R M A L - A T T I R E
▲
B A G G Y - S W E A T S H I R T
▲
S P O R T S - B R A
▲
Y O G A - P A N T S
▲
C O N V E R S E - O R - B A R E - F O O T
▲
L E G - W A R M E R S
S T A G E - A T T I R E
▲
B L A C K - L A C E - M A S K
▲
B L A C K - F I S H N E T S
▲
B L A C K - L A C E- R O B E
▲
R E D - S I L K - G L O V E S
▲
B L A C K - U N I T A R D - W I T H - R E D - S E Q U I N
---
---
---
---
Sage is a friendly and outgoing person among her fellow Circus members because they are the few people that she feels at home around, often thinking of them as her true family. She wants more than anything to think of herself as a "human" and tends to put her past life in the back of her mind because the memories of her life and death are far worse than her undead life. Sage tends to be a very protective person over her friends and loved ones, which can be seen as a good thing or a bad thing. The ghosts that haunt the Circus see her as a threat because of her acceptance among the living, they are always trying to black mail her or turn her to their side to use against the current Circus performers. She has an extreme fear of the Magician's spirit because he has a personal vendetta out for her because of their history. Sage is very loyal; willing to take any amount of torment or torture from the other souls to keep her living friends safe and out of harm.

Due to Sage's horrific past, she is a very kind and loving person to everyone, even those that have done her wrong because she feels that if she too becomes dark like her past that she'll end up like her fellow ghosts. She'd rather die than be a vengeful spirit. Something about Sage's form or condition makes her have an ease with animals so she often spends most of her time in the pens with the animals because it tends to be the only place she can clear her head and the animals seem to understand her beyond most others. She is also a very giving person, often showering her friends, and the animals, in many gifts and surprises because nothing makes her more happy than seeing those she cares about happy. And although Sage can come off austere and mysterious, she is actually one of the sweetest and most friendly beings that people have the chance to encounter.
---
---
L I K E S
▲
C A R N I E S
▲
G Y M N A S T I C S
▲
D A N C I N G
▲
A N I M A L S
D I S L I K E S
▲
T H E - O T H E R - G H O S T S
▲
P H Y S I C A L - C O N F R O N T A T I O N
▲
P O S S E S S I V E - M E N
▲
D I S H O N E S T Y
F E A R S
▲
W A T E R
▲
C O N S T R A I N T
▲
R E S T R A I N T S
▲
T H E - A F T E R L I F E
S E C R E T S
▲
I S - A - G H O S T
▲
C A N - " D I E "
▲
C A N ' T - L E A V E - C I R C U S
▲
L O C A T I O N - O F - R E M A I N S
T A L E N T S
▲
C O N T O R T I N G
▲
F L E X I B L E
▲
D A N C I N G
▲
S E E M I N G - H U M A N
W E A K N E S S E S
▲
I R O N
▲
H E R - R E M A I N S
▲
A N I M A L S
▲
C I R C U S - F A M I L Y
---
---
---
---
B E F O R E - D E A T H
Sage was raised into a family that had little to no respect for her, often leaving her to fend for herself from a young age while her parents would rather spend their time off smoking, drinking and screwing their around the town. Once she was of proper age, 16, they sold her for a measly $500 to a man that lent out young women for the accompaniment of men, and all though her owner made plenty of money from her she never saw a penny of it. She was seen merely as a piece of property to be lent out to the highest bidder whenever he saw fit. One evening when she was 21, she was able to escape and disappear towards the edges of town.

Stumbling upon Acapulco's Circus, she made her way inside begging for help from anyone who would assist her. The owner of the Circus took her in, allowing to her to stay for as long as she saw fit. Although Sage was more than appreciative of the help, she was determined to find a talent of her own so that she could pay back the hospitality. It was one day that the owner stumbled upon Sage stretching and contorting in what she thought was just some peaceful way to clear her mind and think, not knowing that it was some special talent that people came to see. Instantly she was added to the show, and quickly grew to become part of the Circus family.

Sage spent the next 5 years among the Circus, enjoying her new life more than ever. But what she hadn't noticed was that she began to catch the attention of the Circus' magician. One night he came to her tent and proclaimed his love for Sage, but her unreciprocated affections put the man in a rage and he stormed out of her tent. Every night for the following year he'd come to her tent, again and again confessing his feelings but she did not feel the same. The final night he came to her, and when she turned him down once again, he stated that she would regret ever turning him away.

During the show that evening the man announced that he was using her as an assistant for his next performance, and with the crowd watching she couldn't refuse. The Magician's evil grin let her know that this was not going to end well as he bound her hands, feet and neck in cuffs all attached with chains, explaining to the audience that he was going to submerge Sage into a large pool of water, which she would then have 30 seconds to escape from her binds. She wanted anything to just scream out for help, and to be released but before she could manage a word the man turned back to her, holding a knife to her abdomen where the audience could not see, telling her that if she made a noise that he'd gut her right there before everyone. She hoped that maybe, just maybe she'd be able to free herself from her binds as she was submerged into the water.... But the restraints were bolted to her and she drowned to death there on stage, before the world.
---
A F T E R - D E A T H
What Sage didn't expect was waking up after drowning to death, standing there staring at her lifeless body being pulled from the pool of water and the Magician pretending to be shocked, heart broken even though when he thought no one was looking he had a sly grin of success plastered upon his face. She tried to charge him then, tackle him to the ground and strangle him to death for what he did to her but she simply passed right through him. She tried everything in her power to get someone, anyone's attention but she quickly came to realize that she couldn't be seen or heard. She was so confused and wanted anything but to be there at the Circus. She attempted to run away and just leave, she didn't know where she'd go or what would happen to her but she didn't care, she just wanted out. But when she reached the edge of the Circus grounds she hit an almost invisible wall that wouldn't let her pass. She was in a prison.

She spent many years slowly and patiently trying and practicing over and over to try to make herself materialize and even have physical contact with objects and people. At first she could make herself flash for a moment in front of mirrors or some of the crazier people that came to the Circus who no one would believe even if they told them about her. Then step by step over the following decade she was able to control her appearances and disappearances, and even her physical connections. Being able to truly control herself, she decided it was time to exact her revenge against the Magician. Dressing up in the exact outfit she wore the day he killed her, she made her way into his tent in the middle of the night, slowly rousing him from slumber with soft seductive whispers. At first he did not realize it was her, merely a stage assistant, but he didn't mind and reached out to try and pull her closer but when his hand went right through her waist he jumped up from his bed nearly gasping her name. And with a simple menacing grin, mirroring that which he gave her those many years ago, she reached over, grabbing the gun from his night stand. Laughing evilly, she aimed the barrel at him and pulled the trigger, blasting his brains across the tent wall.

Thankfully, the Magician's ghost did not stay to haunt the Circus with her... at least, not yet. Over the following years more and more of the Circus members began to die tragic deaths that ranged from accidents, to murder, to suicides until there was nothing left but a ghost town of Circus tents and animal pens. Many decades passed without a soul coming or going from the grounds, Sage was almost certain that nothing would ever come of this Circus again and just slowly wither away into a distant memory. That was until one day a young woman came upon the Circus, and decided to make it her own. Sage sat by and observed for awhile, she could sense that there was something about this woman that was much like her... Undead. And finally one day, Sage made herself known to the new owner... and the rest is history.

---
---
---
---
▲
Sage is not found of any of the other ghosts, and chooses not to associate with them unless she needs to so she can help or protect her living friends.
▲
Sage is the only friendly ghost that is attached to the Circus which makes her a threat and often a target from the evil spirits that haunt the carnies.
▲
Sage thinks of the Circus members as her family, and is very protective of them.
▲
Sage is a "purgatory" of sorts, but is still capable to die if someone burns her remains.
▲
Sage cannot leave the Circus grounds.
▲
Sage finds she relates better to animals because they see her how she is, even when doesn't materialize they can still see and feel her.
▲
Sage can have physical interaction with others but if taken by surprise or off guard, someone or something could pass right through her.
▲
Sage always tries to make herself visible so she seems as human as possible but even when she isn't visible she is always somewhere on the grounds.
▲
Although Sage desires to know love, she has never been in love because she is scared that her condition would scare someone away if they ever got close to her.
▲
The only person, currently, who knows the truth about Sage is Milena.
▲
Sage's condition makes her very lonely and sometimes depressed because she only has one person that she can confide in.
▲
Even though Sage can move about the Circus as she pleases, she NEVER invades someone's personal space or spies on others, finding it immoral and rude.
▲
If asked out right, Sage would admit the truth about being dead.
---
---
---
F A C E - C L A I M ||
E V A - G R E E N
C R E A T O R ||
S C A R . -
H E X C O D E ||
# E 3 1 F 4 1