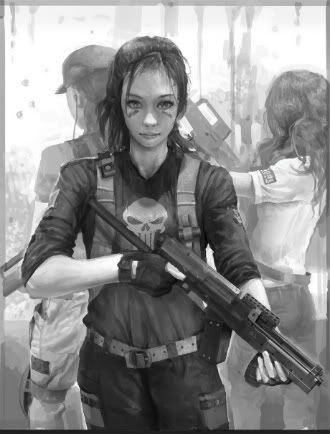 Name:
1LT Holly Mitchell
Age:
18
Gender:
Female
Gang:
Obsidian Knights
Appearance:
Holly is built on a small, compact frame. She stands a hair above five feet, two inches tall and weighs one hundred and three pounds. She has an oval face and green, almond eyes; a person used to call eyes like her's "laughing eyes" though now that just doesn't seem appropriate. Her mouth is small with a perpetual frown turned in constant derision. Her hair is short with little regard to style when down or shoved in a cap when on patrol. Holly has decided to forego shaving in favour of rest and takes care of her unkempt areas about twice a month. This prompted a child of no more than ten to coin the nickname "Itchy Mitchy". When Holly heard this she threw a rock at the kid hard enough to draw blood, which prompted a change to "Bitchy Mitchy". She wears a light weight cotton shirt, cotton-blend cargo pants, both of dark hue and whatever webbing she might need to carry various pouches to hold ammunition, food, first aid, etc. Her boots are typical military issue, medium weight leather, black. They will never hold a shine as the toes have been scuffed to a fuzzy burring.
Weapons:
HK UMP45
1918 Pattern Trench knife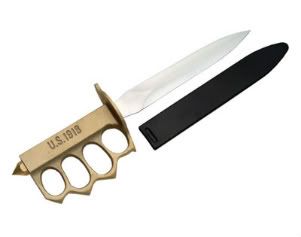 Personality:
She has grown fatigued as she enters what will be the twilight of her life. Her voice used to have an almost mirthful quality but that was gone now and replaced with wry, even metre drone. She was world weary and it showed in every duty, in every act and mannerism. Even taking a shit was met with a forlorn sigh as her body popped and scrapped due to ten years of conflict as she got out of bed. She was tired of living frankly, hell even putting a bullet in some fuck's brain held little magic any more. Working some smarmy prick over with her knucks used have a majesty now the act felt pedantic; just blood and snot, meat and bone. Holly can be sarcastic, cruel and apathetic with her friends and yet she never comes across malicious. People call her jaded, others a bitch but they don't know her, how could they? She barely knows herself.
Biography:
Holly was always a bright kid, in a different world she would have played piano and, like some long dead relative before her took up ballet. The dead woman's black and white picture was in a dusty frame tucked away in her dead mother's chest. Holly would pull it out and pose like the woman from a different time, much to her older brother Darren's chagrin. She was overwhelmed with such nonsense when she was a kid, she even had a dolly; she called "cunt" just like Darren called her. The kiddie bullshit stopped when she first bled then it was her turn to hold a rifle. Her brother laid the groundwork, taught her some hand to hand combat and yea he may of went hard on her but she was no pussy. She took the beatings, the broken pelvis, arms, one leg, four bouts of fractured ribs, cracked teeth and a busted eye socket. She took it all and smiled at him, he wouldn't break her like he broke her sister. He started her off on the right path and conflict saw to the rest. Holly Mitchell is a prime example of what a soldier should be.