Full Name
: Karolin Leoni Baade
"The Name Leoni comes from my mothers maiden name."
Aliases
: Batty Lady, Home Run, Demon and many more.
"Honestly, most of the names others give me are quite rude. Some are...fitting I suppose..."
Age
: Looks 24
"My age...is it really important?..."
Gender
: Female
"And quite obviously I am female."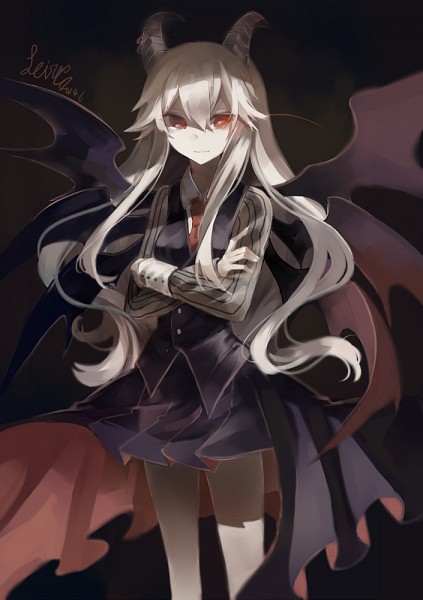 Appearance
: Karolin's features goes as follows: She has long white hair that goes down to her waist. Of course she usually ties it up when going out to fight. On her head are two black horns. This is all topped of with scarlet colored eyes. Down to her body, she wears a peculiar choice of outfit when out on the field. A black dress shirt with a vest and red necktie. All topped off with a black skirt. On her back are multiple wings. However these are not even close to allowing her to fly. They do allow her to glide down safely from large height. Finally down below to her lower half, she wears a pair of lined stockings with a pair of dress shoes. She also has a small tail. Although relatively useless, it can carry things along other things.
"It is indeed proper to dress quite well. It is also rather comfy..."
Physical Specs:
Despite looking a little bit delicate, she is surprisingly pretty strong and durable. She can hold her own in a fight, especially with her favorite bat in hand. Although not really good at range, she is a pretty good shot when it comes to batting things at people. She also can heal a bit quicker than most, not quite combat regeneration but it makes sure that she can heal up without much medical aid.
"Let us not resort to fights...Training is a more suitable thing really."
Magical Specs:
Karolin barley has magical capabilities. The only known ability she is known for is having a. 'pocket space' small enough to store her mace. Other than that she is a more...hands on person.
"Magic? I don't do well with that sort of thing. Its strange most of the time."
Skills:
Blunt Weaponry- Whether it be by Mace or a Bat or even the good old fists. She is really good at using such items in a fight. Or for daily activities.
Tea Making?- She can make tea, although how that can be proven useful...its anyone's guess. She happens to enjoy tea though.
Preferred Equipment:
Karolin enjoys using two weapons. A two-handed metal bat to bash whatever needs bashing in close quarters. Her second weapon of choice is a rather peculiar weapon of choice. A spiked ball on a chain. Like a human wrecking ball she can spin it around before swinging it using both the force and speed to deliver pain from a few feet away. Or using the chain to tie up an opponent before hitting them over the head with a bat or her fists.
Weaknesses
:
Strange Mindset- She has a rather...peculiar mind...Most of her actions are either completely random or completely strange. She could talk in one second then suddenly stare at a bug crawling on a wall.
Broccoli?- She hates the stuff. Hates everything about it.
Persona:
If two words could be used to describe Karolin. It would be Whimsical and capricious. Her behavior is sometimes random as well. However usually she is never violent unless forced to act, even so it may take a bit for her to begin to fight back. Either quiet, spaced out, or doing unusual things. However one thing can be confirmed, she always drinks tea everyday. Other than that she is quite random.
Known History:
Born in another world, as strange as they come. As a kid, she was the odd one out. Not very good at making friends, or being overly evil as the other demons of her world. She was just...Karolin as others would say. Curious like a cat, random like the weather. She never really fit in with many people.
However, one day having a nice picnic she encountered a friendly portal which pulled her inside and she soon found herself in a new world. More curious than anything, she is prepared to explore the world.
Other:
For one, Karolin likes to read. If she is in the right mood she will read a book sitting down, on the hall, hanging off a tree with her tail...She also enjoys tea, all kinds of tea beside Broccoli tea...She also enjoys physical activities like batting, running and sleeping.
"Keeping in shape keeps the...I hate Broccoli, I think it keeps those away."
"I like This song"
"I also like this."