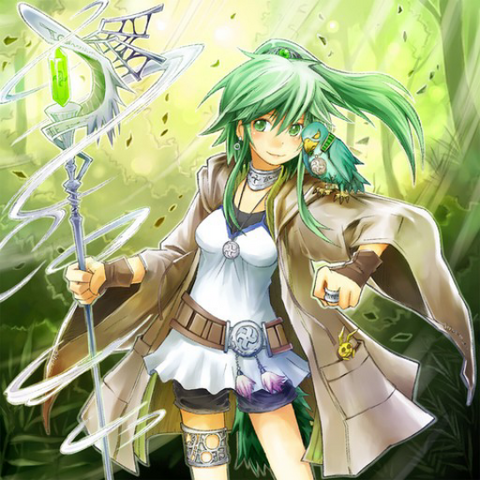 Name:
Sylphine Mistral
Race:
Human
Gender:
Female
Age:
16
Profession:
Travelling bird tamer
Description:
Long, green hair (she insists it isn't dyed) and emerald green eyes. It's not quite apparent in the picture, but there are crests in her eyes shaped like four-armed cyclones which flash when she's using her abilities. Other than that, has a somewhat shapely, slender body and stands at 5' 3", but her muscle build is very poor.
Personality:
Easy-going and calm. Daydreams frequently, and seems to have a very low attention span on lazy sunny afternoons. Forgets to address other people with proper formalities frequently, but other than that, is still rather polite and gentle. She is bisexual.
In battle, Sylphine keeps her cool and is much more focused. Always is mindful of her own weaknesses, but still tries to ensure the safety of her comrades first, even if she's the weakest one among them.
Also, expect her to get uncharacteristically defensive and flustered if you bring up the bunny doll in her coat's left pocket.
History:
Hailing from a forest-covered valley shrouded in mist far to the west, Sylphine Mistral led a rather comfortable and peaceful life. Just like the other people in her village, who believe in living in harmony with the environment and protecting their land alongside nature, she trains with an animal familiar to become stronger everyday. Unfortunately, their progress towards unlocking the true power of her familiar isn't going very quickly. As such, Sylphine left her village to traverse the land, in order to strengthen herself and her partner, Pirika, and their bond between each other, so that they can become strong enough to reach that stage.
Inventory/Equipment:
Her clothes consist of a very loose brown coat that goes past her waist, a black undershirt, a long white sleeveless shirt with blue straps, black shorts, and brown sandals that extend halfway up her calves. She also has several pieces of silver jewelry, all depicting the same crest that is reflected in her eyes. Her wrists are covered by dark brown sleeves, and there is a brown belt around her waist. Oh, and then there's that yellow bunny doll in her pocket...
Special Traits:-Bird Familiar:
As a tamer, Sylphine can communicate with animals like she could ordinary people. However, at the age of 10, all people from her home are given an animal as a partner, whom they will develop a mental and emotional link with, and share their power with.
Sylphine's partner is a small green-feathered bird named Pirika. Despite her small size, Pirika is very fast and agile, and Sylphine's wind magic can augment her speed even further, so she can assail targets from above and dodge nearly any counterattack. Her attacks involve slashing adversaries with blades of air generated from her wings or beak--wing attacks are weaker, but have longer range, while beak attacks are strictly close range.
With their mental link, Sylphine and Pirika coordinate their attacks to further weaken the opponent by aiming for blind spots whenever they can, and the fact that there are two of them helps them find such weak spots more easily. Between the two of them, their magic pool is much larger, so Sylphine can use her magic much more frequently with Pirika's help.
Also, Pirika has another form in which she becomes large enough for Sylphine to ride and has a dramatic power increase, but the transformation requires a catalyst which the duo currently lacks, as well as a strong bond between the two. 6 years apparently wasn't enough for that...
-Wind Magic:
This is Sylphine's main forte. She is able to spontaneously attack with powerful gusts of wind or blasts of pressurized air, able to throw even boulders of 3/4 her weight off-course with the help of her staff and her familiar. She can also use her abilities to fly or increase her speed greatly.
Of course, she's always mindful of using too much energy, so don't expect her to start throwing hurricanes around casually. Usually, her "attacks" are used more to redirect and deflect the opponent's attacks so that they exhaust themselves by the time she goes in for her finishing move.
-Gale Staff:
Sylphine's weapon of choice is an ornate white staff, which is just a bit taller than she is and has an emerald set in its head. Save for the crystal, the staff is actually made of chiseled wood from her birthplace, and normally would be very fragile as such compared to most staffs. However, the wood has been enchanted so that it is more durable than its material and weight would normally allow for, so she can use it to defend herself if an opponent gets too close--even steel does not cut through it. Its primary purpose, of course, is to augment her wind magic, and wielding it multiplies her power around 1.5 times.
The staff seems to appear and disappear whenever she wills it to, accompanied by swirling winds and fragments of green light. While she swings it around, you can hear wind whistling through the spiderweb-like design at the top.
-Zephyr Charms:
The many articles of jewelry on Sylphine's body, as well as on Pirika's chest, are also enchanted to protect the wearers. These charms create a sheath of air half an inch off Sylphine's skin, and an eighth of an inch off Pirika. Their protection is not quite as strong as either wearer's magic, but they can lessen the damage from attacks directed towards them, physical or magical. The charms also can lessen the effects of magical curses on Sylphine and Pirika. Because Pirika is dramatically smaller than Sylphine (for the moment), she needs fewer charms to protect her.