After the great Mushroom Wars, the land changed. The creatures that inhabited it slowly evolved into other beings. Now known as the land of Ooo, Earth has changed a lot.
The thousand years ago the Earth was destroyed by war, the Mushroom Wars. The radiation from the bombs contaminated the earth along with the evil of the Lich King who spread his evil along with the radiation.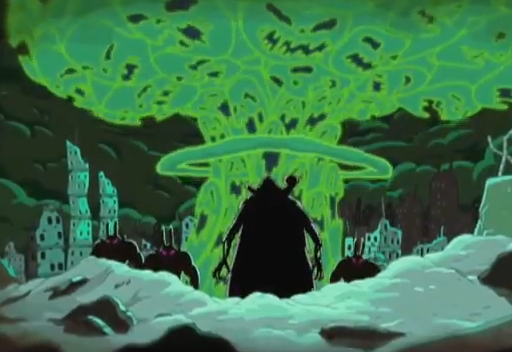 However, slowly it evolved and adapted to the destruction. The animals changed due to the radiation and time. Everything changed. The land of Ooo is littered with particles and treasures from the past.
Humans have mostly died out, however there are a few left. In the land of Ooo, there are 6 prominent kingdoms: Ice Kingdom, Candy Kingdom, Fire Kingdom, Lumpy Space, Wildberry Kingdom, and Cloud Kingdom. Though, there are also smaller kingdoms and providence all throughout the land, some which have yet to be discovered.
In the Land of Ooo, there are many quests and adventures that one could go on. Many people to meet. This is the tale of the inhabitants that are left and the effects of the war that no one remembers.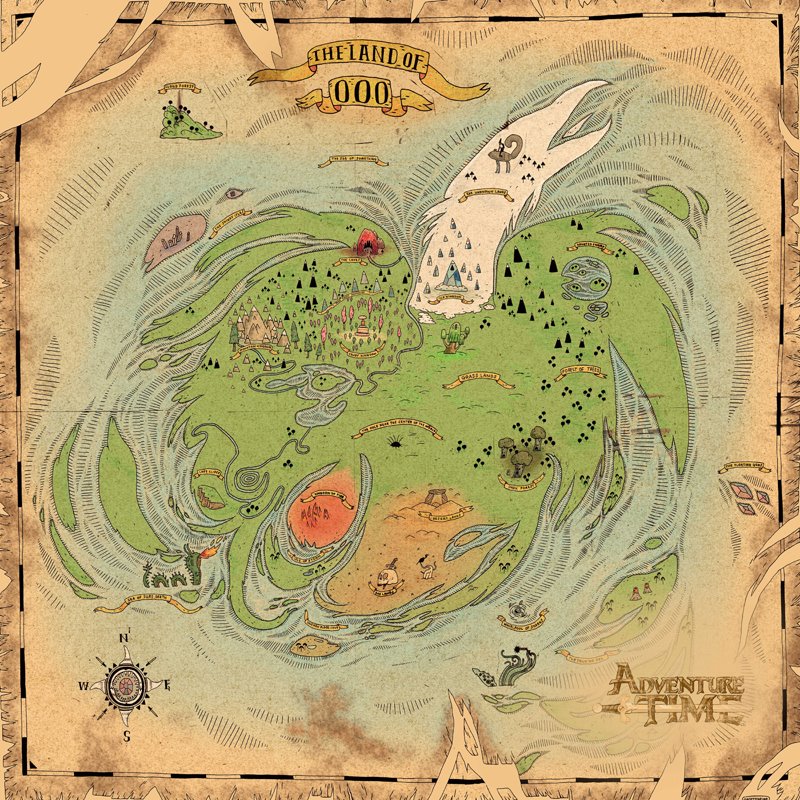 ____________________________________________________________________________________________________
This is a rp for based off of the show Adventure Time. However!, it is not centered around Finn and Jake, and we might not even have them in it. I am not allowing any more human characters. As for the other races, I am not setting a limit unless we get overloaded. Also, the Princesses can be OC or you can make them a prince, i don't really care. I would like to keep the ratio between male and female equal so if you don't mind doubling, I would appreciate that.
For info on the different species, please see
this page
.
~Humans and Companions~
Raleigh and Flake
Jo-Jo
Isabella Marybell Rose and Pusheen the Cat and Stormy the Kitten
~Candy Kingdom~
Princess-
Bonnibel Grappiel and Mister Buttercup
Citizens:
~Ice Kingdom~
Prince-
Jasro Daston
Citizens:
Creatures from the Nightosphere:
Leader [King or Queen] of the Vampires - Reserved
Crimson Ferdinand
Van
~Fire Kingdom~
Princess Scarlet Flame
Ember Knight
Robot-
EDG-R
Character Sheets:
*NOTE:
Feel free to add anything to the character sheet, just don't delete stuff!!
Code: Select all

Name:
Age: [real and if really old, please put appearance age. Also no one under 17 please!]
Gender:
Species:
Appearance: [MUST HAVE AT LEAST 4 COMPLETE SENTENCES! Please be descriptive, I love description. You may also post a picture but keep it in the style of Adventure Time if you can]
Powers: [list only 3 and please don't make them so you are all powerful!] [All vampires have instantaneous self-healing, can feed on shades of red, and the ability to shape shift into 1 beast form (bat, wolf, etc)]
Items: [items they carry at all times ex: a bag, purse, etc]
Alliance: [good/evil/neutral]
Kingdom: [what kingdom they are from, if any]
Other: [anything that doesn't go anywhere else]

((WIP))
This is a matur
e RP!! I will allow violence and cursing, however please stay within the boundaries of the site rules!
Must submit a character profile with everything filled out!
NO ONE LINERS! You will get 2 warnings then be removed. I hate one liners. Minimum 5 decent sentences!
No OOC drama
Reservations only last 48 hrs!!
More may be added....
Arcs are bundles of posts that you can organize on your own. They're useful for telling a story that might span long periods of time or space.
There are no arcs in this roleplay.
Here's the current leaderboard.
There are no groups in this roleplay!
Welcome home, Promethean. Here, you can manage your universe.
Arcs are bundles of posts from any location, allowing you to easily capture sub-plots which might be spread out across multiple locations.
You can create Quests with various rewards, encouraging your players to engage with specific plot lines.
Settings are the backdrop for the characters in your universe, giving meaning and context to their existence. By creating a number of well-written locations, you can organize your universe into areas and regions.
Navigation
While not required, locations can be organized onto a map. More information soon!
There are no groups in this roleplay!
By creating Collectibles, you can reward your players with unique items that accentuate their character sheets.
Once an Item has been created, it can be spawned in the IC using /spawn Item Name (case-sensitive, as usual) — this can be followed with /take Item Name to retrieve the item into the current character's inventory.
Give your Universe life by adding a Mob, which are auto-replenishing NPCs your players can interact with. Useful for some quick hack-and-slash fun!
Mobs can be automated spawns, like rats and bats, or full-on NPCs complete with conversation menus. Use them to enhance your player experience!
Current Mobs
No mobs have been created yet.
Locations where Mobs and Items might appear.
You can schedule events for your players to create notifications and schedule times for everyone to plan around.
Add and remove other people from your Universe.
The Forge
Use your INK to craft new artifacts in Adventures in the land of Ooo. Once created, Items cannot be changed, but they can be bought and sold in the marketplace.
Notable Items
No items have been created yet!
The Market
Buy, sell, and even craft your own items in this universe.
Market Data

Market conditions are unknown. Use caution when trading.

Quick Buy (Items Most Recently Listed for Sale)
The vast land of Ooo
The Ice Kingdom is the coldest place in the Land of Ooo. There is always snow on the ground and many odd penguins running around.
The evil forest holds many inhabitants and many evils. Beware and always be on guard!
This is a clear field the separates the Ice Kingdom and the Candy Kingdom.
The Fire Kingdom is the hottest place known in the Land of Ooo. Be careful of the fire people, they have short tempers.
As you enter the Candy Kingdom the air is filled with the scent of sugar and the kingdom is filled with color. You see peppermint people, donuts with faces, and various other odd 'candy' creatures.
A mysterious canyon-like location with ancient pre-mushroom war artifacts scattered around the ground.
The Kingdom of Bugs is a desert oasis.
Discussions
Topics

Replies
Views

Last post
Most recent OOC posts in Adventures in the land of Ooo
There have been no posts in the OOC topic for this roleplay!