SON OF HYPNOS
╔
╗
╚
╝
---
---
---
---
█
█
█
█
█
█
█
█
█
█
█
█
█
█
█
█
█
█
█
█
█
█
█
█
█
█
█
█
█
█
█
█
█
█
█
█
█
█
█
█
█
█
█
█
█
█
█
█
█
█
█
█
FULL NAME::
August Arman Forêt.
NICKNAME(S)::
Gus, used commonly, [liked].
Auggie, used by close friends and family, [adored].
DATE OF BIRTH::
23 || 08 || 97
AGE::
Seventeen.
GODLY PARENT::
Hypnos.
YEAR::
11th [Junior].
SEXUALITY::
Pansexual.
ETHNICITY::
Of French and German descent.
---
---
---
---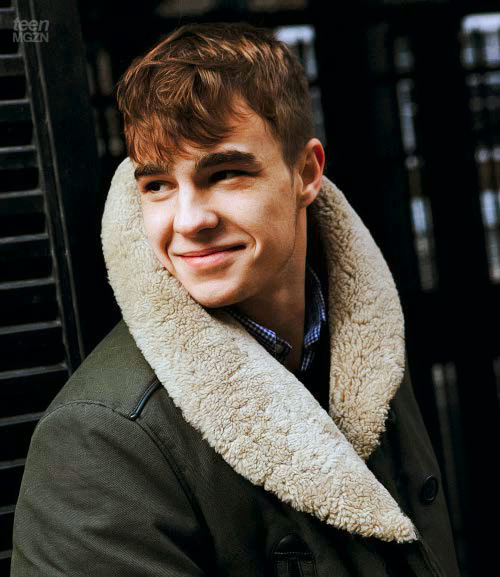 PERSONALITY::

Mellow || Kindhearted || Easygoing || Dopey


August is often found mellow and drowsy not only because he's a child of Hypnos and it's more than common to find them on the verge of sleep, but because of his narcolepsy. People often comment on how they like his 'chill attitude' or 'calming atmosphere' and while August enjoys the compliments, his calm and easygoingness isn't something that he just puts on to be perceived as cool, but rather, it's something that he cannot stop because it's simply just the exhaustion taking over. Due to this, he can also often be seen as a kind of dopey person, especially if you catch him just after he's awoken from one of his unexpected naps. Although that's not to say he's unintelligent, August is quite a high achiever, when he can focus on his work.

When he's not falling asleep in class or, well, anywhere else; August will most likely be found helping someone. He has a kind heart and doesn't hesitate to put other people's needs before his own. Besides his narcolepsy August doesn't feel as thought he has many problems and so likes to do things for others. While he is indeed carefree, don't get that mixed up with him being careless because August is the complete opposite, he would never intentionally put another person in harms way and if there's something dangerous that has to be done, August would rather do it himself than risk another person getting hurt.

Truthfully, August is just a good person to be around. He has such a relaxed aura that people generally come to him if they need help, or even just want some peace and quiet. That being said, August does enjoy joking around and has been known to play occasional pranks on friends (of course, they're all non-harmful, he doesn't feel like you need to hurt people physically or emotionally, to have fun).


---
█
█
█
█
█
█
█
█
█
█
█
█
█
█
█
█
█
█
█
█
█
█
█
█
█
█
█
█
█
█
█
█
█
█
█
█
█
█
█
█
█
█
█
██
█
█
█
█
█
█
█
█
█
█
█
█
█
█
█
█
█
█
█
█
█
█
█
█
█
█
█
█
█
█
█
█
█
█
█
█
█
█
█
█
█
█
█

Sleeping|| is of course top of August's list of likes - but what child of Hypnos could ever dislike sleep? Dreaming|| not only are August's dreams so vivid he often mixes them up with reality but while dreaming, he feels so close to his father. Smoking|| he's not particularly fond of the taste, but August loves the sense of calmness he gets after having a cigarette. Cats|| you just gotta love those little fuzzy purr-machines plus dogs are too Savoury foods|| sugar makes you hyper and so August would prefer to avoid it. Besides, what's nicer than something delicious and savoury when you're hungry? Sweets don't exactly fill you up.


Wasps|| nothing makes August break his cool faster. Being yelled at|| now August is a big fan of calm debates about things, but as soon as someone starts shouting at him, he's gone. Travel Sickness|| one day August hopes to travel the world and see all the famous monuments, however, he's slightly put off by the immense sickness he feels even on short journeys. Narcolepsy|| August has struggled with narcolepsy since childhood. While he adores sleeping, falling asleep at random times during the day annoys and often embarrasses him. Strenuous Exercise|| while August isn't completely lazy, and he's totally down for playing a couple games of soccer, there's no way you're gonna be seeing him running cross country.


Narcolepsy|| August fears his narcolepsy because he is afraid it will hinder him in the future, and he won't be able to do all of the travelling and sightseeing he so longs for. Being a disappointment|| if there's something August never wants to happen, it's disappointing his family. Not just Hypnos but his mother, stepfather and sister too. They show him so much affection and support that he couldn't bear letting them down.


---
---
---
---



Mother || Monica Forêt || 48 || Even though Monica hid the fact that Hypnos was his father all those years, August could never bring himself to blame her and still trusts his mother very much. The pair have the closest bond in the family.

Step-Father || Adrian Forêt|| 50 || Adrian was always good to August, despite the fact he isn't his actually father, August definitely looks up to and admires him as such.

Half-Sister || Gabrielle Forêt || 14 ||Gabrielle - or as August calls her, Ellie - doesn't often give her big brother a moment of peace and quiet. She loves to run around and go outside, she's almost the opposite of August and yet they still have so much love for each other.



RELATIONSHIP WITH GODLY PARENT::


Although August grew up with Adrian as a father figure, it never felt quite the same. He knew that something was missing but he never realised what it was until he met Hypnos, his father. While he does not remember it August's first meeting with his father was not long after he had been born. Hypnos visited August one night, to see his new son. The meeting was brief and Hypnos said nothing, he just watched baby August squirm around in the crib, trying to reach up and cling onto the shadowy figure.

Hypnos next visited August when he was thirteen. His father appeared in August's dreams and told him everything about who he is, what it is that he does and most importantly, that he is August's father. Of course when he awoke August brushed it off as little more than a dream, but even years later, he can still remember every little detail of that encounter.

Since then, Hypnos has visited August once more in his dreams, on his fifteenth birthday, again August didn't speak about it with anyone else but found himself still slightly believing it, however much he told himself it was stupid. It wasn't until Hypnos finally physically visited August - just as he had done days after the boys birth - that August knew it was all true. Again, the encounter was brief but affectionate. While neither of them had actually had any contact with each other up until that point, August couldn't help hugging his father as soon as he realised it was really him. They didn't speak much but the one thing Hypnos did say was that if August ever needed him, he need only dream of him.


Although August does often find humour in being able to slyly hypnotise others into doing something out of the ordinary, it is by no means his favourite power. That is, in fact, the ability to cast illusions. August doesn't exactly know why he loves it so much, it just brings him an immense amount of joy being able to have his family appear if he's lonely (of course, they aren't really there) or fall asleep deep within the heart of the woods, except from the comfort of his own bed.


---
---
---
---
█
█
█
█
█
█
█
█
█
█
█
██
█
█
█
█
█
█
█
█
█
█
█


August's sister has a kitten named Cat [named cat after the cat in 'Breakfast at Tiffany's']. Also, August can speak fluent French [his mother, being French, taught him from an early age].


---