"We got no money, but we got heart. We're gonna rattle this ghost town."
---
---
---
---
❖▐
❖▐
❖▐
❖▐
❖▐
❖▐
❖▐
❖▐
❖▐
❖▐
❖▐
❖▐
❖▐
❖▐
❖▐

FULL NAME::
Cornelius Abbot
NICKNAME(S):
Cory by nearly everyone because he despises his full name.
Abbie by close friends.
DATE OF BIRTH:
10/19/1997
AGE:
Eighteen Years Young
GODLY PARENT:
Apollo
YEAR:
12th Grade| SENIOR
GENDER:
Male
SEXUALITY:
Heterosexual
ETHNICITY:
75% Irish, 25% English, 100% Awesome
DIALOGUE OR THOUGHT COLOR:
#c30000
---
---
❖▐
❖▐
❖▐
❖▐
❖▐
❖▐
❖▐
❖▐
❖▐
❖▐
❖▐
❖▐
❖▐
❖▐
❖▐
❖▐

PERSONALITY:
Cory has a very outgoing personality and always appears to be on the verge of laughing. It's not hard to make him grin or smile, he does it so much, it almost seems a part of his appearance. He has the exact opposite problem of resting bitch face. However, he's not exactly what you would call 'charming' or 'caring'. He wants to make people laugh so he can hide how empty he feels inside. It's a kind of wall he puts up. If he asks like he's having the best life ever, no one is going to ask if he's okay because they'll assume he's great. It's not easy to keep up such a fake and forced façade, but Cory does the best he can.
Cory actually cares very little about many things. Friends are not a priority, his future is not a priority, neither is school. He's perfectly fine living in a false present. Nothing in life has really impacted him much to give him a much needed wake up call. He's never lost anyone close to him or been rejected because he's never let his emotions get so far from him that he would get hurt.
Cory can be pretty selfish and only really worries about himself more than anything else and doesn't really put himself out on the line to offer anyone help or consolation. Still, this doesn't mean he doesn't have feelings for people, he's just pretty self-involved. Unfortunately, his lack of experience regarding pain has two negative effects; getting hurt more and have a bit of a god complex. Someone who is so oblivious to the pain others live out on a daily basis gets hit like a sack of bricks when he comes face-to-face with cold reality. Although, they also experience this certain kind of superiority in never having been brought down or shoved under. Cory sort of feels like he's invincible, immune to pain. Both are dangerous things to feel and both of them can come to an end in one quick, swift reality check.
Cory is very easygoing and it seems like nothing can get under his skin or get him heated. Most people who know him have probably never seen him angry. He's just not devoted to any ideas or ideals that would bother him if someone disagreed. He's not very stubborn, quite usually he'll let the world roll over him and he'll gladly bend as flexibly as a willow in a hurricane.
LIKES:
✔
Food:
Doesn't matter what kind, Cory will eat seconds, thirds, and anything anyone around him might offer. He's not picky and he's definitely not particular.
✔
Summer:
The long, hot days are the days when he feels most alive. It might be the sun or the green leaves everywhere or maybe the sudden, violent thunderstorms summer promises, whatever it is, it's intoxicating for Cory.
✔
Relaxing:
Nothing is sweeter than a day well wasted laying on the couch or lounging under the shade of a tree. Cory could sleep all day if he was allowed to and would have no qualms about it either.
✔
Secrets:
Secrets may not make friends, but friends make secrets! Cory loves knowing something others don't and has no problem being vague about it. If you need someone to keep a secret, don't ask Cory, but if you need someone to dangle the information over other people's heads, then hit Cory up! You'll have his undivided attention!
✔
Comedies:
Who wants to watch some dumb drama or unrealistic romance when you could laugh at the stupidity unfolding on screen?
✔
Composing Music:
Composing music is no easy feat. You have to have the right mindset and the right inspiration and of course, a working knowledge of music theory. Amazingly, Cory possesses all of this necessary to bring new music into the world. He's never happier than when he's sitting out in the sun with a blank sheet of staffed paper on his lap.
✔
Annoying Nessa:
Nothing is more entertaining to the boy than annoying Nessa Solberg. It's so easy for him to mess with her. All he has to do is ask a bunch of questions or act like he's an absolute dunce when it comes to superheroes and that's all it takes! However, it's doubtful Nessa has as much a good time as Cory does.
DISLIKES:
✖
Feeling Stupid:
Sure he might not get the best grades or have tons of trivia questions memorized, but that's no reason to treat him like he never made it through elementary school. Admittedly, sometimes, he's just overly sensitive about it and takes things the wrong way, but no one likes being treated like the class dunce.
✖
Blood:
Everything about it makes him uncomfortable. Please don't ask him to explain it any further.
✖
Arguing:
There's no point to it for him. Sometimes he'll brew an argument between people for fun, but if he ever enters an argument, halfway through he'll usually just give in because he's lost interest.
✖
Know-it-Alls:
Jesus Christ, it's not a contest. You don't have to learn every fact ever learned. Like seriously, who even cares what year Wyoming became a state? What are you trying to compensate for?
✖
People Who Try Too Hard:
We've all met them.
FEARS:
☠
Caring About All The Wrong Things:
Cory does occasionally do some self-reflection and it's these times where he worries about whether or not he's placing his feelings in the right things.
☠
Wasting His Life:
He doesn't want to live his life only to arrive at the end and realize he never did enough.
☠
Destruction:
Humanity has trudged through thousands of years to end up where we are today. It's terrifying to think about how the world around is will undoubtedly come to an end. The monuments and the memorials humans worked so hard to create can be torn apart in minutes. And so can our lives.
---
---
❖▐
❖▐
❖▐
❖▐
❖▐
❖▐
❖▐
❖▐
❖▐
❖▐
❖▐
❖▐
❖▐
❖▐
❖▐
❖▐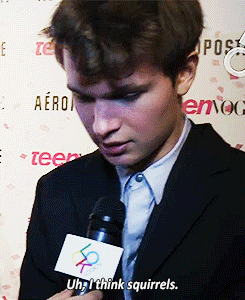 FAMILY::
Elise Abbot/40/Alive
: A simple woman. She's not around very often and it's not like she and Cory have a
bad
relationship… they just don't have much of one at all.
RELATIONSHIP WITH GODLY PARENT:
Sure, Cory knows who is old man is. Apollo never really hid himself from Cory, he always seemed to be some homeless man in the street by Cory's house. Once Cory discovered his ability to bend light, this man who just sat on the dirty curb became his father. I mean, they didn't do normal father-son things, usually Apollo just showed up whenever Cory was having a particularly rough day and transformed into his dad for a couple hours. Then he would vanish.
BIOGRAPHY:
Cory was born to a young, naïve Elise Abbot in the middle of October. It was about the time when Summer was decaying and Fall was really beginning to blossom. Cory grew up as a strange kid, at least by average standards. He was always eerily quiet and passive. If another kid his age began to bother him or take his toys from him, Cory was more or less indifferent. For a long time, this was the only thing that was strange about the boy until he hit puberty. New powers began to surface for the boy and it was terrifying for him. He could easily hide his ability to control light or plasma, but the first time he cursed someone, well that was truly scarring. He had to start being very careful with everything he said. Cory would analyze his words thoroughly so nothing would go wrong. Ever since, he's cut most hurtful vocabulary out of his speech. Therefore, gossip makes him very uncomfortable.
Once Cory found out about the Academy from his father on his most recent visit, Cory was thrilled to get started. A whole school full of people who could understand him and knew about the hot water they all stood in. Cory is definitely looking forward to this new adventure.
FAVORITE POWER:
Healing Wounds is definitely Cory's favorite. He feels like he doesn't have to hide himself so much as long as he can heal people who are hurt or at the very least, numb their pain.
MISCELLANEOUS:
Face Claim: Ansel Elgort
---