"Sometimes you have to believe that heroes exist."
---
---
---
---
---
---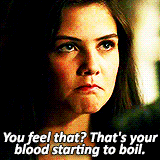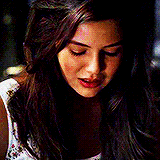 FULL NAME::
Kade Pierce
NICKNAME(S):
I Honestly don't give a damn about what people call me
DATE OF BIRTH:
May 28th
AGE:
18
GODLY PARENT:
Ares
YEAR:
12
GENDER:
Female
SEXUALITY:
Homosexual
ETHNICITY:
25% German 25% Danish 50% Puertorican
The Puertorican part tends to surprise people...
DIALOGUE OR THOUGHT COLOR:
#B80000
---
---
---
---
PERSONALITY:
I guess my personality is a bit complex. My mother always said I was so much like my father. Where as Emma told me I acted so differently from what she was used to from the children of Ares.
Kade isn't your average Ares. She's actually very charming, kind, inviting, and humorous that it's earned her many friends. She makes herself easy to approach to talk. And the fact that she appears so adorable an innocent really helps her draw the attention of the ladies(wink wink). Not only that, she's also the most laid back child of Ares with the most patience you could ever get out of one of them. Of course she has a breaking point, and that is never fun for anyone considering how easily she can knock you on your ass. Kade isn't easily insulted, but if you say anything about her family or friends or are dumb enough to hurt them... Let's just say it was nice knowing you.
Choosing her head over her heart is something Kade does very often. She never fully trusts people and let them completely in to see her vulnerable because she sees vulnerability as a sign of weakness. At least, that's what Ares told. She's also not the kind of person to say 'I love you' because she never has. She's also never been in love. But this doesn't stop her from being a flirt.
Kade isn't very impulsive(I know, shocking) but she has her moments. Sometimes she'll act quickly and impulsively, other times she'll think things through and access the situation. She's actually pretty intelligent. Her best subject is history(mostly because it's the only class she pays attention in). Kade is that type of person that if you get her interested, you'll have her undivided attention. If not, then she won't care about anything you're saying and probably tune you out if you're a teacher. She also has a hard time with authority and doesn't like being told what to do.
Kade has so many aspects to her that's hard to really pin her whole personality as set and stone. She's just complex.
LIKES:
✔
Captain America-
He's just a bad ass
✔
Music-
An Ares child likes music? Get this, I even play guitar and sing a little. How strange, right? I guess I'm kinda good too but no where near as talented as the Apollo kids.
✔
Cigarettes-
I don't smoke often but it's pretty nice. I'm also the one who buys Dimitri his packs so he might as well share what I paid for.
✔
Hamlet-
I read it because it's Dimitri's favorite. Now it's mine. Gods help me.
✔
Martial Arts-
Being the daughter of Ares has its perks. One of them being I'm awesome at martial arts. Just saying.
✔
History-
I just love it. Plus it's fun learning about wars and stuff. I'm actually really good at it too. It's kind of shocking sometimes.
✔
Sports-
They're easy for me
✔
Pepsi-
Pepsi is love. Pepsi is life.
✔
Video Games-
No one can beat me at Call of Duty
✔
Ferrets-
I own a ferret and he's the cutest thing to walk on this earth
✔
Flannel-
It's the best and most damn comfortable thing ever created for clothing
DISLIKES:
✖
Chess-
I don't have the patience for it
✖
Math-
It just doesn't make any sense to me
✖
Losing-
Who even likes losing?
✖
Disappointing Ares-
He's my dad. I want him to be proud of me.
✖
Most Athena children-
It's not that I hate themor anything. It just frustrates me that they always beat me at academics and make me feel dumb.
✖
Coke-
It's not Pepsi
✖
Dresses or skirts-
I hate them so much
✖
Authority-
I'd rather think for myself and make my own decisions
✖
Conformity-
Who cares what other people think?
FEARS:
☠Spiders-
All bugs pretty much scare me but spiders are the worst of them all
☠Not being good enough-
It really does scare me every time I train
☠Not being able to do what is asked of her-
I know why we go to this school and what's expected of us. But what if I can't do it?
---
---
H E I G H T
5'8
W E I G H T
115 lbs
E Y E C O L R
A hypnotic bright blue
B O D Y T Y P E
Kade is very slender but extremely toned from training
D I S T I N G U I S H I N G M A R K S
What sets Kade apart are her eyes and smile. They seem to help her attract people and make her seem more inviting and charming. She's also known for her tomboyish sense of style and the fact that she almost always wears flannel over anything.
---
---
---
---
FAMILY::
Alexandra Pierce
|Would be 37|Mother|Deceased
Emma Larsen
|Unknown|Guardian|Alive
Derek Pierce
|Would be 68|Grandfather|Deceased
RELATIONSHIP WITH GODLY PARENT:
Kade has a strong relationship with her father. After her mother died, he
revealed
himself to her and made frequent visits. He was the one that trained her and helped her learn how to utilize her abilities effectively in battle.
BIOGRAPHY:
Ares and Alexandra immediately hit it off and there was a point where Ares did love her. They had Kade and Ares had to leave. He promised Alexandra he would come back for his child when the time was right. He then kissed Kade on her forehead and disappeared. Alexandra missed him dearly and always told Kade how she reminded her of the good parts of her father. Alexandra was a very stubborn woman and never wanted help from her father until she had Kade. Alexandra willingly moved back in with her rich father so she could properly support Kade and give her everything she needed. Though this didn't stop Alexandra from getting her own jobs since she refused to use her father's money for herself. It was only for Kade.
Not too long after they moved into Derek Pierce's house, a young woman moved in down the street. She became Kade's babysitter and almost like a second mother to her. In all the years she's been with her, she's never seen her age.
At the age of 8, Kade's grandfather passed away and put in his will that Kade would get everything(which is what her mother told him to do). Kade was sad but she also didn't have a very strong bond with him since he was always in his office doing business while Kade was running around the halls with her babysitter, Emma. After his death, Emma was around more often to help her mother with raising Kade. They always tried to pay Emma, but she always refused the money.
Not too long after, Kade's mother became sick. The doctors said there was nothing left to do for her other than let her die in her home happy. Kade spent as much time with her mother as possible. She would even curl herself into a small ball at the foot of her bed so she wouldn't be in the bed. When she was in school, Emma would stay with her. She always seemed to be a bit happier after Emma's visits. Like she was in less pain.
Alexandra finally died when Kade was 10 years old and Kade watched her fade away. The conversation is on repeat in her head:
"Come here my brave little soldier. It's time to say goodbye."
"But I don't want to say goodbye."
"I know, honey. I know. But it's time."
"No! It's not fair! I'll do whatever it takes for you to stay! Please stay, mommy! Please don't leave me!"
"Your father would say the same thing. You're so much like him sometimes. But so different too. You care so much for others and I'm so proud of you. He is too. He knew you'd be destined for great things and I can see it now. I love you, Kade."
Kade wept at her mother's bedside until she eventually passed out. Emma picked her up and carried her out of the house. Emma then brought her into the arms of a mysterious man. A man that felt familiar to her. Like she'd known him once before. This was her father. This was Ares. He held her in her arms and looked down at her.
"It's okay. Daddy's here"
Kade began to cry again and he comforted her. He then told her the truth about her origins and who he was. This was when her training began
Ares would visit her every so often for many years and train her and teach her how to use her abilities. When Ares wasn't around, Emma acted as her legal guardian and taught her how to be kind and patient. She also filled the motherly role. Kade also learned that Emma was a demigod and the daughter of Hestia which explained her motherly nature and the fact that she looked like she never aged. Ares was the one who found her and sent her to keep on eye on Kade and help out when he couldn't be there. She also told Kade about the academy and when she asked Ares, he said that she should go. And she did just that.
FAVORITE POWER:
Kade loves all of her powers and can't really pick one. If she were forced to, she'd pick controlling negative emotions and being able to summon any weapon she can think of. They've both proven to be most useful to her.
MISCELLANEOUS:
Face Claim: Danielle Campbell
Ares Face Claim: Joseph Morgan
Emma Face Claim: Claire Holt
Pet: A blonde ferret named Achilles
Other: She speaks both English and Spanish fluently
---
"I'm always here, Kade."