Haven't you heard that it is far better to be feared than loved?
---
---
---
---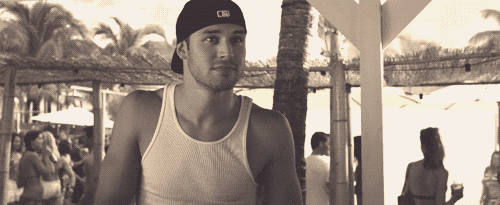 ❖▐
❖▐
❖▐
❖▐
❖▐
❖▐
❖▐
❖▐
❖▐
❖▐
❖▐
❖▐
❖▐
❖▐
❖▐

FULL NAME::
Hayden Joseph Cenix
NICKNAME(S):
None
DATE OF BIRTH:
August 7th | Leo
AGE:
18
GODLY PARENT:
Ares
YEAR:
12th Grade
GENDER:
Male
SEXUALITY:
Heterosexual
ETHNICITY:
Italian
DIALOGUE OR THOUGHT COLOR:
#104E8B
---
---
❖▐
❖▐
❖▐
❖▐
❖▐
❖▐
❖▐
❖▐
❖▐
❖▐
❖▐
❖▐
❖▐
❖▐
❖▐
❖▐
❖▐
❖▐
❖▐
❖▐
❖▐
❖▐
❖▐
❖▐
❖▐
❖▐
❖▐
❖▐

PERSONALITY:
Outgoing | Impulsive | Determined | Energetic | Loyal | Sarcastic
It's known that Ares offsprings have some aggressive tendencies but rather than be known as short tempered and hot headed he prefers to be known as "impulsive" whereby he's a much more action and practical kinda guy. Much to Hayden's dislike he is also more brawn over brain than anything but thankfully has some value and hold of discipline or tries his very hardest at least.
Put simply, Hayden is sick and bound to be a Daddy's boy without an ounce of acknowledgement or respect returned in his direction. Hayden seeks his approval or rather "acts out" in hopes of getting Ares attention and he deludes himself far too often proposing that Ares is watching him no matter what. But another part of him battles himself reminding Hayden he is more than blood and violence, that he can rise above the label of a "blood hound" or undesirable company with the added "screw dad" thrown in occasionally.
Hayden wishes to be selfless and charming and kind and only a weapon when he needs to be. But Hayden's instincts are set. Either way he can't win. If he's having too much laughs, he feels bad as if he are turning his back on nature. If he's being aggressive unnecessarily , he feels bad.
LIKES:
✔
Dancing: So much energy is stored into the one being and he's got to let it out somehow and luckily he was discovered with the gift of rhythm and movement and likes it.
✔
Brawls/Fighting: An inheritance from Ares and a guilty pleasure but coming out on top of a battle provides feelings words can't explain and effectively releases anger.
✔
Bromance: It is so high in values for him. A brother that always sticks by your side no matter what and has the same value for loyalty.
✔
Music: He doesn't dance to the sound of the ocean or trees. Something's got to provide him with a beat and help him express.
✔
Liberty: Where he can let go and be free entirely and do what he wants without being torn or feeling bad are the moments of paradise.
DISLIKES:
✖
Insects: The way they can crawl to the skin without much detection is wrong and the sensation when they're on the skin is weird.
✖
Being Still: He's usually stored with energy and finds it difficult to be in the one place and be still for too long.
✖
Ranged Attacks: It's one of his weaknesses that lead to wounds and bleeding, etc of unpleasantness.
✖
Whining: A baby's tool which is a poor and mostly unsuccessful, irritating act.
✖
Labels: Reducing people to labels and stereotypes...how simple minded.
FEARS:
☠Ares: Not to give him the credit or power but Hayden's expectations are deluded and high of his father despite Ares reputation.
☠Losing Powers: He feels they are a big part of his identity and without them he will be useless.
☠Rage: Sometimes it lurks within so strong, he fears it will come out and the rampage will begin and he'll lose humanity entirely.
---
---
❖▐
❖▐
❖▐
❖▐
❖▐
❖▐
❖▐
❖▐
❖▐
❖▐
❖▐
❖▐
❖▐

FAMILY:
Drago "Dragon" Cenix| GrandDad:
Hayden has an abundant amount of respect for this man and is thrilled for him to still be alive and kicking. He's the true raiser behind Hayden.
Esterina Cenix | Mother:
She raised him best she could and she did well all things considered. She maintained teaching him morals, behaviour and he respects her for keeping the troublesome youth he was around. The only thing he dislikes is when she speaks illy of his father and that he was perceived more as a guard dog used for his abilities than son at times.
Kevin Johnson| Step-father:
Hayden's never had any luck with fatherly figures and this one is no different. And what's worse is Kevin tries really hard to seek Hayden's (the man of the house) approval. At least he knows his place.
Delilah Cenix | Half Sister:
They're not particularly close and don't have much to share based on age and father difference but she's got a long way to evolve and develop and he'll protect her along the way.
RELATIONSHIP WITH GODLY PARENT:
A God of Bloodlust and Violence and War isn't going to make time for their offspring. But that's always been fine with Hayden as he felt he could carry pride to Ares' name and his own in the traditional fatherly fashion by getting into brawls and turning out victorious.
Despite not a single flicker of sign from Ares, Hayden holds unflinching loyalty and gratitude to him. After all it was Ares that gave him his abilities.
BIOGRAPHY:
(This is completely optional, although if you want to add a Biography please have it be at least 1 paragraph or so)
FAVORITE POWER:
Superior Strength, Endurance, Agility.
MISCELLANEOUS:
Anything else you want to add? Face Claim, Pets, Quirks?
---