"This is the way the world ends,
                                                         not with a bang but a whimper."
                                                                             — T.S. Eliot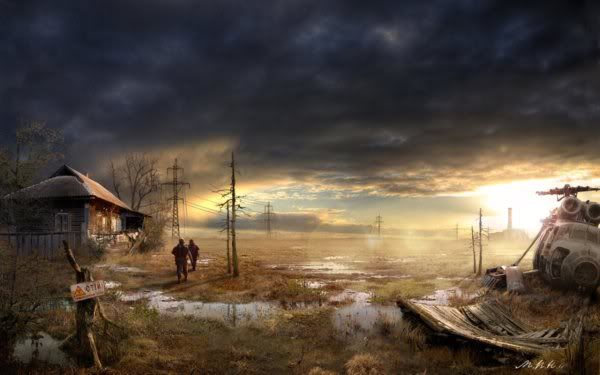 It's been 176 days since the blight crossed to the United States.

It started somewhere in Asia, although the details are unclear. It's destroyed half the human population already, and continues to spread. An airborne disease. You show symptoms in the first hour. Within the next 48 your probably dead. Those who have survived have lost their minds, common sense, or they have become nothing; a vegetable.

They tried to stop it, they really did, but they weren't fast enough. The military even stepped in.

Everyone tried to stop it.

People stayed in their homes. Schools cancelled the rest of the term. Airports were shut down, public areas condemned. Nothing helped. Hospitals were stained with the stench of dead bodies. Doctors went down just like the common folk.

The odds are in no ones favor. It's a dangerous to leave your clean home, your family. It's dangerous to stay.

Trapped. The only way to get out is yourself.

The government has advised that those who are still located in a city to move out. Find a clean place. Somewhere to rebuild. Rebuild yourself. Rebuild the nation.

The entire world is silent.

Scout Maxwell : Supertoastgirl

Female :

Female :

Mike Cooper : Cypher

Male :

Male :




As you might have guessed this is a post apocalypse role play. This is also a remake, a throw back, whatever you want to call it, of the original RP I made a while ago.

This role play will be character driven, even though the plot begs to differ. It's set in modern times and I will only be accepting six characters. Three women and three men. They've reconstructed a city bus into an RV type deal because they are moving out of the city and into new territory. They should come from all different backgrounds and don't even have to be from the same town. They will be using this bus as a home as they search for a place to get away from the disease and isolate themselves from those who might be infected.

NOTE: Your character will probably may die. Don't get offended, and be willing to let that happen. If anything you'll be able to create another character they meet along the way. That way you can still be apart of the role play. Who knows, we might get three different groups of people by the time they find a place to live.

This role play has a very loosely based plot for a reason. I want other people who are willing to put in ideas, turn the plot and twist little side stories. There shall be drama, whither it be romance or otherwise. So, if you're not up to that don't join. I want this thing to last, so keep the ball rolling.

Rules:
Literate role play.
Post as often as possible.
Inform me when something is going on so I don't think you've ditched.




Skeleton:



Code: Select all

[font="georgia"] [right][img]realistic picture[/img][/right]
[b]Name:[/b] and nickname
[b]Age:[/b]
[b]Personality:[/b]
[b]Occupation:[/b] before the apocalypse
[b]Background:[/b] don't write a novel, we can cover it later.
[b]People:[/b] who you like and dislike, romantically interested in, ext.
[b]Other:[/b] things you've brought with you, other quirks and habits
[/font]
Literate role play.
Post as often as possible.
Inform me when something is going on so I don't think you've ditched.
Taking place in...
Don't be afraid of the world.
There are no characters in this universe yet!
12 posts here • Page 1 of 1
12 posts here • Page 1 of 1
Arcs are bundles of posts that you can organize on your own. They're useful for telling a story that might span long periods of time or space.
There are no arcs in this roleplay.
There are no quests in this roleplay.
Here's the current leaderboard.
There are no groups in this roleplay!
Welcome home, Promethean. Here, you can manage your universe.
Arcs are bundles of posts from any location, allowing you to easily capture sub-plots which might be spread out across multiple locations.
You can create Quests with various rewards, encouraging your players to engage with specific plot lines.
Settings are the backdrop for the characters in your universe, giving meaning and context to their existence. By creating a number of well-written locations, you can organize your universe into areas and regions.
Navigation
While not required, locations can be organized onto a map. More information soon!
There are no groups in this roleplay!
There are no characters in this universe yet!
By creating Collectibles, you can reward your players with unique items that accentuate their character sheets.
Once an Item has been created, it can be spawned in the IC using /spawn Item Name (case-sensitive, as usual) — this can be followed with /take Item Name to retrieve the item into the current character's inventory.
Give your Universe life by adding a Mob, which are auto-replenishing NPCs your players can interact with. Useful for some quick hack-and-slash fun!
Mobs can be automated spawns, like rats and bats, or full-on NPCs complete with conversation menus. Use them to enhance your player experience!
Current Mobs
No mobs have been created yet.
Locations where Mobs and Items might appear.
You can schedule events for your players to create notifications and schedule times for everyone to plan around.
Add and remove other people from your Universe.
The Forge
Use your INK to craft new artifacts in Afraid Of. Once created, Items cannot be changed, but they can be bought and sold in the marketplace.
Notable Items
No items have been created yet!
The Market
Buy, sell, and even craft your own items in this universe.
Market Data

Market conditions are unknown. Use caution when trading.

Quick Buy (Items Most Recently Listed for Sale)
There are no characters in this universe yet!
Don't be afraid of the world.
Discussions
Most recent OOC posts in Afraid Of