Heartlines
Nothing Else Matters
Dust to Dust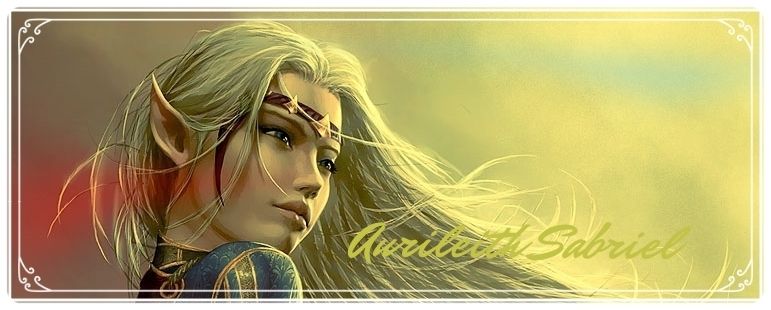 ---
"
Keep both eyes open... and breathe
"
---
---
INTRODUCTION
---

"My name is Aurileith Sabriel. I am an archer. I've served many years in the Elven military… is that what you were looking for?"



"To protect those who need protecting. Same as you, I'm sure."


[

B A S I C S

]

Nicknames: Aura. To this day her mother still calls her 'moon,' an adorable little nickname given at birth because her features were so pale. If she's being honest, she finds it a tad insulting. Yes, she's quite pale. Get over it. Most of her comrades in arms just call her Sabriel.

Gender: Female

Age: 78

Race: Elf

Origin: Rielorn, or more precisely, a village on its outskirts called Luin.

Voice: Aura's voice is modulated and steady, with a slightly husky aspect, and a very light accent that isn't easy to place. She always speaks in a refined, polished manner when she speaks at all. More likely than not, Aura will be found listening instead of speaking.

Class: Archer

Offensive/Defensive: Defensive

Magical Affinity: Low: she only knows what her mother taught her, and that was so long ago now, she has trouble remembering. When she finds herself with the rare bit of downtime, she will practice, so as not to completely forget.


---
---
PHYSICALITY
---

[

A P P E A R A N C E

]

Hair: Pale like silver. Pale like moonlight. Aura actually quite likes her hair. On a canvas of practically colorless features, at least it stands out. The color, in actuality is platinum blonde, heavy on the platinum. She keeps it long, always, and brushes it until it shines. It is soft and feathery, and easily picked up and tossed about by the wind which always succeeds in making her feel free. For the most part, she does nothing to it, but when it becomes particularly cumbersome she'll trap it in a loose braid.

Eyes: One of these things is not like the others. Her eyes are the only part of her appearance which Aura can claim as dark. They are a rich chocolate brown. And, while a bit of a difference is, for the most part, refreshing, in this instance the starkness of the contrast can be slightly off putting.

Complexion: So fair she might as well be translucent. Seriously, girl needs some bronzer or something. Though she is outdoors quite frequently, her skin has just never tanned well. She is saved by the mere fact that it is quite dewy and youthful, and has a luminescent quality to it in darker settings which can be quite pretty if you're into that sort of thing.

Height: 5'7''

Build: Her build is quite slim and toned, lacking in overly bulky muscles, but it's apparent she's fit. Her figure could be likened to that of a dancer's, or perhaps an acrobat's.

Weight: 122 lbs

Body Markings: She has never likes the idea of body piercings so she doesn't have any of those, but she does have a substantial amount of tattoos, mostly covering her back and arms. There are many awarded for marksmanship on her wrists and inner forearms. More personal ones like her mother's name in elvish and the name of the village in which she was born on her upper arm. But, the most meaningful, and the one she is most proud of are a pair of wings wrapped around a gilded cage spanning most of her back and shoulder blades which indicates that she tamed and bonded with her bird mount Qiqsa.


[

D E S C R I P T I O N

]

While Aurileith is not delicate per se, there is something about her that screams 'refined.' Her posture is flawless, her mannerisms precise; every action is thoughtful and deliberate. At first glance, she might look like something out of a fairytale; she might resemble a graceful woodland sprite with her shining pale skin and hair like molten silver, but on closer inspection, it is apparent that this is not the case. There is an emptiness in her eyes and a rigid set to her jaw that evokes an image of a tightly wound machine. What at first seemed elegant now becomes austere; posture which merely seemed dignified is revealed to be uncompromising. Aura is made up of hard-lines and even harder eyes, and while she is not exactly mysterious she does exude an unreachable quality that does a good job of steering others from her general vicinity. She lacks the open, smiling face and kind eyes that persuade people to share confidences. Her eyes are slanted and uninviting, her brow stern, and her plump lips seem ever to be set in a thoughtful pout.


---
Moral Alignment

Lawful Compassionate
---
MENTALITY
---
[

P E R S O N A L I T Y

]

Aurileith is, in her heart, a free spirit. She is the type of elf who would love to wade into the middle of a rushing river just for the hell of it or run barefoot through a field of flowers. If you find this sort of behavior disconcerting, don't worry, she would never actually do any of those things--at least not if there were anyone around to see her. She would only want to do those things. Secretly. If you observed her closely enough as she walked passed that river or field, you might see the hidden longing in her eyes, the pent up desire rushing from her like an overflowing tub, but most likely not. She's gotten very good at hiding it. You might wonder what made her this way; wonder why she feels the need to mask her emotions so completely. It wasn't anything major. There was no one event that traumatized her for life. Perhaps it's simply easier. Cleaner. Perhaps in a lifetime of having decisions made for her, she likes to keep something secret, something that she knows is hers alone. No one told her to find pleasure in the feel of cold water rushing over her skin. She just does, and no one can ever take that away from her if they don't know about it.

She is not the type to show her pleasure in such a garish thing as a smile. She wouldn't be caught dead with one of those on her face in any form. A genuine smile, a smirk, it doesn't really matter, they are an outward symbol of what one is feeling on the inside and Aura doesn't go for that. This does not mean that she does not treasure such emotions as joy, amusement; love, but she'd rather others believed her immune to such feelings, as if they were a disease, or at the very least a bad habit she is loathe to give in to. If she lets down her guard, you might even see a hint of such feelings, but once they have been expressed she is quick to regret what she would consider a lapse in judgment, and is not above twisting someone's arm until they pretend like nothing happened.

Though you might never guess it, Aurileith is naturally inquisitive. When she was a child, her mother nurtured this trait, but as she grew older and joined the military, she learned that inquisitiveness and independence were not exactly sought after in a soldier. You were meant to do and not to question, and therefore she buried those traits for a time, though she never really lost them. Over the years it has morphed into a sort of finely tuned observation which suits her purpose better. If something interests her, she will not ask a million questions, but she will watch, she will observe intently from a distance until she understands the thing and what it is meant to do and how it does it. She uses the same quiet observation on people as well.

[

F E A R S

]


Aura has a very intense fear of being underground, or in tight, confined spaces with no immediate escape routes.


She fears dying having never followed her heart instead of her orders.

[

Q U I R K S

]


Eavesdropper: This is not done out of nosiness or malice or an intent to do anything other than learn; to be informed. Aura has always been possessed of a good pair of ears, and she uses them to figure people out, to get the answers to questions she'd rather not ask aloud. Of course, anything she learns in this way she will absolutely treat as confidential. She has never been, nor will ever be a gossip.


Bathing beauty: As previously mentioned, Aura really enjoys water. If she is anywhere near a body of water, she will more than likely find time to steal away from the group in order to bathe privately.


Self-Conscious: Her humility is such that she absolutely refuses to look into a mirror in public. If she is in a room with one, she will always turn in the opposite direction. The only time she looks into mirrors is when she is brushing her long silky hair--her one vanity. Also, compliments of any kind make her uncomfortable and she will never know how to respond. Most of the time it is with a curt nod as she is briskly walking away.


Bubble: Aura's need for personal space is very important to her, and she doesn't much like being touched--especially by those she doesn't know well.

[

E T H I C | V A L U E S

]

The values instilled in her during her formative years were later to be proved somewhat moot, but she never truly lost them. In fact, she holds them quite close to her heart. Follow your heart, have a giving spirit, be free; choose. Choose the path you wish to follow in life for yourself. Ideals that seem wonderful in theory, but that she was never truly able to put into practice since her path was chosen for her. She could have been like her mother. She could have chosen for herself, but she lacked her mother's courage, and so let herself be led. The values instilled in her by virtue of her culture live in her as well: serve your kinsman, respect nature, be your best self. Aura strives to live up to those standards, and only wishes to live up to those her mother taught her. Perhaps now--considering the task she is undertaking--would be a good time to start.

[

A G E N D A

]

Her mother lives on the outskirts of Rielorn where danger of the plague is most prevalent. Her most pressing thought when joining The Serpent's Gathering was of protecting what she holds most dear if she could. And… if she gets to experience the world outside of Elven territory in doing so then, bonus.


[

L I K E S

]


Water. It's cool and refreshing, and feels like liquid silk on your skin. What's not to like?


Aura has unusually sensitive skin and she cannot abide anything rough touching her body, which is why she truly appreciates soft fabrics. If she's wearing leather, it has to be well worn and never rubbery. If she wearing metal armour it has to be smooth. But her favorite thing to wear, by far, is silk. Sadly, the life of a soldier doesn't give her much occasion to pull out her best chemise.


Baby animals. While it has been established that Aurileith likes to put on a very robot-ish persona and has difficulty with the softer emotions, all her stoic bad-assness goes out the window in the face of a fuzzy duckling. She will immediately melt into a puddle of unflattering, baby-talking goop. But come on, can you blame her? Show me a person who doesn't like ducklings and I'll tell you to stop being friends with them. You don't need that kind of negativity in your life.


Adventure. It's not something she's had much of in her life, and she's always longed to see more of the world outside the elvish kingdom, but it's not something she's likely to admit to. Secret desires and all that. Ask her about it when she knows you better.

[

D I S L I K E S

]


When all eyes are on her. It is rather difficult to quietly observe when you're the one being watched. It does not embarrass her, however, or make her uncomfortable to be put on the spot. She's learned the art of carrying herself with professionalism and decorum, and how to hold her own under questioning glances. It is more that it makes her restless, and slightly annoyed.



Animal cruelty. Uh uh, not cool bro. Not under any circumstances. Aura has alway had a long fuse, and it takes a lot to rile her, but mistreat a defenseless animal and she will make it her business to get in your face. Fortunately she hasn't come across much of this as her kinsman generally respect the natural world.


Personal questions. She rarely asks them and does not like being asked. The inevitable question going through her mind will be "why do you need to know?" But, she will answer them if you are genuinely interested, or if compelled to do so because you outrank her. But, still, she will remain skeptical.


Sleeping. Aurileith has always had a love/hate relationship with sleep. It takes entirely too long to fall asleep, and once she does, even the slightest noise will usually wake her. If she could, Aura would just give up on that whole business entirely. Long story short: if you need a look out, she's your girl.
---
---
RATING SYSTEM
[Excellent] - ★★★★★★
[Strong] - ★★★★★☆
[Competent] - ★★★★☆☆
[Average] - ★★★☆☆☆
[Poor] - ★★☆☆☆☆
[Learning] - ★☆☆☆☆☆
[Scrub] - ☆☆☆☆☆☆
You have a limit of 20 stars.
---
---
PROWESS
---
[

N A T U R A L | T A L E N T

]


A Way with the Beasts: [Competent] ★★★★☆☆ Animals of all sorts have always responded well to Aura. A cooing song, a gentle scratch behind the ears and they seem to melt with little effort. Dogs, horses, and bird mounts don't take long to warm up to her and stand ready to obey.


Silk Touch: [Competent] ★★★★☆☆ Aura has a very light and precise touch, and a very sensitive one. This would come to serve her well during her training in archery. Not only can she pull arrows from her quiver with shocking speed and accuracy, she can tell the different types of arrows she keeps in her quiver apart on touch alone. And, if her morally compass ever swings in a less than honorable direction, she's a decent pick-pocket.

[

C L A S S | S K I L L S

]


Aerial Archer: [Strong] ★★★★★☆ Whether mounted on Qiqsa, or sheltered high in the trees, Aura does her best shooting from high places.


Up Close and Personal: [Poor] ★★☆☆☆☆ While she trained in ways to defend herself which didn't involve a bow and arrow, Aura never took to them the way she did to archery. If forced into close quarters, she has a pair of trusty daggers which she is passable with, but overall, she prefers her longbow.


Camouflage: [Average] ★★★☆☆☆ Stealth is very important to Aura's fighting style. She moves quietly, climbs quickly, and generally tries to blend in with bushes or trees and gain the element of surprise and thus be able to pick off enemies at her leisure.

[

SPELLS | POWERS

]


Band-aide: [Poor] ★★☆☆☆☆ Her mother is infinitely better at this sort of thing than Aura, but long ago, she taught her to manipulate the power of light to heal wounds. All she can manage is superficially wounds, but, she supposes it's better than nothing. Aura practices every chance she gets so she will never completely lose this ability.

[

W E A K N E S S E S

]


Unoriginal: Being a soldier might not be what she would have chosen for herself, but she's become quite good at it. Give her an order and she will generally follow it no questions asked, but ask her to give input on a plan of attack or come up with a new strategy and she'll probably be lost.


Uncomfortable with vulnerability: It's not that she's apathetic, in fact she might care a little more than most about the sufferings of her comrades, but Aura does not know how to show it. A show of vulnerability makes her cringe, and she will be more likely to run in the opposite direction than offer any kind of comfort or consolation. She hates herself for this, truly, but doesn't know how to change it.


Life is not a bowl of cherries: Aura has a tendency to look on the darker side of things. A mission not going as planned? She'll be the one with the 'we're all gonna die' attitude. Hope in the face of disaster has never been her strongest suite; more like resignation.
---
---
ARMAMENT
---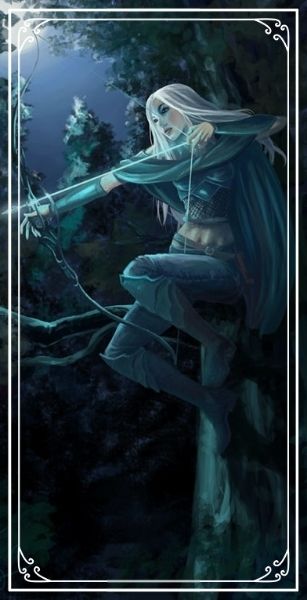 [

A R M O R

]

Aura is usually clad only in a small amount of armor; enough to keep her protected, but not so much that it becomes cumbersome. A chainmail plate guards her upper torso, while a pair of leather shin guards and a matching set of forearm bracers protect her extremities.

[

C L O T H I N G

]

For the most part, Aura chooses comfort over flare. She wears tunics and trousers soft enough to grace her body without irritation in various and pleasant earthy tones; greens, browns, rusty reds. She also prefers tall boots and long capes. But, she is not opposed to dressing fancier if the occasion ever calls for it. In fact, she might have a silky number stashed somewhere at the bottom of her rucksack.

[

I T E M S

]


Quiver with arrows of various sizes
Pouches of herbal remedies given to her by her mother
Various food stuffs for travel
Ivory hairbrush


[

T O K E N S

]

A garment of any kind as long as it's made from fine silk.

[

P R I M A R Y | W E A P O N

]

Weapon Name: Moonstone
Weapon Type: Elven Bow
Length: 64''
Weight: 12 lbs.
Origin: This bow made from quiksilver with refined moonstone inlay did not come from the Elven Armory. It was the one and only gift she's ever received from Mordyth. The bow was his in his glory days. He gave it to her before she'd really disappointed him. Aura bets he wishes he could take it back now.


[

O T H E R | W E A P O N S

]

Weapon Type: Dual curved daggers
Length: Both 10''
Weight: 2 lbs. each
Origin: These blades didn't come from anywhere special. Aura picked them up one day in training and discovered they were easier for her to handle than your average straight dagger. So, she kept them.


---
---
BACKGROUND
---

[

M A R I T A L | S T A T U S

]

Single, and generally not interested in anything that doesn't fall under the category of 'no muss, no fuss.'

[

F A M I L Y | T I E S

]

Ah her mother. A glowing, guiding light in her early days, Aura regrets that she didn't have a normal mother/daughter relationship with her. Still, she admires the hell out of the courage it took to stand up to her father and choose the life she wanted. Aura could have used some of that courage when her time came, but her mother did remarkably little when Mordyth came to take Aura to Rielorn. Perhaps she thought her daughter would come back to her. She's still living peacefully in Luin, and Aura sees her when she can.


| F a t h e r ? | [ -20 ]
Yes, well, Sage never disclosed her father's identity, and whomever he is, he's never reached out. Aurileith finds herself looking closely at every blond-haired elf she comes into contact with in case it could be him, but mostly she just hates him on principle.

Aurileith has a complicated relationship with her grandfather. As an elf who once held the distinguished title of 'watcher,' his expectations for his children and grandchildren were quite high. He was instrumental in her being chosen for military service, just as he was in the case of Aura's mother, but Aura, like her mother, lacked ambition in his eyes. Therefore, she is constantly disappointing him.


[

O C C U P A T I O N

]

Soldier in the Elven Military.


[

S O C I A L | R A N K

]

Mordyth's status and distinguished military career gives her some rank by association, but honestly, she would rather get by on her own merit as an archer.

[

O P I N I O N S

]

Humans: According to her grandfather, they are an inferior race. But Aura no longer puts much stock in his opinion. As she hasn't had much opportunity to mingle with humans, she reserves judgment.


Elves: Hrmm… Which elves are we talking about? She's known many who are decent folk, just enjoying their lives or trying to live them in a way which will get them remembered after they're gone; elves that truly want to help others, like her mother, like her fellow soldiers. But then there are other elves; elves like Mordyth and the Watchers. Ones that seem to enjoy toying with other lives like a cat with a ball of yarn. Her opinion of these types is… less generous.


Orcs: Two enthusiastic thumbs up! Aura's curiosity towards other races is quite high, and the few orcs she's met have seemed kind and noble enough. She's looking forward to meeting more of them now that she has the opportunity.


The Serpent's Gathering: It's an… interesting mix of individuals on a noble cause. Plus, joining has given her the opportunity to leave Rielorn which is a good thing in itself.


The Pestilence: In all honesty, it terrifies her. She's heard terrible things, and doesn't want to think about dying like that. The fact that it's reaching the outskirts of Rielorn--where her mother lives--scares her even more.

[

R E L A T I O N S

]

"Ah yes, the orc who just loves our elven food. I have some spinach cookies just for you." *Wink

When they met at the gala, he seemed tense at first. It was only when she realized what was happening that she understood, and she found herself in the unusual position of wanting to reassure someone. How did one even go about doing such a thing? They talked. If Aura wasn't so against openly enjoying things, she would have said it was nice.

"He's the guy everyone talks about?"

So this is what it feels like to be in the presence of a celebrity. She expected… something different. Well, she's heard he's good with magic. Aura wouldn't mind learning a thing or two from him on that front.


| G r e t c h e n | [ +05 ]
"Well, aren't we clever?"

The human's language is quite colorful. Aura supposes she deserves props for finding so many different ways to insult people. But, she could stand to lose the attitude.

"A bear, huh… yes I see the resemblance."

While Aura appreciates this human's kindness, she finds his jolly, open nature difficult to comprehend. He looks like he should be so mean. She is confused. Sometimes she amuses herself by looking for weak points in his armor. It's nothing murderous; she's not an assassin. It's more of a way to pass the time.

"He reminds me of a skittish animal."

Aura's instincts tell her to approach him calmly and quietly so as not to overwhelm him. She'd also like to coo at him like she would a scared filly, but she's not sure how humans feel about being compared to animals. Is it offensive? Perhaps he would appreciate a sugarcube, anyway.

"You enjoy bathing as well? Perhaps, sometime you could be my lookout?"

The orc seems to be possessed of the kind of forthright courage that Aura so admires. She could see herself being friends with her, as long as she steps back an inch or two. Respect the bubble.



His stories sometimes merit a micro-chuckle, but all in all, she doesn't take him too seriously.

ThoughtsThoughts.



Aura cannot look at the shy orc without smiling inwardly, because she knows. She understands what it's like to be inquisitive about the world around you and yet not know how to form the right questions. She would happily and patiently answer any questions Gul directed at her, but she understands that she is not the most approachable person.

ThoughtsThoughts.

[

B I O | H I S T O R Y

]

She remembers her early life being quite pleasant. Luin was a small and humble village in which her mother was its most prominent member. As a gifted healer and shaman, Sage Sabriel was relied upon and looked up to for as a ;leader of sorts. Aura remembers their small hut smelling of lavender, spearmint and eucalyptus. Lovely smells from her mother's herbal remedies. She remembers her mother singing to her when she would awake in the night with bad dreams; cradling her in her arms and surrounding her with comfort. She remembers her mother's dark hair and kind eyes; her smiling lips as she told Aura the importance of being true to one's heart. For Aura, as she grew, there was no other option. She was who she wanted to be, and at her early age, that meant a little girl who picked flowers and pressed them into books; a girl who ran barefoot through the forest with a befriended fox in her wake. The little girl had no worries or cares, and let herself be led by whims and fancies, never knowing that there was another, harsher way of life. She would learn.

An older elf came to their house one day. Aura didn't know who he was, but her mother seemed to. The stranger looked her over, and she felt uncomfortable, sensing that she was being appraised. She discerned the tension between the two of them, and when he left, there was a sadness in Sage's eyes that her daughter had never seen before. The man was her grandfather, and he would come back to take her away for a while, her mother told her. Aura didn't want to go; she'd never left her village before, never left her mother, but Sage assured her that everything would be alright.

"You're going to hear things about me, Moon…" her mother began,sweeping a piece of her silvery hair out of her eyes on the day Mordyth came for her. But, instead of finishing her thought, she only shook her head and looked away. "Just remember… you can choose." Aura wasn't sure what her mother meant, but she was too distraught to ask.

When her grandfather took her to Rielorn, she cried a lot at first, and with each tear she shed, Aura felt Mordyth become more and more impatient with her. She would have to grow some thicker skin, he said, if she were going to be a soldier. This was the first she heard of his plans for her, the watcher's plans. She would pick up where her mother left off; right the wrong that had been done when she disgraced her family. He told her the story, not bothering to hide his disdain for his own daughter as he did so. Sage Sabriel had a promising career, until she gave up everything to become a shaman in the boondocks and raise a child on her own. She became pregnant and left halfway through her training, breaking her family's hearts in the process. She was a pariah in Rielorn, but her daughter was going to make up for it all. The pride of the Sabriel family now rested on her shoulders.

Nothing about a soldier's life appealed to Aurileith, but in the short time she'd known him, Mordyth's approval had become very important to her. And so, she did as he wanted and began training as a soldier. It was an… unpleasant experience to have all the individuality and freeness of spirit that her mother so nurtured taken away piece by piece, but slowly, being a soldier became her identity. It just so happened that it was also the identity of about a thousand other elves. There was nothing different about her anymore, nothing that set her apart from the guy in the next cot over. It was around this time that she began to recall her mother's word from their parting. Just remember… you can choose. And then she understood; she understood that she had made the wrong choice. She also understood how much courage it must have taken for her mother to choose. Aura did not have that kind of courage, and so she stayed.

Life was uneventful for a time. She showed promise as an archer, and the day that glowing review from her superior officer got back to her grandfather's ears was the first and last time she'd see him smile. Though she was talented, she lacked ambition, and did not rise quickly enough through the ranks for Mordyth's liking. Here was another chance for her to run, when she realized that no matter how hard she tried, she would never truly win her grandfather's approval. She could have followed her heart back to Luin and her mother, but she was a coward. Again, she stayed.

Decades passed in much the same way, until one night she found herself at a Gala in honor of an orc, of all things. For some reason, Mordyth wanted her to be there. She listened to the rumors as she quietly made her way around the banquet hall. The rumors were that this orc was immune to the pestilence, and that a small group was finally forming to fight it at its source. The rumors intrigued her. The pestilence was all anyone talked of, these days, and there had been horrifying reports of it recently reaching elven territory. She'd been worried about it reaching her mother's village. Her grandfather confirmed the rumors, and seemed strangely keen for her to meet this orc. They waited in a long line of elves before she was introduced, and Mordyth's motives became clear.

"Higoht Ezengbo, allow me to introduce my granddaughter, Aurileith, proud archer of the Elven Military. She would make a fine Second, don't you think?"

A second what, exactly? Aura wasn't sure. But she knew she was being foisted on this poor orc who looked slightly overwhelmed. Mordyth left them, and she tried her best to convey that she wasn't interested in whatever it was that her grandfather was trying to volunteer her for. She found out later of course, when the Infiltrator, Adriel Nisaan was chosen over her and every other elf vying for the position. Her grandfather had a few choice words to say about that. And when Aura expressed an interest in volunteering to join the Serpent's Gathering anyway, he made his opinion known. No granddaughter of his was going to be a grunt soldier on a suicide mission after she had been passed over for a higher position.

He told Aurileith to steer clear.

But for the first time in her life, Aura didn't do as she was told.

[

F L A G S

]
Anything that has to do with finding out who her father is. Or riding a sphinx.