(Theme of Ogre - Street Fighter X Tekken)
(Knifepoint - Dead or Alive 3)
---
"
"I live and breathe for Karaba."
"
---
---
INTRODUCTION
---
"Berlioz Sarkozy from Byda, but my training unit's been calling me The Bull. Because I can run at people."
"...This is the serpent's place...right? I was supposed to be sent to some group after my training."
[
B A S I C S
]
Speech Coding:
['b'] (Without the apostrophe's.) [....Just bold it.]
Nicknames:
The Bull, Bell, Belli, Berli
Gender:
Male
Age:
27
Birthday / Sign:
May 12th / Taurus
Race:
Human
Origin:
Byda, in a small village named Peri.
Voice:
"You want to hear how I sound?"
Though deep, Berlioz's voice is a mimic of his mother's. Her heavy accent, shrilly whispers and thick roll of the tongue when sleepy was probably the only thing inherited by him.
Class:
Knight
Offensive/Defensive:
Offensive
Magical Affinity:
Medium. His mother was a fantastic mage but Berlioz has a difficult time tapping into that latent power. The only thing he can really do is expel it, which doesn't do anything besides transform his weapon and armor, and can knock a (very) weak person down to their feet.
---
---
PHYSICALITY
---
[
A P P E A R A N C E
]
Hair:
Thick, brown, dreaded hair. Smells strongly of cinnamon and grass and is usually pulled back into a bun.
Eyes:
Plain brown eyes. They can be sleazily thin when he's concentrating or manic wide when upset.
Complexion:
Berlioz's red-brown skin is radiant and mostly clean. He has small patches of acne around his jawline, but they only pop up when he becomes stressed.
Height:
5'9"
Build:
Constantly trying to bulk up his figure, Berlioz's body fluctuates from being heavily muscled on a slightly lean frame to a mostly muscled figure with a partly bloated stomach.
Weight:
210 lbs.
Body Markings:
His body always has at least one or two bruises from sparring and battle. But the two things that are permanent are the tattoos on the back of his hands. The left is the name
Yael
and the right is the name
Karaba
.
[
D E S C R I P T I O N
]
Straight-faced, seemingly aggressive and heavy with muscle, if people didn't normally move out of Berlioz's way, his footing eventually would. His heavy gait is secured by constant, conscious pressure being put into his feet, often leaving deep impressions on soft ground. This type of walking makes him appear like he is about to break into a run, which usually alerts people to step aside.
When he isn't wearing weights or armor, Berlioz likes to walk the streets with a sleeveless black shirt and spandex-like materialed shorts. Or any clothing that accentuates his deep muscling and sky-high buttocks. He says it's because it's comfortable. Yeah, right.
---
Moral Alignment
Neutral/Compassionate.
---
MENTALITY
---
[

P E R S O N A L I T Y

]
Mentally, Berlioz is excellent at one thing: Doing. If he sets his mind to it, he is capable of a wide-range of feats. Need to learn how to knit for Karaba? Expect blankets within a week. Broke his wrist? Time to learn some leg-based martial arts to keep himself primed. Outside genetic and mental limitations, there is little that Berlioz cannot do.
But just because he can do it doesn't mean it was the best course of action. Berlioz can be so focused on
doing
he rarely puts thought in
how
and takes whatever option is right in front of him. If a door is locked, he'll try to ram right through it, not even noticing the key on the table behind him.
On the emotional aspect, Berlioz is sensitive, intuitive and prone to self-depreciation. Most of the time, criticisms will go straight to his heart and he'll make it seem worse than what it really is.
Externally, what mostly everyone sees, is a calm and quiet man. When you say his shielding can use some improvement, he'll thank you for noticing and
then
return to his tent to mope about how he's the worst lancer the Serpent's Gathering has ever been cursed with. He's stubborn about hiding his sensitivity and will hold his tears for a painfully long time before someone sees him whimper.
The only time he breaks this facade is when someone compliments him. That's when he, unsuccessfully, tries to hide his boyish, full-faced smile.
[
F E A R S
]
Berlioz has constant anxiety of letting down the people he cares about. Well, the person he cares about. His irrationality is at it's highest whenever Karaba even appears to need something. If he can't sate her desires, it eats away at him and will likely send him into a self-harming depression.
*This fear will transfer to the SG members when/if he starts to enjoy their company.
Berlioz recently obtained a fear of having his ears burned off. Nidhogg scleras ain't nothing to fuck with.
[
Q U I R K S
]
He sub-consciously bites his bottom lip when he makes prolonged eye contact. Can be either suggestive or an anxious tick. It's usually suggestive.
Rarely forgets a name and face.
When he hugs someone, his arms go around the person completely and when he shakes hands, he uses both hands to encompass the other person's hand. He basically has oppressive physical touch.
When given unprovoked affection, he blushes and stutters for a few seconds.
Loyal to his gut feelings.
He trims his own eyebrows, and does other meticulous grooming.
[
E T H I C | V A L U E S
]
Though he prefers honest work, Berlioz is willing to lie, cheat and steal in order to get the job done. He is hesitant on killing outside of combat and will not kill innocent people. Yet for Karaba, he is willing to stretch his morality even further. And is even
willing to betray close friends and alliances
.
[
A G E N D A
]
Berlioz wants nothing more than to make Karaba happy and successful.
[
L I K E S
]
Compliments. Oh stop it, you~

Being read to. Berlioz can read on his own, but he prefers not to. If he puts his insecurities aside and asks you to read something to him, it's because you are special. Or just not a jerk.
Patient teachers. Berlioz knows he's a little slow. And if someone gets frustrated with him, he gets frustrated right back. Patience goes a long way with a bull.
Being thought of. Usually being the thoughtful person, Berlioz likes it when people say or do things that shows he was taken into consideration. He doesn't like to display his gratitude, but his manners won't allow him to not slip out a thank-you before hiding away a shy smile.
Bananas. No further explanation.
Bread. Cheap to buy and filling, starches are the staple of his meals and his guilty pleasure when he's on a diet.
[
D I S L I K E S
]
Uppity mothafuckas people. Berlioz worked for everything he had when his mother passed away. And Afua looked down on him being a child of a low-class working man. Being judged by anything but his actions deeply unsettles Berlioz.

Cold food. UGH! He'll even take his milk warm.
People who speak with uncertainty. He usually can't pick up why, so if THEY are unsure, HE is unsure. And then nobody gets anything done.
Delicate/easily harmed people. It's too much stress to be around people like that. The only exception is Karaba, who is hardly delicate.
Witty jokes. "What? I don't get it."
---
---
RATING SYSTEM
[Excellent] - ★★★★★★
[Strong] - ★★★★★☆
[Competent] - ★★★★☆☆
[Average] - ★★★☆☆☆
[Poor] - ★★☆☆☆☆
[Learning] - ★☆☆☆☆☆
[Scrub] - ☆☆☆☆☆☆
---
---
PROWESS
---
[
N A T U R A L | T A L E N T
]
Aptitude: [Strong] - ★★★★★☆ He can pick up sword fighting or archery if that's what was called for. He is like soft clay, ready to be molded into pretty much whatever, whoever sees fit.

Stamina: [Average] - ★★★☆☆☆ In and outside of the bedroom, Berlioz has a lot of energy to spend. He doesn't use it wisely, but he still has a lot. And he recuperates in a fair enough time as well.

Natural Regenerator: [Learning] - ★☆☆☆☆☆ A lot of small physical wounds are healed at an expedited rate. He won't be closing a cut on his back in combat, but after a day or so, it'll be completely healed.
[
C L A S S | S K I L L S
]
Chhaaarrrrge!: [Excellent] - ★★★★★★ Almost put into the Militia class for his ability to pick up any weapon with enough practice, his commanding officer immediately changed his mind when he saw Berlioz do a practice run through a group of men. With the surest of footing and the ability to gain tremendous speed within moments, he can easily knock down men much heavier than himself.

Strength Of Five Men:[Average] - ★★★☆☆☆ Ok, not really. But he does pack a punch! While he isn't exactly the best at one-on-one's, he can knock someone out with ease. As a knight, it makes his attacks punishing when his opponent makes any wrong moves on the field.
[
SPELLS | POWERS
]
Flux: [Learning] - ★★☆☆☆☆ Increasing variety with each star.
*Flux can be shifted into a throwing spear, losing 50lbs of weight, most of it's natural width and gaining 2 feet.
**Flux can now merge into his armor and form sharp blades jutting from the top of his wrists. The blades can be as long as 5 inches.
Fatalis: [Learning] - ★☆☆☆☆☆ Increasing variety with each star.
*The Fatalis armor can be shifted to weigh 10lbs more or 10 lbs less.

[
W E A K N E S S E S
]
One Track Mind: If you are going to point The Bull in a direction, it better be the right direction. His footing and weight doesn't allow for him to make sharp turns (or any real deviation from a straight line), so if he starts the charge, he has to come to a complete stop before going another way.

A Bit Slow: For someone capable of great things, he sure as shit doesn't show it. He's a slow learner and often needs to be spoken to slowly when given directions. And even then, repeating it twice is usually necessary.

Overkill: Exaggerated movements, over-extending on a charge and just overall lack of efficiency can tire him out faster than regular knights. What's the point of building up stamina if you can't use it properly? Yeesh.

Magicians: He can take the fireballs. He can take the icicle storms. But he can't withstand mental hexes and anything of the like. If there's a mage on the other side that specializes in mind control, Berlioz has little defense against their manipulation and will likely turn the charge on his own comrades. Best to keep him away from that type of stuff.
---
---
ARMAMENT
---
[
A R M O R
]
[
C L O T H I N G
]
Berlioz owns a special type of armor created with steel and parts of a Fatalis drake. It's enchanted to shift to his arcane energy and will. It (potentially) can be as light as chainmail or heavier than ogre bones.
[
I T E M S
]
Berlioz has two small, pink, heart-shaped earrings in his ears. They were a gift from Karaba when she was ten and naive about masculine jewelry and to the fact that piercings were necessary to wear earrings. (Not that it mattered to Berlioz, who immediately pierced his ears then and there to wear them. And proceeded to hide the infections that came after from her concerned eyes.)
Carries a bag filled with miscellaneous items. Current item of interest is Karaba's last letter to him.
[
T O K E N S
]
Anything done for Yael's grave, sent to Karaba, or sent from Karaba to let him know she's OK. A letter from her will revitalize him more than a fine meal, and sending her a necklace inspires him to continue making her happy.
[
P R I M A R Y | W E A P O N
]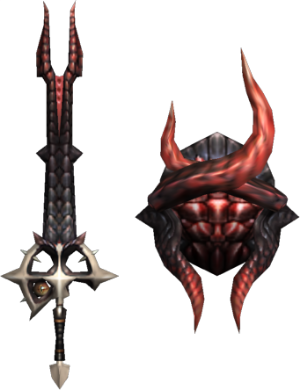 Weapon Name:
Flux
Weapon Type:
Enchanted lance and shield
Length (Lance/Shield):
12/4 Feet
Weight(Lance/Shield):
65/30 lbs.
Origin:
Created especially for him, just like his armor, Karaba enchanted his lance and shield to change their shape based on his magical energy and willpower.
---
---
BACKGROUND
---
[
M A R I T A L | S T A T U S
]
Single.
Sexuality:
Bisexual
[
F A M I L Y | T I E S
]
| Yael Sarkozy (Deceased) | [ 100 ]
They've been through poverty together and yet Berlioz remembers nothing but kindness from her up to her last years of living. She was patient and empathetic with his deep-sitting emotions and also fostered his independence and self-discovery. She will always be close to his heart.
A strained relationship when Karaba was first born, the two have come to love each other as the years went by. Though Karaba thinks and acts differently from Berlioz (and what he would approve of), it doesn't cause him to lose his big brother disposition. He overlooks most of her snarky attitude and attends to whatever needs she presents to him. And then some.
The pompous biological father of Karaba. While he finally came to accept Karaba as his daughter because of her renowned brilliance, he's always been critical and harsh towards Berlioz. The only reason Afua's alive is because Karaba would cry and probably scratch at Berlioz's face afterwards if he killed him.
[
O C C U P A T I O N
]
A bodyguard for whatever noblemen who needs protection at the time. His off and on work is supplemented by being a part-time merchant assistant.
[
S O C I A L | R A N K
]
Berlioz is a nobody. Anybody can replace him in his jobs and he isn't very influential in general. The acquaintances he have are usually friends of Karaba who live next to him, but he doesn't talk to them much.
[
O P I N I O N S
]
Berlioz isn't concerned with race or culture. If you treat him with respect and don't do wrong by him, then he couldn't care less where you came from or what blood runs through your veins. And though he is neutral about social standing and race, he expects others to be so as well. Racism, classism and sexism pisses him off, and any chance of being his friend is lost.
[
R E L A T I O N S
]
I'm grateful that he let me in and didn't make anything complicated. I don't have the patience to argue with the judge again. I could probably enjoy a date with him.
//
Seems to be protective of the orc women. I got the message, Bo.
//
I can confidently follow him into battle.
He looks at me weirdly. I think it's with disgust but I'm too thrown off by his hair to actually concentrate on that. I wonder if I can get my hair into a mohawk too.
| G r e t c h e n | [ 04 ]
Nice name. Strong and cacophonic. I like the way she turns up her mouth when she spits fire.
//
Don't spit that fire at me.
Teach me how to use that flail. Please. Or at least let me hold it.
//
Unnecessarily stingy with the flail. :<
Who? Oh, that guy. I honestly didn't know he was around 'til you pointed him out to me.
//
He fainted just by looking at Gretchen. I hope I don't have to babysit him.
Bless that tall glass of water. And the club she wields too. I'd ask if she'd teach me, but she might take it the wrong way.
//
Caught me staring. At both her legs and club. And then Bo gave me a look. I'll keep my distance.
He's alright. My guts telling me to not believe half the things he says, but I still like how he talks a lot. Could make for a good reader.
...Says the nicest things... *
sigh
*
//
She's dangerous. I can feel it in my gut.
Stares at me a lot. I want to stare back out of curiosity, but I'm afraid Bo might be creating a harem of the female orcs. The gallows isn't worth the flirt.
| A u r i l e i t h | [ 00 ]
I didn't know anything could be mounted except for horses. I'd like to hear about how she goes about taming beasts, but I'll be damned if I'm the one to break the ice. My luck with getting to know people in this group has been lackluster.
Very
pleasant to be around. I was a little thrown off because I can't understand half of what he's saying, but the parts I do understand, it's usually something shamefully honest or funny. Would never ask him to read something for me, but he'd make a fun sparring partner.
//
Has no regards for his safety. I like that.
//
Stop. SINGING.
Honestly? I think some of these elves are killers or something. I know it's wrong to make these assumptions without knowing a person but there's just something cold about his eyes. Arayel has the same look and it just throws me off. I hope they don't kill me :< , they walk so quietly.
//
Gods, what a voice. If he doesn't turn out to be a creep, I'd gladly ask him to read me any and every thing.
She's OK. She keeps staring at me and it's hard to stare back because she's got all that make-up on. Weirrddd looking female, honestly. But those card tricks are freaking neat.
[
B I O | H I S T O R Y
]
The story starts with the intelligent, yet sultry Yael. Born into poverty and ran away from home at the age of 13, Yael's life was filled with fascinating and horrifying events. Being almost sold into slavery, was twice close to dying from starvation, seeing the stars up close through a looking glass she created and then traveling across the country by enchanting wild mares she came across, there is nothing she hasn't done. Berlioz believes with all the stories Yael told him, he could make a big book out of it. And that's only with the tales she chose to reveal to her son. Berlioz still learns new things about his eccentric mother to this day, and most of the time, it's things he doesn't want to hear.
For the truth was, as fondly as he remembers her, Yael wasn't just some free spirit he originally thought she was. Nor was she wholly honest in all she told him.
His father, Jacques, wasn't a famous writer from across the seas. He was a guard in Rhiosa when they began courting and living together. He abandoned Yael when he found out she was pregnant, leaving her homeless and forced to return back to her hut in Peri. She couldn't leave the hut often, so she started to use her magic to invent things to sell out of her home. And it was probably the first time Yael gained popularity in a good light. Inventing and selling in the daytime, she spent her afternoons and nights teaching young Berlioz all she learned from traveling across the country.
While her inventions didn't sell for much, they still could afford to eat and maintained a good home, since Berlioz learned how to take care of the hut and even cooked at a young age to relieve stress from his mother's work day. Sheltered and secured in happiness, Berlioz spent the first 7 years of his life unaware that he was poor, let alone at the bottom of the social construct that was class.
But Afua made him well-aware of how little the world thinks of him. Afua Ibori was a well-known nobleman in Byda, who frequented the poor villages on the outskirts of the kingdom with his companions to amuse themselves with the lives of people from lesser blood. His snarky comments and upturned nose didn't affect Yael when he visited her in-home shop. She only looked at him with tired brown eyes and asked if he was going to buy anything. He lied and told his friends he wanted to buy land in Peri to build a personal garden, but he really continued to frequent that village because he'd never been looked at with such a nonchalant attitude before. And he was intrigued by Yael's simple beauty.
The nights where Yael would spend with her son was snatched away by Afua, who would come to her door a few hours after sundown and take her away until the morning. Worse still for the lonely Berlioz, he later begun visiting her in the day, often talking about proposals and his acres across the kingdom. He pretended to not notice Berlioz when the two were in the same room, and when they were alone, Afua would talk to Berlioz like he was an animal. A filthy, flea-ridden animal. Reaching the epitome of disgusting, Afua proposed to Yael a few weeks later, offering her a comfortable home for the rest of her life, as long as she threw out Berlioz and started a new family with him.
Berlioz was almost sure she'd say yes, as even
he
was tempted with all the things Afua promised to Yael day after day. He was happy that Yael turned him down, but a large part of him felt guilty afterwards. He felt like he was the reason his mother couldn't have freshly baked cookies every afternoon and floors that had wood to cover the dirt when you walked into the house. And when Yael bruised Afua's pride, the opportunity to change her mind was gone with him by the end of the day.
Determined to give his mother the life he'd taken away, Berlioz spent his days looking around the village to earn coin. He found work as a farm-hand and did all that he could to get as much money out of the day as possible. But his extra income didn't do much for their situation, because shortly after, Yael started to show in her pregnancy, something she tried to hide from both Afua and Berlioz. But this time, she didn't have the energy to invent or even leave the house. And suddenly, the slightly bratty, ignorant, home-schooled Berlioz mentally grew up at least 10 years past his time. He spent all day working to come home and take care of his mother.
When Karaba was prematurely born, Yael's weakness was amplified. She couldn't get out of bed and had to be forced to eat twice a day because of her tremendous loss of appetite. And though Berlioz had matured during the last year, he couldn't help but to harbor a small hatred for baby Karaba. Like Afua, Karaba's presence in Berlioz's and Yael's life was parasitic. The pregnancy made his mother weak and pushed them further into poverty, and her birth almost killed Yael. But luckily, their mother pushed through for two more years. When Karaba was able to form cohesive sentences, Yael succumbed to death, after making Berlioz promise he would take care of his younger sister.
For the next 7/8 years, it was hell. Berlioz had to put with the brattiest kid he's ever known, and had to constantly remember Yael's last words to not strangle his younger sister when growing up. If it wasn't trying to make her stay for her lessons in church, it was getting her to eat her vegetables. Which he worked all day to afford to put on the table and then properly cook. When Berlioz was on the brink of giving up on being a guardian, Karaba was kidnapped by a few slave traders. Berlioz only found out about it when she was missing for two days straight and searched all over for her. He found her and a few other young girls a few villages away from Peri and went to town on the scumbags who managed to trigger The Bull's temper. He freed all the girls but didn't stick around for the recognition, he just rushed home to give Karaba the spanking of a lifetime for not coming straight home after her lessons and also grounded her for a whole year.
Thankfully, Karaba's attitude changed. She was still a brat, but she was a sensible brat. And she gained respect for Berlioz. Their tense relationship slowly eased into something less taut and more loving. While Karaba became more focused in her education and developing her natural talent for inventive magic, Berlioz helped her get into a distinguished mage academy in Rhiosa and helped her afford the trip there. And like a cruel irony, it was when Berlioz finally came to the point when he did things for Karaba because he wanted to and genuinely loved his sister (and not because he would hate to go back on his promise to Yael), was it already time to send her away. This course of actions intensified Berlioz's love for Karaba. His pent-up hatred was assuaged, they were finally coming out of poverty and she was the central focus in his life.
So with all that love to give and only letters to express it, Berlioz often teetered on the brink of mania when it comes to his beloved Karaba. Such as when she had her first bleeding, her first suitor (followed by a never-ending trail of lovers), her finding and connecting with her 'long, lost' father Afua, and when she told him one of her male companions slapped her when they got into an argument.
A few days later, he was in Rhiosa and attempted to take the same man's life. Come to find out, he was a wealthy nobleman, and always traveled with bodyguards. Stupidly enough, he still attacked the carriage, attempting to fight four men at once with just a dagger to get revenge for his sister. He barely lost the resulting fight and was taken to court. What would have been an open and shut case was salvaged by Karaba and one of the bodyguards whom Berlioz had attacked. While Karaba argued that he could do community service, the bodyguard offered to put Berlioz's strength to good use and send him to the Serpent's Gathering. The judge finally agreed and sentenced Berlioz to do basic training at a Silver Knights camp and then become a member of the Gathering.
Only to find out a week later through a coded letter that Karaba poisoned the man and he was going to die soon. So he was 'a stupid oaf' for thinking Karaba wasn't capable of defending herself. A little annoyed with his own hot-headedness but grateful things didn't turn out for the worse, Berlioz is ready to do what he needs to do to get back to his normal life.
[
F L A G S
]
Karaba's Greatest Invention!:
Karaba is always in need of coin. But this time, it's for something big; She wants to create a device that can help people fly short distances! What use does that serve? Berlioz has no idea. But he wants to help however he can. He needs to find a way to get a lot of money to his beloved sibling!