---
"
There's so very little that's worth my time.
"
---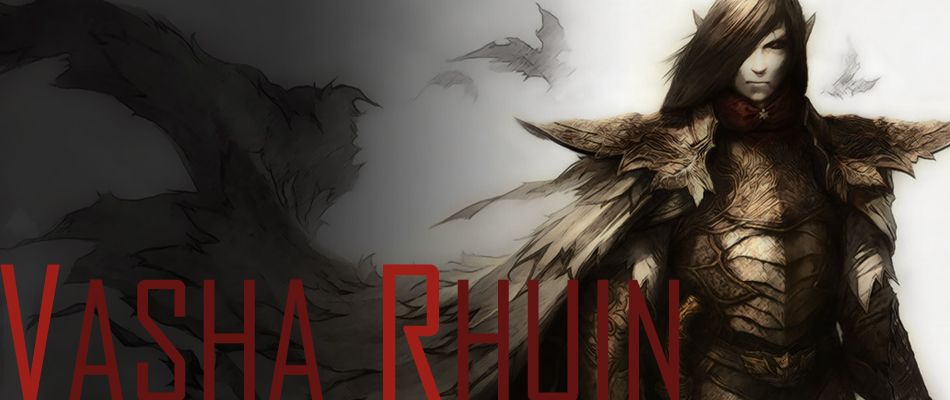 (V-aw-sha) (Ruin)
---
INTRODUCTION
---
"Vasha. Beyond that you'll have to work for."
"Saving people. That's as good a motivation as any, right?"
[
B A S I C S
]
Nicknames:
The Blood Phoenix, Vash (V-aw-sh)
Gender:
Male
Age:
68
Race:
Elf
Origin:
Rielorn
Voice:
Low and lumbering
. Vasha's voice is one that crawls like a spider and caresses like a piece of lush silk. He's always had a habit of speaking a little slow, likely because he doesn't want to expend the effort of speaking faster. Most don't seem to mind though (in fact some quite like his drawl) so he's never thought to change his speaking patterns.
Class:
Cavalier, though he has been offered a higher class. The watchers were furious when he refused.
He has his reasons.
Offensive/Defensive:
Offensive
Magical Affinity:
Medium, though primarily for only one type of spell.
---
---
PHYSICALITY
---
[
A P P E A R A N C E
]
Hair:
If Vasha actually took the time to take care of his hair, it would have been a silky and beautiful jet black. As it stands, he washes it just enough so that it doesn't start to stink and hasn't cut it in over ten years (resulting in a length down to his mid back). Luckily, he was blessed with thin, glossy hair so it hardly ever knots. His hair
has
, however, taken to grouping into pseudo dreads, much to his mother's disapproval.
Whom he may or may not see on a regular basis.
Eyes:
Vasha's vibrant, reddish brown eyes are nothing out of the ordinary at first. Direct a bit of sunlight in them and they glow like fire - casting an unearthly image. Vasha is not aware of his terrifying sun bro self and finds it odd that so many avoid him during the day.
Complexion:
Olive and tanned. Vasha has spent many a day out in the sun.
Height:
5'9"
Build:
Sinewy and lithe, like a panther. Seemingly no part of his musculature is wasted or inefficient - he has just the right amount of muscle to perform and no excess.
Weight:
180 lbs
Body Markings:
Vasha's body is absolutely
littered
with scars. In some places, it's difficult to even differentiate where virgin skin is. Most of the scars are underneath clothes (on his stomach, back, legs etc.) but there are some creeping down his forearms and a couple on his neck. A nasty one looks like it split his left hand right open. Surprisingly, no tattoos. Vasha believes that with the amount of abuse his body receives, the tattoos be obsolete - they would be marred and indecipherable within days. Plus, he doesn't really like tattoos.
[
D E S C R I P T I O N
]
Yup,
definitely
don't want to piss that guy off. Vasha intimidates most people, though not through any effort of his own. Almost always serious, his face is set like silicon. Sometimes, he'll remain still for long stretches of time and the only way you can differentiate him from sculpture is by the way his eyes slowly blink. Lounging is his favorite past time as he finds that he's hardly ever bothered, something he values greatly. A large, lazy cat is not a far off metaphor for the elf.
Though decidedly not tall, it is hard to ignore Vasha's presence in a room. An air of confidence follows him wherever he goes and he is never one to slink into a corner. He holds himself with good, if not perfect, posture, shoulders back and upright. Unlike most elves, he is not graceful but does have a fluidity to his movements that make him undoubtedly elvish. Elvish beauty is not lost on him either, a great boon that he appreciates (considering how many women he's gotten into bed because of it). Predatorial and assured, there is a dangerous allure to him that has been the undoing of many.
When out and about, there is a thick barrier around him that says 'FUCK OFF' in bright red letters. Difficult to engage and even harder to truly entertain, one might think that Vasha would be
forever alone
. And yet, when his party goes to the bar, he does too. When the group sits around the campfire, he finds himself a seat within the circle. When someone starts talking to him, he actually attempts to hold the conversation
until it becomes too boring that is
. Vasha doesn't hate people, he just often finds them not worth the effort.
When one does get the mask to slip, Vasha's sincerity is a coin toss. Sometimes he will be heartfelt in his expressions, a true laugh, an unrestrained smile. Most times his expressions are shallow and fake, his smile not quite meeting his eyes.
---
Moral Alignment

CHAOTIC | NEUTRAL
---
MENTALITY
---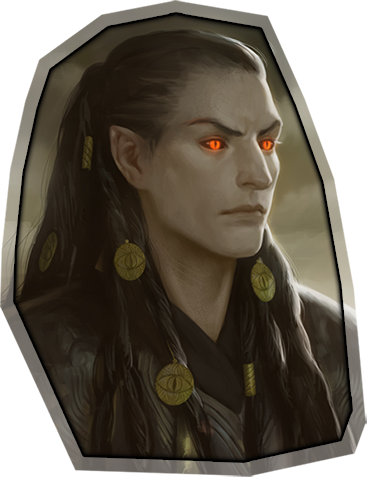 [

P E R S O N A L I T Y

]
It's all a balancing scale for Vasha. Ruthlessly pragmatic, everything must have its reason. Often times, Vasha will have an unorthodox justification for his actions, caring little for morality and more for the end goal. The ends justify the means. Vasha believes the world is broken in many ways and needs to be fixed, the pestilence only being the most recent issue. Add this cold calculation to the fact that he's rather apathetic and you have a man that rarely takes initiative in matters that he deems
unnecessary
. Hobbies? Unnecessary. Proper Hair Care? Unnecessary. Friends? Unnecessary.
Emotions are difficult to express for Vasha. Certainly, he understands what sadness means. He recognizes anger and happiness. He even has a knack for saying things to illicit a specific emotion from someone (though he rarely does, waaaaay too much effort). But when it comes to experiencing these feelings himself, he finds that they are either muted or contorted in comparison. Sometimes when he should laugh, he feels like crying. When he should be crying, he laughs. To be honest, this scares the ever living shit out of him and that fear is the only reason he isn't a complete sociopath. Remarkably, Vasha can grow to care for someone. It takes a lot of time and a lot of patience on both ends, but Vasha
can
be a compassionate, loyal companion, if unduly blunt and insensitive. The only people to gain this relationship so far are his mother and a friend long since dead.
Born with a genetic condition that numbs his sense of touch, Vasha craves physical over-stimulation. He particularly likes hurting others (vicariously experiencing pain through them) which has manifested into a sadistic personality. Finding that very few take enjoyment out of pain, he saves his sadism for the battlefield. Even there he must be careful given how many strange looks he's gotten from comrades when he started torturing someone on the edge of death. But when he does have the opportunity to indulge his darker side,
oh boy
is he going to make them
hurt
.
[
F E A R S
]
Himself and what he's capable of. Most of the time, he ignores the burning need to
destroy
that floats around in the back of his mind. Otherwise, very little fazes Vasha. Grotesque creatures, the dark, the black ocean, the unknown? Fight me. He happens to be hyper allergic to bees though and can't stand them. The stoic, silent Vasha will flip the fuck out when a yellow and black
devil
comes anywhere near him. He fears love but only because of all the emotions, he understands love the least. Due to his genetic condition, he also fears not being able to feel anything physically and will seek out ways to remind himself that he still exists.
[
Q U I R K S
]
Loves being naked. The fewer clothes the better. No modesty either means that he has had quite a number of awkward stare downs (literally). Vasha, if allowed, would do everything naked (well maybe he would cover up some bits when fighting).
Has a tendency to mindlessly touch the outer part of his left thigh. Although most of his body is immune to soft touches, there are a couple of spots on his body where this is not the case. The aforementioned is one such instance. When Vasha begins to panic because he can't feel anything, he will seek out these spots, caressing them to calm himself down. Over time it became a subconscious habit.
Comatose. Of all the people he has met, he sleeps the most. If nothing aroused his interest, he would likely sleep with no regard to his bodily needs. Luckily, there are still many things he enjoys and desires to pursue, even if they aren't the most noble of endeavors and generally are at the expense of others.
Can be competitive randomly, almost as if by mood. Secretly beating them in his mind, his opponent is completely unaware any competition had begun.
Shallow breather. Vasha tends to breathe in his throat and will sometimes stop breathing all together for minutes at a time. It's not known whether he does it on purpose or if he just forgets.
Artificial people bug him terribly as with his already low social intelligence, dishonesty makes emotions even more difficult to understand. Hypocritically, he seems to have no issue with lying and being artificial towards others.
Growing up, Vasha was taught courtesy towards women. Though he uses them only for sex now, he still treats them with respect, holding doors open and taking the burden whenever possible.
[
E T H I C | V A L U E S
]
There are very few things Vasha wouldn't consider doing. Rape, physicially causing pain to someone that isn't an enemy or wouldn't want pain, and emotionally hurting someone deliberately are probably the only three. He's not above betraying someone, lying, stealing, torture (which he's very fond of), senseless murder, etc. etc. Paying off your debts is the only value he holds sacred.
[
A G E N D A
]
Vasha doesn't entirely know what he wants to accomplish. He knows that he has needs (eating, sleeping, fucking, etc.) and likes to fulfill them but hasn't had the passion for a dream or goal take place yet. He chose the Serpent's Gathering for freedom (
maybe expecting to be able to fulfill his sadistic nature as well
) and the ability to start making choices in his life. Most likely, he will find some extreme unorthodox idea and pursue it once the pestilence has been defeated.
[
L I K E S
]
Paper Cuts: Or maybe more like deep, thin slices made from the assortment of knives that he carries with him. Vasha enjoys pain and likes to carve interesting designs into his skin. Due to his regenerative ability, the wounds heal fast and leave a much smaller scar because of it. Vasha likes to think that his form of knife tattoos are far more elegant than the tattoos of the rest of his race.

Intoxicants: Keeping his own demons at bay is hard work. Alcohol and other drugs makes it considerably easier. Vasha has built up an impressive resistance to alcohol and as such is often the last man standing in a drinking contest. When drunk (which is rather hard to achieve) Vasha tends to talk about unorthodox, controversial issues that have gotten him in many a fight. He is not an angry or violent drunk however, instead becoming his own twisted form of social butterfly.
Carnage: Blood, guts, carcasses, you name it, Vasha is a fan. His appreciation of carnage lies in how fascinating the innards of once living people are. Dissecting is a rare hobby that he humors, finding dead animals to experiment on and learn from.
Flickering Flames: One of the few things Vasha considers beautiful, he loves the pulsing tongues of fire. When gathering around a campfire, Vasha will sit long into the night, in rapture from the give and take of the flames. He can be a bit of a pyromaniac, starting fires even on a scorching day. Youll often find torches and candles on his person. Lighting them spontaneously, Vasha will wave his fingers through the fire, burning himself.
The Stench of Burning Things: A follow-up to the aforementioned fire worshiper, Vasha likes the smell of burnt things. Keyword burnt here, not cooked. Vasha will collect various herbs and plants to test out what kind of smell they make when burned. Over time, Vasha became skilled at picking herbs and plants that acted as pleasant smelling incenses.
Leaving the Nest: Vasha's mother has always been suffocatingly overprotective. When she realized that he was.. unique in comparison to the other young elves, she knew that he would have a rough childhood. Even though he is fully grown now, she still fears for him as he never truly adapted to Elvish culture. Vasha is grateful for all the attention his mother gave him but also believes that it is time she let him go.
Background Noise: Having too much alone time is bad for Vasha. His mind slinks into a dark never ending hole that becomes more attractive the farther he falls. So he goes to parties. Funny to think that the sound of drunk cantankerous fools would be the rope that hauls him back up.
Metamorphosis: Butterflies are inspirational to Vasha. Although he cares nothing for the bug's beauty, the way it got there is profound for him. A being inferior in all ways, weak and vulnerable, undergoes a transformation to attain the ultimate freedom, flight. Suffice to say, Vasha is a fan of both change and independece.
Space: Stars, the moon, and the galaxy. All childhood wonders that made him stay awake at night with possibility. He particularly likes to invent stories for each sparkling dot in the sky.
[
D I S L I K E S
]
Maudlin People: Efficiency is a core part of Vasha's personality. Anyone that doesn't at least try to make the best use of their time frustrate Vasha to no end. He'll never understand why people keep so many memorials of times past or why one goes out of their way to visit a specific spot of personal significance. You should cut out what is no longer present, sever all ties to things that serve no purpose any longer.

Fuck Chocolates: Vasha hates sweet things. They almost taste sour to him. On the flip side, citrus fruits taste fabulous, like little god fruits. This taste bud anomaly might very well be another genetic mutation from his birth.
No Drool, Thank You: Babies should just grow the fuck up. Disgusting saliva-y smell, they shit all the time, and they wail like ghouls. Vasha wishes that all the races would stick their little brats in an enormous cellar and let them out when they become adult-sized. That way, they would be less of a hassle on the rest of the world. Vasha doesn't understand how ridiculous this sounds and will readily argue about it.
Social Customs: Another inefficient and meaningless part of self-conscious beings that should be eradicated. What good does tradition do really when all it does is celebrate the past? The future is the only time that truly matters.
Stupid Oversensitive World: Ahh, you pesky emotions. Always fooling and tripping up Vasha. Contrary to what most might believe, Vasha doesn't want to be a social dunce. He doesn't want to hurt people's feelings or cause pub brawls. When you texted him DAYS AGO and he STILL hasn't responded, he doesn't understand that 'No, I'm not mad' means that indeed, you are very mad.
Bees: He would be more content surrounded by children honestly. And Vasha hates children.
---
---
RATING SYSTEM
[Excellent] - ★★★★★★
[Strong] - ★★★★★☆
[Competent] - ★★★★☆☆
[Average] - ★★★☆☆☆
[Poor] - ★★☆☆☆☆
[Learning] - ★☆☆☆☆☆
[Scrub] - ☆☆☆☆☆☆
You have a limit of 20 stars.
---
---
PROWESS
---
[
N A T U R A L | T A L E N T
]
Snake Movement: [Strong] ★★★★★☆ Without a shield, a cavalier is half the soldier, his master used to tell him. But Vasha refused to pick up a shield, saying it slowed him down. Over time, he perfected his natural affinity for dodging. It is uncannily difficult to hit this elf. He'll deliberately trick you into thinking you've learned his feinting patterns and then change it up at the last second to deal a mammoth counter strike.
Sadism: [Average] ★★★☆☆☆ Vasha is careful not to show his sadism too much - he learned that early in his career. But the person on the other side of his blade can feel it. The barely contained excitement, the frenzy, the complete lack of fear in his eyes does a lot to intimidate. If not careful however, his allies will pick up on his sadism and may lose trust in him depending on the strength of their relationship.
[
C L A S S | S K I L L S
]
The Patient Kill: [Strong] ★★★★★☆ Given his natural ability to dance around an enemy's blade, Vasha can take his time. Religious training of body make-up as it relates to strength, endurance, etc, gives Vasha knowledge of an opponent's weaknesses. If faced with an unfamiliar opponent, Vasha is able to actively analyze their fighting style and make quick, snap judgements on how to defeat them. This can result in him losing a fight badly at first and then exponentially gaining the upper hand. Wearing down his opponent is usually the best strategy but when he's pressed for time, decades of training reveal the ideal time for a quick, lethal riposte.
Mail Breaker: [Learning] ★☆☆☆☆☆ Never a strong suit of his, cavaliers are trained to be effective in combat against heavy armor. His favor for light, pointy weapons make winning against an armored unit a dubious proposal indeed. While he can find gaps in armor and successfully kill his opponent, the amount of time required to do so will take a lot of endurance. To remedy this, he's started to carry around a deadly mace to break through steel. He's still pretty god-awful at it tho.
[
SPELLS | POWERS
]
Regeneration: [Competent] ★★★★☆☆ Vasha's signature ability. While most of the time his evasive stance is sufficient, there are times when he can't weave in a lethal blow. The ultimate winning move is to trick his opponent into thinking they have the upper hand. Faking heavy breaths, purposefully dodging slower, making the opponent see blood and then letting them sink their blade deep into his flesh. The victory! They think. I've beaten him! They cheer. Only for Vasha to stick his saber deep into their neck, pushing them over, pulling out their weapon, and immediately healing his gaping, blood-spurting wound. Important to note, his regenerative ability is not all-encompassing. Healing a fatal wound takes a lot of energy and will decommission Vasha for a few turns or until a healer helps him back up. He can't heal blows to the heart or brain and he can only massively heal once or twice during battle (depending on how much energy he has used). Outside of combat, small wounds heal very fast - it's hard to ever spot a bruise or scratch on Vasha.
Wound Transfer: [Poor] ★★☆☆☆☆ A new technique Vasha has started to develop, he can take the damage his body has suffered and transmit it to an opponent. He has yet to experiment thoroughly and doesn't understand how it works but suspects that he can inflict damage on himself as a way to inflict damage to the opponent. Given the fact that his body is healed less and less effectively by his heals (the heals are rather like a drug in late stage addiction and are reaching a threshold past what his body demands to get his 'fix'), Vasha hopes that this new spell will make up the difference.
[
W E A K N E S S E S
]
Reckless: Vasha's greatest strength and greatest weakness. Also what cost him the life of his dearest friend, not that he has that many of those. While the first side to show aggression generally wins by putting the opponent on a back foot, a well trained group that performs a counter engage could easily destroy Vasha. His proclivity for putting himself in harm's way, although often beneficial, could spell out disaster if he does not plan out how much damage the opponent can do.
Insensitive: "Your mom was a whore, that's why she died in an alley. I know she died yesterday, doesn't change the fact that she was an idiot." Vasha has no sense of when to respect people's emotions. To him, the truth he sees should be discussed, no matter whether that truth is legitimate or not. Generally, it would be a bad idea to go to Vasha for support. In the rare case where he knows you well and cares about you, he will tailor his responses to be more supportive and offer his shoulder up for tears. Still doesn't make you feel much better though.
1v1 me Bro: Great versus one person, terribad against groups. Vasha excels in duels as his natural abilities allow him to almost always get the upper hand. In groups, the individual disappears into the throng and finding an advantage is more difficult for him, if not impossible.
Daft: Yea, he's not gonna notice your fluttering eyelashes and subtle flirts. Nope, he doesn't know what that wink means either. Using a double entendre to tell him to remain cool in a threatening situation? And there he goes, punched that guy right in the nose.
Those Guns don't Look Very Strong: Vasha isn't strong. He isn't weak either, but he certainly isn't known for those smaller than average triceps. Vasha is of medium physical heft - he would win just under half of all arm wrestling matches. As such, Vasha doesn't rely on his strength. He relies on the enemy's weaknesses and finding ways to handicap them further.
---
---
ARMAMENT
---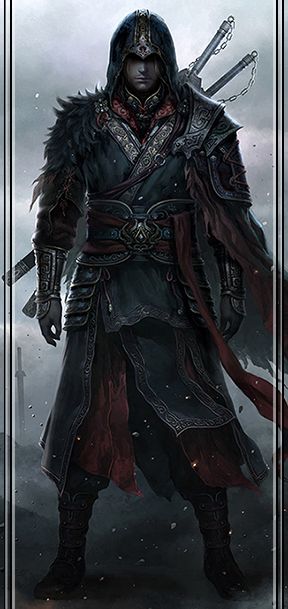 [
A R M O R
]
Something functional is what Vasha goes for. Light armor that he can move around freely in and doesn't weigh an arm and a leg. A set that he picked up a while back has become his favorite though he wouldn't be remiss if he had to use a new one. Generally speaking, hard leather with steel in select places (heart and lungs, groin) is all he needs. For the areas of his body that are sensitive, he applies another layer of steel protection underneath.
[
C L O T H I N G
]
Dark clothing for one. Crimson colored accents even better. Usually Vasha wears a black or burgundy tunic, an ornate leather vest (the most valuable thing in his possession as a family heirloom), dark colored pants, thick boots, and a blood red scarf.
[
I T E M S
]
Malleable objects to destroy at a latter date (candles being a favorite), all the customary adventuring and soldier equipment, letters from his mother, a coin pouch, and sharp, slender knives.
[
T O K E N S
]
[
P R I M A R Y | W E A P O N
]
Weapon Type:
Saber
Length:
3 feet
Weight:
Very light
Origin:
Given to him by one of his first masters, Vasha proved way more effective with a light weapon than the traditional straight sword. As time passed, Vasha started to carve designs in the blade as he conquered particularly tough enemies.
[
O T H E R | W E A P O N S
]
Weapon Type:
Mace
Length:
4 feet
Weight:
Heavier
Origin:
Knowing that he would need a weapon for an enemy with armor, Vasha picked up a mace as well though he's no where near as good with it as he is with his saber.
---
---
BACKGROUND
---
[
M A R I T A L | S T A T U S
]
Single and mostly heterosexual as he's never found a man he was sexually attracted to. Although Vasha prefers one-night stands or fuck buddies to all else, he is 'romanceable'. Just be prepared for one hell of a ride. Both metaphorically and literally speaking.
[
F A M I L Y | T I E S
]
"No, I don't still live with my mom." If Vasha is capable of love, he loves his mother. The only person that was never afraid of him, no matter how dark he got, who accepted him despite his own inability to do the same. She helped him to understand what he was and how to adopt his behaviors so that he could function in society. As her only son, Onitiel took to obsessively watching over him, especially because of how
different
he was. Onitiel forced him to go through lessons on what to do in each social scenario as she knew that her son would have to fake it in order to remain unsuspicious. It was a long fought battle against the oversight of the watchers, but she succeeded. They still talk regularly and Vasha feels homesick if he doesn't hear from her or see her every few days.
"Who?" Vasha refuses to think about or talk about his father, even with his own mother. Thanos used to be a good man, a good cavalier and a good husband. But something started to go wrong in him after he came back from one of the nastier wars elves had seen. Suffice to say, the man had a long way to fall but fall he did.
[
O C C U P A T I O N
]
A commander for the elvish army, Vasha was praised and feared. His unique fighting ability and unorthodox methods consistently delivered success with the fewest lives lost. His men were loyal to him, he was on the up and up, and life had never had more luxuries. Too bad he hated every second of it.
[
S O C I A L | R A N K
]
Born into a well respected family, Vasha is about as well off as any other elvish citizen. Through his military experience, he gained a fearsome reputation as being unstoppable and was quickly promoted to a high rank within the elvish army. Many relied on him for his knowledge of various enemies and his endless patience for the right moment. Currently, Vasha is undefeated as an elvish commander.
[
O P I N I O N S
]
Humans: "Obnoxious." Humans are loud. And fairly stupid. Vasha agrees with his society in that humans need to guided, though he doesn't think that should be his job. Humans do encourage free will though and that is something Vasha envies greatly, no matter that most individuals he meets are completely idiosyncratic.
Elves: "By far, we are the most effective." Elves are what he knows best and what he's generally most comfortable with. There are many things he disagrees with as far as elvish culture is concerned but he also recognizes their brilliance in comparison with other races. For example, he hates the forced specialization his society practices and yet elvish goods and services are the best the world over.
Orcs: "Stronger than humans and even more tradition that elves. Greeaat." Of the three races, Vasha likes Orcs the least. This is most likely born of unfamiliarity than anything else.
The Pestilence: "Needs to be stopped but a fun diversion nonetheless." Vasha was getting sick of the monotony of elvish life.
The Serpent's Gathering: "My new best friend." The Serpent's Gathering is the perfect escape from the elvish military as far as Vasha is concerned. Being a leader, though Vasha was good at it, wasn't something he enjoyed. Continuing forward, Vasha will try his utmost not to piss anyone off within his new sanctuary, as impossible as that goal might be.
[
R E L A T I O N S
]
"Do you think his face will freeze that way?"
Laughs too much, smiles too much, and something about his constant cheer makes Bo seem suspicious to Vasha. As long as he minds his own business, Vasha won't hold it against him. His traditional roots are another matter entirely. Vasha may not be able to help chastising him for his wasteful principles. He'll try to avoid doing that considering that the orc is responsible for getting Vasha out of Reilorn.
"He has a prickly stick up his ass."
Adriel is high maintenance and contradictory. His hatred of humans is illogical and melodramatic. In fact that's the perfect word for Adriel, melodramatic. Definitely has a flair for theatrics, that one. Ridiculous hair is ridiculous. Vasha does respect his work ethic though, believing the elf to be competent - as all elves should be. The fact that he's blunt and always speaks his mind is another trait Vasha appreciates.
| G r e t c h e n | [ 35 ]
"I like a woman that knows what she wants."
And she'll get it. Vasha notices that many others in their party hate the woman but he gets her (certainly more than they seem to). In fact, she's quite like him in some ways. She gets the same twitching annoyance when faced with intricate emotions and craves the same primal destruction. Maybe he can find a kindred spirit out on the battlefield. If not, he'll just stay out of her way and hopefully she'll stay out of his in return.
"A giant dandelion. Not the ideal combination."
Such a hard exterior only protects his mushy gushy innards. Like an insect. Vasha doesn't have much of an opinion for insects. Especially religious ones.
"Broken."
He's even more fucked up than I am, poor fuck. Someone either needs to stitch him back up again or put him out of his misery.
"Delightfully un-orcish."
Vasha likes Laetya. Not too orcish in terms of culture, assured, and one hell of a warrior. Whether it be that quirk in her eyebrow or the sexual energy she has around her, Vasha wouldn't mind
experimenting
with her.
"Fucking annoying."
Vain, egotistical, and always talking, Vasha wishes he could use the man as bait during their next battle. Maybe throw his comb into a horde of enemies.
"Go-getter. I like that."
Berlioz's actions speak volumes. Even if sometimes his methods aren't the most effective. Vasha figures that a little constructive criticism will fix that right up... wait why did he run off to his tent?
"Much too kind."
If not for her outright
girth
and lovely face, Vasha wouldn't have paid her much mind. He doesn't really understand why she's so mouse-like, considering her appreciable strength. Reminding him a little of Ninelyn, he hopes that her sweetness won't be her downfall.
"Think she'd want to join my dissecting outings?"
She likes to kill. Vasha can see it in her eyes. That fact alone excites him. Maybe they can find other things in common.
| A u r i l e i t h | [ 2 ]
"She's hiding something."
Vasha can tell that she is deliberately holding something back but he can't tell what. The curiosity is driving him mad so he has started to follow her around when he knows that she is distracted by other things. He won't rest until he discovers her secrets.
| I l l e r e n | [ -65 ]
"Elf-baby."
Illeren is a child. Impulsive and foolish. Vasha doesn't see the two of them getting along.
"..."
Vasha's opinion of himself is pretty much dead nuetral. He doesn't like himself but he doesn't hate himself either.
[
B I O | H I S T O R Y
]
The flat at the top of the tallest tower in central Reilorn - that was Vasha's home. More houses were stacked on neighboring towers as each year passed but not one ever reached the height of the Rhuin abode. Their star high position was something of a gloating right for Thanos and Onitiel - it was literally the best seat in the city for star gazers. Among the lush green trees that billowed out, blotting the sky, a few canopies had yet to flush out completely, letting the actual sky peek through. During the day, the sun bathed the underbrush beneath the tower of Onitiel and Thanos, breathing life and vibrancy into the small patch of wildlife. Young elves and elders alike would gather and enjoy the warmth of its rays, playing childhood games and enjoying a good book. But the true beauty of the Rhuin residence had yet to come, revealed only as the sun bowed under the horizon. When the moon was framed just right in the hole of the canopy, brilliant stars weaving a dappled carpet of light across the oak boards of their patio.
Vasha grew up with these stars. First as a young toddler that thought they were magical glow-in-the-dark paint and then later as an adult that longed to find the answers he was looking for within them. He sure as hell hadn't found them so far.
But back to Vasha's childhood. Early life should have been a breeze for Vasha. His family was well off considering the socialism construct of Elvish society and they were respected and loved by the community (throwing star-gazing parties played no small role). Plus, both parents loved him and provided all the support he needed to become a "dutiful elf". His father, Thanos, desired that much more than his mother did, caring perhaps a little too much for honor than his own son's well-being. As a Cavalier, Thanos was rarely present during Vasha's childhood. Always away on some 'duty' or another, he never noticed how odd his son was, never present for the strange things little Vash would do and say. Like that one time that he tore a frogs legs off (out of curiosity) and then asked his mother why it wouldn't move anymore. Or that one time that he convinced a playmate that the water he drank was slowly burning him from the inside (Vasha could have sworn this was true but in reality had drank a bottle of liquor and confused it with water). No matter how she explained things, Vasha wouldn't understand. Death was by far the most difficult topic, especially in how destruction relates to the death. Many a frog, rabbit, and squirrel died to Vasha's 'experiments' before she finally managed to make him understand - but not in the way you would expect. She had to contort the truth and bend it to Vasha's world. "If you experiment too much on something dear, you won't be able to experiment on it anymore. There are only so many ways you can twist and tear before a creature will die."
The greatest lesson of death came when Vasha almost lost a person, not just an animal. Vasha had few friends growing up and even fewer when he reached adulthood. Ninelyn was one of the few, finding Vasha to be absolutely hilarious. Vasha never understood how he was so comical but loved that for once, he brought joy and not frustration. The two were quite the pair, running around causing all sorts of mischief. The great bread heist was performed by them (Vasha said that the people of the village were getting too fat and that he needed to give back to the frogs since he took away their parents - the villagers found a small tower of rolls stacked outside a pond ) as well as other various 'mysteries' heists (Vasha had yet to learn what property meant and persuaded Ninelyn that it was ok too). This time, Vasha was ambitious. He wanted to break into the gryphon stables and steal a gryphon to keep in his home. As darkness fell on the village, Vasha and Ninelyn crept out of their homes, sneaking past the guards into the stables. When they saw the impressive beasts, Vasha enraptured and Ninelyn secretly scared, he changed his plans immediately - there was no way a gryphon would fit in his tiny room! Riding them instead would just have to do. He let Ninelyn go first (remembering his courtesy lessons from his father) and closed the gate behind her. Ninelyn had never been more scared in her life, trying her best to gather the courage she needed. She failed however, panicking and crying to be let back out. The Gryphon had been startled by Ninelyn's fast movements, its head cocking back into a predatorial stance. As Vasha looked into the glint of the Gryphon's eyes, the predator within him answered back. He turned to Ninelyn, her terrified expression, the snot running from her nose, and he locked the door. Vasha wanted to see how the Gryphon would react, to learn from it. Ninelyn's eyes widened at the click, searching Vasha's face for the reason why. But he just stared back, empty and cold.
If not for the guard that heard her wails, Ninelyn would have died that night. They found Ninelyn lying in Vasha's lap, the gryphon enraged by its prey's escape. The girl had passed out from gushing wounds and the boy, with comparable gauges in his own body, weeped again and again, "I didn't know, I didn't know." Luckily, Ninelyn survived her wounds. She never spoke a word of how it happened, not how Vasha had locked her in and not how after the first attack, he had rescued her, almost dying himself. She knew that he was broken, that he was dangerous and unpredictable. She knew he would only bring more trouble. But she trusted him. She loved him.
Vasha hated himself for what he had done to Ninelyn. He finally understood that there was something dark and twisted within him that needed to be constantly monitored. His blood debt to her was one that could never be repaid. But he could at least swear to protect her for as long as she lived. Thus an unbreakable bond was born.
The horrible affair wasn't all bad though. Vasha learned that he had an affinity for healing magic as his body regenerated wounds abnormally fast. He also had some kind of disease that made his body numb to pain. Onitiel always knew that her son was insensitive (both emotionally and physically) but never thought that it could be on this large a scale. After he had healed completely, she tested his entire body and found places where he was as sensitive as everyone else but those spots were few and far between. In fact, it seems that the regeneration had made his condition even worse as Vasha started to have panic attacks on a regular basis, claiming that he couldn't feel anything. Onitiel created coping strategies for him, such as making him aware of the sensitive spots on his body, teaching him meditative techniques, and practicing distracting mechanisms. Vasha adopted a self-mutilation tactic that worked when the other techniques failed. His mother hated that he did this, pleading that he would do it rarely if ever. To avoid bringing her pain, Vasha never did it in front of her, using a thin knife that didn't leave a scar. Over time he got addicted to it, loving the feeling of the numbed out pain. Unfortunately, it never lasted long as his body immediately regenerated the wound.
It was right around the time of his young adulthood (20-30) when his father came home from a nasty series of skirmishes. He came back significantly different, despondent and irritable. It got worse when he was suspended due to mental health issues. The irritability became anger and the anger became violence. He started to lash out at the nearest target, usually his wife. Chosen for cavalier training about 10 years back by the watchers, it took Vasha a while to learn what his father had turned into. He would see the bruises and cuts on Onitiel and she would explain it away with classic abuse lines, I fell down the stairs, I was clumsy with a knife, etc. Since dishonesty is difficult to detect for Vasha, he believed her and didn't find out until he caught his father red-handed (literally), the blood of Onitiel on his hands. Vasha went berserk, nearly killing him and would have if not for his mother pleading for him to stop. He snarled out that the next time he saw Thanos, he wouldn't hold back. Thanos was noticeably absent the next time he visited home.
Two decades passed and Vasha completed his cavalier training, promoted to captain for a small unit. Onitiel pulled a few strings and got Ninelyn (who wound up as an archer) to be on the same squad. Ninelyn couldn't have been happier, Vasha deeply grateful that he could still stand true to his debt. They completed many a successful campaign, promoted to progressively difficult missions. Vasha became renowned for his high-risk high reward strategies, often using bait as a way to win a fight. Just like his life principles, efficiency was the answer in any situation, even if it was not necessarily morally correct (like sacrifice a few soldiers to distract while the rest of his unit killed off the main threats). His shieldless, aggressive fighting stance raised eyebrows as well. They say he couldn't be killed, regenerating any wounds immediately after he received them. In reality, Vasha had come close to death many times as he could only regenerate so much - Ninelyn was the only one aware of his precarious bluffs, often the one to bandage him up when no one was around. She feared for how reckless he was, lecturing him many times on how stupid this whole gambling charade had become. Vasha assured her, saying that he was getting stronger with each near death encounter, that his limit was increasing. Good luck can only last so long, Ninelyn would chide. Sure enough, Vasha's luck ran out. During one mission to take out a horde of orc bandits, he overextended past enemy lines, surrounded and wounded gravely. Even still, he bluffed, acting like the wounds were healed when he was all out of juice. Ninelyn knew he would be dead without her, rushing towards them and flushing them away from Vasha (just as he passed out from blood loss) with a flurry of arrows. But she had overextended herself, taking an axe deep into her back for her hubris. The rest of Vasha's unit finished off the remaining orcs, hauling both of them off the battlefield. Vasha survived as his regeneration kicked back into effect. Ninelyn was not so lucky.
When Vasha awoke, the sad faces of his soldiers surrounding him, he knew what had happened. Devastated, he drowned himself in physical pain, practically throwing himself into enemy blows. While his regenerative ability got stronger, the watchers took note of his absolute disregard for his own life and suspended him from battle until he had made amends with his loss. Returning to his mother, Vasha cried for the first and last time in her lap. Onitiel let him mourn for a few days and then forced him to stop, saying that self-pity was the road his father took. Reason enough, Vasha stopped grieving, letting his mother teach him how to be sound again. A few months later he returned to duty, wiser for his loss. Success welcomed him as he climbed the ranks and by the age of 50, he became an esteemed elven commander. Nonetheless, he felt empty, a lingering effect of Ninelyn's death. Yearning for something to make him whole again, something to end the boredom of monotony, his superiors told him of the Serpent's Gathering. He had heard of this pestilence, yes. It would require him to leave everything behind? Oh goody, goody. Sign me up.
[
F L A G S
]