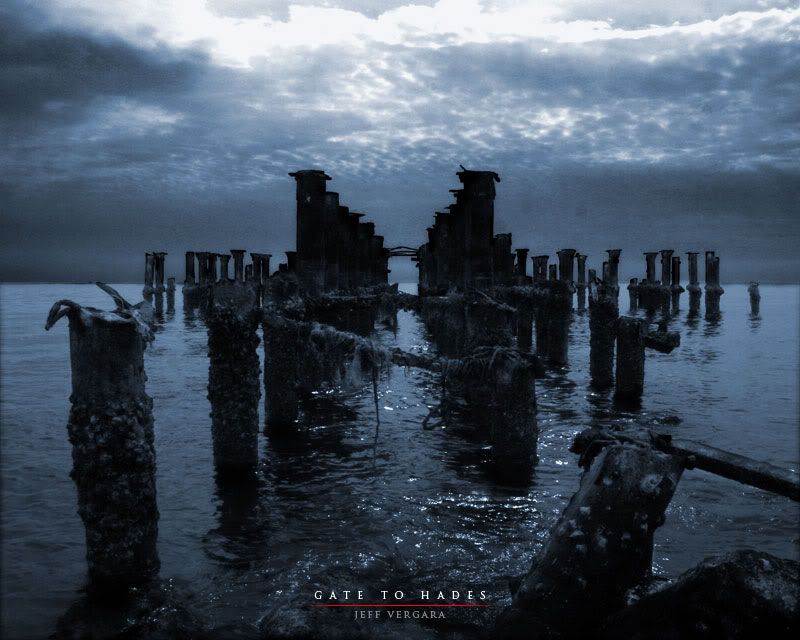 This story is based in Greek and Roman myth with SOME outside influences such as Dante's Inferno and Homers Odyssey. It's central plot revolves around two characters; Androkles and his younger sister Arkadelphia.
Androkles is anything but courageous and brave, he is a peace loving- kindhearted young man. But he and his sister are killed in a fire set by local warlords to 'rid the world of their disease' the disease being poverty, by burning all the orphanages in Greece down. In death, he is transported before Ares and he dons a magical suit of armor and becomes an extension of Ares the God of War himself. Ares grants him the power to pursue his quest, and grant his dreams of being forever emboldened and brave but will it be enough to save his sister from Hades? Will Androkles and his companions be able to save her from the depths of Hades' itself?
* This is where we will begin our journey:
http://www.roleplaygateway.com/ancient-greece-age-myth-and-legends-t53177.html?uid=34772
Locations of Note:

Mount Olympus
House of the Gods and Goddesses ranging from Zeus and Hera, to Athena, Ares, and Aphrodite.
Shrine of Ares
A grand temple, built in Ares' honor, in a place between life and death.
Athens
was the intellectual center of Greece. It was one of the first city-states of its time, and is still world renowned as one of the most famous cities in the world. It was named after Athena, the goddess of wisdom and the city's patron.
Sparta
The kingdom of Menelaus, located on the Peloponnesian Peninsula.
Thebes
the birthplace of the legendary hero Herakles and men of importance like Pindar and Epameinondas, played a major role in the affairs of Greece, from its early history as the many legends of the city testify.
Delphi
Many political decisions were taken after consultation of the Oracle, and no colony was founded around the Mediterranean without the consent of the sanctuary at Delphi. In proportion with its immense influence, the settlement at delphi grew from a small village to a imposing depository of fine Architecture and Art.
Troy
A kingdom that was destroyed by the Greeks in the Trojan War. It is located on the western coast of Asia Minor.
The Great Deluge:
is a spectacle to behold. A great maelstrom in the middle of the depths of the seas that leads straight into the mouth of Hades itself and branches off into the Five Rivers of Hades.
Acheron - The River of Woe:
is located in the Epirus region of northwest Greece. Acheron translates as the "river of woe" and it was believed to be a branch of the underworld river Styx over which in ancient Greek mythology Charon ferried the newly dead souls across into Hades.
The lake called Acherousia and the river still called Acheron with the nearby ruins of the Necromanteion are found near Parga on the mainland opposite Corfu.
Another branch of Acheron was believed to surface at the Acherusian cape (now Eregli in Turkey) and was seen by the Argonauts according to Apollonius of Rhodes. Greeks who settled in Italy identified the Acherusian lake into which Acheron flowed with Lake Avernus.
Plato in his Phaedo identified Acheron as the second greatest river in the world, excelled only by Oceanus. He claimed that Acheron flowed in the opposite direction from Oceanus beneath the earth under desert places.
The god of the river, son of Oceanus and Tethys fathered Ascalaphus with Orphne or Gorgyra. The word is also occasionally used as a synecdoche for Hades itself. Virgil mentions Acheron with the other infernal rivers in his description of the underworld in Book VI of the Aeneid. In VII, line 312 he gives to Aeneas the famous saying, flectere si nequeo superos, Acheronta movebo: 'If I cannot deflect the will of Heaven, I shall move Hell.'
In Dante's Inferno, the Acheron river forms the border of Hell, in the Ante-Inferno. Following Greek mythology, Charon ferries souls across this river to Hell.
Cocytus - The River of Lamentation:
meaning "the river of wailing" (from the Greek κωκυτός, "lamentation"), is a river in the underworld in Greek mythology. The recently deceased who could not pay Charon to ferry them across this river were condemned to wander its banks for one hundred years (according to most accounts). Cocytus flowed into the river Acheron, across which dwell Hades, the mythological abode of the dead.
Phlegethon - The River of Fire:
was one of the five rivers of the underworld. It flowed with fire that burned but did not consume fuel. It was parallel to the Styx. It is said that the goddess Styx was in love with Phlegethon, but she was consumed by his flames and sent him to Hades. Eventually when Zeus accepted her river to flow through, they reunited.
Also, it is a river traveled upon by the Incarnation of War, named Mym, in the Piers Antony novel Wielding a Red Sword. When Mym is lured into Hell, he decides to incite rebellion against the forces of Satan and uses four of the five major waterways of Hell, among which are the River Lethe, the Archeron, the River Kyoktys (Cocytus), and the River Styx.
Lethe - The River of Forgetfulness:
on Classical Greek, Lethe (λήθη; LEE-thee) literally means forgetfulness" or "concealment". The Greek word for "truth" is a-lethe-ia (αλήθεια), meaning "un-forgetfulness" or un-concealment".
Drinking from the river Lethe ("forgetfulness" or "oblivion") caused complete forgetfulness. Some ancient Greeks believed that souls were made to drink from the river before being eincarnated, so they would not remember their past lives.
Lethe was also a naiad, the daughter of Eris ('Strife' in Hesiod's Theogony). The naiad Lethe is probably a separate personification of forgetfulness rather than a reference to the river which bears her name.
Some private mystery religions taught the existence of another river, the Mnemosyne; those who drank from the Mnemosyne would remember everything and attain omniscience. Initiates were taught that they would receive a choice of rivers to drink from after death, and to drink from Mnemosyne instead of Lethe. These two rivers are attested in several verse inscriptions on gold plates dating to the 4th century BC and onward, found at Thurii in Southern Italy and elsewhere throughout the Greek world.
Styx - the River of Hate:
"The River Styx is guarded by Phlegyas, who passes the souls from one side to another of the river. In other versions, Phlegyas guards Phlegethon, another of the main rivers of Hades.
The gods respected the Styx and swore binding oaths by it. Zeus swore to give Semele whatever she wanted and was then obliged to follow through, resulting in her death. Helios similarly promised Phaëton whatever he desired, also resulting in his death. Gods that did not follow through on such an oath had to drink from the river, causing them to lose their voices for nine years.
According to some versions, Styx had miraculous powers and could make someone immortal. Achilles may have been dipped in it in his childhood, acquiring invulnerability, with exception of his heel, which was held by his mother in order to submerge him. His exposed heel thus became known as Achilles' heel, a metaphor for a weak spot in modern meaning.
Styx was primarily a feature in the after-world of Greek mythology, but has been described as a feature present in the hell of Christianity as well, notably in The Divine Comedy. The ferryman Charon is in modern times commonly believed to have transported the souls of the newly dead across this river into the underworld, though in the original Greek and Roman sources, as well as in Dante, it was the river Acheron that Charon plied.
Dante put Phlegyas over the Styx and made it the fifth circle of Hell, where the wrathful and sullen are punished by being drowned in the muddy waters for eternity."
Gates to Hades:
Hades - The land of the dead. Also known as Tartarus or Klysium.
*
It is thought that Charon, the old ferry man who ferries the dead onto the underworld, crosses the river Styx where the dragon tailed dog Cerberus guards, allowing all souls to enter but none to leave. This is a misconception, Charon crosses the river Acheron where also Cerebus stands his eternal guard. Also while on this subject, Charon only takes the souls across that are buried properly with a coin (called an obol) that was placed in their mouths upon burial.
In Greek mythology, Charon (in Greek, Χάρων — the bright — was the ferryman of Hades. (Etruscan equivalent: Charun)(Modern Greek Folklore: angel of death: Charos or Charontas)
He took the newly dead from one side of the river Acheron to the other if they had an obolus (coin) to pay for the ride. Corpses in some regions in ancient Greece were buried with a coin underneath their tongue to pay the fare. Some authors claim the price to be 2 coins, placed over each eye of the deceased. Those who could not had to wander the banks of the Acheron for one hundred years.
In various myths, the heroes Heracles, Orpheus, Aeneas, Dionysus and Psyche all journeyed to and from on the boat of Charon.
[Don't Godmod or I Godmod back. ;)
Greek or Roman names only. No Famous people like Achilles or Heracles.
No one else can be an Avatar. Heroes are welcome but the spotlight is on Androkles.
Enjoy your time.
Side quests such as expoloring other character's pasts are fine but there comes a point when it must also push the main storyline forwards.
People must belong to a deity. There are numerous Gods and Goddesses of the Pantheon:
Aphrodite, Apollo, Artemis, Athena, Zeus, Hera, Demeter, Eros, Hades, Hephaestus, Hermes, Hestia and Poseidon.
No one liners, minimum posts are two paragraphs. If you don't think you can keep up with this--please do not join.]

0 posts here • Page 1 of 1
0 posts here • Page 1 of 1
Arcs are bundles of posts that you can organize on your own. They're useful for telling a story that might span long periods of time or space.
There are no arcs in this roleplay.
There are no quests in this roleplay.
Here's the current leaderboard.
There are no groups in this roleplay!
Welcome home, Promethean. Here, you can manage your universe.
Arcs are bundles of posts from any location, allowing you to easily capture sub-plots which might be spread out across multiple locations.
You can create Quests with various rewards, encouraging your players to engage with specific plot lines.
Settings are the backdrop for the characters in your universe, giving meaning and context to their existence. By creating a number of well-written locations, you can organize your universe into areas and regions.
Navigation
While not required, locations can be organized onto a map. More information soon!
There are no groups in this roleplay!
By creating Collectibles, you can reward your players with unique items that accentuate their character sheets.
Once an Item has been created, it can be spawned in the IC using /spawn Item Name (case-sensitive, as usual) — this can be followed with /take Item Name to retrieve the item into the current character's inventory.
Give your Universe life by adding a Mob, which are auto-replenishing NPCs your players can interact with. Useful for some quick hack-and-slash fun!
Mobs can be automated spawns, like rats and bats, or full-on NPCs complete with conversation menus. Use them to enhance your player experience!
Current Mobs
No mobs have been created yet.
Locations where Mobs and Items might appear.
You can schedule events for your players to create notifications and schedule times for everyone to plan around.
Add and remove other people from your Universe.
The Forge
Use your INK to craft new artifacts in Age of Myth and Legends. Once created, Items cannot be changed, but they can be bought and sold in the marketplace.
Notable Items
No items have been created yet!
The Market
Buy, sell, and even craft your own items in this universe.
Market Data

Market conditions are unknown. Use caution when trading.

Quick Buy (Items Most Recently Listed for Sale)
Newest
Trending
Most Followed
Discussions
Topics

Replies
Views

Last post
Age of Myth
by Seraph on Tue Jan 18, 2011 4:51 am


3 Replies
342 Views
Last post by Seraph
on Mon Jan 24, 2011 4:11 pm
Most recent OOC posts in Age of Myth and Legends
Okay, I'll meet him there, once I free Soffia. I have to offer the head of the creature, the minotaur to Ares.
Just put in a character. I'm thinking he'll be a companion order by Ares to follow you and assist, and in doing so he'll be adding another story to his budding legend. I was thinking a good entrance would be Cassius waiting with Ares after Andro returns from the maze.
I'm not entirely familiar with Greek/Roman Mythology but would it be okay if I submit a character?
This is the auto-generated OOC topic for the roleplay "
Age of Myth
"
You may edit this first post as you see fit.