Name: Lucine Addler
Age: 23
Race: Metalycan Human
Height/Weight: 5'11", 145lbs
Sex: Female
Gear: Unarmed, dressed in a flowing white dress.
Powers/Abilities: Infected with the Wailing, she has increased durability, healing, strength, and agility despite a seemingly frail frame. Unlike most infected, however, she was born with the affliction as has more innate control over it, allowing her to control her transformation to a degree. She also, as a lycan, has enhanced senses of smell and hearing.
Appearance: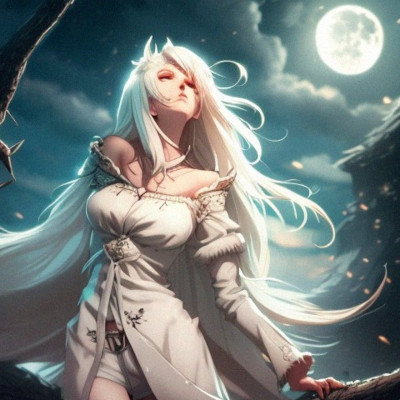 Personality: Often in what seems to be a dreamy trance, she likes to dance and sway about. In one way she is wild, almost child-like and seems to enjoy toying with others, in the other a lady of culture. While she's clearly been raised in nobility there's an almost flippant disregard to it as well. She seems, however, to truly care for her father with undying loyalty. With that same loyalty, however, she would easily lend to a friend, and for an enemy, unbridled fury.
Brief History:
The only child of the infamous alchemist, Nicholas Addler, who's obsession with curing all illness lead to him creating one of his own. The Wailing, a lycanthropic mutation that has pathogenic qualities. Not a virus, in the conventional sense, but something more supernatural, a warping of one's essence converting the body into something more... primordial. Lucine was born to patient zero, Nicholas's own wife, already infected by the Wailing. She is a miracle child as it was not deemed before possible for one infected to conceive. She was already infected at birth, and was a vicious child that took all the patience and strength of her father to suppress her urges. She bore witness to her father over the years withering away as he tried to undo his mistake. She has taken it upon herself to fulfill her father's dream, to obtain the Cure All, so that her father's sins may be absolved.
Theme(optional):
LINK