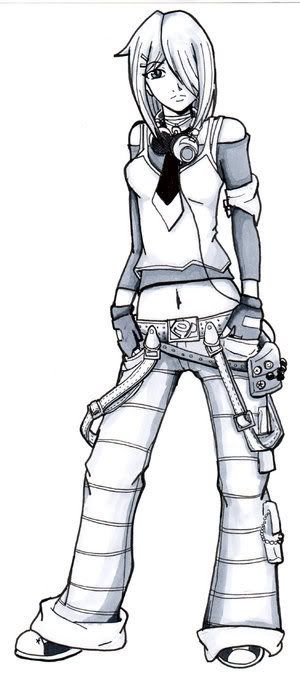 Name: Kotoa, Toshi
Age: 14
Base Stats: INT-4, PHY-0, PER-0, CUL-6
Junior High School: Rikkai-Dai
Previous GPA: 3.9-4.0
Appearance: [Dark-chocolate brown hair down to her waist with side-fringe that covers her left eye (which is blue compared to her green right eye, heterochromia), stands at only 5 foot 2 inches, weighs just under (or over on a good day) 100 lbs, always wears pants and a tanktop (at the simplest) and her standard accessories are her massive headphones around her neck attached to an mp3 player in her pocket and the suspenders on her pants just in case she has to run somewhere (her pants usually sit low on her hips but don't sag, when running tend to fall enough to become immensely annoying and a massive tripping hazard).
Equipment:
A black canvas messenger bag containing:
iPod with her customary headphones
Sketchbook, pens and pencils
Lighter
Pocket knife
Pocket watch
Along with the mandatory homework and school supplies...
Personality: Laid back (indifferent really), extremely lazy, sly and conniving, doesn't trust especially easy, would rather ensure her own safety than risk her life for her companions (in a word selfish...), tech/science nerd- lives to invent useful things, likes traditional things except for the gender roles (i.e. meditative archery (kyudo), calligraphy (shodou), classical/old music, etc, but not that she is 'inferior' because she's a girl), doesn't like being told what to do and pretty much hates kids (they're just too annoying and demanding for her to properly care about), has a bad habit of cursing under breathe (or out loud if annoyed enough)- though it's a habit she's trying to break (such as replacing words like d*mn with darn, and the like)
Reason for Attending: Because it was the school her father went to before her and she wants (along with her family) for her to have a superb education, after all she is the eldest of the Kotoa family and so must learn the necessary skills to take over the company, at least until her younger brother is old enough.
History: Born into a prominent family (her father and her grandfather founded a large successful company that has its fingers in just about every type of industry) and so was very wealthy. Her mother was lost in childbirth with Toshi's younger brother and her grandfather (only living grandparent at the time) died soon after. Her father, not really knowing what to do to escape the grief threw himself into his work and had a nanny watch over Toshi, letting her decide what was best for his daughter (she had worked for many of the other big families, raising their children, too). The nanny put her in traditional schools and clubs such as sketching, and calligraphy. She began to love these activities soon, even more so when her father commented on them when he happened to come home. At age 10 she found a wounded wolf puppy on her way from school (she preferred the solitude without the driver that would pick her up) and took it home never realizing she was holding a wild animal. She raised it after it healed and later found out what it was, however she simply raised it like one would a dog- she claims it is a husky mix/mutt whenever asked.
Toshi strives to be the best so that her father will pay attention to her and she dislikes her younger brother because she feels like her steals all her father's attention and stole her mother from her (even if her reasoning is a little twisted)- though she doesn't hate him. Toshi hates showing emotions because they are only a hindrance (especially in the business world) and will only really interact with her grey wolf named Hikaruko. Hikaruko was allowed in the school because of her family's social and monetary power and status.
Other:
| Has an 'on/off' switch, if you rub the back of her neck she goes completely limp and tends to curl up and go to sleep like a cat (which her personality tends to resemble anyway no matter how much she prefers dogs/dog-like animals)
| Favorite food is pomegranate
| Loves to eat though she is so skinny her ribs show, cannot gain weight and it makes her look somewhat malnourished
| Loves beauty and is somewhat vain because of this
minor
obsession...
Likes:
+
+ Calligraphy
+ Sketching
+ Reading
+ Writing
+ Playing violin and flute
+ The feeling of flying (will often take her motorcycle off large jumps to simulate this)
= Motorcycles (
she owns one
)
+ Logic games such as Sudoku, mental challenges
+ Running and creating businesses, making money
+ Ditching class to lay out/nap in the sun
+ Revenge for a slight
+ Beauty in whatever form it may come
Dislikes:
-
- Weaklings
- Ugly things
- Mornings
- No free time
- Eggplants