"Mess with me or my family and you'll regret it."
Tik Tok Rok by Verse City
---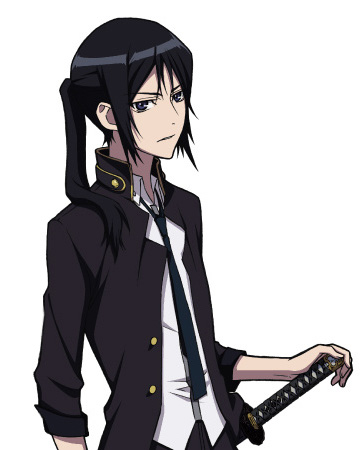 ---


| Full Name |
Pheobus Ferrence

| Season |
Summer


| Nicknames and Aliases |
Natsuo Kuki Orako

| Gender |
Male

| Age |
Appears to be 20 but claims to be 19

| Birthday |
August 5th

| Sexual Orientation |
Straight

| Scent |
Sea breeze

| Accent |
Has none, but developed a Japanese accent.

| Nationality |
Has none but is pretending to be of Japanese and Scottish decent

| Romantic Interest |
Azusa Yamanouchi

| Ethnicity |
Appears to be of Japanese decent

| Social Class |
Upper Class

| Occupation |
Works in a Restaurant as a waiter and does do delivery.

| Place of Residence |
Shared Home
Shared Home Bedroom
Private Home
Private Home Bedroom

| Oddities |
No Sense of Tact- Natsuo is pretty blunt and will tell you exactly what he thinks, whether you want to hear it or not. This will often get him in odds with others.

Always armed with a weapon, normally his kendo sword. He doesn't trust any of the mortals of this world and to help ensure the safety of himself, and especially his younger sister, he'll always be armed. He even sleeps with his sword right next to him.

Nosy- Natsuo has no problems interfering in people's business. It's one of the ways he tries to adapt to Earth. In reality he just finds mortals and their ways odd and is too curious for his own good. He also doesn't understand personal space too and will get up in your face.


---
---


| Hair Color |
Black

| Hair Style |
Straight, usually pulled back in a low pony tail.

| Hair Length |
At full length, reaches to lower back

| Skin Tone |
Pale

| Complexion |
Flawless

| Eye Color |
Dark grey

| Height
6'1"

| Weight |
175 lbs

| Body Type/Build |
Slim, but toned and muscled- he does have an 8 pack

| Tattoos |
None

| Piercings |
None

| Birthmarks/Scars |
Birthmark of an oak tree on his upper back- people think it's a tattoo though.


---
---


| Season |
Summer

| Pet |
Bird- Natsuo owns several crows that he uses many purposes from communicating to spying on others. Their names are Shadow, Gust, and Aeolus.

| Enhancement |
Increased Sight- Natsuo has always had eagle eye vision and takes pride in it. He can see up to 500 feet away, but can only see that far for so long before getting a headache. He's also developed 'X-Ray' vision. This technique though he only uses when he has too, or looking for his siblings. Once though he accidentally used it when looking for his parents and needless to say to this day he claims he was "scarred for life" since his parents were intimate at the time. He also has night vision.

| Music Type |
Wind Instruments- Natsuo is both proficient in brass and woodwinds. His favorite instruments are the trumpet and saxophone. It did take him awhile to learn how to play though so his rooms became sound proof since he use to play out of tune a lot.

| Compatible People |
Aggressive People- Almost in the same vein as his sister Kazumi, needs someone who can stand up to him. He is extremely picky and critical of people in general and it takes a lot to impress him. He does get a charge out of someone who has the same intellect as him who can match his sharp tongue.

| Abilities Gifted by the Season |

Wind Gusts- In order to help nature flourish, Natsuo uses the air to spread seeds and pollinate flora to help things grow. However, he can create strong wind gusts and if in a desert area, he will cause a sandstorm.

Flight- Natsuo can fly due to his wind ability, but since coming to Earth, he can only fly at night.

Heat- Summer is gets hot and Natsuo loves the hot weather. If he wanted to, he could cause things to scorch, but doesn't because he knows that would make things unbearable.

Enhancement- While Natuso only has power over the air, he can enhance the other elements, like whenever it's raining he can use this ability to make it rain more. This also is connected to when things grow. All of this is used to help prepare for the harvest. Summer is the time of plenty, so Natsuo uses this to his advantage. He has to be careful in using this ability because it can weaken him since it takes his own mental strength to do so.



---
---


| Personality |
~Headstrong, Direct, Honorable, Impatient, Protective, Intelligent~

Natsuo is all about extremes. He's the most volatile out of the siblings and is always butting heads with his older sister Kazumi. He actually gets a kick of getting under her skin. He can be this way with others because he is curious on how people will react when he gets in their face. However he'll never intentionally harm people either due to his father's influence, whom he looks up to the most. He will do his utmost best to protect those he loves and hates failing. He actually feels guilty over what happened to his younger sister and this has caused him to be more involved with her personal matters. He'll actually be wary of ANY guy his sisters interact with.

Due to how he was raised, Natsuo does have a bit of an ego on him and thinks he can do anything he puts his mind too. He has the tenacity to back it up too. This also includes his intellect. Natsuo is an avid reader and soaks up knowledge like a sponge. But due to his lack of experience interacting with humanity, he is not the best of catching social cues and is still learning how to communicate with them. He always seems to have a permanent frown on, when it reality he's good at masking his feelings, at times. When does smile though, he becomes a total 'lady killer'. He's not the most perceptive and a man of action. He's the type of person to "Act first, ask questions later".

| Morals |
Natsuo has a strict moral code and believes in doing things honorably. He would never go behind someone's back to get what he wants. He can't stand liars.

| Likes |
Warm summer days
Birds
Kendo (or any kind of sword play)
His family
Being right
Swimming
Reading
Spicy Food

| Dislikes |
Men around his sisters
Cold Weather
Seeing those he loves getting hurt
Liars
Waiting
Cold Food

| Talents |
Sword fighting
Anything athletic, particularly swimming
Book smarts
His magic abilities
Increased Sight

| Flaws |
Getting Under people's skins
Impulsive
Not Able to Read a Room correctly
Overprotective (especially of his sisters)
Saying things at the top of his head

| Weaknesses |
His siblings
Chocolate (He's a chocoholic)
Extreme Cold Weather
Birds (especially baby birds)

| Hobbies |
Practicing his swordplay.
Reading
Spending time with his birds
Doing anything outside, this includes athletics


---
---


| History |
Natsuo is the 2nd eldest out of his siblings. He's also the tallest out of them too. He was a rambunctious child, having gotten his father's energy. Him and Kazumi constantly butted heads a lot. Much like his siblings, he did believe he and his family were the only beings in the universe and this added to his ego. He learned at an early age though to always respect people, especially his parents. He's taken his role in protecting his sisters seriously and in doing so worked on different types of fighting abilities in order to do so. His preference is sword play from fencing to kendo.

As he grew older and gain the responsibility to watch over the season of Summer, he created the summer in how he wanted to be. Loving the world his parents created, he wanted people to enjoy the riches they were surrounded in and so created warm and sunny days for the people to enjoy. He also makes sure crops grow due to his enhancement skills in preparation for the Fall and Winter seasons.

When his younger sister originally went to Earth with their parents, Natsuo didn't go simply because he didn't see the need to. However he does regret not going because he might have been able to protect his sister that way.

Out of the 4 Natsuo was the most vehement about not going to Earth, but even he couldn't deny his curiosity of the planet and all the changes it went through. And this time he will make sure that his sister is safe.

| Other |
None
| Face Claim |
Kuroh from K