---
"Always blame the Vampire... I get it... sharp teeth... we're the mammal version of a shark."
---
---
---
---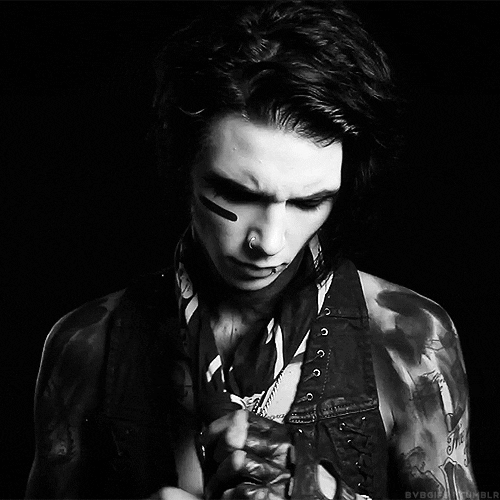 ---
---



Appearance and Personal Info:



Nickname:
Corr

Role:
Vampire

Weight:
134lbs

Height:
6'1"

Sexuality:
Bi-Sexual

Eye Color:
Silver/Blue

Hair Color:
Dyed Black with Blonde Highlights

Skin Tone:
Pale

Age:
19




---
---
---
---



Details:



Habits:
Smoking | Playing with his lip ring | Fiddling with his rings |

Strengths:
Singing |Playing an instrument | Natural Vampire Stregnth| Persuasive |Speaks Italian

Likes:
# Running
# Cats
# Guitars

Dislikes:
-Liars
-Daytime (his powers are weakened)
-Dogs

Flaws:
It's hard for him to speak to girls or guys he likes
He's constantly thinking about music or a good cigarette
The sunlight makes him weaker than normal
He has never had the taste of human blood

Crush:
TBA


---
---
---
---
History:


Corr can't remember much about his history its all a blur to him. He wasn't a born a vampire, he was turned into one. The details on this are however fuzzy. What Corr does remember is a face, a blonde haired green eyed woman with dark red lips and high cheekbones. It was the last face he saw before he died. He's never known who she was or what she wanted with him. He has no memory of his parents, just a smell, roses. Roses bring him back to a place he cannot remember. A place where he grew up as a child. He doesn't even remember his name. Instead of trying to find it out, he gave himself a new name, Corruptor. He knew his last name was Blackheart from the memory that fades more every day.

For years Corr lived on the streets, drinking the blood of sewer rats, dogs, any wild animal that he could get his hands on, which was alot. He developed his stregnth and skills on the streets, playing guitar for money, singing for money. He did allright for himself, but he felt as if he didn't fit in. He didn't tell anyone WHO or WHAT he was, but he felt uncomfortable around everyone, afraid of the bloodthirst he's always felt but ignored. Leaving his town, he found the house for the Supernatural and hopes he could fit in with these people.
---
---
Personality:



Mysterious|| Honest|| Funny|| Sarcastic || Confused || Shy || Flirty (once you get to know him)|| Secretive||Loyal
---
---



Other:



Though he has no memory of what happened to him, it plagues him with nightmares of ghosts he never knew.

He has one cat... her name is Dusty.




---
---