Description:

Name: Simon De'Vervonn
Gender: Male
Age: 19 Years Old
Race: Human
Side: No one; for the time being.
Role: Creature/Shop owner
Location: The West Woods of Wonderland
Orientation: Bisexual
Status: Single
Crush: To be added.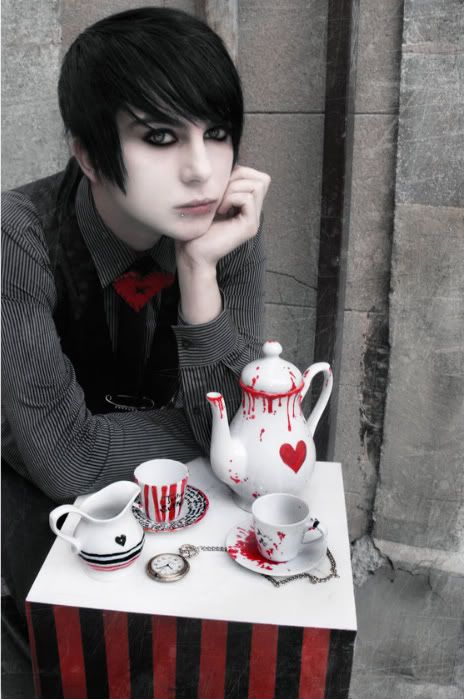 Simon stands at 6 feet and 2 inches; weighing about 160 pounds with a slender and lanky tall body that has a fairly nice frame with slender legs. His hair is literally jet black; and looks like a dark dark blue in the right light. It's perfectly straight;slightly shaggy and clings to his neck and reaches the back of his neck and below his ears. His bangs are side-swept right, and they can cover his eyes if he doesn't flip them out of the way. His eyes are a deep green gray color; which represent the sea when it has it's dark green sheen from the seaweed below. His skin is a pale white milky color, like white cream and his fingers are long and slender. His nails are clear, long, and kept trimmed weekly. He also has two spider bites below his two fleshy pink long lips, two small silver balls. He has high cheek bones and a slender face. His lips always curl into a charming, sweet smile that can make a princess swoon.

Simon wears a mixture of Victorian, Gothic, and Vintage clothing. He never wears bright colors; only dark colors, usually Gray, Red, Black, Purple, and other dark looking colors. Simon loves to wear bests and long dress shirts and usually wears formal black pants with black shoes or boots. Simon does wear makeup; black eyeliner that goes all the way around his eyes and sometimes he also wears black eyeshadow to make his eyes look even darker. His favorite accessory he wears all the time is his broken heart tie. It's black but the top has a red broken heart with an X stitched in in the middle. He is always wearing it with whatever outfit he puts on for the day. He always looks charming; and formal, and dark, of course.