---

---
---
---
| Full Name |
"It was my fathers name." Damien James Fox

| Nickname |
"Can't exactly shorten Damien, now can ya?" Damien mostly just goes by Damien. Sometimes he'll just go by D, but that's as far as nicknames usually go for him.

| Age |
"I used to think age meant everything. Now it's only a number." Twenty-seven years-old.

| Gender |
"Trust me babe. I'm all male." Male.

| Role |
"I enjoy my work." Trainer on the ranch as well as stable hand & personal handyman to the D'Angelo family.
---
---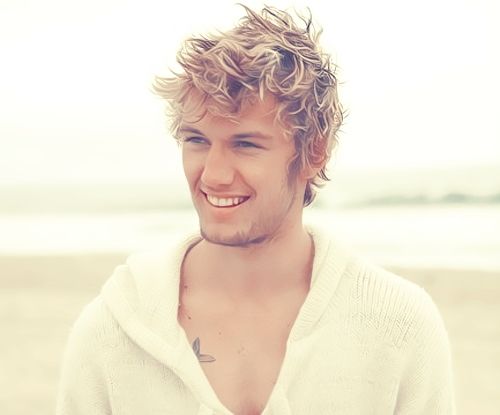 | Eye color |
"Why is it so important?" Damien's eyes are a light, caramel brown. They're honey-ish with hints of darker hues, and small, almost unnoticeable flecks of green in them. A lot of girls love his eyes, and he's been told they're the type of eyes that make women swoon. They're honest, and open, freely displaying his emotion.

| Hair Color |
"Uh.. Normal? Who cares? It's just hair?" Damien's hair is a light, sandy blonde color, with streaks of darker blondes and browns mixed throughout. He tends to keep it a little grown out, since it requires less haircuts, but makes sure it doesn't get too long, so it's not in his face and interferring with his work at the ranch. Sometimes, he'll get it cut really short, but this is usually for nice occasions and such.

| Skin Tone |
"I'm in the sun a lot." Damien works out in the sun all day long, everyday, so his skin is very tolerant of the sun's harmful rays. He doesn't burn easily, unless he stays out for way too long, but typically, his skin is very darkly tanned. In the winter, the tan lightens a little bit, but not a whole lot.

| Height & Weight |
"I do a lot of physical work." Damien helps train the girls and their horses, sure, but he's also a ranch-hand as well as a hand man around the place, and this means he does a lot of physical labor. As such, he is very physically fit with washboard abs, visible muscles, the whole nine yards. He weighs in at around 220 lbs, and stands at a height of about 6'4"

| Distinct Markings |
"Yeah. I've got a few." Damien isn't overly obsessed with tattoos, but he has a couple.
Tattoos
Damien's first tattoo is on the underside of his right arm, like the placement of the one in the very first picture. It's in a simple font, and reads: "Jamie." He got this on the night of his wedding, and has regretted it ever since. Another tattoo of his is one of a howling wolf, that sits on the right side of his chest. His third, and final tattoo runs up the inside of his left forearm, from wrist to elbow, and is of a fox. His last name.
Piercings
Damien currently has no piercings. Jamie keeps begging him to get his ear pierced, saying it's hot, but he keeps refusing.
Scars
Damien has had many accidents in his years on the ranch, and, as such, has a few scars. One of his biggest scars runs up the inside of his right arm and is from slipping while he was working with a saw, and cutting himself badly. He almost died, as he had severed a major vein, and he was sure that, if the blood loss didn't kill him, the hospital bill would, but Mr. D'Aneglo had insisted that, since he'd hurt himself working for him, he would pay the bill. Another scar of his is on the back of his neck, and another one a little lower down on his shoulder blade. These two are from falling out a window while attempting to fix it. Nikota's window, to be exact. Below, he landed on a pile of rocks, and nearly split his head open. Another noticeable scar is on his left calf. This one, he got when he was living on the streets, in a fight with another boy over a winter coat. He won the fight, and nearly killed the boy. He does his best not to talk about this one.
---
---
| Likes |
✔ Working
✔ The girls
✔ Jamie
✔ The Horses
✔ Movies, especially old ones
✔ Candy
✔ Smoking
✔ Having a drink
✔ Summertime
✔ Sleeping in
✔ Pizza, though who doesn't?

| Dislikes |
✘ Vegetables
✘ Being married, sometimes
✘ Annoying people
✘ People who are really loud
✘ When others get in the way of his work
✘ Feeling useless
✘ Jamie's nagging
✘ Being bored
✘ Having others do things for him
✘ Being looked down on
✘ Not being respected
✘ When people cut him off while he talks
✘ The color green

| Fears |
☠ His marriage - Damien loves Jamie, he really does, it's just that, he's not sure how much longer "they" can last as a couple. Everyone in his family is divorced, and he fears that maybe that will happen to them too.
☠ Not being good enough - He fears being seen as inadequate/useless.
---
---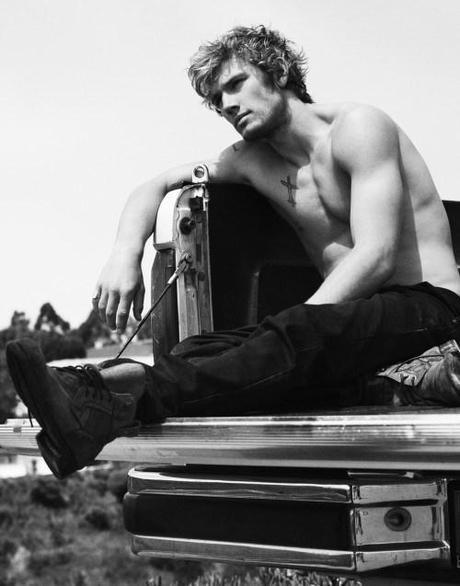 | Personality |
Honest
[ on - ist ]
Adjective
1. Honorable in principles, intentions, and actions.
2. Showing uprightness and fairness.
3. Gained or obtained fairly.
4. Sincere, frank, genuine.

"If there's one thing you need to know about me, it's that, if you take care of me, you can make damn sure, I'll take care of you." Damien is a good guy. He may make some questionable choices sometimes, and he may have a somewhat shady background, but that background has made him into a dependable person.

Now, he's not exactly the type of man you'd want your daughter to date, as he has his downsides for sure, but he's loyal, he's hard working, and, above all, he does his best to be honest with people. He doesn't like to lie to people, especially people who are important to him, like Mr. D'Angelo or his daughter or step-daughter. If you have his trust, he is, without a doubt a man you can count on.

He doesn't like when people give him things out of charity either. He likes to work for his keep, and works extremely hard. Maybe even a little too hard, but he takes pride in his work, and every task he sets his mind to is completed as such. He half-asses nothing.

Damien may be a good guy, but that does not mean he's a saint. He grew up mostly on the streets, and has done his fair share of highly questionable things in order to survive. When it comes down to it, if he has to choose between his integrity and pride, and his survival, survival wins hands down. If his life, or the lives of those who are close to him, are in danger, he has no trouble going as far as to commit murder.

Damien also has a pretty fiery temper. He can get angered easily, and, when angered, can get blinded by rage, to the point where, he wont even realize what he's doing. He hit Jamie once, and that nearly killed him. He couldn't live with himself for weeks. Even after she'd forgiven him. He's not the type of person to be aggressive with women, and hates when he sees it, but every so often, when blinded by rage, he can be very unpredictable.

Damien is also quite territorial of people and things. If someone were to threaten Jamie or those he cares about, he'd have no trouble breaking necks. He's the jealous type, and can't help it. He doesn't even like Jamie talking to other men. She jokes that he keeps her on a tight leash, but she knows he only does it out of love for her.

Damien is a great guy to those who are good to him, and he's fairly laid back. Not a lot can put you on his bad side, but, it is possible to be there. Even though Damien is a good man to those he cares for, one cannot say the same for those he doesn't.
---
---
| History |
"Eh. It hasn't been easy, that's for sure." Damien got off to kind of a rough start, but he's a "make the best of it" kind of guy, so that's exactly what he did. He made the best of his terrible situations, and it's gotten him a wife, a good job, and a small home on the ranch.

Damien was born to a prostitute named Mila. The woman never really wanted Damien, and he honestly doesn't remember much about her because he only lived with her until he was eight. When he was eight, she was killed in a shooting, and Damien was left alone on the streets.

He quickly learned how to adapt, and, while he wasn't great at it, seeing as he was so young, he managed to survive. He was an expert thief by age ten.

When he was fifteen, was when he met Mr. D'Angelo. He was living on the streets of Italy at the time, and Mr. D'Angelo spotted him trying to steal from a coffee shop. The man grabbed his hand, and shook his head. "A man doesn't steal." He said, "a man works for what he wants." This has been pretty much his personal motto ever since.

That night, Mr. D'Angelo allowed him to come home for dinner. He met his daughter, who was only four at the time, and his wife. His wife argued in the kitchen after diner with Mr. D'Angelo about allowing him to stay with them. He complained that he'd caught him stealing, and what if he stole from them?, but she had too big of a heart to throw him out on the streets. In the end, they decided he could stay, but he had to work for his room and his food. He was to work under Mr. D'Aneglo as a horse trainer, for the man was one of the best. He grew close to the family, quickly, and, when he was 17, asked Mr. D'Angelo to build him a home. Still on the grounds, but separate from the main house. So that he could pay rent, and feel as though he was living his own life, not mooching off the family. Seeing this as a good idea, he did.

When he was 24, Mr. D'Angelo and him were out for drinks when tragedy struck. Someone had broken into the home. They returned to find the house reduced to nothing but a pile of ash, Mrs. D'Angelo dead, and young Nikota seriously injured. The D'Angelo's were his first real family, and so, he took the deaths pretty hard and started drinking heavily, and even left the ranch for a year. He wasn't there to help them through the tragedy like he should have been and the guilt nearly killed him.

When he returned a year later, he found that Mr. D'Angelo had remarried, and had started a new ranch. He took Damien back in happily, glad to have him back.

This was when he met Jamie. The new Mrs. D'Angelo hired her to train the horses in his absence, and he fell for her hard and fell for her fast. Neither of them were very rich, and neither of them were the type for extravagance, so they didn't tell anyone when they got engaged. They knew Mr. D'Angelo would want to throw a big, expensive wedding, so they hid it, and packed up in the middle of the night and left for Vegas.

Their wedding was a drunken event, and Damien got a tattoo of Jamie's name, which he later regretted. They were gone for a month, and when they returned, they were married. They have now been married for almost a year now and live in a small, but decent house just at the very edge of the D'Angelo property, that they pay rent for. Jamie is talking about kids more and more, and Damien isn't sure he wants them. He still loves her, but life with her hasn't exactly been perfect for the last month.
---
---
Desperado
- By The Eagles
Desperado, why don't you come to your senses?
You been out ridin' fences for so long now
Oh, you're a hard one
I know that you got your reasons
These things that are pleasin' you
Can hurt you somehow

Don't you draw the queen of diamonds, boy
She'll beat you if she's able
You know the queen of hearts is always your best bet

Now it seems to me, some fine things
Have been laid upon your table
But you only want the ones that you can't get

Desperado, oh, you ain't gettin' no younger
Your pain and your hunger, they're drivin' you home
And freedom, oh freedom well, that's just some people talkin'
Your prison is walking through this world all alone

Don't your feet get cold in the winter time?
The sky won't snow and the sun won't shine
It's hard to tell the night time from the day
You're losin' all your highs and lows
Ain't it funny how the feeling goes away?

Desperado, why don't you come to your senses?
Come down from your fences, open the gate
It may be rainin', but there's a rainbow above you
You better let somebody love you, before it's too late
____________________________________________
For Love:
____________________________________________
Call Me
- By Shinedown
Wrap me in a bolt of lightning
Send me on my way still smiling
Maybe that's the way I should go,
Straight into the mouth of the unknown
I left the spare key on the table
Never really thought I'd be able to say
I merely visit on the weekends
I lost my whole life and a dear friend

I've said it so many times
I would change my ways
No, nevermind
God knows I've tried

[Chorus]
Call me a sinner, call me a saint
Tell me it's over I'll still love you the same
Call me your favorite, call me the worst
Tell me it's over I don't want you to hurt
It's all that I can say. So, I'll be on my way

I finally put it all together,
But nothing really lasts forever
I had to make a choice that was not mine,
I had to say goodbye for the last time
I kept my whole life in suitcase,
Never really stayed in one place
Maybe that's the way it should be,
You know I live my life like a gypsy

I've said it so many times
I would change my ways
No, nevermind
God knows I've tried

[Chorus]
Call me a sinner, call me a saint
Tell me it's over I'll still love you the same
Call me your favorite, call me the worst
Tell me it's over I don't want you to hurt
It's all that I can say. So, I'll be on my way

I'll always keep you inside, you healed my
Heart and my life... And you know I try.

[Chorus]
Call me a sinner, call me a saint
Tell me it's over I'll still love you the same
Call me your favorite, call me the worst
Tell me it's over I don't want you to hurt
It's all that I can say. So, I'll be on my way
So, I'll be on my way
So, I'll be on my way
---
Code: Select all

[hr][/hr][hr][/hr]
[center][img]http://i1180.photobucket.com/albums/x403/desire99600/temp4_zpsd226a28e.png[/img][/center]
[hr][/hr][hr][/hr]
[center][img]http://cd.img.v4.skyrock.net/6989/67126989/pics/3116491023_1_9_8Nv5yvRH.gif[/img][/center]
[hr][/hr]

[size=90]Post[/size]
---