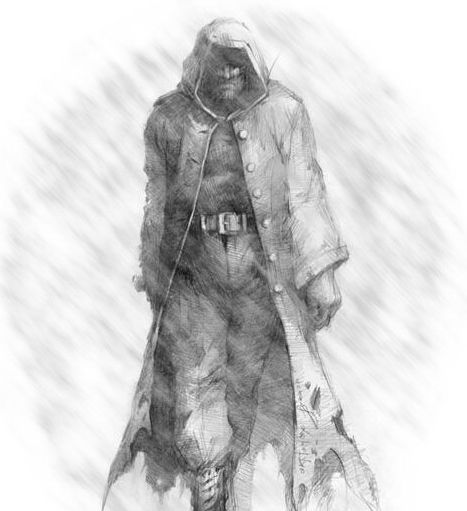 Name
: Isengrim "Grim" Lupul
Age
: 64
Gender
: Male
Race
: Half human half huldrefolk
Occupation
: Caithness Hunter
Past
: The rape-born child of a human who was waylaid by a band of huldrefolk, Grimshak (as he was then called) recognizes neither human nor huldre culture his own. Brought up in the barren mountain passes of the huldrefolk tribes to the north, Grimshak was the oft-abused runt of the small tribe, but was still expected to learn the fighting style of their raiders and participate in their savagery in their infrequent sweeps south of the mountains. Eventually he learned enough of their hardy, scavenging ways to be able to escape and survive on his own when he was sixteen. Despite his fear of the tribe catching him Grimshak knew next to nothing of human society except as victims and enemies, and was just as afraid of venturing farther south as he was of returning to his mountainous homeland. Posing as a mute, Grimshak was able to find work in the small human settlements of the north, where despite his youth he was finally larger and stronger than all around him. Eventually he learned the language and ways of the humans, and when he was twenty years old he named himself Isengrim Lupul, joined a mercenary guild and spent the next ten-odd years of his life traveling all about Allevent, learning much not only of the myriad human cultures but even exotic races such as elves and xiphreim. Unfortunately even though he learned more of the world he never learned where his place was within it, and eventually quit the guild to seek the familiar solitude of the wilderness. For the last thirty years the man has built a reputation as a caithness hunter and mercenary.
Present
: Except for the slight yellow tinge to his complexion, like a fading bruise, Isengrim passes for human -- with his thick black hair, heavy brow and massive jawline he could even have been described as handsome in his youth, although now time and old wounds have given him a grizzled, scarred mug. Heavily muscled and well over six feet tall, Isengrim is an imposing specter, but nothing like the monstrous huldrefolk of his upbringing. Isengrim is a quiet man wreathed in melancholy: a runt compared to one side of his heritage; an abomination to the other. Except for the bloodlust he welcomes in battle, he avoids all other pleasures available to a mercenary of some status and wealth. He dislikes public places and avoids drinking and the company of women -- all of these because he is afraid of losing control of himself to these passions and becoming the same kind of monster that raped his mother.
Currently working as a lone mercenary in addition to his caithness hunting, he has recently found himself working for the Applicators, the Master League guild of artificers and inventors.
Future
: In his youth Isengrim had a fervent goal to somehow return to the north and wreak his revenge on not only his tribe but all huldrefolk. The last fifty-odd years have seen a steady decline in their presence, and the feverish intensity of that goal slowly burned itself out over the years, leaving a hollow in its place. Now nothing motivates him except the day to day goals of the task at hand, except sometimes in moments of melancholy he still longs to belong somewhere, or to someone.
Skills
:
Aurum Elixer - Isengrim is an incredibly strong aurum elixer, capable of holding staggering amounts of the healing
caith
within him. Paradoxically he is one of the least dexterous elixers imaginable, and he has never been able to heal anyone but himself, and even then only crudely, like a huldrefolk seamster attempting a knitted lace shawl. Even though he is still as fit as a man half his age thanks to his prodigious healing powers, his body is a tapestry of old wounds and half-healed scars that are the proof of his brutish elixer abilities. His familiars are small golden butterflies that glow and leave trails of dissipating sunbeams as they flutter about him, touching him and disappearing. The greater his injuries and the more
caith
he casts, the more butterflies that surround him.
Survival Skills - Over his long career in the wild Isengrim has developed myriad useful survival skills such as wilderness first aid, bivouac sheltering, navigation, hunting/tracking and bushcraft, among others.
Guerilla Fighting - Isengrim has trained as a huldrefolk raider, guilded mercenary and lone caithness hunter, and so has a crosswork of fighting skills and styles that tend toward the brutish and efficient, with little call for quarter.
Strengths
: Attack, Defense, Perception
With the tremendous strength of his huldrefolk bloodline and the rapid healing capabilities as an aurum elixer, Isengrim excels in soaking up the damage and dishing it back out, making him a terror on the battlefield. His long years in the wild have made him quite perceptive in terms of his environment, but not in the motives or machinations of men.
Weaknesses
: Dexterity, Intelligence, Charisma, Willpower
Isengrim has some skill with the bow when he is hunting and has all the time in the world to prepare before releasing, but in combat he lacks the dexterity to use the weapon capably. His years of survival have made him cunning, but Isengrim isn't especially intelligent in terms of thinking abstractly or quickly comprehending complex ideas. Isengrim is a loner through and through, and has no ability to convince people to side with him. In specific settings like the patience and dedication required in wilderness survival Isengrim has willpower, but in broader settings he shows little drive and often gives up an argument if he senses he's losing. If he is staunchly against something it will be hard to shift his opinion, but only if he knows he's being manipulated.
In combat his strengths can quickly become his weaknesses -- his all-out melee attacks are effective unless the enemy can coordinate ranged attacks or cast offensive spells, in which case he can quickly be overrun. Despite his ability to withstand physical trauma and various poisons/illnesses due to his incredible healing factor, he has to be consciously casting the aurum. Catch him off-guard or asleep, stun him or knock him unconscious and he's as easily dispatched as anyone else.
Equipment
: His primary weapon is an iron rod known among the huldrefolk as a totem -- as long as a sword but as thick as a man's wrist, with a leather-wrapped handle. Two-handed and slow, but fearsome in his powerful hands. He also carries a hatchet and a heavy-bladed knife that he dual wields when the totem is too cumbersome an option; these give him incredible speed but lower range and little defense. In addition to a motley collection of hard-won battle gear, thick leggings and stout leather armor Isengrim often wears a battered, brown, hooded duster. Because of his incredible strength as an elixer he doesn't often carry aurum crystals with him (preferring the
caith
to be drawn within for ready use). Carries a small collection of useful artifices.
What others will know about him: Isengrim is a name that is traded often in caithness-hunting circles: he has been around forever in a profession not known for its longevity, and over the years his reputation has expanded as previous deeds are exaggerated, and some outright fabricated.
What others won't know about him: He often feigns naps in order to eavesdrop, to hear what others think of him.