---
---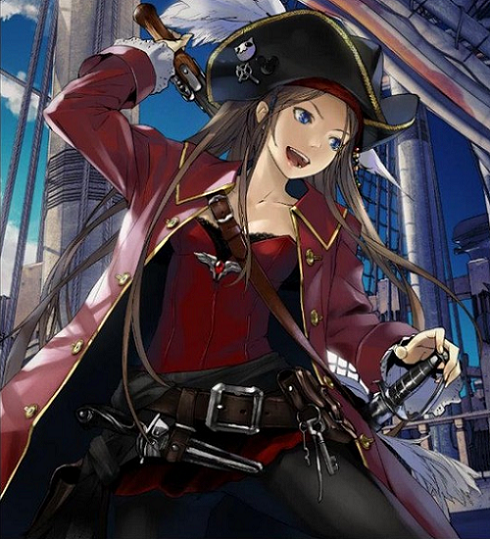 Name:

(Runa) 'Skyscraper' Leautia



Age:

24



Sex:

Female



Race:

Human



Occupation:

Self-Acclaimed Pirate of the Sky



Personality: Runa is loud, rambunctious, reckless when it comes to just about anything. She is a thrill seeker and anything that gets her heart and adrenaline pumping she's more than willing to do. She's more of an action taker than a thinker. Runa is not afraid to speak her mind in any and all matters and sticks to what she believes in firmly. She's loyal to anyone she calls a friend, and being her friend means being dragged around on any ludicrous adventure she sees fit to have next. Though she's outwardly strong willed and seemingly courageous in all things, she's inwardly lonely, unsure of herself almost all the time and is easily hurt by strong, cruel words. However, she's tenacious and won't stop even if someone tells her to. She hides her emotions very easily, and there are only rare times when she actually shows her real emotions.

Skills: Runa is a fine swordswoman; hand to hand combat is not unfamiliar to her as she's grown up on the streets and that was often her way out of things. She's a dirty fighter and will do just about anything to win. In other words, there is no such thing as 'fair' in a fight with her. She is dexterous, very flexible and fast. Runa is everything but clumsy.

Strengths: As stated, Runa is an accomplished swordswoman, highly skilled with her blades. She knows how to handle swords, daggers, knives and throwing knives. She is very accurate with her weaponry. She is nimble and fast. Acrobatic is definitely one thing Runa is. She has the strong ability to talk to just about anyone, is caring in her own way and has a hell of a lot of tenacity.

Weaknesses: Runa doesn't like to show it, but she cannot cope with being told what she can't do--being put down (which happens often when dealing with other guilds and people that she works for). She hides it well, but this builds up to mirror something of an internal time bomb. Though it doesn't happen often, there have been times when Runa is not herself and can be easily caught off guard.

Equipment: Runa always has her sword, dagger and knives on her. The smaller of the weapons are hidden all around her body, her dagger strapped to her lower back and her sword on her hip. She wears a necklace as well, a single silver chain with a bauble encircled by silver ending in a sharp pointed purple stone. It was her mother's at one point and the only thing of her mother's that she owns. She carries an extra Strannum crystal with her as well in a pouch on her right hip, well secured and on her person at all times. Also in the same pouch she has a small crystal of Aurum, though no one knows how she came by such a rarity. Rumor has it that she stole the stone from a wealthy merchant, other rumors have it that Runa killed for the stone. Either way, she'll never reveal the truth.

Past: Runa has always been a bit of a rebel. From a young age she was considered a rascal of the streets, living in the poorest part of Barberry. Living in the city of guilds made a lasting impression on Runa. When she was ten, Runa was doing everything she could to make a name for herself. However, she never got far and only ended up with less than she started with. Most times, she often received a bloody lip or wounds as a parting gift from brawls with the other street rats of the city. When she turned fifteen, she tried to join a guild of the highest prestige, only to be turned away without ever getting a chance to prove herself. At twenty years of age, Runa was accustomed to being looked down upon, thus she became more reckless, more rambunctious. It was then that she'd given herself the title of 'Pirate'.

Present: It took four years, but Runa now owns her own airship. It's not much, but it serves its purpose. The ship is barely large enough for ten people, and Runa mans it all on her own. She's put a lot of blood and sweat into the labor of getting the money to buy the ship, but once she had her hands on it, nothing stood in her way anymore. Runa now sails the skies continually trying to make a name for herself. She volunteers herself for off the wall jobs all over Allevent and even jobs that some guilds won't take because they are either too dangerous or too damned ridiculous to even attempt. The self-acclaimed Pirate tempts fate every day, walking a thin line as she throws herself recklessly into just about anything that looks 'thrilling' to her.

Future: Although she's outwardly bouncy and filled with unnecessary energy, she's internally striving to be 'seen'. She still dreams to become a part of one of the larger guilds in Allevent, though she'll deny it when asked. Even though she doesn't show it, she is easily crushed by words of discouragement. However, it doesn't stop her from doing what she wants whenever she wants to. Runa is always looking to get the best and most stunning jobs in order to make a name for herself. It doesn't matter how dangerous they are or what they entail, she'll do it if it helps her rise up to the top. Money has no value to her--only status and reputation.

What other characters would know: She's often loud and not afraid to speak her mind about anything. She's happy most times, however, when she turns quiet, something is usually wrong.

What other characters won't know: The Aurum crystal was given to her as a gift by the only person in her life to have supported her decision to try to be part of a guild. It is her most treasured item.