---
---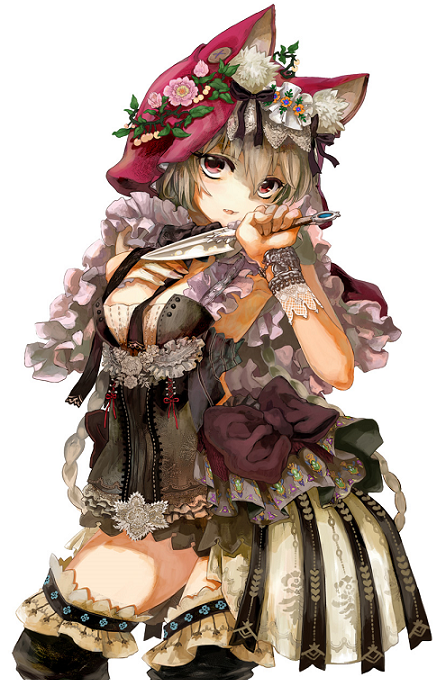 Name: Xioban Efialtis [Jii-Oh-Baa-Nn]

Age: 20

Sex: Female

Race: Xiphreim [Jii-Freh-Eem]
The race of Xiphreim's originates from the forest itself. The tribe has a long tradition of naming it's members beginning with the letter "X". As the land of Allevent slowly started to come to tangibility and these beings saw that the human influence spread widely throughout it, these creatures chose to emulate them closest in appearance. Their true forms are said to be a spectacle of nature, perceived in some myths as dryads, nymphs, or fae upon being seen in their natural state before transformation. Others classified them as youkai or animal spirits. These sightings were rare in number and it is doubtful any truly remember the time Xiphreim did not take on humanoid appearance. All members of this race can take on their original forms within the confines of their forest and it is considered a great honor if they allow one outside of their tribe to see it.

They are a peaceful race, for the most part, and many of this type of creature belong to a tribe that oversees a forest. They are separated throughout the land in such a manner to protect their natural habitats and as such, have a very strong bond with nature. Tribes are dictated on animal affinity, for instance felines will typically group together, canines will also form groups, reptiles, etc. Not all of these creatures have an animal affinity--only those that are elixers can tap into that rare division and at that, only those that wield Cuprum. Depending on which tribe resides in the forest will account of the increase of that animal type within the boundaries of it. For instance, if a wolf tribe takes residence in the forest, then there will be a large amount of wolves that linger around the area. The native animals are not to be feared, at least not by the Xiphreim's, who work hand-in-hand with what nature provides them.

The few members of Xiphreim's that are elixers generally are associated with two types of caith: Aurum and Cuprum. Those associated with Aurum typically have more spiritualistic healing abilities and, in some cultures, may be regarded as shaman or priests. Cuprum elixers have a much stronger affinity to nature and can literally "hear the call of the wild", but not in such a primitive sense as to lose themselves to it. They tend to stay away from those that don't naturally reside in their forest and can quickly sense intruders. These members become "summoners", who can call upon animal companions. The primary companion will go on to oversee them from birth, a kinship only adapted for Cuprum elixers within the tribe. The summon creatures will always appear on the night of the new moon to mark the new arrival and will form a soul bond with their future summoner. The primary summon will always be the Xiphreim's strongest and most loyal and it is very unheard of to be able to summon further.

Occupation: Summoner [Elixer]
Her alliance rests with the caith of Cuprum, which she can draw from it's free, natural state or from crystal form.


Appearance: The first thing that stands out is her rather... frail but flowery frame, covered in large amounts of lace, frills, and plant life. She has gray hair that is more black at the roots, bangs falling right above magenta eyes. Her hair is actually braided in the back into pigtails that fall a bit beyond her waist in length. The hat she wears is adorned with various things she found in the forest and thought were "cute" enough to accessorize her clothes. One would think that the cat ears are a part of the fabric of the hat and for the most part, she'll not lead one to believe otherwise. Up until the ear is tugged upon, to which she will let out a loud, surprised meow. The cloak she wears can be worn open or closed to shield her shoulders from any wind that may blow. She wears a loose-fitting corset decorated with a large bow and lace skirt. Her stockings rise to her thighs in length and she very rarely wears any shoes.

Personality: Possessing a somewhat "catty" way of speaking, Xioban is rife with feline puns when the mood suits her but certainly knows when it is time to get "furry serious". She has a playful sense of humor and is naturally curious, leading to an enjoyment of asking questions to somewhat sate her busy mind. She is not a cruel girl by any means but can appear a little distant due to her awkwardness around large groups of people. She has a rather vivid imagination and will create many fantastical tales for her own amusement as well as the amusement of others. Overall, she is good-natured and adores having friends nearby. At times, she can appear clingy to those she particularly likes and has a tendency to nuzzle up to them much as a cat would. It is a difficult task to dislike her, as she knows how to balance her childishness with more mature, womanly behavior. She can be a tad forgetful at times and it's a bit easy for her to get lost so it's always best never to leave her in a crowded area. Her partially sheltered life can work for her or against her. While she will not trust easily due to her ability to see someone's nature, she does not cope with betrayal very well. She also has a rather story-book idea of adventure and wishes to go on grand quests, but remains oblivious to the flip-side of this desire.

Skills

Strengths: She is very agile and graceful with her movements, however, it can be a bit difficult to get her to stay still. Her animal alliance rests within the feline family and she possess very sharp eyesight. When she wishes to see great distances, her pupils will turn into slits to allow her better vision. She is also quite sensitive to emotions and the scent of the soul, as she would classify it as. She has a wonderful mind of herbs and remedies and also has keen, acute senses. She can always tell when someone is lying to her or not revealing the full truth. She is good at piecing things together in her head and connecting the dots, so to speak, and can reach logical, rational conclusions very quickly. She is also skilled in multiple dialects and tongues, which gives her the capability to converse with many races, despite whatever region they may hail from. (And it also helps her sales, purr purr!)

Weaknesses: Physically, she does not have much aptitude and in a raw, combat fight, she would probably always lose. Her attacks do not have much strength behind them and it is easy for her to be over-powered. In fact, her physical combat skills are barely worth noting at all. She is a terrible diplomat because she rarely sees what the ultimate problem is and doesn't see why both sides can't automatically make a concession with one another. She is also very afraid of machines or anything that isn't of a natural origin that one would find in a forest. She will let out a hiss or mewl of terror at the sight and run off somewhere until it is out of her immediate vicinity. This makes city traveling very difficult for her and she'll rarely do it without several guides.

Equipment/Abilities: Her caith is that of Cuprum and allows her to summon animal companions to her aid. Though, at the moment, she is only really versed enough to summon a single entity to her in the form of a fox. She does not feel the need to expand on her summoning capabilities for the moment, as she has developed a strong bond with her fox companion. Potentially and with diligent practice, additional creatures summoned by her would be all nature-based and forest dwellers. She is also a semi-skilled alchemist on the side and has a wide, diverse knowledge of potions and the like. While she is not a top notch healer, she is good at making remedies or antidotes and can easily draw differences between plant types and other materials needed for the process. She always carries a small knife on her to grind or cut up ingredients for her concoctions.

Bio

Past: As all of the Xiphreim race, Xioban was born during the night on a new moon. She bears the trademark "X" as the beginning of her name--a quirk adapted by her race. She grew up within the boundaries of her forest and did not know much of the outside world at all--up until she worked up the nerve to travel beyond the edges of her trees at the age of 12. However, upon doing so, the first thing that nearly crashed into her was a caravan running on caith energy. This caused her to have a heightened fear of technology and machines in general and scared her away from venturing into the city until around 15. Over the years, she had been working on her herbal skills and was at the very beginner levels of alchemy. She wanted to try to use these abilities of hers to contribute and perhaps gain more materials from distant, foreign parts of the land.

Present: Currently, she runs a successful, small business that sells remedies and potions to anyone that comes to see her wares. She will travel to the city once a week to trade her products for materials found in distant parts of the land. She has a very good relationship with traders and is well-known at the ports/docks as she will always go there to get the latest catch of fish. It is common knowledge that the girl will only open her stall near the entrance or exit of the town to avoid the hustle and bustle of large groups. She has a good relationship with most of her customers.

Future: While her life is wonderful, it can get a bit repetitive. She can't help but wish that perhaps there was something to whisk her away on an adventure so that she could travel to see the land in all it's glory! She also aspires to perhaps become successful enough to sell her wares to the royals themselves and dreams of the day she may become a court alchemist. At least then, she'd get to travel and satiate her endless curiosity.

What other characters would know: This girl has a rather large appetite and will eat copious amounts without it seeming to affect her much. Xerxes is almost always in her presence (though does run off at times and disappear) and is usually resting at her feet or laying casually atop her head or shoulders.

What other characters wouldn't know: She has terrible nightmares which cause her not to sleep that often. She plays it off rather well with large amounts of energy and cheeriness but sometimes gets a melancholic look.
---
---
Name: Xerxes

Sex: Male

Race: Fennec Fox

Personality: Mischievous to a fault, he can (at times) be regarded as the very opposite to his summoner. Whereupon she is straight forward, he will take someone in wily turns and by the end of it, there was really no information to be gained. He enjoys speaking in frustrating riddles to people and spinning them around in circles. He is coy and very cunning. He also has the habit of taking a portion of a person's hair in his mouth and gnawing on it for intervals. He has very sticky paws so try not to keep possession out around him as he will run off with them. He has an eye for things that are valuable and always knows what to steal. To most, he will appear as aloof and one to be wary around. However, he does display an astounding loyalty to Xioban, in fact, cross her and he will instantly rile up. He has no qualms about striking up a fight with another in defense of her. He will act where she will not, as he can display cruelty and will not hesitate to hurt another if there is good reasoning behind it. With him, if there has been a wrong/offense committed, there is no more need for talk. Only action.

Skills

Strengths: The small form he is in most of the time is misleading as he can grow to be at least five times that. With each tier of his true form, he will sprout more tails--nine tails being his strongest and most lethal form. Xioban has not yet gotten to the level to handle this form and at the moment, he can only go up to tier three. He is quite strong and has a sharp mind for battle, which leads him to often work independently from his summoner when he feels the need. He's also a better planner than his companion, so he can have a much clearer understandings of the workings of things than she can.

Weaknesses: He can have a short fuse and can be a bit easy to get angered. In this state, he rarely thinks rationally and can only be calmed down by his summoner. He is also hasty to rush on the offensive and will inaccurately remember things to better suit his personal opinions or bias. He cannot linger in any tier forms above his base one for as long as perhaps he would like, as that does drain his summoner.