---
---

||
" My name is Rose Winter Knight but some people call me Rosie. I just turned nine-teen on December 12, meaning that I can now find my mate. My first shift happened when I was four-teen, every uncommon for wolves because we usually have our first shift at the age of twelve. But I'm the runt of my pack making me weaker then most. I am also the Omega, meaning I'm like a punching bag for everyone else, especially my Alpha. Though you may not be able to tell I am a full blooded Italian"
||
| Gender |
Female
"I really hope you can actually tell..."
| Sexual Preference |
Heterosexual
"I find men physically attractive"
| Species |
Werewolf
"I am proud of my heritage"
| Pack |
Autumn Night Pack
"I love my Pack, I just don't think the feeling is mutually"
---
---
---
---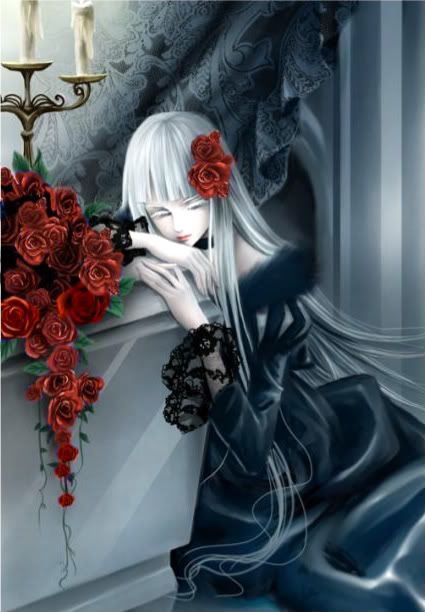 | Eye Color |
Emerald green
"I have my mother's eyes, I love them"
| Hair Color |
White/ very pale blonde
"It all depends on the lighting"
| Body Type |
Small, willowy but still has good curves
"I'm not allowed to eat alot that's why I am so thin but the Alpha likes curves so he lets me eat enough to have them"
| Skin Tone |
Snow white pale
"Even though I am full blooded Italian....geez what happened?"
| Height & Weight |
5'5" | 118lbs
"Yes I am short, my Alpha likes that cause he can easily dominate me and I don't have the physical strength to fight off an Alpha"
| Birthmarks/scars |
She was born with this small
moon
birthmark to symbolize she is a runt.
All runts get these markings. Her Alpha beats her but surprisingly there are no scar's.
"Everyone says I have this mark because the moon goddess, Artemis, pities my kind of wolf but my mother use to say that it was a blessing showing that even if you are a runt you can still be powerful and have a bright future"
| Physical Description |
Rose is a beautiful young woman, even though she doesn't see it. She is easily one of the packs prettiest females and is the only pure white wolf found in the pack. Though she is short, only standing at five feet five inches, her body looks long and delicate because of her willowy yet curvy figure. Her hair reaches down past her bum and depending on the lighting can look white or very pale blonde, Rose usually has it tied back in a messy bun or a braid. Her skin is snow white, blemish free except for a few small freckles dotting across her nose and cheeks. Rose usually has a soft, pale pink hue to her cheeks and her pink plump lips adore her heart shaped face. She has soft features, making her seem fragile and delicate. Rose has every graceful movements from walking to picking up a cup.
"I'm not the prettiest thing in the pack"
---
---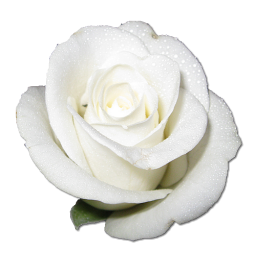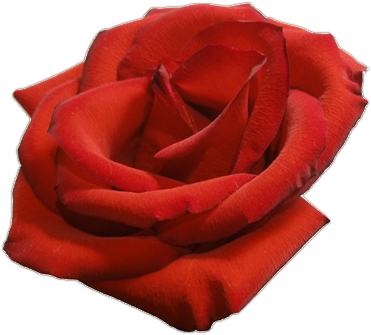 | Wolf Appearance |
Pure white wolf with blazing silver eyes. Stands at roughly 5'7".
Thick coat of fur but because she is weak in human form her wolf form isn't as strong as it should be.
She is the runt of the pack, making her smaller and weaker then most.
"I love being in my wolf form, especially in Winter time because no one can see me outside"
---
---
| Likes |
[♥] Sweets ||
"I love candies"
[♥] Her wolf form ||
"It's the only time I get to be mel"
[♥] Flowers ||
"Their so pretty"
[♥] Autumn trees ||
"I love the array of bright colors"
[♥] Winter nights ||
"There cool, crisp and the moon reflects of the snow, its amazing"
[♥] Water ||
"I love the feeling of it around me"
[♥] Nature ||
"Its my wolf's nature habitat"
[♥] Archery ||
"I makes me feel strong"
[♥] Hunting ||
" I am quite good at it"
[♥] The night ||
"It feels purer then the day"
[♥] Dancing ||
" Its free movement where you express yourself with your body"
[♥] Music ||
"It soothes me"
[♥] Drawing & painting ||
"Its actually something I am very good at"
[♥] Singing ||
"Just to myself"
[♥] Playing the piano ||
"Not many people know I know how to play"
[♥] Cuddling into warm things ||
"I hate being cold when I'm inside"
| Dislikes |
[X] Her Alpha ||
"He's so cruel"
[X] Being beaten ||
"I dont enjoy be black and blue"
[X] Death ||
"Ever since my parents...."
[X] Blood ||
"PLEASE GET IT AWAY FROM ME!!"
[X] Scary movies ||
"EEEKKK!" *jumps into someone's arms*
[X] Rabbit meat ||
"Eww its so gamy and bland"
[X] Being cold ||
"Only when I'm inside where it is suppose to be warm"
| Strengths |
-Rose, though she may not look like it, is a very skillful hunter.
-Being fast on her feet and agile.
-She has the strange ability to see ghosts and spirits.
"Shhh its a secret"
| Weaknesses |
- Her mate
- The fact that she is a runt, making her
smaller then other wolves and physically weaker.
"Don't tell anyone, I'm already weak enough without someone pin pointing these"
| Fears |
- Her mate rejecting her
- That alpha will one day kill her
- Being beaten
"..........." *looks away crying*
| Equipment |
She has a homemade bow and arrows for practice and hunting.
"My parents made them for me and taught me how to shoot"
---
---
Rose is a small, quiet girl who doesn't like to speak up alot, mostly because in the end she will get beaten for having an opinion. She is broken in a way, fearing her Alpha even when he is far way from her physically, but mentally her is always there through the pack bond, taunting her and calling her harsh names, saying she worthless. Though Rose tries not to let her negativity show, for she always has a smile on around the pack, acting like the carefree girl her parents wanted her to be. She sees herself as something disposable, because that is what the Alpha says she is, saying that if she didn't listen to him and obey he would kick her out of the pack and make her a rogue. Nightmares usually wake her at night, making her scream out in fear and fling herself out of bed. From not getting much sleep she will usually have purple shadows beneath her gorgeous green eyes and she is fairly skinny and weak because her Alpha says she can't eat alot or she will get fat and make the pack look bad.
Rose was born on December 12, it was the coldest night of the year and they was a massive blizzard. Her parents, Morgan and Allie whom moved from the Luna Cosa Pack in Italy to Alaska, they were the packs best hunters and Rose was their second child. Rose has an older brother, Christian. He looked actually like Rose's dad, dark copper hair, tanned skin and hazel eyes while Rose looked like her mother. They were a big, happy family. Until Rose's tenth birthday when there was a rogue attack and her parents were killed. Christian blamed Rose for their death, saying if he hadn't saved Rose he could have saved their parents. That was when everything went south. He brother started ignoring her, kicking her out of the families little cottage home. Unwillingly she had to move into the pack house like all the other wolves that didn't have homes. When her parents were alive the Alpha was nice, sometimes coming over and giving her flowers or presents but all that changed. Morgan and Allie weren't soulmates, but the Alpha and Allie were but Allie regretted the Alpha cause she was in love with Morgan. The Alpha would try to win Allie back with treating Rose nicely but it never worked and when Allie died and Rose moved in the Alpha lost it. With Rose looking so much like her mother the Alpha would miss his mate dearly, making him weak and that made his mad, usually taking out his anger on Rose for making him feel that way. Its been years since the beatings started, sure they weren't that bad when she was younger but as she grew older they started to get harsher. When Rose turned nine-teen just a few days ago the Alpha had been furious because Rose's only friend, the Alpha's son Daniel, gave her a present for her birthday. He had locked Rose in the cellar and beaten and starved her for four days finally letting her out only to have her run from him, wanting fresh air more then food. And that when she met him, her mate.