MARK X Sentinel robots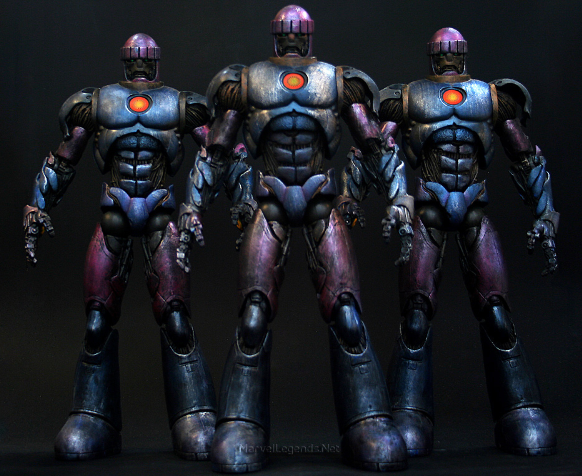 Sentinels are designed to hunt mutants who often represent the protagonists of Marvel stories; therefore, the sentinels are usually employed as super villains or as the tools of other villains. While many are capable of tactical thought, only a handful are self-aware.
Sentinels are technologically advanced, and have exhibited a wide variety of abilities. They are armed (primarily with energy weapons and restraining devices), capable of flight, and can detect mutants at long range. They possess vast physical strength, and their bodies are highly resistant to damage. Some are able to alter their physical forms or re-assemble and reactivate themselves after they have been destroyed.
Some Sentinel variants have the ability to learn from their experiences, developing their defenses during an engagement. Several groups of the robots have been created or led by a single, massive Sentinel, called Master Mold.
Powers and Abilities:
Hand and chest repulsers; wrist missiles; boot jets. stealth (cloaking tech); Triple plated adamantium armor; Ballistic (heavy weaponry); Liquid nitrogen spray outlet in both eyes; Mutant 'all-band spectrum organic analyzer' and receiving antennae.
Near instantaneous analyzing capabilities: sentinels can detach, calculate and adapt defenses to mutant powers with great efficiency. After first contact.
Weaknesses:
Sentinels are nearly indestructible, they have one weaknesses however, though its not much of one. Details to follow.
Specifications:Height:
20 feet
Weight:
(incl,Fuel): 7,450 lbs
Maximum lift:
2,000 lbs
Flight radius:
400 miles
Max. level airspeed:
600 m.p.h.
Service ceiling:
10,000 feet
Max. rate of climb:
400 feet per second