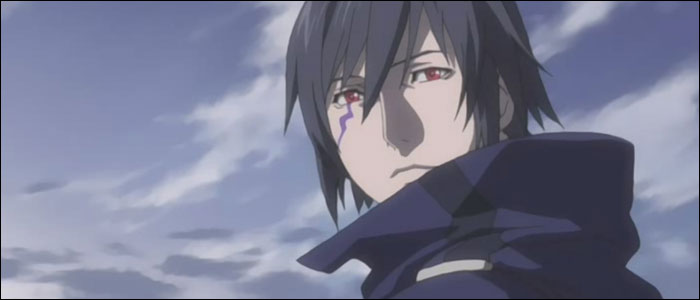 "Do not despise the snake for having no horns,
for who is to say it will not become a dragon?"
'
Theme: Blakes 7
Surname:
Kazuo
Forename:
Shinji
Nickname:
"Black Death" (bingo book), Rat Prince (Derogatory)
----------------
Age:
18
Gender:
Male
Village:
Konohagakure
Rank:
Jonin
----------------
Height:
1.81 (5.94 feet)
Weight:
Muscular but a bit thin
Hair color:
Black
Eye color:
A somewhat sunset red-yellow
----------------
Blood type:
AB
Clan (if any):
Name unknown
Kekai Genkai:
A minor Dojutsu with no noteworthy ability beyond night vision and improved tolerance to strong light sources.
Chakra Type:
Water, Lightning
----------------
Nin-Jutsu: ++
Gen-Jutsu: +++++
Tai-Jutsu: ++++
A - Rank jutsu:
Bringer-of-Darkness Technique: Exerts a hallucinatory effect upon the eyesight, effectively blinding the opponent.
Water Formation Wall & Thunderbolt combination Jutsu: Uses the Water formation wall Jutsu as a carrier for a deadly lightning Jutsu, electrocuting anyone who enters it.
Demonic Illusion: Rat Style Plague creepers: Fools the human body to believe it's suffering from deadly plague, this technique uses the chakra network to infiltrate the vital organs and influences them rather then the victims mind. If it isn't removed immediately, the body's organs will believe that they are sick begin to shut down; a condition only conventional medical jutsu can cure at this point. This technique doubles as an interrogation Jutsu since the user can apply different stages of the plague on his victims and gradually increase the pain that they experience.
B - Rank jutsu:
Water Release: Water Formation Wall: This defensive technique creates a wall of water around the user which intercepts enemy attacks.
Lightning Release: Thunderbolt: The user extends both arms, releasing a high discharge through both palms, targeting multiple opponents simultaneously
Telegram Flash: User can slam his hand onto the ground and cause lightning to spread from his hand to underneath the opponent.
Water Style: Ripping Torrent: This technique creates water that spirals in the user's hand which fires at a high speed towards the enemy.
C & D - Rank jutsu:
Sly Mind Affect Technique: This technique allows the user to change the enemies' sense of direction as they see fit
Water Clone Technique: Creates clones that are made out of water
Water Release: Water Shuriken: The user creates a large amount of shuriken, made out of water.
Water Style: Raging Waves: Water gushes from the user's mouth like a waterfall and washes away the enemy.
Hiding in Mist Technique: Causes a mist to spring forth by lifting up some water from either a pre-existing source or expelled from the mouth
Chakra Shockwave Slash: generates powerful shockwaves at all directions from sword slashes.
Demonic Illusion: Hell Viewing Technique: This is a genjutsu that reveals the fears that dwell inside people's hearts.
Rat summoning
Rat summoning: Summons one of the various humanoid warrior rats from the rat dimension.
Rat Swarm Jutsu: Summons normal rats and continually multiplies them until the original summons are destroyed
Rat Boss summoning: Summons the Sukāji, the greatest of the rat summons.
(Obviously, he knows all the academy rank Jutsu)
Specialties:
:
Assassination Technique: A sword technique used by Root members. Using their signature double-edged, tip-less tantō, the user attacks their opponent with a series of swift slashes.
Silent Killing:a very quiet method of killing an opponent, usually from behind with a blade. Additionally, because the user moves silently, the attack cannot be anticipated and defended against.
Childhood history:
Shinji was born in the Land of Water during the country's civil war but grew up in a refugee camp in the Land of Waves. Shinji does not recall much of his birthplace other then a quaint sight of a small seaside village and vague recollections of going fishing with his father. When Shinji was about five years old, his village was caught in the crossfire between the rebels and hidden mist Shinobi. The village was raised to the ground during the battle and its populace scattered and fled on-board their fishing boats. Shinji was separated from his family during the evacuation and put in a refugee camp set aside for war orphans since no member of his family ever arrived to claim him.
The Land of Waves established the orphan camps with the best of intentions, however corrupt officials in the country's government saw a chance to profit out of the situation. Many youths who where found to have potential as Shinobi were sold to the Shinobi villages and mercenary bands, Shinji was sold along with dozens of his countrymen to Konoha's secret ROOT Corps which also gave him his current name. Shinji was raised and trained by ROOT corps, when he was six he witnessed the Nine-Tail's attack on the village in which his training facility was destroyed. Surviving the ordeal of the demonic attack, Shinji continued his training in ROOT for six years. As per the training program, Shinji was raised with another trainee called Satoshi with which he became close. When they where twelve, Shinji and Satoshi where ordered to fight to the death. During the fight, both combatants proved to be equal in ability, Satoshi however was able to deliver a potentially killing blow but stopped in the last second, an opportunity Shinji used to kill Satoshi and win the fight.
Shortly after the battle, ROOT's illegal activities where exposed and the program was closed down. Many of the trainees of the program, including Shinji where seized before the organization could go to ground. A crash course for the former ROOT trainees and Satoshi went through numerous psychological sessions with Yamanaka clan members before he was allowed to graduate A year and a half later. During his academy days, Shinji was an enigma to both his 'normal' classmates and fellow ROOT trainees. Rather then destroy his remaining emotions, Satoshi's death reawakened Shinji's inner most feelings. Shinji felt angry for having being allowed to live and this anger pushed him to prove his worthiness. To the other student's Shinji's lust for power was intimidating; his refusal to create new connections to other people and rebuke attempts to befriend him with maliciousness enhanced his isolation. The nicknames "Rat Prince", and "The Monster" were derived during this time after his attitude and his Rat contract, and Shinji became known as a major egotistic ass hole.
Operational history:
When Shinji graduated 2nd of his class, he was placed in a team with Niyokai Karsu and Inuzuka Tanabe. At first, both his teammates loathed him but their Sensei encouraged their team to form a sort of accord and over time the team grew to become genuine friends. To Shinji, the team was a sort of therapy which forced him to make connections with people that he had sought to avoid. The team became noted for being the best out of their graduating class and was allowed to take the Chunin exam only half a year after graduating. Despite their talents, the Chunin exam became a hell to the team; during the exam held in the neutral grass village three teams of Iwa genin allied themselves to hunt down Konoha's rookie teams. Shinji's team was torn apart, Tanable and Shinji were seriously injured while Karasu was killed.
The reduced team took on a new member but nether Shinji nor Tanabe where able to form much of a friendship with him. Shortly after Shinji and Tanabe made chinin, they learned that several of the Iwa Shinobi who had ambushed them had become missing nin they decided to train as Hunter-Nin and avenge Karasu. The pair became feared as the "The White & Black Duo" after the white fur of Tanabe's twin hounds and Shinji's rat summons. The pair killed those responsible for Karasu's death, including those still loyal to Iwa in secret. With their vengeance complete, the duo remained Hunter-Nin for a few years. Last year, Tanabe decided to retire as an active Shinobi in order to teach in the academy. Shinji underwent training for the Jonin exam, which he passed recently.
Family:
None
---
Main weapon:
Tantō - short sword
Second weapon(s):
Kunais, spare tantō
Character unique items: