---
---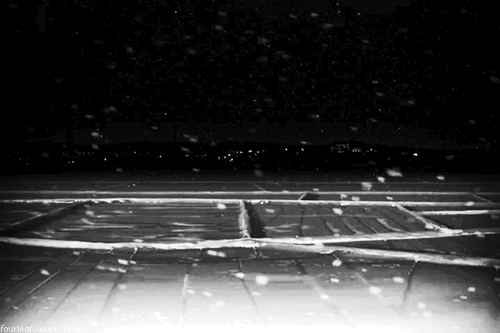 Have you ever had that feeling? That feeling where your memories suddenly black out, erasing any recollection as to how you got into that scene that unfolded before you the moment you opened your eyes. And that feeling that try as you might, you never can seem to make the connection between what you remember and how you got to that place. It was like that feeling where you enter a room and suddenly forget what you were doing there. However, in this case, you do not just wake up in some familiar room.

You wake up in an odd town, burdened with a winter that seems to span forever.

You wake up in a whole different world that looks so wrong on so many levels. It was like the world was suddenly turned upside-down. Not in the literal sense mind you. Rather, it was as if your very own perception of the world was warped. For what purpose did you come to this town? What could you possibly be searching for? How did you end up in this place? And most importantly...

Tap...tap...tap...

The cool air wafts eerily across the place you started at. Rising up to your feet, you find yourself in an unfamiliar town in the middle of nowhere. Recalling the last memory you could remember before ending up in that town, you forge on, in hopes that you'll eventually make sense of the situation around you.

And so you walk. Walking, walking. The town seems to be abandoned, judging from what appears to be remnants of a prior civilization littered all around the place. It was also getting unbearably cold. Too cold. It makes it hard to walk and you swear you could already make out your own breath in the air. Your stomach grumbled. You recall when you last ate or drank anything. No, now's not the time for that. Eventually, you decided against it. Gotta make sense of things for now.

The isolation is too unnerving. Forced to explore empty street after empty street, you slowly feel like you're going insane. You hurry on, desperately seeking for the warmth of having company. You try to run around, hoping that the sound of your footsteps would call somebody's attention. Someone. Anyone.

...ee...

Hmm? Was that a voice? You pause for a moment. For a while, you were sure you were able to make out a faint sound of what seems to be a call for help of sorts. Or was it calling your name? You're not sure. First off, was that voice even real? Could it be that what you heard was just a combination of hunger and the general feeling of loneliness permeating your being right now?

...Hey...

There it goes again! Now you're sure it wasn't just a figment of your imagination. That voice was totally real. Turning around, you ran off again in the direction of the sound. You pass empty houses. You pass empty diners. You pass empty cars and bikes. You pass them all as you ran as fast as your feet could take you. Finally, you can spot a faint light in the distance and what appears to be a figure, standing just a few more meters ahead. Mustering what's left of your strength, you ran. Running, running. The figure is getting closer; the light, brighter. You ran until you arrive at a crossroad and in the middle of it, an enigmatic young lady under a lamppost.

You slow down for now. She doesn't seem to notice you. You wonder if she was the source of the voice you just heard. Taking a closer look at her, it doesn't seem like that voice would come from someone like her. Admittedly, she looked way too out of place in this desolate town. Also unnerving is that you followed a voice but did not hear any other footsteps aside your own. You get the nagging feeling something was wrong.

No! It can't be. That voice was real and she was definitely its source. There doesn't seem to be anybody around after all. Disregard every paranoid thought you had. It's a lot more comforting seeing another human being again. Your frenzy with regards to reorganizing your thoughts seems to have caught her attention as her eyes now turned to look at you. You remember the questions you want to ask but just as you were about to ask her--

Hi, hi! In case you two are a little confused on what everything is about, I'll attempt to clarify things here. This RP is basically an open world exploration type. So... you can write out scenarios to your heart's content! What I've got here is pretty much a half-filled canvas that we will fill with ideas as the characters interact. Isn't that fun? Of course, you have a linear goal which is fulfilling your "immediate purpose" and hightailing it out of that weird town. Exciting eh? But, I did mention that it was half-filled. Of course, there's no way I'm starting a story with just a blank canvas. So! Here are the things I've already set up for now!

- The place looks like a large abandoned town in the middle of nowhere. I was also not lying about the eternal winter part. Everything is white as far as the eye could see. Of course, that doesn't mean it's always snowstorms and hail. You do get clear skies every once in a while. The only thing is that the winter never ends. Oh, and did I mention that the winter never seems to end?
- Clocks don't work. Phones don't work either. Radios don't work as well. Go figure. Oh, before I forget. Laptops don't work either. Well, unless you just use it for light or something. Maybe a quick bookkeeping using Excel. But yeah, no internet connectivity at all.
- Remember the whole "town in the middle of nowhere part"? Yeah, I mean literally in the middle of nowhere. On the sides are very high mountains. The only entrance seems to be a bridge connecting the town to a highway but--well, you'll find out later on. Stay tuned!
- Sometime in the middle of all your exploring, salvaging and character development/interaction/drama, the town will enter a period called Nighttime. And this isn't just your sweet vanilla evening either. Nighttime seems to...change stuff. Does this stuff involve people? We'll find out.
- That voice wasn't just decoration and horror-stuff guys. It comes from within you. Hmm...maybe if you shoot yourselves in the head with a pistol, some freaky mythological character will come out? Want to try?
- No magic or androids or whatever. Regular humans exploring a regular abandoned town. Well, as far as regular is concerned.

Well, that's all for now. I may add more if necessary. If you have any questions, feel free to ask your adorable, little tour guide! I mean literally. You can find her in game. I mean story. I mean--whatever.


Character Sheet:
Name:

Age:

Gender:

Personality: (At least 1-2 paragraphs)

Appearance: (At least one paragraph. Short description will do)

Inventory: (Things you have on hand)

Background: (What the character was like.)

Other info: (If there's anything else you want to write)
Well, this joint's about to head on its way to being a private RP anyway so I'm sure I don't need to repeat the standard rules and stuff. They all apply. The only special mentions for now is:
- No godmodding.
- No magic and sci-fi stuff.
- Regarding characters...you can add as many as you want. Hell, you can even add in ten characters if you want. However, all new characters must be sent in as an actual character. You know, make a sheet for them and submit it here for approval? That stuff. Unless you intend them to just be an NPC which you'll kill off later on. Oh, and as an extension...
- Killing off NPCs is fine. You can have them appear in one scene and die in that scene if you like. However, that cannot apply for listed characters. If you want a listed character to die, you'll have to tell me first.
- As the mod, I'm the only one who can say when Nighttime has fallen. That power belongs to me alone.
Taking place in...
Arcs are bundles of posts that you can organize on your own. They're useful for telling a story that might span long periods of time or space.
There are no arcs in this roleplay.
There are no quests in this roleplay.
Here's the current leaderboard.
There are no groups in this roleplay!
Welcome home, Promethean. Here, you can manage your universe.
Arcs are bundles of posts from any location, allowing you to easily capture sub-plots which might be spread out across multiple locations.
You can create Quests with various rewards, encouraging your players to engage with specific plot lines.
Settings are the backdrop for the characters in your universe, giving meaning and context to their existence. By creating a number of well-written locations, you can organize your universe into areas and regions.
Navigation
While not required, locations can be organized onto a map. More information soon!
There are no groups in this roleplay!
By creating Collectibles, you can reward your players with unique items that accentuate their character sheets.
Once an Item has been created, it can be spawned in the IC using /spawn Item Name (case-sensitive, as usual) — this can be followed with /take Item Name to retrieve the item into the current character's inventory.
Give your Universe life by adding a Mob, which are auto-replenishing NPCs your players can interact with. Useful for some quick hack-and-slash fun!
Mobs can be automated spawns, like rats and bats, or full-on NPCs complete with conversation menus. Use them to enhance your player experience!
Current Mobs
No mobs have been created yet.
Locations where Mobs and Items might appear.
You can schedule events for your players to create notifications and schedule times for everyone to plan around.
Add and remove other people from your Universe.
The Forge
Use your INK to craft new artifacts in And Still...Life Goes On.... Once created, Items cannot be changed, but they can be bought and sold in the marketplace.
Notable Items
No items have been created yet!
The Market
Buy, sell, and even craft your own items in this universe.
Market Data

Market conditions are unknown. Use caution when trading.

Quick Buy (Items Most Recently Listed for Sale)
None
Discussions
Topics

Replies
Views

Last post
Most recent OOC posts in And Still...Life Goes On...
There have been no posts in the OOC topic for this roleplay!