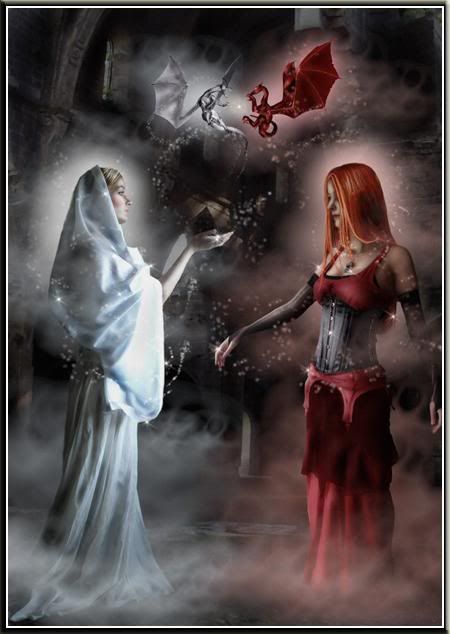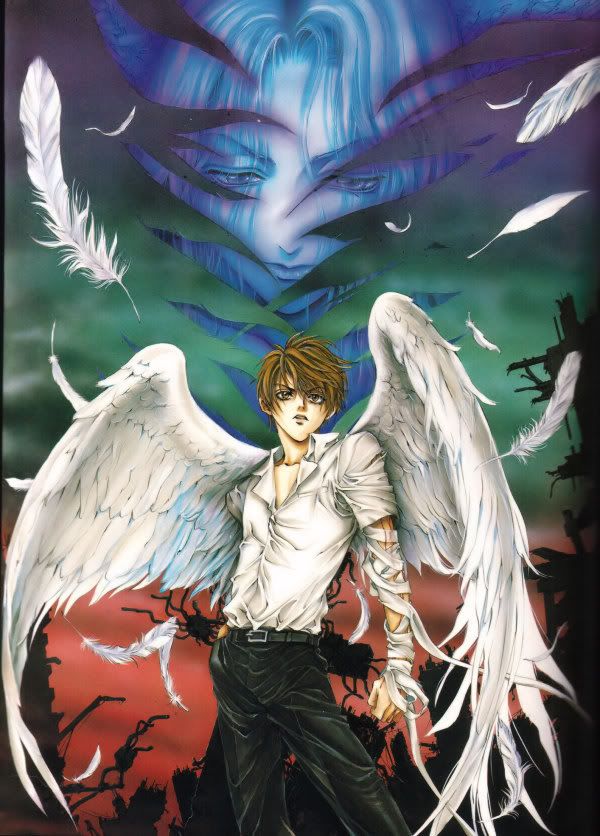 The Angels
The Angels have always been known as the good guys, but some aren't so great. Some tread the border of being a complete Angel. Others are the goody-two-shoes that everyone expects. The Angels have been known to be quite cocky and snobbish, or completely innocent and unknowing of the evils in the world. However, they all share one thing: A hatred of the Demons. The more snobbish Angels tend to hate the Demon Hunters as well, mainly for stealing their jobs. But, that varies from angel to angel...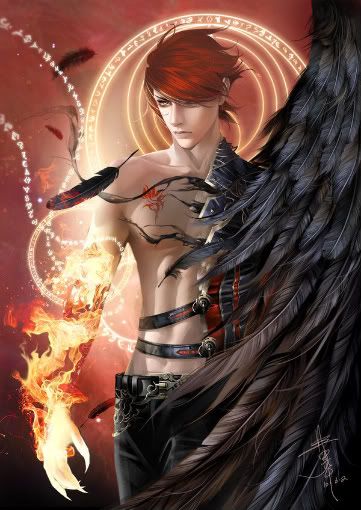 The Demons
The Demons are the complete badasses that they have been dubbed to be. Some may be slightly misunderstood, but all have a little... Crazy to them. Some just have a bit more than other, meaning some are sadistic, and some just commited some sins that pushed the Lord to make them Fall. However, they all hate the Angels for their cockiness and the Demon Hunters for the simple fact that they think they can kill them. Some are just more radical than others in their hatred...
The Demon Hunters
These Demon Hunters are wanna be Angels. They are like those kids that try and join into groups they really don't belong in. They are Nephilim, half angel half humans. So, they aren't completely out of place, but they aren't exactly part of the group either. They do share a hate for the Demons, and adore the Angels. They practically put them on a pedistal. Though, some are starting to see how rude the Angels can be, starting to form a slight dislike for them...
Plot:
The Angels and Demons are fighting, always fighting. But the Demon Hunters are getting into the fight as well. However, some of the Angels, Demons, and Demon Hunters are falling in love. And with all the wrong people...
Roles:
Angel 1: He absolutely hates Demons, but enjoys the Demon Hunters for their adoration of the Angels and their killing of the Demons. (TAKEN by poeticjustice8012)
Angel 2: Younger brother of Angel 1. He is one of those Angels that sees redeption in people everywhere. Therefore, he doesn't hate the Demons, and he doesn't hate the Demon Hunters either. (TAKEN by ReaperGirl4)
Demon 1: He doesn't hate the Angels, but he despises the Demon Hunters, since he has seen them killing his people. (TAKEN by freakofnature)
Demon 2: He despises the Angels, and he fears the Demon Hunters, but doesn't hate them. Younger brother of Demon 2. (TAKEN by twi-twi)
Demon Hunter 1: He absolutely loves the Angels and hates the Demons. (TAKEN by Specrum)
Demon Hunter 2: New to his Demon Hunting responsibilities, he doesn't yet hate the Demons the way he should. However, he sees the bad side to the Angels. Best friend of Demon Hunter 1. (TAKEN by ReaperGirl4)
Couples:
Angel 1+Demon Hunter 1 (poeticjustice8012/Spectrum)
Angel 2+Demon 1 (ReaperGirl4/freakofnature)
Demon 2+Demon Hunter 2 (twi-twi/ReaperGirl4)
Skelly:
Code: Select all

[center][size=200]Name Here[/size][/center]
[left]Anime Picture Here[/left]
[b]Role:[/b]
[b]Age:[/b] (Appears to be)
[b]Relationships:[/b] (Brothers, friends, significant others?)
[b]Personality:[/b]
[b]Views on Demons:[/b] (If you are not a Demon)
[b]Views on Angels:[/b] (If you are not an Angel)
[b]Views on Demon Hunters:[/b] (If you are not a Demon Hunter)
1. Be nice to the other roleplayers, no fighting in OOC.
2. Yaoi only please, but don't do anything to get me banned!
3. Anime only please! Anything else will be rejected.
4. 400 words at least per post.
5. Try to post as much as possible! At least once every two days?
6. No Mary Sues.
7. Don't kill people off without consulting eveyone in the OOC.
8. Don't join if you can't commit!
9. No text talk, I want literate people.
10. No God-Modding.
Now, my fellow Roleplayers, have fun with this!
Taking place in...
Zev had been flying pretty far and fast out there. He was seething with rage at the fact that he had to show some damn emotion. And in front of all those people! This was all Allen's fault. If he hadn't kept pressing and pressing him, maybe he wouldn't have had to do all that. Hell, if Allen were just a normal damn demon, he wouldn't be dealing with all this! He would actually enjoy all of this with Zev, all the mayhem they created together. If Allen hadn't wanted to walk on the bad side with him, then maybe he should have just stayed an Angel. But Zev knew that he would never regret his brother's decision to come with him. He was grateful that he had come with him. Back then he couldn't take care of himself.

"Zev!"

Well, speak of the devil. Well, demon really. Zev stopped and turned to his brother, his face in its normal mask of anger and annoyance. In his eyes was a rage, but also a hurt at being misunderstood. "What the hell is wrong with you! Don't you dare go running off like that. You scared the fucking shit outta be, brother." Zev scowled, lifting his lip over his teeth when he felt the slap on the back of his head. "So sorry to waste your time worrying about me. You can't even spare some time to remember our last brush with the Demon Hunters. Can't dare to let me explain myself, ever." Before he could get anything out, he was being pulled into a hug from his brother. He stiffened at the touch.

"Don't you ever run off again. If you do…I wont hesitate to kill you myself and hand you over to the Hunters."

Zev wasn't about to push his brother away, but he wouldn't put his arms around him either. He simply patted his shoulder. "I can do as I damn well please. I can take care of myself perfectly well. But whatever, I'll come home. Come on, brother. Let's go." He sqirmed out of the hold and started flying slowly back in the direction of home. He didn't say anything. His mind was miles away, years away. He was thinking of that brush with the Demon Hunters that now has him terrified of them...

The images going through his mind were torturous. He and Allen had ran into a group of Demon Hunters. They hadn't even been doing anything that night, but they were attacked anyways. This was back when Zev was just an angsty Demon. He hadn't snapped quite yet. He wasn't crazy quite yet. They were out numbered. 3 Demon Hunters all coming at them both. Zev was dealing with the Demon Hunter that was going at him. His back was turned to his brother. In fact, he had forgotten anyone else was there. That was, until the scream that is. Zev had whirled around, wide eyed, seeing his brother on the ground with a deep gash from his right shoulder across to his left side. The two other Demon Hunters were standing over him. Zev immediately had barrel through the Demon Hunters, picking up his brother and flying away, avoiding the gun shots. A couple had hit his leg and arm, but he kept flying. He made it to the apartment and had put his brother down on the table and started panicing.

"It isn't healing! Why isn't it healing?! Oh my Satan, it's so much blood!" Zev had ran into the bathroom and grabbed all their towels, and put them on Allen's chest. He then layed his head on the bleeding demon's chest and sobbed. "I'm sorry brother... I'm so sorry. I will never put you in danger again. I swear to you." He had stood and wiped the tears, looking down at his brother. "I will be strong from now on." On that day, Zev had snapped. Eventually he had stitched his brother up, but seeing that much blood out of his brother had done something to him. He wanted to make other's bleed like his brother had. Hurt as he had. And to this day, He was still like that.
---
Sorry. Ryker blinked, suddenly wondering if he'd said that word aloud or just in his head. He looked around at those around him, but nobody seemed to notice if he had, so he shrugged it off and kept his mouth shut. He wasn't sure what he should be sorry for anyway, but he felt bad in general. Guilty. It was how he felt half the time after fighting against demons. They were evil and despicable creatures that did nothing to contribute to society and only enjoyed the game of destroying humans and his precious angels, but they were still living, breathing things that didn't exactly deserved to be blown up in the bloodiest of ways as he sometimes felt like they should.

He realized he'd been spacing out. When he focused back into reality again, he realized Icarus was speaking to him. Him! His Ica was talking to him! What was he saying!? Stop thinking and listen! It could be important! "...though, Ryker, I'm probably going to spend the night." Ryker nodded and smiled like an idiot. He loved it when Ica stayed over at his house. It wasn't much, really. He usually came over after dark and only came to sleep, leaving in the morning before they had a chance to spend any time together, but it was nice just knowing he was around. If he ever had the nerve to, all he'd have to do is leave his room and fall asleep right next to him. Of course, Ica would probably beat the stuffing out of him if he tried and he'd never get the guts.

When Ica was out of his sights, Ryker felt another twinge of guilt. Was it Icarus? No, he hadn't done anything to feel guilty about towards him, so what did he... Eon. Oh, he said something bad, hadn't he? Something mean and crude and that's why he felt so bad. He hadn't.. Well, yeah, at the time he'd meant it, but he would take it back now. He ignored the others to search for his partner, finding Eon closer by than he expected, looking completely miserable. Another twinge. "Hey, Eon, why don't we get something to eat? Icecream? You did great today for your first time." He smiled at the brunette. He couldn't let himself forget that Eon wasn't just his partner or his trainee, but also his friend. Best friend. Only friend. What could he consider Ica?

He patted Eon on the head, messing up his hair before they started walking away from the scene. As they walked, he pulled something out of his pocket and put it in the gun, handing it back to Eon. "Here's your gun. It was a good try throwing it at that demon! It didn't do much, but I guess you couldn't of known that." He was totally contradicting himself from all the things he said earlier about how stupid it'd been to actually throw his own weapon at the enemy, but Ryker hardly realized it anyway. "You'll do better next time."
---
One week. That was how long it had been since those Demons had shown up and there was nothing to do or kill. Nothing to do except train, but, well, that hardly counted. To put it in a nutshell, Icarus was bored. He had stayed a few nights over at Ryker's but he wasn't about to extend that stay to anything longer than three days and came back home to see that Azrael hadn't been training as much. Of course Icarus had been angry about that but he was too glad to see his brother alive (two days alone for Azrael was a long time! And the kid hardly knew how to make cereal!) to really do anything about it, as long as Ezzy promised to practice more often than he did. That being said, Icarus wasn't getting his hopes up but... Well, anything to try to keep his brother alive, right? I'd do anything to protect him. Icarus sighed as Ezzy shot his bow, hitting the target but taking far too long to draw and aim.

He's out of practice. The Angels were on the roof of their apartment, training a little. The Demons had disappeared recently, not coming back for whatever reason. Ryker and his friend, Eon (that was his name, right? Oh, who cared. It wasn't important anyway), weren't around, thank god, but... Things were boring. Really boring. Icarus was a day away from just screwing it, sending Azrael over to the Hunters' house, and going on a little Demon hunt. I might even bring Ryker around if I'm in a good mood, Icarus thought, tossing the idea around before scoffing at it. He could hardly stand the Hunter in a good mood, and the man's weird bi-polar thing just bothered the Angel. It was practically impossible to tell what was going on with the guy until he opened his mouth, and even then...

"Azrael. You've been at it for hours. Go take a few and drink some water." It was only partially a lie. They had been out there for four hours but two of those were Icarus showing his brother a few hand-to-hand moves and only one was Azrael shooting his bow. The kid didn't complain though, and went inside, leaving Icarus on the roof alone. The older Angel sighed, running a hand through his light brown hair. Nowadays the most time he spent with Ezzy was, well, on the roof while they were training. The other day in the restaurant (well, last week) had been an attempt to get them to spend more time together. And, well, the Demons seemed to have ruined that one pretty well. "Stupid Demons... They should all be killed." Icarus took a deep breath and summoned his sword, breaking it into its two pieces and starting to go through the motions he could practically do with his eyes closed.

Actually, he could do them with his eyes closed. He had blindfolded himself once. (Of course that ended with him almost falling off the roof but the point was still there.) They weren't anything complicated. A few flips, cutting at the air, blocking attacks that didn't exist... That kind of a thing. Icarus was jolted out of his concentration when he heard a phone ringing. His phone ringing. The phone that only had two contacts because, let's be honest, there were only two people who would ever need to contact him (or vice versa). Considering Ezzy was in the same building and would just shout for him, that left one person. And Icarus was sorely tempted to just ignore the phone because he didn't really feel like dealing with a certain bi-polar weirdo.

"Ryker, is something wrong?" Icarus asked, answering the call and leaning against the wall that lined the roof (it was crumbling in a few places, hence the Angel almost falling off said roof). "Or are you just bored?" That generally was why the Hunter would call. Icarus wouldn't say they were friends, but they weren't enemies either. It was hard to say what exactly they were. "I'm training with Ezzy so I can't talk for long."
---
Arcs are bundles of posts that you can organize on your own. They're useful for telling a story that might span long periods of time or space.
There are no arcs in this roleplay.
There are no quests in this roleplay.
Here's the current leaderboard.
There are no groups in this roleplay!
Welcome home, Promethean. Here, you can manage your universe.
Arcs are bundles of posts from any location, allowing you to easily capture sub-plots which might be spread out across multiple locations.
You can create Quests with various rewards, encouraging your players to engage with specific plot lines.
Settings are the backdrop for the characters in your universe, giving meaning and context to their existence. By creating a number of well-written locations, you can organize your universe into areas and regions.
Navigation
While not required, locations can be organized onto a map. More information soon!
There are no groups in this roleplay!
By creating Collectibles, you can reward your players with unique items that accentuate their character sheets.
Once an Item has been created, it can be spawned in the IC using /spawn Item Name (case-sensitive, as usual) — this can be followed with /take Item Name to retrieve the item into the current character's inventory.
Give your Universe life by adding a Mob, which are auto-replenishing NPCs your players can interact with. Useful for some quick hack-and-slash fun!
Mobs can be automated spawns, like rats and bats, or full-on NPCs complete with conversation menus. Use them to enhance your player experience!
Current Mobs
No mobs have been created yet.
Locations where Mobs and Items might appear.
You can schedule events for your players to create notifications and schedule times for everyone to plan around.
Add and remove other people from your Universe.
The Forge
Use your INK to craft new artifacts in Angel And Demon Wars. Once created, Items cannot be changed, but they can be bought and sold in the marketplace.
Notable Items
No items have been created yet!
The Market
Buy, sell, and even craft your own items in this universe.
Market Data

Market conditions are unknown. Use caution when trading.

Quick Buy (Items Most Recently Listed for Sale)
None
Discussions
Most recent OOC posts in Angel And Demon Wars