(leary-elle)
Nicknames:
Elle
Gender:
Female
Age:
305 (looks to be about 23)
Role:
Guardian Angel (born of the feather of an archangel)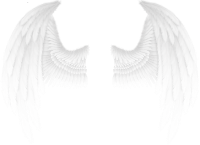 Likes/Dislikes:
+ Rain/Water in general
+ Music (It kind of entrances her)
+ Dancing
+ Nature
+ Guiding Humans
- Failure
- Her charges getting hurt
- Cold weather
- lying
History:
I guess you could say Liriel was "born" into the role of being a guardian, if a guardian angel can be "born" in the first place. Birth is an entirely human concept, so it would be more correct to say that Liriel was created to be a guardian. She was created by a feather taken from an archangel, thus her wings are similarly white. For as long as she can remember she has been a guardian angel; watching over the humans she was assigned to, keeping them safe, and guiding them into the afterlife when time deemed it necessary. It always shocked her how fast life ended for humans. She currently has 4 humans she is guarding. 2 are near infants, 1 is near death, and one is a middle aged man. She is told that when the old gentlemen perishes from the earth, she will be assigned a new human to look after.
Personality:
Liriel is very loyal and hates to disappoint anyone. Failure is not an option for her, and because of this she can come off as cold but she truly cares for others deeply. She also hates to see anyone in any kind of pain: emotional, social, mental, physical, or otherwise. She would go to the ends of the earth to help a person in need. Liriel LOVES nature, music, and water of any sort. She would spend an entire day on earth surrounded by nature near a waterfall if she had the permission to do so, and the elders are very aware of that. They give her permission to do so once in awhile but they try to restrict her visits to earth for fear she will become too intrigued by it.