---
---
"BUCKLEY SCHOOL'S TEEN MISCHIEF"
---
---
---
---
---
---
---
---
Full Name
Caspian Vaughn Siyansky
"I have a pretty bad ass reputation at Buckley School."
Nickname
Casper (common, liked), Casp (used from girls who are flustered by him; adores), Siyansky (his clique and others; neutral), Cassie (used accordingly; hates)
"I don't have much nicknames. The only nickname I'd respond to is Casper. Don't expect me to respond to any others."
Date of Birth
July 4, 1999
"I was born on the fourth of July. Pretty fucking creepy if you'd ask me, but it is what it is. Presents and fireworks in one day? Hell, yeah."
Zodiac Signs
Gemini
"I'm a Gemini, so I change my mind everyday. But believe me, when I'm done with you there's no coming back."
Nationality
Vietnamese 26%, Slovak 42%, Greek 16%, English 10%, Nigerian 6%
"I've got blood all around the globe. People don't believe me when I say I'm part Nigerian, I wouldn't either to tell you the truth."
Sexuality
Heterosexual
Sexually Active?
Most definitely
"I can't count how many times I've had sex. 20? 30 times...? It's beginning to be a habit more so than a hobby for me. I like it, no, I desire it. I guess you can say that I'm one horny mother fucker. Ha! But what teenage dude isn't? "
Relationship Status
Single-ish
"I would say that I'm single, but most of the girls I'd hooked up with don't seem to think so. They like to make up some shit that I'm still with them or whatever. Every girl I'd had a one night stand with seemingly thinks that we're a thing now. Not my fault they practically threw themselves at me. Just because I banged them once- twice doesn't necessarily mean that imma see you the next day. I'll ignore your ass to tell you the truth. I don't want to be a dick about it, but it's the truth. I'm not into relationships that require my fully commitment."
---
---
---
---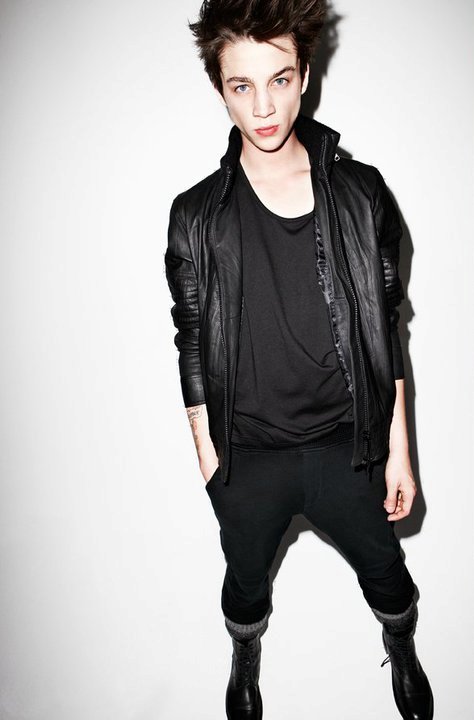 How old does he appear
Early 20s, sometimes 19 years old
"People often have mistook me for my age. They say that it's the tattoos that somehow make me look older. Whatever the case may be, their stupidity got me in clubs before without an ID, so I'm okay with that."
Age
Eighteen
"Fuck no I'm not getting older infact, I think the more I age the more I want to party. Believe me. I'm not getting older, I'm just becoming a classic."
Height
6 ft 2 in or 187.96 cm
"I'm pretty fucking tall for a guy like myself like, It's a possibility that I could be Old Lincoln's great-great-great grandson or some shit."
Weight
73 kg or 160 lbs
"I eat alot, and I mean it when I say alot. Though, I blame Rhiannon. She always offers me food whenever I'm at her house and knowing me.. I'd eat until I can't eat anymore."
Measurements
44-14.5-33 in or 112-37-84 cm
Shoe size
10.5
Body Build
Athletic; mesomorphic [x], [x], [x]
"Like I said before, I eat like a fat ass who hasn't eaten in two days of something."
Shape of face
Square
"How the hell should I know? Square-ish, I guess. I mean, it's just a face."
Distinguishable Marks-Tattoos?
Tattoos[???]- [x],[x],[x],[x],[x],[x],[x],[x],[x],[x],[x],[x],[x],[x],[x]
Distinguishable Marks [???] Scars from getting in fights, and from falling off his skateboard multiple times. Nothing serious.
"Tattoos have become a part of me now; however, I don't think I have Rhiannon beat yet. My mom hates it when I get tattoos, ''you're giving your soul to the devil', she always tells me, but here I am coming home with a new tattoo each day. I guess you can say that I'm a devil's child..? At least that's what Rhiannon says. My body is my journal, and my tattoos are my story."
Physical Disabilities
Blinded in right eye
"When we were younger, Brent and I used to wrestle each other often or fight, like we were featured on one of those MMA fights. Things had gotten out of hand one day that when I tackled him to the ground, I guess he'd gotten so angry that he punched me on the right side of my head just right next to my eye, nearly knocking me out. I remember my mom took me to the doctor afterwards, and all I could remember was how Brent somehow triggered my optic nerve, in which moved to my retina to my cornea.. blinding me in the process. I can still see, but I can't see as well as I used to. I'm not blind or anything. My doctor prescribed me to wear glasses that I never seem to wear."
Eye Color
Misty Grey
"My eye color is a mixed between blue and grey; some say it's blue, while others say it's just plain grey. No one really knows. For now, my eyes are just misty grey."
Glasses or Contacts


Yes; glasses
[x]


"I'm supposed to wear my glasses, but I decided not to. My doctor yells at me constantly to wear them, but I never listen. When do I ever listen?"
Skin
White; Caucasian
"I'm not going to be a perfectionist and go all out saying the specific shade of skin color I am. It's not only a waste of your time, but it's also a waste of mine. Just put it this way, I'm white. Or caucasian; however, you want to describe me. I really don't give two shits. Black, white, purple. It's just a color, don't need to go all ape-shit on me."
Hair color
Light brown
"My natural hair color is light brown; however, I recently dyed it black."
Hairstyle/s
[x],[x],[x],[x],[x],[x],[x]
"I have a habit of changing my hair style. One minute it's slicked back neatly with hair gel, and the next minute it's messed up or spiked. However I feel like treating my hair. It all sort of varies. My hair has it's own personality."
Style
Urban
[x]
"People often mistake my clothing style. Urban style is really only edgy and reflects lifestyle, attitudes and individuality. Unlike mainstream fashion, anything goes in the urban fashion world and designers are not pressured into conforming to trends. For me, urban fashion is real fashion, style that exudes individuality and attitude. From vans to combat boots, denim jackets to lettermans, with urban style it's all about mixing and matching. Urban is just basically grunge [x] style with a hint of street somewhere in between."
Accessories or Jewelry
Wristbands, beanie hats, snapbacks; depends. Wants to get a tongue piercing, but mom won't let him.
'I don't know if these are one of those rhetorical questions or some shit, but the fuck? Jewelry? You mean, like, necklaces and bracelets? Hell, no. The closet thing I'd do to putting my ass in some type of accessory is just a casual wrist band [x], beanie hats [x], snapbacks [x], or even some type of piercing. I want to get a tongue piercing [x], but my mom won't let me though I remember Brent coming home to surprise her with his lip piercing, she grounded him for two months.
Standard Outfit/s
[OUTFIT 1],[OUTFIT 2],[OUTFIT 3],[OUTFIT 4],[OUTFIT 5],[OUTFIT 6],[OUTFIT 7],[OUTFIT 8],[OUTFIT 9],[OUTFIT 10], [OUTFIT 11]
Overall Attractiveness
A fucking 10/10
"I know what girls want. They want a bad guy whose filled with reckless adventure. A guy that lets them ride in the back of their motorcycle. A guy who's in a 'no strings attached relationship'. If you're that type of girl, then I'm your type of guy."
---
---
---
---
Grade Point Average
two point five [2.5]
"I never said that I'm any good when it came to school and studying. I got held back so many times in the year, I lost count."
Drives & Motivations
Himself
"I know what I need to do to live it up in the big world. I know that I need to bring up my grade point average and quit shitting around, I know. I've been told this so many times and yet the same people that have been telling me this since I was two don't understand that what they're telling me is going in one ear and out the other. It's my life that I'm living, not theirs. I don't have to get told continuously to change my bad habits or do good in school. I already know these things. I'm trying as best as I can."
Immediate Goals
"I don't exactly know what I want to do when I get older, what my profession is going to be or whether or not I'll be going to college. I find myself living in the present without worrying about the future. I'm not like Brent. I don't see myself attending some big, elite college like Oxford University. I'll probably want to wind up in the military, and then probably get a scholarship to UCLA or some other college, majoring in god knows what. Possibly major in medicine and become a Physician...?"
Long Term
"Well, to be honest I haven't quite gotten this far yet. I'll become a doctor living in LA, possibly... yeah, that's all I've got."
How the character plans to accomplish these goals
"Blah, Blah..Stay in school. That's practically the answer for everything, believe me, I've already asked Suri. How do I get rich? Stay in school. I mean, school isn't everything. School's not going to help me throughout the years."
Where do you see yourself in five years? Ten years? Twenty years?
"How should I know? I'll be rich with hot super models around me everywhere I go. I'm not that ambitious as you can tell. I think thinking about what you're going to do in the future, where you're going to be, who're you going to marry, whether or not you'll have kids; I think it's all useless. We have to live in the moment because you only live once. Do it wisely. Quit worrying to much, and live it up. "
---
---
---
---
Hobbies
Flirting
"When I flirt, I flirt hella hard. I leave my victim wanting more. I play hard to get most of the time, but with a wink of the eye and a little space between me and them, they're pinning themselves on me like a leech."
Plays a musical instrument?
Yes; banjo, acoustic guitar, drums
"I play a few musical talents up my sleeve from banjo to acoustic guitar to the drums. My mom paid classes for me to take a bajo and drum class, but other than that I've taught my own self to play the acoustic guitar."
Plays a sport?
Yes; pitcher for the boys' varsity baseball team
"I'm a pitcher for the boys' varsity baseball team. I haven't really took consideration to playing football or not, it's really not my thing. Other than baseball, I'm thinking about going out for track and field."
Spending Habits
Shoes
"If it's one thing I always spend my money on is shoes. You can never have too much shoes. I like all types from PF Flyers [x] to Chucks [x]. From Vans [x] to Moccasins [x], and Yeezys [x] My feet stay fly with a new pair of shoes each week. I keep my shit clean, what I do is I keep the box and lay them on top of my closet in a neat stack. Currently, I have about seven hundred thousand dollars worth of shoes as I speak."
Smokes?
Fuck, yess
"I stay high on some random shit, as I'm often told. I come to school high, but the teachers hardly even notice. I smoke every second of the day: cocaine, marijuana, weed brownies even cough medicine. All I do is crush it up, then inhale the shit in my nostrils. Next thing you know I'm high as fuck; floating on cloud nine. I mostly get the drugs from one of the rebels, or some fool sellin' in the streets."
Drinks?
Absolutely
"I drink...alot. Not as much as I smoke; however, I only drink the good stuff like, hennesy [x], vodka [x], tequila [x], brandy [x], whiskey [x], cuba libre [x]. I'm not a big beer drinker, infact I hate beer."
Quirks
Accent
"If there's one thing that is a common habit for me is my english accent [x]. One minute I'm talking in a complete American accent, then next thing you know I sound like a full out Britsh guy. It comes from my mom and my family in general. We aren't that used to the American language that we often let ourselves go."
---
---
---
---
Greatest Joys In Life
His dogs
"My dogs are my babies. Each and every one of them. They've been with me for so long that I always put them first before all else. I love em' and treat them like family because they are."
Greatest Fears
Abandonment
"I know that my parents are divorced, I know my dad moved out the house, and I know that he has another family of his own to take care of, but what I fear his is forgetting about his previous family; me, Dani, and Brent. I love my dad. He's a cool guy, supportive as well, and always there for us, but how long will it last? Will he remember us today, but end up abandoning us tomorrow? I hate the thought of it."
Priorities
Continue succeeding in popularity
"I love to win. Winning is my safe haven. It's all I ever think about, that and my popularity. I've gotten so far up just from freshman year that I have no intentions of going back where I first started. I'm here and I'm here to stay because it's where I belong. I enjoy being known. It's a wonderful feeling that seems to never get old."
Life Philosophy/s


"Find a song, whether it's disco, or pop or hip hop or whatever. Just turn up your stereo as high as it goes and dance. And if you have to, keep dancing until you lose yourself, or until you find yourself again."
-Anonymous



"The purpose of life is to live it, to taste experience to the utmost, to reach out eagerly and without fear for newer and richer experience."


- Eleanor Roosevelt
Personality


+Flirty +Sympathetic +Extrovert +Irresistible +Individualistic +Witty +Gregarious
-Sarcastic -Rebellious -Mischievous -Arrogant -Brutally Honest -Harsh -Demanding

Casper is a romanticist, living in a purely idealistic world where everyday is a fairy tale and nothing ever goes wrong. He's a diplomat, always searching for ways to bring people together, to create lasting physical and emotional connections in people. Because of his talent for being able to see the full picture and not just details, he is often found playing the peacemaker between different parties, completely unbiased and able to see things from others points of view. Though at heart a true rebel, he tries not to be tied down to others, living for the bonds he creates with many people, not just one. He tends to be the life of the party, but rather than living for the excitement and spontaneity of the moment, he is enjoying the interactions he has with others.

Charming, independent, energetic, and compassionate. If you were to ask anyone to give you a word to describe Casper, there is no doubt these four would be more prominent. He has an irresistible charm that makes him hard to dislike, and much too easy to be swept up in the tornado that is Casper. There's a way about him that just makes things exciting, he puts so much heart and fun into things that even mundane tasks such as chores can be seen as fun when he is with you. Do not try and limit him though, for you will see a part of Casper that no one will find charming and lovable. Fiercely independent in every aspect, he craves creativity and freedom, the ability to do what he wants when he wants. That isn't to say he can not follow the rules of others (though he does have a tendency to bend the rules), but if you try to micromanage him, nothing can go right. He would prefer to make his mistakes and own up to them than have someone over his shoulder the entire way, making sure things are done right.

Casper has an enthusiastic personality, coming up with new ideas all the time and throwing his whole self into them. In the past years he has gone from hundreds of different things, from wanting to be a photographer, to a artist, to a jockey, DJ, musician, programmer, professional athlete, lawyer, doctor, and the list just goes on. It's hard for him to find a place where he's truly comfortable, though he's good at most of these things and picks up various skills very quickly (due to his determination and compassion), he had not yet found a place where he wants to stay. That is one of the downfalls of a ENFP though, he will spend a lot of time exploring various interests, social relationships, ideas, his feelings, until he finds something that just clicks. His compassion for people and ideas is something else that tends to draw people in, because it is rare to find someone so genuinely interested in everything. It makes people feel comfortable around him.

But Casper is independent to a fault, going as far as to let himself suffer before he will even think about involving another party. His interest for others and desire to know leaves him very closed off, because he is constantly wanting to learn more and is often suppressing himself, his own personality, his feelings, his needs. Being someone who has always been considered a "trouble", Casper has now grown terrified of becoming a burden to anyone else, so he rarely allows others to help him out, even if they offer. This is made worse by his attitude towards others, and how people generally find him sensitive and empathetic so they feel compelled to tell them their feelings and problems, which can lead to him becoming stressed very easily. That isn't to say he doesn't enjoy helping others, but it can become a task for him to stay away from being overwhelmed because he wants to help so much.

In relationships with others, both friendly and romantically, Casper is always open-minded and supportive, warm and sincere and almost a natural at drawing people out of their shells. He has a large group of friends and is constantly making more, never judging on things as silly as social statuses or rumors heard from another. People are drawn to him, especially out-going types, because of his attitude. He will go to great lengths and be very persistent in getting to know more reserved types of people, especially if they interest him or have rejected him socially before. Drawn especially to introverted types, they can keep him interested for a much longer time than others like him, open and willing to share, because of their usually private nature, even if they may never reciprocate. On the other side of the coin though, his willingness to put his entire heart and soul into a person can be what injures him most. It can come to a shock as him when he discovers his friends aren't as flawless as he thought they were, or that they aren't putting as much into their relationship as he is (which is unrealistic).

In conclusion, there are very few types of people that are as energetic and compassionate as someone like Casper. His idealism can be his greatest asset, unexpected challenges or personal growth, and his biggest weakness, maintaining a relationship with a partner, staying calm, making decisions. Overall he just has a very large heart that he wants to give all of to everyone, and sometimes forgets that not everyone is a saint.
---
---
---
---
Favorite color/s
Black [x], Grey [x], Forest Green [x]
, White [x]"I like the really dark color that match with everything, and white as well I guess. I'm not all that into exotic, bright colors. They seem to leave me with one helluva migrane."
Least color/s
Orange [x]
"Orange is just not my thing, I hate it, I never look good in it, so I don't know what more to say about it. It's not a good color. I don't even know how it got to be a color to tell you the truth."
Music
Hip-hop, R&B, Rap, Trap
"I'm into the hip-hop, r&b, trap, and rap music. I grew up liking guys like Lil Wayne [x], T.I [x], Tyga [x], Snoop Dogg [x], Eminem [x], Drake [x], Big Sean [x]... they had always been my favorite musical artists and still are present day."
Literature
"The Cat In The House" [???]; Caspian doesn't read much, especially on his freetime
"Ha! You're kidding me, right? I don't read. The closest thing I'd read is anything Dr.Suess [x]. 'The Cat In The Hat' [x] was my shit back in my kidd years."
Form/s of entertainment
Watching MTV; Ridiculousness [x], Catfish: Tv Show [x], Guy Code [x], Parental Control [x], Social media; 8.5K friends on Snapchat [x] 5.3M on Twitter-[x], 638.4K on Tumblr-[x], 12.1M on Instagram-[x], 1.2M on Youtube-[x], Skateboarding, Smoking; [x], [x], and Partying
"I try my best to stay entertained, whether i'm watching television, skateboarding, partying, or even smoking. The one thing I hate is being bored. I can never stay bored, I must find something, anything to keep me entertained."
Most prized possession/s
His phone [x] and his phone only.
"My iphone 7 plus is my life. I hardly let anyone touch it, let alone look at it. Most of my time of day is spent using my phone, and I can't tell you how many times a teacher had confiscated it in class."
---
---
---
---
What was your childhood like?
Alright; to him, lavish; to others
"Others would say that I have the 'dream life' and that so many teens would love to be in my shoes right now. I'd say my life is okay. After my parents divorced, and my dad moved out of the house, things had been different for me, Brent, and Dani. Of course, he visits us ever so awesome, but It's not the same. My parents were perfect together. Then, my mom met Austen next thing you know they're getting married in Paris. Him and his kids; Kayleen and Harrison moved in. They're pretty cool, but I still miss how things used to be."
Childhood Hero or Idol
Popeye (the sailor man) [x]
Dream Job
Physician
Schools Attended
Pre-K- La Petite Academy (Los Angeles) [x], Elementary (K-6)- Hawthrone School [x], Junior High (7-8) Beverly Vista School- [x], High School (9-11) Buckley School- [x]
Currently Living With?
His mom and her husband (step-father) and his two children (step-siblings) had recently moved in with them with Caspian's two siblings.
"I live with my mom, Brent, and Dani; however, my mom recently gotten married and now her husband and his two children, Harrison and Kayleen moved in with us."
Pets
Caspian's Rottweiler (Rocco) male gender, alive- [x]; Dani's Shih Tzu (Zoey) girl gender, alive- [x]; American Pit Bull Terrier (Brandy) female gender, alive- [x]; American Pit Bull Terrier (Buster) boy gender, alive- [x]; Doberman Pinscher (Beau) boy gender, alive- [x]; German Shepard (Sparky) boy gender, alive- [x]
"This is where most of my happiness lies within."
Occupation
None
"Yeah, I work. There's the couch and that's the television, my job is to change the channel to my liking. Ha! I'm being sarcastic. Hell, no I don't work and I'm not looking forward to it either. Why do I need to work? I'm already swimming in cash."
Finances
Nearly owns the United States.
"To tell you the truth, My mom has been keeping up with the finances, thanks to her acting and film directing career. She's a hard working and has been supporting me, Brent, and Dani for so long. I wouldn't say that we're exactly rich because not even that can explain the amounts of money we have and continue having. As of right now, we'll be lucky enough to buy out the whole United States of America."
Home


Address: 2571 Wallingford Dr,
Beverly Hills, CA 90210
One of the finest modern interpretation of the French chateau style, this magnificent estate is the definition of timeless grandeur. Situated high on a promontory overlooking the canyons on 5+ acres of land, the property offers an expansive 22,000 sqft of living space that leverages rich embellishments and color to capture authentic Baroque opulence. Meticulously designed and functional floor plan is tailored not only to the entertainment needs of sophisticated hosts but also to private family living. Sumptuous master suite w/his-and-hers bathrooms & walk-in closets;. Chef''s kitchen w/commercial grade appliances; wine cellar w/1,500+ bottles & separate climate-controlled tasting room; media theatre; gym; pool & spa w/gourmet BBQ area; elevator; sauna. Venetian plaster, imported marble, American walnut flooring throughout. Further set behind gates within the Wallingford Estates, this property is the rare convergence of privacy and exceptional luxury.

Full,Front View
-[x]-[x]-[x]-
Foyer
-[x]-
Sitting Area
-[x]-
Dinning Area
-[x]-
Living Area
-[x]-
Gourmet Kitchen
-[x]-
Breakfast Area
-[x]-
Meeting Room, Office
-[x]-[x]-
Laundry Room
-[x]-
Master bedroom (Parents' bedroom) w/ master closet and bathroom
-[x]-[x]-[x]-[x]-
Master Balcony
-[x]-
Caspian's bedroom w/ closet and bathroom
-[x]-[x]-[x]-
Brent's OLD bedroom w/closet and bathroom
-[x]-[x]-[x]-
Dani's bedroom w/closet and bathroom
-[x]-[x]-[x]-
Harrison's bedroom w/closet and bathroom
-[x]-[x]-[x]-
Kayleen's bedroom w/closet and bathroom
-[x]-[x]-[x]-
Guest bedroom 1 w/ bathroom
-[x]-[x]
Guest bedroom 2 w/bathroom
-[x]-[x]-
Indoor Pool
-[x]-
Home Theatre
-[x]-
Den
-[x]-
Sauna
-[x]-
Tennis Court
-[x]-
Indoor Basketball Court
-[x]-
Home gym
-[x]-
Elevator 1
-[x]-
Elevator 2
-[x]-
Elevator 3
-[x]-
Gourmet BBQ
-[x]-
Back View w/ pool and jacuzzi
-[x]-[x]-
Transportation/s
Abigail's silver-ish black 2017 cadillac escalade and 2017 space grey audi a6 cabriolet
-[x]-[x]
Austen's 2017 white jeep wrangler and 2017 white BMW 440i
[x]-[x]
Brent's 2017 silver Aston Martin Rapide and 2017 black BMW i8
-[x]-[x]-
Harrison's 2016 silver aston martin db9, blue 2016 Bentley Mulsanne
-[x]-[x]-
Caspian's 2017 black porshe panamera, red 2015 ferreri laferrari,red ducati Superbike 1299 Panigale, white 2017 ducati
-[x]-[x]-[x], [x]
Dani's 2015 silver mini coupe and 2016 bmw i3 space grey
-[x]-[x]-
Kayleen's silver 2016 nissan leaf and 2015 baby blue Land Rover Range Rover
-[x]-[x]-
Hometown
Beverly Hills, Ca
---
---
---
---
Biological Mother || Abigail Siyanski || 38 || director, famous t.v actress currently [
x
]-[
x
], and featured in 35+ movie works [
x
]|| Currently Alive
Relationship:
Biological Father || Jonáš Siyansky|| 38 || New York Times' Bestselling author || Currently Alive
Relationship:
Step-Father || Austen Cargill || 41 || Chief Executive Officer of Google [
x
] || Currently Alive
Relationship:
Biological Brother || Brent Siyanski ||19 || Stanford University College Student || Currently Alive
Relationship:
Biological-Sister || Dani Siyanski|| 17 || Model, currently schooling in Paris || Currently Alive
Relationship:
Step-brother || Austen Cargill III|| 18 || Buckley student (12th) || Currently Alive
Relationship:
Step-sister || Kayleen MacMillan || 17 || Buckley Student (11th) || Currently Alive
Relationship:"
---
---
---
---
What are you most looking forward to this year?
Parties
"All these parties that's just waiting for me to come thru. It's bout to be lit on 100."
Lifer? Or Newcomer?
Lifer
"Nah, been to this school since freshman year. I've dealt with the same shit ever since. Haven't gone here for middle school though, but been living in California since I was little, so it helps when everyone has heard of me."
Scholarship or Not?
No
"A scholarship?? Hahaha, for what? I'm sorry, but you're looking at the wrong person to be giving out scholarships like that. I don't need it, so it's pretty useless to me."
Grade
Junior [11]
"I'm a junior, yet again. A junior repeat if that's what you'd call it. I'm suppose to be a senior this year; however, my grades were horrible. So, I'm repeating junior year. Rhiannon keeps bugging me about it, saying that I need to hurry and graduate. Not my fault the teachers have something against me."
Clique?
Animals
"I practically rule the Animal clique. Like, a King Bee."
Place on the Social Ladder
The B-List
"Just because I'm one step under the heirs social supremacy, I'm not taking shit from anyone. I'm no one's bitch, alright? Don't expect me to listen to your orders 'cause I'm not a damn dog. Don't boss me around, and we won't have a problem."
Are you happy?
Hellz, yeah
"I don't think that any other place on the social ladder could get any better than the B-list. Other than the wannabes, the rest of us are just regular high school kids that's just waiting to fuck shit, and have fun. The Rebels and Animals are like peanut butter and jelly. We stick together, not only in detention, but outside of school as well. These are my people."
If you could be apart of any other clique which would it be? Why?
Hell, no
"I'm happy with my Animals. No matter how emotionally insane they are, I love em' all. Rebels included."
Secrets?
None
"Bitch where? HAHA."
Do you plan on joining a club or sport this year?
Yes; pitcher for the boys' varsity baseball team and a member of the Outdoor Education.
"I'm not involved in a lot of the school activities because my mom ade it clear she wants me focusing on my grades and whatnot."
Best subject
History
Worst subject?
Math