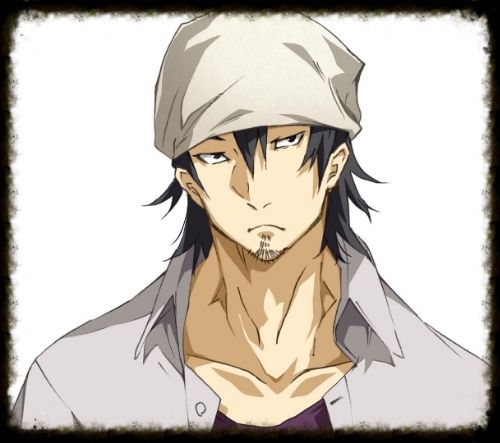 "I grew tired of hearing we would die the next day, so I figured 'why wait?' and picked up a gun."
---
---
NAME:
Lev Keisting.

AGE:
19.

HEIGHT:
6'2''.

GENDER:
Male.

HOMELAND:
Born in Terrasis, raised in Leviathan.

PRIMARY CLASS:
Slayer.

SECONDARY CLASS:
Scholar.
---
---
LIKES:
☺
Old Technology :: Although he does enjoy technology in general and can tinker, at least to some extent, with most machines in existence regardless of their time of creation, he has a soft spot for the more archaic apparatuses, such as radios or televisions. This is partly due to their simplicity compared to modern equipment, but also to better appreciate their evolution and adaptation to the changing human needs. His room is completely covered in spare parts of clocks, small motors, cameras and the like, some of which even he can't identify.
☺
The Sea :: He was raised being constantly surrounded by water, and while he is not particularly fond of his home, he does feel strangely at ease when listening to the waves of the ocean.
☺
Food :: Yes, food. Just, food in general. Considering his training as a Slayer is quite demanding and he needs to regularly jog with his equipment on to be prepared for missions, it is not surprising he needs to eat a lot for his body to keep up, and can consume several plates per meal. There isn't any food he will say no to, and while he can appreciate high cuisine and such, he has also eaten burned or spoiled rations without batting an eye.
☺
Clear and Direct People :: He is really bad at reading in between the lines during conversation and often misses the point when assessing the mood of other people, so he appreciates those who speak their mind openly.
DISLIKES:
☹
Fashion :: He feels more comfortable wearing simple clothes and in fact it is not uncommon to see him walking around in a light gray jumpsuit he uses for weapon maintenance. Usually, wearing formal garments makes him feel awkward.
☹
Household Tasks :: Despite being for the most part a responsible and reliable individual, he is extremely disorganized.
☹
Terrasis :: Lev holds no fond memories of his birthplace, remembering only to feel awkward and completely alone. He also thinks the local religion is neither realistic nor effective, failing to understand all their peace and nature jibber jabber and although he tries to be open-minded, he doesn't think well of its followers.
☹
Alcohol :: Though he is not a regular drinker, he sometimes gets talked into it by his older, maintenance staff friends, and ends up regretting every time, as he is the kind to get depressed after a few shots.
STRENGTHS:
✔ Sharpshooting :: Goes without saying, but he is a very good shot. Though he has been specializing in sniping and heavy firearms, he has received training to handle guns in general, and can aim a pistol accurately in under a second so long as the target is within 40m and with his current sniping equipment and skills he can land an accurate shot as far as 1.7km away – although considering the varying sizes and shapes of Daemons, these numbers can fluctuate. His eyesight, reflexes and hand-eye coordination are also top-notch.

✔ Physical Strength :: As he began to lean more towards using heavy artillery in combat, Lev had to begin training in order to be able to carry his equipment and still move at a decent rate, and really went the extra mile. Even for a Slayer, his physical prowess is astounding and can surpass the vast majority of his colleagues specialized in close combat, at least as far as raw strength goes. He also has enough stamina to run long distances while carrying heavy gears and tools and has become very resilient to blunt forces, so even if he won't stand a chance against a Daemon while unarmed, he can definitely take a beating.

✔ Tactician :: Though not a natural, having to learn how to assess battlefield situations from a distance, seek weak points, predict movements and coordinate properly with teammates to be an effective long-range fighter has taught Lev to think and change different strategies. He still lacks several skills to qualify as a good leader, but can serve as great support and consultant for his team.

✔ Vehicles :: In Leviathan, vehicles of all kinds were constantly going through the headquarters and if one knew who and when to ask – which Lev did – it was possible to drive them. Although he doesn't normally get the budget to mobilize them, he can drive very well most vehicles on land and water, but not on air… yet.
WEAKNESSES:
✘ Close-Ranged Battles :: Although he does have remarkable physical strength, Lev's brute force is not nearly enough to match that of most Daemons (at least those characterized for having superhuman might or large sizes), nor does he have any knowledge on martial arts or combat-oriented magicks. While he does own firearms capable of being used in mid-range, they are either too weak to do more than inconveniencing Daemons or could harm Lev himself if used at close-range.

✘ Terrain Dependence :: There are many factors that can affect his performance in a mission. He is at a disadvantage in open spaces since he lacks proper cover, won't perform as effectively during night time and rain can ruin some of his weapons unless he takes precautions. And those are just a few.

✘ Continuous Maintenance :: All of Lev's weapons, especially the "Stingray", take some damage when used in combat and need to change parts with significant frequency between missions, not to mention the need to clean them properly and manufacture personalized ammunition. The cost of these weapons can be high if used too much and has forced Lev to get creative on several occasions due to the understandably limited budget the academy provides him with.

✘ Ammunition :: Goes without saying, but if he runs out of bullets in the middle of a mission, he's a moving target.
PERSONALITY: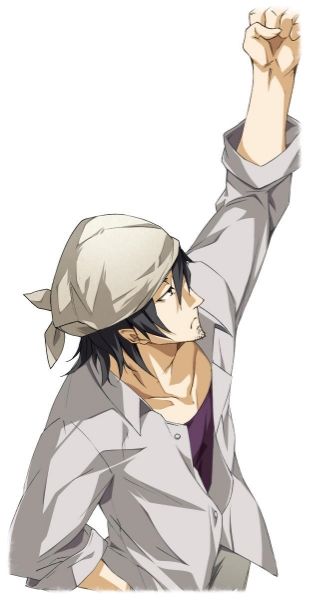 In some regards, Lev is what you would expect simply by looking at him; he is not a man of many words, is not fond of crowds of people and it is very rare for his usual facial expression to change even in conversation – though to be fair that is also attributed to the fact that his eyebrows are almost always completely covered by his ever present bandanna. However, and as many of his companions could tell, he is surprisingly tamer than he appears. He treats other people with respect, and even if he is not very expressive in his usual manner of speaking, he always responds cordially when spoken to. Though newcomers do seem to be intimidated by his appearance and rough demeanor, most seem to be aware by now that he is a good-natured person and some Slayers even rely on him to take care of the maintenance of their firearms. In fact, while it is very rare for him to offer assistance or seek conversation with other people, it is equally strange for him to deny help to anyone, his logic being that if he can make the time for it, why wouldn't he? Similarly, he doesn't like asking for other people's help unless he is comfortable around them and sees them as reliable.

Nonetheless, he doesn't seem to be close friends with anyone and spends most of his time working either by himself or with the Academy's maintenance staff, who he became acquainted with through regularly using their workshop to work on his or others' weapons. He doesn't give his opinion on something unless asked and dislikes talking about himself with others since, as he puts it, "there's not much to say". He is really lacking in tact and doesn't tend to overthink or filter his thoughts, and while it does make him a sincere person, it also causes his remarks to often come off as blunt and insensitive. Still, he thinks it's important for people to know when to be patient and tries to live by that advice, so he knows to bite his tongue when his opinion is uncalled for or when being provoked. Perhaps for this reason there are some who take advantage of his passive nature by asking too much of him or downright trampling over him, though while it does bother him, he seems to forget about it soon after.

Growing up, Lev lacked a consistent maternal figure and his father wasn't always available for him, and it really shows in his attitude towards himself and others. He has become emotionally independent and doesn't like to confide or rely on others even if he recognizes them as friends. Even though this means he can take action and think for himself, it also makes him very detached and since he doesn't compare and contrast his ideas and opinions with others', he is somewhat narrow minded. Though it is more of an unexplored area, it is arguably because of the lack of proper attention from his parents that he expects a lot of himself and most times fails to recognize or be satisfied with his own accomplishments. He is frustrated with his lack of ability to use any Magick except for his mediocre Technomancy, and often feels like a replaceable asset for his reliance on firearms.

He takes his role as a future Hunter very seriously and behaves very differently during field exercises and missions, becoming a lot more outspoken and demanding. If he disagrees with someone or something, he is more likely to speak against it, but since he understands that acting as a team is essential to survive when facing Daemons, he will ultimately do what the majority considers best. He doesn't let his emotions towards others – be them good or bad – interfere with his duty, and expects the same from others, not tolerating irresponsible behavior. Understandably, his role demands him to undergo a lot of stress during missions, since it requires him to be precise and somewhat separated from his team, meaning that a mistake on his part can easily result on the death of others, but also that if he finds himself in trouble, he is pretty much by himself. For this reason, he has had to resort to painkillers to avoid losing control in some instances in the past, although he hasn't told that to anyone.
BIOGRAPHY:
Prior to his birth, Lev's father, Edgar Keisting, was a merchant hailing from Anthemia and one of the workers in charge of transporting goods from his homeland to Terrasis and vice-versa, a job he was never comfortable with. It was during one of his many trips that he came into contact with Anna Himney, a native from Terrasis and a strict believer in its religion. Both of them felt quite passionately for each other and little later than a year of their first encounter, Anna revealed to be pregnant with Lev, which would become a subject of constant debate for the couple. Edgar had always planned on, were he to have children, quitting his job and move to Leviathan, where his family could be shielded from the ever-growing presence of Daemons thanks to the sea. Unfortunately, Anna didn't feel the same way, and insisted they followed the Terrasis lifestyle, claiming that her home had also proven to be free of Daemon influence for a long time, which didn't convince Edgar, as the city was still technically accessible by the beasts.

In the end, the couple agreed that Edgar would take Lev to Leviathan but would allow him to visit Anna often. Since travelling became increasingly difficult and unavailable to the populace with the coming years, this would never come to be, and to this day mother and child still look at each as little more than strangers.

Though entering Leviathan was usually a complicated task due to the government's tendency to act in secrecy, the two received help from Lev's uncle, Aidan Keisting, a former Scholar Hunter who graduated from the academy as valedictorian and was eventually hired by the Leviathan government as a high-ranking scientist and Daemon researcher. He advocated for his brother and nephew's identities, assuring his higher-ups they couldn't possibly be spies and promised to personally make sure that they would not be involved in the city's personal affairs. True to his word and not feeling particularly attached to them, Aidan helped them find a new home and barely came into contact with them from that point on. Though mostly bitter times, this marked the beginning of Lev's infancy.

Growing as a child, Lev was characterized for being a mature and level-headed kid, but had also inherited his father's cynicism and, after hearing every adult he met state Daemons could never be defeated and humanity would not be fully free ever again, he ended up believing it wholeheartedly. Hence, while other kids tried to catch glimpses of the captured Daemons sent to Leviathan to throw rocks at them while discussing their dreams of becoming Hunters of renown, Lev was more passive and realistic. Nonetheless, since his father was always busy now that he had to provide for both of them by himself, he spent most of his time with those little dreamers, having to keep his thoughts to himself if he wanted to avoid being isolated.

Since attending Anthemia was every kid's dream, it was common for children in Leviathan to hang out around the city's headquarters, where Hunters were usually employed to act as guards due to the captive Daemons or usually rested in between missions. Though they were ordered to ignore any attempt to communicate them, some of the Hunters would still have conversations with the children, since in practice they usually weren't needed that often – one of these guards was Gina Farwynd, a kind and gentle Huntress with little field experience. Though not always available since she had to keep in mind her own obligations and sometimes had to leave to other cities and perform missions, she still became quick friends with the group of kids, who listened to her stories intently and became infatuated with her. Even Lev, who did little to hide his lack of enthusiasm with the subject in question, ended up growing attached to her and her incessant smile and positive attitude.

After some years of repeating this routine, Gina was sent on a mission along with four other Hunters. Of the four, only two came back, announcing that the mission had failed and that both Gina and the fourth Hunter had disappeared while trying to escape from a Daemon and hadn't been able to be contacted since then. Though the kids held onto hope of their safe return for days, Lev knew that being lost in an area separated from any of the cities, with limited supplies and no means of transportation meant certain death. Being sad himself, and after a week had passed since then, Lev took his frustration out on his friends, revealing to them his true thoughts and belief that Gina was dead, which only earned him a beating and brought him to a state of complete apathy. Having received close confirmation for the terrible world that had been described for him by others, he sank into a depression, and would only snap out thanks to a miracle.

After two weeks since her disappearance, word got out that Gina had survived the ordeal and had made her way back to Leviathan along with her partner, albeit both of them being injured, starved and severely dehydrated. Needing confirmation for this, Lev and the rest of the children rushed as soon as possible to the headquarters trying to see into the hospital area and meet her. He still remembers the image of a heavily bandaged but still smiling Gina waving from an open window as one of the most inspirational and emotional moments of his life. This was also the first time he cried in many years, as he found himself overwhelmed with guilt, joy, shame and hope at the same time.

The experienced prompted Lev to redefine his outlook on the current situation of the world and, after gathering information for several months, he made up his mind that he too would become a Hunter and began arranging for it by studying basic mechanics and training himself physically by partaking in the local sport: swimming. Though he encountered strong opposition from his father – the man who had separated him from his mother and had taken him deep underwater just to keep him safe – his determination to accomplish his newfound goal in life drove him to seek his uncle to pay for his entrance in the Academy and, as he expected, he simply handed him the money and went back to work.

Lev enrolled at the age of 14 and is still working hard to become a full-fledged Hunter.
---
---
WEAPONS:
13.5mm "Stingray" E-18 Rifle
::
A very large sniper rifle weighting 25kg and Lev's main weapon against Daemons. It's sheer size and the use of penetrating bullets makes it almost as potent as an anti-tank rifle and its modern design allows it to be quickly 'folded' at the lower receiver area and carried on one's back for mobility, provided the user is able to move while carrying this behemoth of a weapon along with its ammunition. It also counts with a stationary mode, where it's supporting feet and monopod will drive themselves into the ground to resist the recoil and several rod-like capsules will pop out along the rail and muzzle. These rods, when activated, can generate and charge up energy to enhance the kinetic force of the blast and imbue the bullet with electricity, further increasing the destructive force of the shot and paralyzing the target should it survive. So far, no Daemon shell or supernatural ability has been able to resist such a shot. All of the weapon's special functions are activated through Technomancy and the Magick is also required to be in permanent use to cool the barrel and keep it from overheating, meaning only other Scholars can properly use it to its full potential. Although the weapon was built and modified by Lev, the design is not original to him.
Storming Gun
::
A large gun that can alternate between regular, semi and automatic fire. It can store a large amount of bullets and has a Technomancy-triggered mechanism that allows it to reload faster, allowing the user to rain almost continuous bullets. It cannot store large or specially designed bullets and cannot harm most Daemons with direct hits, serving more as a weapon to inconvenience them or exploit clear weak spots such as eyes. Much like the "Stingray", this gun was not designed by Lev, but he did assemble it himself.
"Big Bang" Revolver
::
The name is a pun since the revolver has a large barrel compared to most pistols, but is misleading as it doesn't hold that much destructive force. This gun can only hold one bullet at a time and is meant to be used to fire personalized bullets to respond to different situations. The types of bullets include incendiary, flash and smoke bombs, explosive and marking rounds. Again, the design was not made by Lev, but he does make the bullets and may create new ones to adapt to different situations.
Knife
::
A regular knife. Since Lev prefers using guns, this is more a tool than a weapon.
MAGICK:
While not necessarily a horrible Scholar, Lev's skills in his secondary discipline are very lacking in some important areas, making not only his general knowledge on the subject, but also his Technomancy unfortunately very unbalanced and impractical in some instances.

So long as he understands the general structure of a machine, he is capable of controlling several aspects of it to his bidding, such as the electric currents, magnetic fields and even the temperature on the metal and circuits. Though this ability is limited by the size of the machine in question, Lev has already practiced and shown to be relatively proficient in manipulating relatively big machines, such as cars.

There are many limitations to his Technomancy, however. Complex circuits can confuse him and keep him from controlling electric currents and if not careful, he might just fry them and render them useless. Anything related to software is also too complicated and well beyond his capabilities, meaning he must perform tasks like hacking manually – and he's not that good either way. Although he technically has enough knowledge to build his own weapons, he has a block and hasn't produced anything original yet, even if he does make modifications and complements of his own.

Given clear specialization in handling machinery and the fact that he walks around in a jumpsuit has led some of his classmates to refer to him as a Mechanic rather than a Scholar, though whether this is meant as an insult or a compliment depends on who says it and how.
FAMILIARS:
None.
SKILLS:
Swimming
::
He was raised in Leviathan, so it practically goes without saying that he can swim very well.
Orientation
::
He has studied geography quite intently, memorizing several maps, learning to read nature and analyzing different terrains to the point that it is practically impossible for him to ever get lost, regardless of where you placed him.
MISCELLANEOUS:
He has a younger, half sister in Terrasia he knows nearly nothing about.

Due to his connection to his uncle, a high authority in Leviathan, the Academy keeps a close eye on his attempts to contact people outside Anthemia.

No one in Anthemia has seen him without his bandanna, so several rumors have appeared regarding what he's hiding underneath it.
---