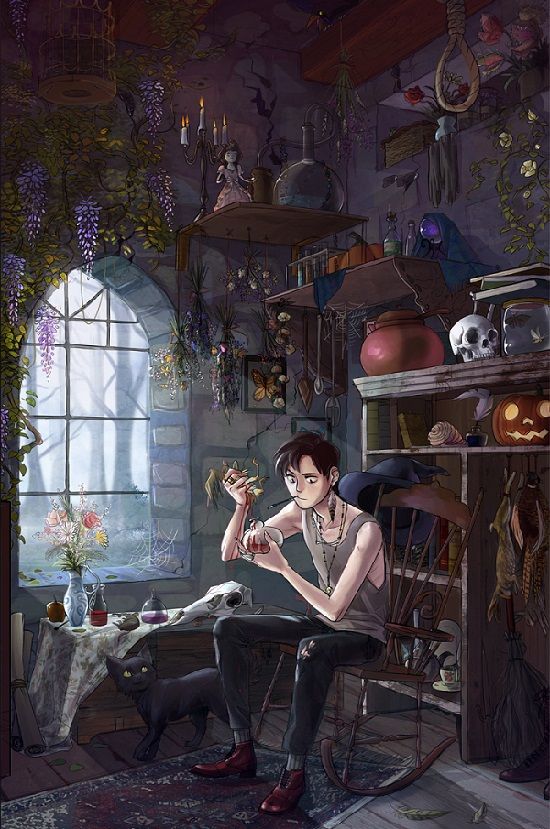 Name
Cassius Krause. Yeah I was named after the dude who convinced Brutus to stab Caesar in the back. That was the only play by Shakespeare I understood. And yes, my last name is German.
Age
At a ripe age of 16, I'm so ready to learn how to ride a broomstick since I got my permit (after three tries).
Gender
I'm pretty sure I'm a male. I feel male. Ish. I don't know how does one feel a gender aside from another. I have a dick.
Species
Human. Homo sapien. Who is also a witch. I mean, I can still reproduce with non-magical human beings and the definition of species is being able to successfully procreate with one another.
Sexuality
I don't care. I like who I like. I like making out and stuff, but genitalia grosses me out so much. So. Much.
Familiar
My lovely Finland. I remember saving the beta fish from the neglectful clutches of my former Ap biology teacher. Only good thing that came out of that class. Biology is not my thing. School isn't really my thing. ANYWAYS, I had no clue she/he could turn into a human until one morning before the sun decided to get off it's lazy ass; I go mill around in the kitchen-family room area and I see a confused and extremely naked person sitting on the counter next to the fishbowl. I screamed bloody murder. My gorgeous, malnourished, blue-purpley-green fish was gone. Replaced with a person, who turned out to be Finland, of course. She/he, neither of us actually know what his/her gender is, has really rad white short hair and lovely eyes like his scales. After she was clothed by my lovely, collected mother, covering up ragged scars rippled over her arms and legs, he turned into a new friend, protector, guidance counselor, sibling.
Personality
Personality….personality…I'd say my personality is a big balled-up mess of traits that flip on depending on my mood. Not that I have a massive array of moods, mainly boredom, amusement, irritation, or contentment. But my default settings include being a lazy, relaxed dork.

I am the meanest person you'll ever encounter in your life; I'll definitely rip apart your self-esteem with sarcasm and bluntly honest insults; I would uncaringly leave you as a sobbing mess. You can't trust me with secrets or emotions or to do "nice" things for you. Well, I would be the meanest person you'd ever encounter if it didn't take so much effort or a lack of empathy towards people. I've cried over too many fictional characters to bully others but let's keep that a secret between you and me or else I'll set your house on fire.

Man do I feel narcissistic writing about my own personality. I'm not even a reliable source of information about myself because I'm going to definitely omit really shitty aspects about myself like, well, I'm not going to provide examples. I'd rather talk about other people's personalities. Now other people. They have weird personalities. Like there's this girl in my history class and she's constantly giggling and silently communicating with another person across the room. Whenever she's called on to answer crap, she uses a minimal amount of words and a shit ton of laughter. I don't understand. Okay, not I'm completely off topic. Woops. Whatever I don't even like talking about myself, so tell me more about you.
History
Born and raised in Bluffington, life has been normal aside from the spells and witchcraft from my lovely mother's side and trips to Shanghai, China to visit my mom's family and friends. Well, my dad's family is a tangled up mess of divorces and remarrying so family gatherings are also a delight, most of the people from my dad's side aren't related to me by blood, which is perfectly fine and dandy, but my step-cousin has a romantic interest in me and it disturbs me. I grew up with her. She's more like blood than the rest of the lot. I thank whatever deity above she lives in Kentucky. I don't like thinking about the last family reunion though. Ugh, I didn't think it was a date; I was just a preteen! I really didn't, but then she paid for my food and I realized it was just the two of us. I like to think I don't attract others, but I've attracted a few people and have ended up on some really awkward dates. I cringe remembering.