Arcadia Boarding Academy, one of the finest schools around! It was founded by a rich group of business owners, and it still offers a fancy, learning environment today. It is exclusively shifter and vampire, though some humans are staying on campus for future use, where they can be used for food or slaves or whatever. The vampires can choose to attend night or day class, since parts of the school are completely light-proof. Shifters can attend either class as well, whichever they choose. The vampires and werewolves stay in separate dorms, though they can choose to live in a special dorm where its co-species. Lunar Dorm is for shifters, and its a large three story mansion boasting a outdoor pool and hot tubs. The dorm rooms are two people, and the first floor is all boys, the second is boy-girl, and the third is all girls. It also includes a large kitchen and dining area where the students eat most of their meals. Along with various rooms such as a gym, movie theater, and other fun rooms, Lunar Dorm has a strict no vampire policy and it competes against the vamps in school events. Meanwhile, Shadow Dorm is a large three story mansion with a large kitchen and dining room as well as various other rooms. The boy-girl flooring is the same as Lunar Dorm, and the whole building if light-proof. There is an underground storage area where humans are kept to supply the kitchen. Dorm rooms are two-person. Shadow Dorm competes against Lunar Dorm in school events, and has a strict no shifter policy.
There is a third dorm on campus, its called Cross Dorm. Its where vampires and shifters can stay together and it tries to make peace between the other two Dorms. Its a two story , mansion thats equipped with both werewolf and vampire friendly, rooms and such. There is a pool, though its inside and there is a storage place for humans. You must have one or more co-species partners sign up with you to get into Cross Dorm.
Your job is to attend classes and go through "normal" high school life, while being your supernatural self and enjoying the campus and its classes. All classes are co-species, though there are a few separate for each species. Love is allowed outside your species, though some might not approve. Uniforms for Shapeshifters are like this: Girls uniforms: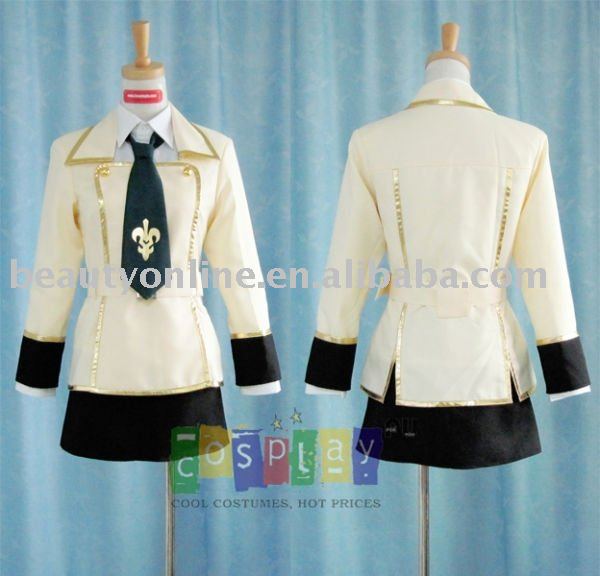 and Boys uniform:
The vampires uniforms look like this: Girls:
and boys:
CREATING YOUR CHARACTER!!!
Form: Some you can leave blank if its for shifters or vampires only. PLEASE DON"T BE TOO SHORT OR I WILL REJECT!!!!!!
Name:
Age:
Vamp or Shifter?:
Picture:
Personality:
Animal Form?:
Crush:
Bf or Gf?:
Dorm?: (Dorm name+floor they want to live on)
Any suggestions?: (Any suggestions as to the make-up of the story or other)
Other: (Anything else you want to add)
Her skin was hot to the touch, Felicity discovered, much to her immediate horror. Ever since the morning she had been turned, her skin had been icy cold. It had freaked Felicity out at first, but over time, she had grown used to it. Now, it was the exact opposite that was making her breathe even harder than she already had been. Furthermore, it wasn't just the burnt sections of flesh that were warm: it was practically every visible part of her body that was now radiating heat.

Trying not to scream in terror, Felicity heard her an unfamiliar, rough voice speak outside of her coffin. It began speaking to her roommate, who's name she still didn't know, and he went on to explain all that had happened. His story was fairly accurate, but she had never lashed out at him. It was just a joke, for the love of blood! She was going to pull away as soon as she saw him, but then he went all wolf on her! So let's burn her for it! Oh well. Felicity could understand why she would appear as a threat to her roommate. Maybe the ominous aura was a bit much as well...

Felicity was about to drift off into her daytime dreamland when the voice, whom she supposed was another student, a shifter from the cadence of the footsteps, asked about her. Painfully turning her head towards the opening of her "bed", Felicity opened the lid about an inch. Light filled her coffin, but none of it contained solar rays, thank heaven. The vampire answered quietly. "...It hurts, but it should heal soon. Maybe if I get some sleep...or blood. Yes, blood-! Oww..."

Blood! Why didn't she think of that before! The one thing that sustained her and she never even considered it until this moment. Oh, she was an idiot!

--

As soon as he heard the word "blood", Zach shot off of the bed and ran out the door. He'd get as much blood as he thought necessary to heal Felicity, even if it meant depriving the rest of the vampiric students of proper meals and/or snacks for a month.
---
Unsure of what to do, Jake padded out the door. The vampire seemed fine enough, wanting only blood then rest, and the Werewolf had already gone to get the blood. He wondered how much blood the vampire would need. Perhaps the werewolf would want help carrying it. Although he doubted it, he could at least offer his help, talk to the werewolf. He was the first other student Jake had run into. The least he could do was find out the guys name. Following the werewolf, Jake headed off to the kitchen.
---
"Blood, blood..." Zach repeated that one word to himself over and over again as he entered the kitchen. People were sitting down at the tables that spanned across the room, or standing up and engaging in casual chatter. Zach ignored them all as he made his way over to the cases loaded with blood bags. They weren't the source, but he figured that bringing a human or two or five back in to the dorm room would make things rather messy. Besides, Felicity wasn't in any shape to hold down her prey and sink her teeth into their jugulars.

In the end, blood bags would have to do.

Selecting one of each blood type, Zach stacked them in his arms, cursing mildly when they fell from his arms as soon as he started walking.
---
nick sits on his bed twirling his knife. he sighs and picks up his bass then starts strumming remembering his dead best friend and how they were in a band together. his eyes star to water and fights back the tears. he stops playing finally starts to cry.
---
Willow walked through the corridor, and stopped outside a door. She heard someone playing bass. They were good. Maybe they would play for the band..? She frowned as she heard the erson stop, and start to cry. what the hell? She took a deep, breath, then knocked three times on the door, and waited for a reply.
---
Class was over, and as predicted, she didn't have the guts to talk to Isabella, or anyone, for that matter. After spending about an hour grazing in the grounds of the school, she decided that school wouldn't be much fun by herself, however nervous she was of talking to new people. she wished she was back at home with her herd. Yes, thats right, her herd. A few blocks from her house was a field of 5-8 horses, depending on whether the owners kept them in or out that day.

She leant back on her hind legs and reminisced. The short walk to the field, taking advantage of her human legs to quietly spring the fence, stroking the necks of her friends if anyone was watching and then morphing once nobody was looking. The herd she mingled with was a mixture of gelded males and females who were more like her family. She missed playing with her cousins Reflection and Stardom, being teased by Grandpa Oakley and Uncle Gambler and being cared for by her mother Moonlight. She wished she could speak with her Auntie's Starlight, Moonbright and Midnight, they would know what to do and say in situations like this. She wanted nothing more than to nudge necks with them, laugh and play.

The school seemed rather quiet, not much movement around, nobody to even notice her, nevermind talk to her. She transformed herself back into her human form and began to walk the perimeter of the school, hoping to find someone, anyone, who might talk to her.
---
nick answered the door. he saw willow and he weakly smiled at her. "umm...hi?" nick looked at the ground letting his hair cover his eyes.
---
"Umm, hi." Willow said in reply. She saw a few tear tracks on the boys cheeks. She shifted her weight nertvously mfrom one foot to the other. "Umm... I know i shouldn't have been eavesdropping, but i just heard you playing, and I was wondering if you wanted to swing by my dorm later tonight, and hang out? You don't have to." she added hurriedly.
---
Nick looked up and smiled. "sure." he felt his face flush. he moved his hair out of his eyes and looked at willow with his soft crystal blue eyes.
---
She smiled nervously back at him, watching him with her vivid green eyes. "Ummm, about 10 would be good. my bandmates are coming over then. Umm, bye." she finished lamely, and started walking back to her room.
---
'bye" he smiled and watched and she walked down the hall and returned to his room. he picked up his bass and put it inside his case and went to go change.
---
Arcs are bundles of posts that you can organize on your own. They're useful for telling a story that might span long periods of time or space.
There are no arcs in this roleplay.
There are no quests in this roleplay.
Here's the current leaderboard.
There are no groups in this roleplay!
Welcome home, Promethean. Here, you can manage your universe.
Arcs are bundles of posts from any location, allowing you to easily capture sub-plots which might be spread out across multiple locations.
You can create Quests with various rewards, encouraging your players to engage with specific plot lines.
Settings are the backdrop for the characters in your universe, giving meaning and context to their existence. By creating a number of well-written locations, you can organize your universe into areas and regions.
Navigation
While not required, locations can be organized onto a map. More information soon!
There are no groups in this roleplay!
By creating Collectibles, you can reward your players with unique items that accentuate their character sheets.
Once an Item has been created, it can be spawned in the IC using /spawn Item Name (case-sensitive, as usual) — this can be followed with /take Item Name to retrieve the item into the current character's inventory.
Give your Universe life by adding a Mob, which are auto-replenishing NPCs your players can interact with. Useful for some quick hack-and-slash fun!
Mobs can be automated spawns, like rats and bats, or full-on NPCs complete with conversation menus. Use them to enhance your player experience!
Current Mobs
No mobs have been created yet.
Locations where Mobs and Items might appear.
You can schedule events for your players to create notifications and schedule times for everyone to plan around.
Add and remove other people from your Universe.
Orphanage
By marking a character as abandoned, you can offer them to your players as pre-made character sheets.
I'm Italian, yes, but that doesn't mean I can't kick your ass.
The Forge
Use your INK to craft new artifacts in Arcadia Boarding School. Once created, Items cannot be changed, but they can be bought and sold in the marketplace.
Notable Items
No items have been created yet!
The Market
Buy, sell, and even craft your own items in this universe.
Market Data

Market conditions are unknown. Use caution when trading.

Quick Buy (Items Most Recently Listed for Sale)
The school campus.
Special Dorm for co-existing vamps and shifters
Class Owner: RolePlayGateway
Any class your character is attending is posted about here
Vampire-only Dorm.
Welcome to the shape shifter Dorm of Arcadia!
Discussions
Topics

Replies
Views

Last post
Most recent OOC posts in Arcadia Boarding School
im still waiting for a reply, or forsomeone else to post.
Haven't had anything to reply to, but I keep checking back...
Is this RP still going? Or has everyone just abandoned it?
I'm not sure if mine went though either. . . .
Hey, I submitted a character but I'm not sure if it went through. Did you get it?
Can I reserve a female shape shifter? I'm just working on a charrie now.
This is the auto-generated OOC topic for the roleplay "
Arcadia Boarding School
"
You may edit this first post as you see fit.