In the year 2500, the game show that all of America has been waiting for with bated breath premiers: Are You Hot?
Auditions have been going on for months and months, the judges sweating blood and tears to narrow down the hopeful subjects to the Final Nine, who will compete on the show for the title of America's Sexiest Person. The contestants will be walked down the stage wearing little to nothing, where the judges will first say what they find attractive about the person, then circle their minute flaws with laser pointers. Then they'll rate Face Sex Appeal and Overall Sex Appeal on a 1-10 scale.
Many of the Final Ten only entered because they'll become instant millionaires if they win. Their families poor, their good looks the only thing on their side, it was the only chance to help their family.
In addition to seeing those sexy bodies strutting down the runway, Are You Hot is a reality TV show centered on romance. Participants are
expected
to find lovers among the other contestants. The Mansion, where the participants stay, is rigged with cameras, and viewers will watch breathlessly to see who will fall for who.
Romance is technically not required for the participants... but if you don't find someone to snuggle with, pronto, you will never get enough votes to win. And then you're as good as dead.
The nine losers will be forcibly put under the knife and turned into cyborgs. All their "ugliness" will be stripped away, replaced with breathtakingly beautiful "cyborg" parts. They won't be able to talk. They won't be able to move. They'll be trapped within their own bodies, only able to follow orders, helpless, unable to rebel or protest. Then they will be staff at the Mansion for the rest of their lives, until they break or age or their beauty fades.
Who is America's Sexiest Person?
Round One,
the contestants will go down the runway one by one, naked. The judges will give them an initial score for Face Sex Appeal and Overall Sex Appeal.
Round One-and-a-Half,
the contestants will be interviewed by the host. There will be no scoring for this, but it's important for votes.
Round Two,
the contestants will go down the runway one by one, in swimwear. They will receive a score of Face Sex Appeal and Overall Sex Appeal, which will be averaged out with their initial scores.
Round Three,
the contestants will go down the runway in any kind of clothing or costume of their choice. They will receive a score of Face Sex Appeal and Overall Sex Appeal, which will be averaged out with their previous score to give them a final score.
Then the votes will be cast, and the winner revealed.
Disclaimer-- I heard about ABC's "Are You Hot" and thought it was horrendous, but I adapted it into this futuristic utopian roleplay. The show actually existed, but obviously I have just taken it as a base and embellished it. Quite a bit. (:
Name:
First and last.
Age:
Between 16 and 21, please.
Gender:Appearance:
They have to be gorgeous. Sorry, but that's the point of this rp.
Flaws:
Understand that these are very MINOR flaws; the point is that the contestants are BEAUTIFUL but they're still told that they're ugly. Like saying that this https://encrypted-tbn1.google.com/image ... LcYBA27jjg gorgeous woman's face is too wide or something. Just make it up. The judges need SOMETHING to pick on.
Personality:History:
What kind of family life did s/he have? Why did s/he audition for Are You Hot? It doesn't have to be too long.
Style:
What kind of clothes is your character's favorite style? Goth? Cutesy? Sexy? Punk? Bad boy/girl? What angle is your character going for to charm the audience?
Password?
You can add more fields to fill out, but those are required.
The Mansion is a gorgeous place where all the contestants will live in luxury. They can eat or drink anytime, anywhere-- of course, you don't want yourself getting fat, but the five-star buffet is difficult to resist.
The Mansion
Who knows how big it is? Every cranny of it is crammed with luxury and riches.
The Lounge
A nice place to relax and have a drink.
The Bedrooms
It has every luxury the contestants could ever want. Speak a command and it will come true, from the window view changing to any outfit or meal you could ever want being delivered straight from the walls. The beds are big enough for two. ;)
The Pool
It's so big that fifty people could swim in it comfortably. At night, it's sexily lit, the lamps sparkling on the water.
The Bar
Open 24/7. Always equipped with any kind of drink, alcoholic or nonalcoholic, you want.
The Night Club
Anyone want to dance the night away?
Dining Room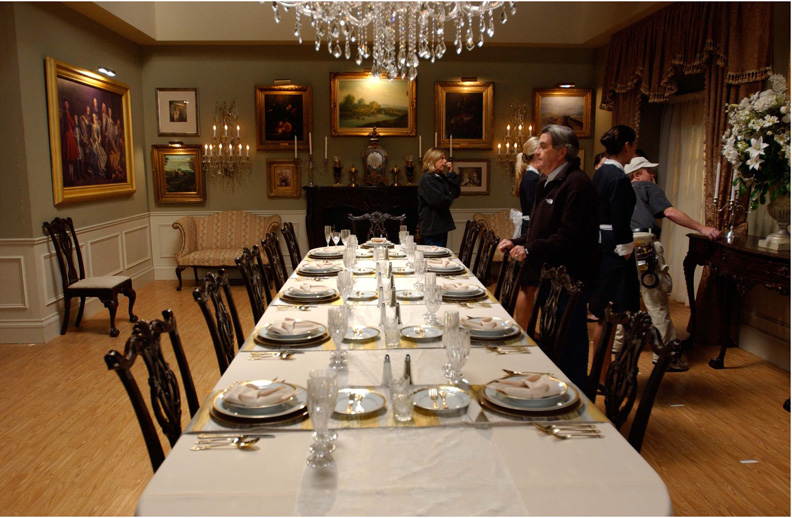 Any kind of food you could ever want! Oh, the drama, having to eat in the same room as your opponents...
Bathrooms
Enormous and beautiful, with every luxury you could ever imagine. You can bathe alone or be assisted by cyborgs There are four bathrooms in the Mansion, all of them unisex. There are no male or female differences.
The Mansion is staffed by cyborgs that will follow your every command. Are You Hot's host also lives here, as do twenty or so cameramen. The hair-and-makeup people show up seven or eight hours before each program is taped and leave once their work is done.
i. NO LEWD DESCRIPTIONS. I know that's difficult in a roleplay like this, but just allude to what's going on, or give brief, vague descriptions. No details, please; we don't need to know. Fade to black or go to PM.
ii. Keep the content PG-14.
iii. No excessive cursing.
iv. Romance is expected and encouraged! (Psst, the password for this roleplay is "TV is brainless". If you read the rules, put it on your character sheet.) I actually created this rp because I was in the mood for some mindless romance, so. xD
v. There will be nakedness in this rp. Refer to Rule 1.
vi. Check OOC regularly, please! (:

ALSO.
This is for fun, for laughs, and for making fun of what society's impression of "beauty" is. This roleplay is considered satire. The definition of satire is literature that takes an issue that exists in society today, such as TV's shallowness and obsession with appearances, and blows it way out of proportion. When we're in character, it might be all kicking and scratching and name calling, but in OOC, I expect nothing else than unicorns and balloons and rainbows, kay? (:
This is a mature roleplay, so it stands to reason that we should have mature roleplayers partaking. Your character will be smashed, bashed, abused, and insulted. This roleplay is exploring pettiness, shallowness, the true concept of beauty. And there's some mindless romance thrown in for kicks. Let's just laugh at society and remember that this is just an Internet game, made for fun, and it's not to be taken so seriously.
Taking place in...
25 posts here • Page 1 of 1
25 posts here • Page 1 of 1
Arcs are bundles of posts that you can organize on your own. They're useful for telling a story that might span long periods of time or space.
There are no arcs in this roleplay.
There are no quests in this roleplay.
Here's the current leaderboard.
There are no groups in this roleplay!
Welcome home, Promethean. Here, you can manage your universe.
Arcs are bundles of posts from any location, allowing you to easily capture sub-plots which might be spread out across multiple locations.
You can create Quests with various rewards, encouraging your players to engage with specific plot lines.
Settings are the backdrop for the characters in your universe, giving meaning and context to their existence. By creating a number of well-written locations, you can organize your universe into areas and regions.
Navigation
While not required, locations can be organized onto a map. More information soon!
There are no groups in this roleplay!
By creating Collectibles, you can reward your players with unique items that accentuate their character sheets.
Once an Item has been created, it can be spawned in the IC using /spawn Item Name (case-sensitive, as usual) — this can be followed with /take Item Name to retrieve the item into the current character's inventory.
Give your Universe life by adding a Mob, which are auto-replenishing NPCs your players can interact with. Useful for some quick hack-and-slash fun!
Mobs can be automated spawns, like rats and bats, or full-on NPCs complete with conversation menus. Use them to enhance your player experience!
Current Mobs
No mobs have been created yet.
Locations where Mobs and Items might appear.
You can schedule events for your players to create notifications and schedule times for everyone to plan around.
Add and remove other people from your Universe.
The Forge
Use your INK to craft new artifacts in Are You Hot?. Once created, Items cannot be changed, but they can be bought and sold in the marketplace.
Notable Items
No items have been created yet!
The Market
Buy, sell, and even craft your own items in this universe.
Market Data

Market conditions are unknown. Use caution when trading.

Quick Buy (Items Most Recently Listed for Sale)
None
Discussions
Most recent OOC posts in Are You Hot?