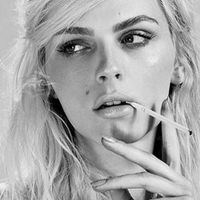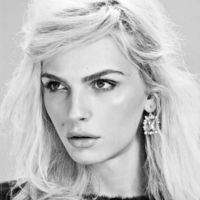 Name: Annika Twain
Nickname: Anni
Age: 18
Birthday: 5th January
Star sign: Capricorn
Hometown: East London, England
Profession: Waitress
Gender: Female (she/her/herself)
Sexuality: Pansexual






On The Outside



Appearance: Anni has fairly long, golden blonde hair that's going dark at the roots. She tends to wear it loose, often swept out of her face with a few bobby pins. She's quite tall and fairly slim, with a relatively flat chest. At the moment her most discerning feature is the only-just-healing scar across her nose, which cuts through any amount of foundation she puts over it.

Scars: She has several scars, most of which are hidden. She has one on the back of her right shoulder blade, a thick little white dent only three centimetres long that was the courtesy of one of her father's broken beer bottles. She also has a much thinner, longer scar running down the back of her left calf, but it's almost invisible. That was purely an accident - she fell on a rock at the beach and slit the skin on a barnacle. She also has several little wiggly scars across her hips. She doesn't like to talk about those.

Clothing style: Anni has a soft spot for tight jeans and baggy jumpers with a pair of killer heels. Although she's fairly tall already, she tends to tower over people due to her shoes. She also likes wearing little skirts and crop tops. When relaxing, it tends to be pyjamas or just comfy tops and pants, and she never wears makeup unless she's going out somewhere. If she's going out somewhere and doesn't care how she looks she'll go for jeans, jumpers and boots, and she likes to wear a fair few layers. She uses a shower gel that smells of parma violets and a perfume that smells of vanilla - along with the fact that most of the time she'll be chewing something aniseed flavoured, she tends to smell like a sweetshop.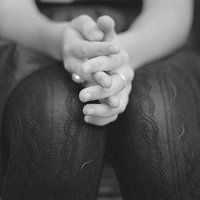 Underneath



Personality: Anni tries her hardest to be sweet and becoming. She's a waitress, so she really needs to be. However she can often come across as snappy or, more often than not, a little disconnected. She sometimes finds it hard to relate to people or react to them appropriately. This is largely due to recent events... Her sweeter, softer side has been scabbed over in a mask of something much tougher and angrier. At her best she is lovely, but it takes a lot to dig that out. She isn't in the best mental place right now. She feels like a child shrouded in layers of jarring personalities.

Background: From a young age, Anni knew she wasn't the boy she'd supposedly been born as. And her father couldn't deal with that. As a result, she's grown up quite mistrustful of men. Her mother, while not a perfect parental figure, was not terribly fussed about her daughter's transition. Saying that, she never did anything to stop her husband's abuse of their daughter. Anni drew the line several months ago. Her father, in a rage, threw a plate at her, hitting her square in the face and leaving her with black eyes and a cut across her nose. Anni, with the help of her mother, packed her bags and used the last of her money to buy a plane ticket to the States. She wanted to get as far away as possible.

Family: The person Annika is closest to is her brother, Billy. He's only nine, and doesn't really understand why Anni has had to leave. It's not him who's been at the center of violence for years. Anni calls him often and gets very teary afterwards. She misses him a lot. She doesn't really miss her parents. Perhaps she could find a little shred of regret for leaving her mother, Sharon. There's absolutely nothing but hatred towards her father, Eric.

Now: Anni lives in a tiny basement apartment, working in a local restaurant and making just enough money to survive. She lives mainly off cafe leftovers and ready meals due to her long hours. It isn't the glitzy life she dreamed of, and although she knew her dreams would never be reality, it's really taking its toll on her.






And Then Some



Likes:
- Platform heels, winged eyeliner and dark lipstick
- Liquorice, coffee and chocolate
- Sleeping late wrapped in thick blankets
- Warm hugs and warm people
- Mooching around marketplaces or junk shops

Dislikes:
- Forced interaction
- Insects of any kind
- Tea, breakfast and too much meat
- Horror films, or even just films with something horrible in them
- Getting ready in the morning

Fears:
- Men who are too loud or bolshy
- Losing her job
- Spending her life alone
- Not being able to make enough money to have the surgery she needs

Strengths:
- She's pretty lippy, and is learning to stand up for herself
- She forces herself to be optimistic
- She can usually keep her head in an emergency

Her music:
- Arctic Monkeys
- Lorde
- Lana Del Rey
- Kasabian
- Fall Out Boy
- Owl City

And a little bit more:
- She's always had a thing for cats. Not that there are many in the city, but the one time she was late to work was because she'd stopped to pet a little ginger kitten that had decided to sleep outside her door.
- She collects pretty things. Little glass bottles, ceramic animals, anything cheap and decorative.
- She dreams of (one day) being able to afford her surgery. She'd really rather not spend the rest of her life in such restrictive clothing. She loves to look good, and prefers to do so comfortably.
- To relax, she really enjoys knitting. But she can only really do scarves at the present time.
- At school, she was considered fairly bright. She achieved two B's and a C at A-level, in English Literature, Psychology and French, respectively.
- She has a particular affinity for the sweetcorn and broccoli pastries her cafe serves, and has been known to occasionally steal one off the hotplate. Nobody seems to mind. She's also a sucker for sausages and mash.