========================================================================================================================================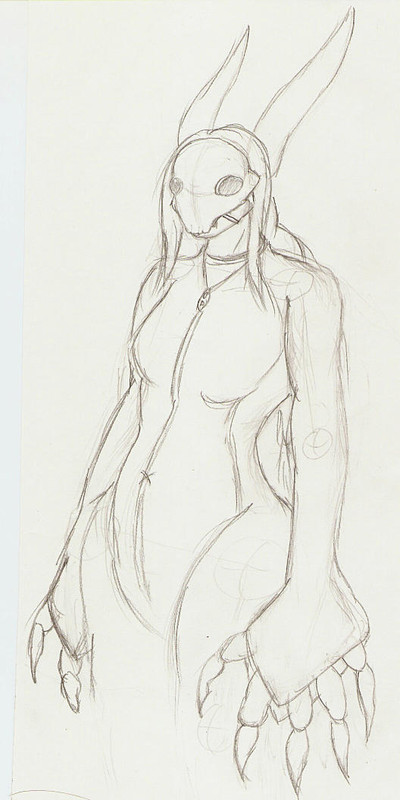 Under the mask however she possesses bright yellow eyes and a pale complexion. She often has a wide grin. Her general expression can be considered somewhat... "maniacal."
Name: Saiph Grimms
Nicknames: Black Rabbit
Age: 24
Size: Medium
Height: 6' 2"
Weight: 157lbs
Hair: Silver
Eyes: Yellow
Notable Traits: Helmet/mask has a built-in voice filter than makes her voice more shrill.
Battlecry: It's show time, Luci Sue!
========================================================================================================================================
========================================================================================================================================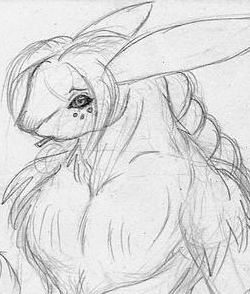 Armor Spirit: "Miracle Bunny" Luci Sue
Description: A vibrant Armor Spirit with control over the realms of imagination, granting Saiph insight, energy, and agility beyond what would be normally possible, as well as a bright outlook on life. This union grants all the benefits of a typical bond with an Armor Spirit, such as transforming into a long tailed, long-eared blond rabbit-like creature.
Power: Wonder Embodiment
Description: Having long ago reached Level 1 Affinity, she is able to project the depths of imagination, influence over the perception of reality is a piece of cake. From invisibility, to making objects appear, they can create mental illusions and project them upon the world, creating magical wonders before their audience's eyes. A true magician at heart, Luci Sue will never reveal her secrets, even if she actually knew how she did it! Also possesses the ability to produce bolts and blasts of raw force, depending on the strength of her willpower, similar but not the same as her sibling spirit, Editus Rayn.
Weapon: Dubba' Sproing!
Description: Two mechanical claws that act as both ranged attacks and grappling hooks. The cord on them seems endless from within Saiph's sleeves.
Armor Spirit: Light Mode
Description: Saiph's suit gains a brighter color and she becomes blond with freckles, her eye color changes to pink. All athletic abilities are enhanced, as well as reaction and perception of the field, as well as enhanced resilience and protection. While not as destructive as most Armor Spirits, a great amount of energy swells between the two.
[img]Anotherimagehere[/img]
Armor Spirit: Heavy Mode
Description: A Level 4 Affinity ability. Like something from an old fighting sentai show, she undergoes a miraculous transformation of light and flair, as rings appear phasing through her body, almost instantly transforming her clothes and outfitting her in a gleaming set of armor. While the armoring appears light, looking like a futuristic paladin designed in the shape of a flowing magician's coat, it is actually flex yet durable, able to rebound physical attacks, and allowing unhindered maneuverability. Fitted in the boots and shoulders are boosters, using the boundless energy to thrust herself around elegantly and towards their foes.
Spirit: Luci Sue
Description: A vibrant spirit a very bright outlook on life, she is able to take human form of a young blond woman with freckles, when in true form she retains the blond hair and freckles. Strange markings on her belly always exist, glowing with blue light when riled. A pure spirit who tries to always see things with a positive outlook, her only possible vices in life could be that she loves sweets, cute things. She can become flustered and shy around men, be they human or other armor spirits. Being attuned to the powers of creativity and will, she is fast and nimble on her feet, and possesses boundless energy, allowing, while not massive attacks on their own, chaining them together into brilliant shows is her specialty.
========================================================================================================================================
========================================================================================================================================
History: The second, and, tragically, last child of Mr. Grimms, before the loss of his wife, she has maintained herself as the more dotingly treated of his two children. Though much of the Grimms family is veiled in secrecy, it is clear that the loss of Saiph's mother had a part in her somewhat spoiled lifestyle and expensive customized protective gear, and may also have also been what cracked her mind. It didn't help with her failing relationship with her brother, who moved further and further away.

It was not her father's will that the became bonded with an Armor Spirit, but rather a thing of chance. After her estate's alarms went off, she happened upon Luci Sue, a very lost and confused Armor Spirit of who's own failing relationship with her brother became the grounds of their initial bonding. It became clear to the spirit that the woman's mental state was... questionable, but felt no ill will in her, and since then they became inseparable, dedicated to help each other's lives improve.

Personality Traits: Saying "oddball," is perhaps too kind, this eccentric girl acts like her role model was some deranged hybrid between Lewis Carroll and Dr. Seuss. She acts seemingly spontaneously, sometimes breaking out into rhyme or song, and performing acts on a seeming whimsy, yet also shows composure even in times of crisis. She will perform acts on a seemingly random whimsy, acts of mischief and silliness.

There is some method behind her madness, however, in that she creates a level of unpredictability, similar to drunken style martial arts, in that she blurs what may be her next move, or distract attention away from her ultimate goal. However, as smart as it is, she is actually nuts too.

Strengths: Shows an understanding in espionage, reconnaissance, and sleight of hand, becoming very sneaky as she needs to be. Her father's legally dubious business has clearly rubbed off on her, as she can gather information rather efficiently, including hacking.

Weaknesses: She possesses some rather odd impairments, one being a social one where she seems rather poorly versed in, becoming awkward when attempting to pick up on cues. Much unlike Luci Sue, she's not very good in social situations, often switching with Luci when things become too complicated.

Desires: To solve her family problems and to, one day, put on a damn good show. Luci Sue's is similar, but her goals are more altruistic, to protect and help wherever she can.

Fears: Losing family and friends and to fail someone who needs her most. This is a shared fear.