Broken Bay city was founded in 2016 by the Bay family. They were a strong family mostly inventors and creators of all things that bettered life... And the city they built was the same. It was build as an island city out in the ocean and has it's own form of government. It is neutral but often helps out in world affairs and is an all round good place to live. But you can't be just anyone to live in Broken Bay. Most families here are upper class citizens who have inherited there money or made there own way in the world. And of course anyone as wealthy as these people know that only the best is required. The Bay family has continued to watch over this city generation after generation each child more creative and unique then the next each bettering society in there own way.
That is until 3015 when Jonathon Bay was in power. He was a genius in robotics and spent his time advancing the cities everything he made the city more of a full on resort then a place for people to live. Robot's took over everyday jobs and the city became even more exclusive with the citizens able to devote all there times to there own personal businesses or family. Things only looked like they could go up... Until the sudden death of Jonathon Bay's wife. She'd been run over leaving behind her husband and two children... The tragedy shocked the city and the media kept all eyes on the family. Several months passed and slowly things returned to normal until rumors spread that Jonathon Bay had locked himself away from the world in his lab. He ate but no one saw him not even his kids.
The worlds wondered for years what he was up too but no one figured it out not until recently anyway when Jonathon Bay stepped out to face the public accompanied by a ridiculously humanoid robot. Robots were known in the city to help with everyday life but this robot that stood next to the great scientist was un-like anything anyone had ever seen. She new history math and knowledge, her memory was un-matched she could move as a human could speak with a nearly total human voice... But then the more metaphysical questions arised. Could it feel? Could it age? Could it die? Could it think for itself? Just how human could this robot be? Is it even a robot? The public became un-settled about the thought of these robots some called for it's destruction. But Jonathon Bay reached out to the public he told them that he would select at random citizens of his city to receive an android and keep it for 30 days if by that time they received any un-settling reports or signs about them they would be destroyed and the technology and plans used would be burnt... He's chosen his citizens let it begin.
Plot:
If you haven't managed to guest yet you will be playing as an android or a person who has happened to receive one. Matches will be pre-made and I will give a vague lay out of each character but I expect you to be creative and give me a real character with creativity as I said my layout will be vary vague. Now one thing that was not mentioned above is the fact that Jonathon Bay has yes chosen various random citizens but a large portion of those citizens happen to be kids in his youngest son's grade OH NO PLOT TWIST! Yes Jonothan Bay as stated had too kids the oldest is already graduated and studying to become one in the line of rulers of the city but the younger child is a boy in grade 11 and his father has decided that a large portion of his subjects including his own son will be from his grade BUT for the sake of this rp we will have citizens from all over.
Sooo whats the goal of this rp? Well the main goal is a mix of friendship and love. If you chose to fall for someone aside the android your matched up with that's cool I am leaving no limits to the imagination. But for those of you who prefer a little adventure we can have that happen too I did mention there were very unhappy protestors about the humanoid androids so this leaves lots of room open. I want us to be creative here ok so give us your best ideas and lets be a social group.
City:
The city is designed in the shape of a lily pad. It's a green city so resources are not a problem. The bottom of the city is where day to day life happens spas, malls, offices, you name its that where you will find it up above the under water you can find the odd store or school but its mostly buildings like large condos or houses. People live well here and no one is poor really so its a happy place but because there's nothing much to do people concern themselves often with gossip, politics, business, or travel. This city of the future is almost too good to be true but maybe its too good as most people leave there children to be raised by fancy faceless nanny bots. This means you end up with a wide range of people... Now don't get me wrong there are still people who work but often times its nothing like getting a job at a coffee shop no the most available jobs here in the city are at Broken Bay college or at Broken Bay inc. Both buildings are built side by side.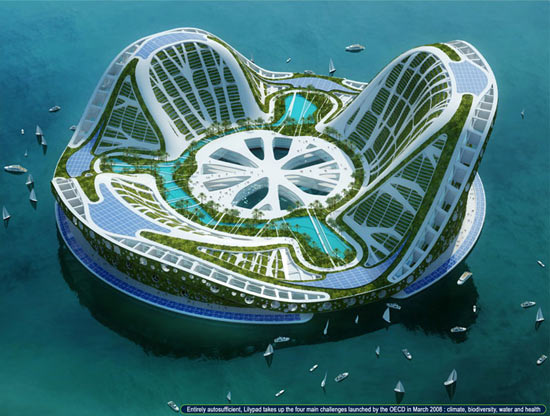 Here is kinda what the city looks like but imagine more buildings around it.
Making a Character:
Pair 1: The Eldest son and the first android.
Eldest Son:
Reserved for chaoticcarrot
Gender: Male
Age: Early 20's
Occupation: Scientist
The eldest son of Jonathon Bay. He's recently graduated college and is now working his way up the corporate ladder at Broken Bay inc. apparently his dad thought giving him an android would help speed up his productivity.
The first Android:
Taken by Me
Gender: Female
Age: 18
Occupation: Android
She was the android first shown off to the world and was ordered to help and serve Jonathon's eldest she's not very good though...
Pair 2: The youngest and the companion.Youngest Son:
Taken by Bandgeek
Gender: Male
Age: 16
Occupation: Student 11th grade.
The youngest son of Jonathon Bay nothing is expected of him but the media still likes to keep tabs on him the biggest scandal recently was the discovery that he was bisexual when asked his father said he had no problem with it...
The Companion:
Reserved for TrueNarnian
Gender: Male
Age: 17
Occupation: Android
Built as more of a guardian for the youngest son then a test he has strict orders to make sure that Jonathon's son is never lonely, sad, hurt, or stressed because of this the first android and the companion are fairly close sense there both guardians more then anything.
Pair 3: The best friends?
The popular girl: Reserved for ToxicJinx
Gender: Female
Age: 17
Occupation: Student 11th grade.
This girl is high up on the social ladder but has no real friends and no one she can tell about being a maybe bisexual?
The best friend: Reserved for Tezza
Gender: Female
Age: 17
Occupation: Android
Built with a higher memory and understanding of the human social system the Popular girl sees this android as her best friend.
Pair 4: The introvert and the athlete.
The introvert: Taken by Bandgeek
Gender: Female
Age: 16
Occupation: Student 11th grade.
That awkward girl at the back of the class no one actually knows.
The athlete: Taken by Me.
Gender: Male
Age: 17
Occupation: Android
Built with better movement this android is made for sports and climbing social ladders but while he might be a chick magnet as all android's do he is only loyal and obedient to the introvert.
Pair 5: The star and the scientist.
The Star: Reserved for Forsakenwings
Gender: Female
Age: Early 20's
Occupation: Movie star.
A young a very famous very rich movie star who bought her way into the city hopping to flee paparazzi she has huge media power and people are eager to hear about what happens with her and her android.
The scientist: Reserved for Toxicjinx
Gender: Male
Age: Early 20's
Occupation: Android
An android built with a more mathematics mind. He is fascinated by humans specially his own and wishes to know more about them but also himself. Many of The Stars fans think the android to be quite hot for well an android.
Pair 6: The hunk and the maid.
The hunk: Reserved for Tezza
Gender: Male
Age: Early 20's
Occupation: Millionaire
One of medias favorite targets he throws the biggest parties spends the most money and loves the medias attention.
The maid: Reserved for MissBrightSide
Gender: Female
Age: Early 20's
Occupation: Android
She was developed with higher human understanding meaning more emotion and sensitivity. She cleans up after her human often so people consider her more a maid which allot of the hunks male guests enjoy...
(I will add more characters if theirs high demand but for now this is it sooo yay and stuff ~ )
Character Skeleton:
Code: Select all

Name:
Role: (Who are you)
Age:
Gender:
Height:
Weight:
Hair color:
Eye color:
Personality:
History:
Items: (Things they always have)
Crush:
Gallery: (AKA appearance please use anime ONLY)

- Be respectful

- Please use the skeleton

- Anime only

- Be friendly

- No fighting

- Be creative

- Throw ideas out there
Taking place in...
The beautiful futuristic city of Broken Bay.
Arcs are bundles of posts that you can organize on your own. They're useful for telling a story that might span long periods of time or space.
There are no arcs in this roleplay.
There are no quests in this roleplay.
Here's the current leaderboard.
There are no groups in this roleplay!
Welcome home, Promethean. Here, you can manage your universe.
Arcs are bundles of posts from any location, allowing you to easily capture sub-plots which might be spread out across multiple locations.
You can create Quests with various rewards, encouraging your players to engage with specific plot lines.
Settings are the backdrop for the characters in your universe, giving meaning and context to their existence. By creating a number of well-written locations, you can organize your universe into areas and regions.
Navigation
While not required, locations can be organized onto a map. More information soon!
There are no groups in this roleplay!
By creating Collectibles, you can reward your players with unique items that accentuate their character sheets.
Once an Item has been created, it can be spawned in the IC using /spawn Item Name (case-sensitive, as usual) — this can be followed with /take Item Name to retrieve the item into the current character's inventory.
Give your Universe life by adding a Mob, which are auto-replenishing NPCs your players can interact with. Useful for some quick hack-and-slash fun!
Mobs can be automated spawns, like rats and bats, or full-on NPCs complete with conversation menus. Use them to enhance your player experience!
Current Mobs
No mobs have been created yet.
Locations where Mobs and Items might appear.
You can schedule events for your players to create notifications and schedule times for everyone to plan around.
Add and remove other people from your Universe.
The Forge
Use your INK to craft new artifacts in Artificial Heart. Once created, Items cannot be changed, but they can be bought and sold in the marketplace.
Notable Items
No items have been created yet!
The Market
Buy, sell, and even craft your own items in this universe.
Market Data

Market conditions are unknown. Use caution when trading.

Quick Buy (Items Most Recently Listed for Sale)
The beautiful futuristic city of Broken Bay.
Discussions
Most recent OOC posts in Artificial Heart