Name:
Aero Lassar
"Who said fighting from a distance or the shadows is cowardly? That's bull. He/she's just whining."
Age:
14
Gender:
Male
Craft:
Using knives
Theme Song 1:
Joe Satriani- Attack
(Expect this to play when fighting him.)
Skils:
Archery-
Aero is fairly good at archery, but still a novice.
Hidden and Unseen Movement-
He has enough sense to tip-toe or to slow his foot's descent to be more quiet. However, he isn't anywhere near the Rangers' level.
Saxe and Throwing Knife Skills:
Aero has never heard about these weapons. Thus, he doesn't know how to use them.
Speed:
Aero is an excellent runner and can run at a very fast pace for long periods of time.
Climbing:
Aero can climb a tree... But nothing else, really.
Intelligence:
For anything falling into book smarts, places and people, Aero fails. Common sense, he has. Aero is an excellent advisor for descision making.
Oakleaf color:
Bronze
Homeland:
An unnamed village that was burned down.
Description:
Aero has green, short hair with green eyes.He wears a smirk or a smile usually. He has a small and thin body, made for running and sneaking around. His skin is white, with a few burn marks on his back and one on his left arm.
Picture: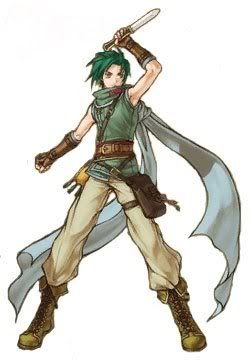 Equipment:
Cloak-
Rangers are never found without their mysterious ranger cloak. The trick of the cloak is the special woven pattern of forestal colors, similar to that of camouflage, but more complex. The cloak is the main thing that
marks a person as a ranger.
Armor-
He/She wears light leather armor under her cloak, it isn't much though it can provide plenty protection for his/her needs.
Ranger's Apprentice Recurve Bow-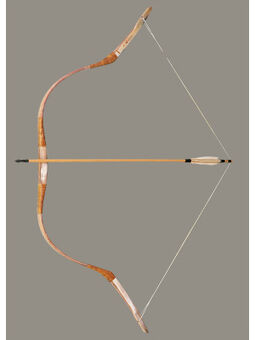 Double Knife Scabbard-
The double knife scabbard is attached to a ranger's belt, with slots for the saxe knife and the throwing knife. It is issued only to rangers, and cannot be obtained by anyone else.
Saxe Knife-
The saxe knife is a long knife rangers discovered from the Skandian sea raiders. It is very sharp and made of extremely strong metal, being able to bend and break a sword and not even leave a scratch on the
knife's blade. It is also balanced for throwing.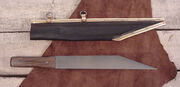 Throwing Knife-
The throwing knife is smaller knife, designed for being thrown. Extra width at the top allows for balance with the hilt, which helps drive it home in the ranger's target.
Ranger Strikers-
A newer ranger weapon which is a brass tube fitted to the ranger's hand with a brass ball on both sides used to strike an enemy, mainly good for stunning or blunt damage. At the middle is a brass tube,
long enough to fit in the wearer's hand, and on either side is a lead-weighted brass knob, used to strike at an enemy, or used to throw at an enemy, stunning him from up to 6 meters away (in the hands of an expert user). The
average ranger carries two, and they can be screwed together to make a club. This extends their stunning range to 20 meters. They are, essentially, fistloads.
(The above is equipment you'll recieve at camp, feel free to put personal items such as jewelery.)
Clothing:
(See the picture.)
Arrows:
General Purpose Arrows-
This arrow is the standard issue arrow of the Rangers and the Temujai because of its ability to pierce armour. Its tip is very pointed. Because of this arrow's lack of sides that secure the arrow in
the flesh and cause more damage if the victim attempts to dislodge the projectile, the arrow can be removed, sanitized, and reused, although the Rangers, who rely on swift, qiuck and killing shots to the head or vital organs for
a fleeting end, consider this idea distasteful.
Personality:
You can never get rid of Aero's smile or smirk. In fact, he would do it whenever he damn wants. However, there are times when that smirk goes away and Aero turns serious. That's when you shouldn't piss him off. In the times he is smiling or smirking, that's when you should be wary. He might be plotting a prank or something. Either that, or he's trying to remember something funny. During battle, he would use ranged attacks as much as he can. Sometimes, Aero would go for a point blank shot. In close combat, Aero relies on guerilla tactics. He gets in, do a few slashes on the limbs to weaken the opponent, then gets out. There are also rare times when Aero would try to follow up with an arrow after attacking up close.
Horse:
n/a
Relationships:
n/a
History:
Aero is just an ordinary mischievous boy in a village. After all, every village has their own troublemaker. Aero is his village's. However, everything changed in the age of 12, when a group of bandits had come to his village and practically burned it down before anyone could do anything. Aero managed to get away alive and hide himself from the bandits until the knights showed up. However, he was in despression for a full year after that, until he remembered an advice- Or was it an insult?-"Do something good with your life you piece of shit!" And thus, Aero did as much as he can to become a Ranger's Apprentice. He's ready to overcome any obstacle in his way with a giant smile or smirk in his face.
Likes:
Archery, any kind of event of doing that would seem funny to him, knives, his friends, jokes
Dislikes:
Bandits, those who are "too serious"
Other:
Aero had hurt his left arm when he tried to escape the flames of his village. Thus, it is his weaker arm.